April 24
Km's Pedalled – 65 km's hike and bike
Destination – 27 km's from Green River
Some Notes – I am very tired this morning from yesterday and my hands feel like jello from all the dragging (of my bike) through the sand.  But I did sleep half decent.
There was $10 entrance fee into Goblin Valley State Park. This is the first time I paid an entrance fee to any park in the US.  There was a lineup of vehicles to get into the park due to limited parking spaces.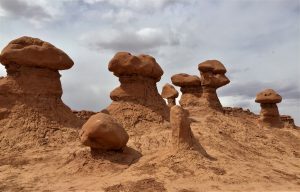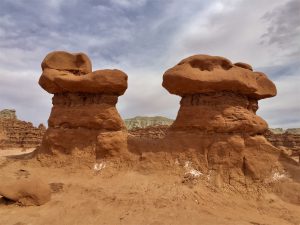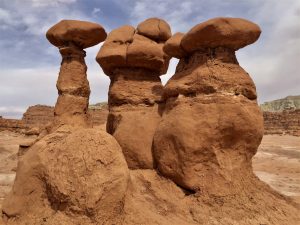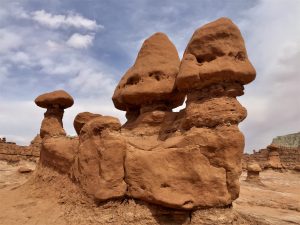 Goblin Valley State Park
I spent 4 hours and did almost 10 km's of hiking around Goblin Valley State Park.  A pretty wicked wind started this afternoon while hiking.  It had me eating sand.  Leaving the park it became a pretty wicked crosswind just slightly in my favour.  Getting back on Hwy 24 it became a real nice tailwind.  I posted 349 photos from Goblin Valley State Park to Flickr.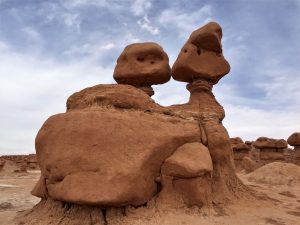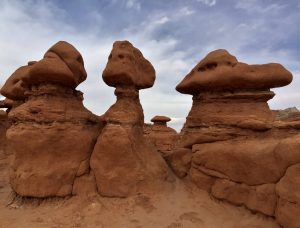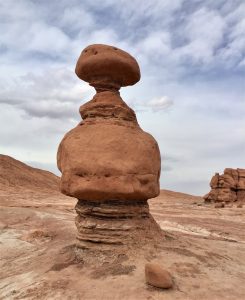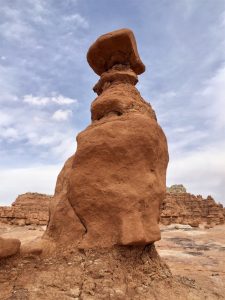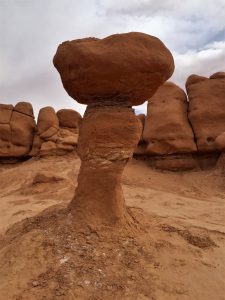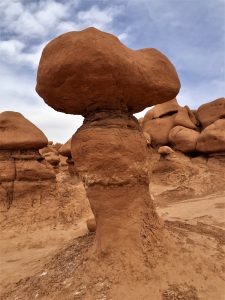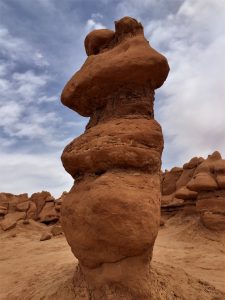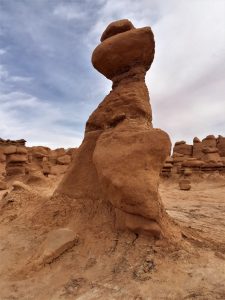 Goblin Valley State Park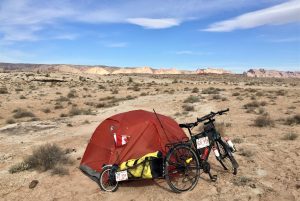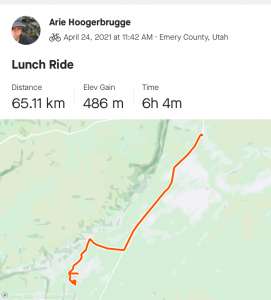 April 25
Km's Pedalled – 26.5 km's
Destination – Green River
Some Notes – A short ride to Green River.  It continued to be windy this morning.  There is nothing worse than trying to pack a tent in the wind.  I didn't even bother to try to make breakfast.
I attempted to photograph a Side blotched lizard sunning its self along the highway on a license plate.  When I attempted to catch the little guy, I discovered he squeezed himself between the license plate and plate cover.  In the attempt to dislodge the him he jumped on my shirt sleeve and around my back.  And that was the last I seen of him until I arrived at the Loves truck stop in Green River.  And that's when I noticed that he had caught a ride on one of my rear panniers.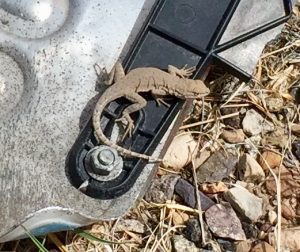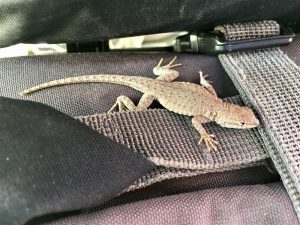 A Side blotched Lizard – on the side of the road and then took a 15 mile bike ride with me
I wasn't sure what the seating situation was going to be at The Loves Truck Stop.  It ended up not being a problem and I worked about 10 hours straight organizing (moving photos off assorted cameras) and editing photos.  I wont know how many photos I have until I get some proper wifi.  I suspect that I was able to edit about 90% or 2,000+ photos this afternoon and evening.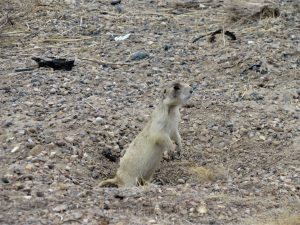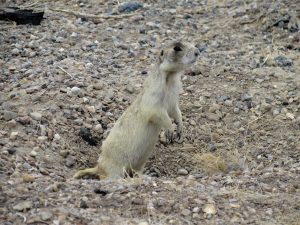 I left the Loves after 12 pm.  I am camped 1000 feet behind the truck stop.  The wind made it a pain in the ass to set up my tent and I suspect my flapping tent fly will keep me a wake most of the night.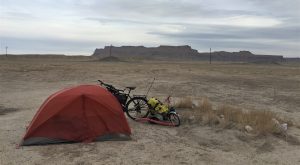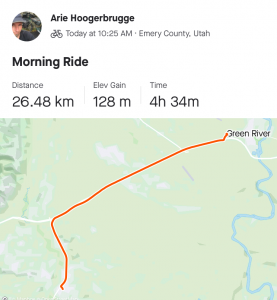 April 26
Some Notes – I got a shower credit from a fellow truck driver at the Loves truck stop.  My day started slow as I had to wait forever for an available shower.  If you want to check out a blog post how to get a free shower from a truck driver you can find it HERE.  This is my first shower since leaving St George on April 12.  Fourteen days might be my new record to go without a shower.  I then did a laundry.
The rest of my afternoon and evening was spent finishing my photo editing, organizing my GoPro video footage and writing 4 blog posts to get me current on my Utah travels to this point.  I can't post anything to my website as I don't have free wifi here.  I also worked on 2 other future blog posts.  A blog post guide about bike touring through Utah and for my upcoming birthday – 48 of the coolest places I have actually visited in my lifetime.
I left the Loves Truck Stop after 10:30 pm.  They are calling for a possible rain storm tomorrow morning.  If the storm arrives, I plan to move on down the road as soon as the storm passes through.
This evening setting up my tent I had an absolutely miserable time setting up my tent in the wind only to have the wind stop as soon as I got inside my tent.
April 27
Km's Pedalled – 61 km's
Destination- 30 km's west of Moab
Some Notes – I woke up to rain.  I biked a little in the snow in Nevada and Utah but I think the last time I biked in the rain was Christmas Day leaving Berkley to San Francisco.  But I don't think I woke up in a tent in rain since Oregon?
When I put my foot out of my tent my boot sunk 2" into sticky mud.  What a nightmare.  I had to drag my bike through the mud because the tires against my fenders were seized in mud.  In the end I was able to get packed up with only mud on my boots and bike.  But what a chore.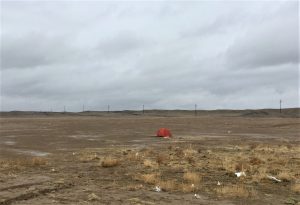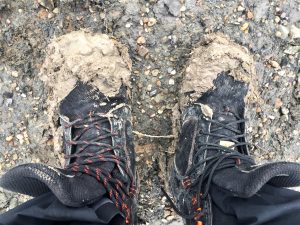 My tent in the middle of a muddy field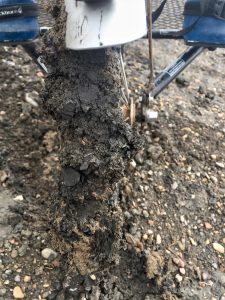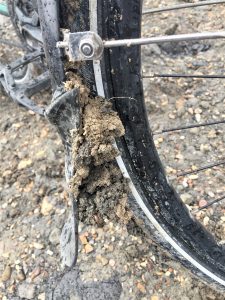 Bike fenders and muddy seized bike tires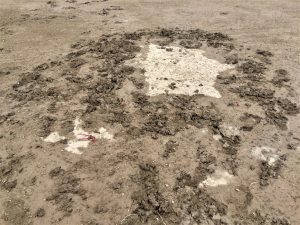 My camping spot.  Notice that a not of rain fell but surly a lot of mud
Today was cooler temperatures and overcast skies and cooler evening temperatures.  But along with those overcast skies I was able to get some really nice photos of cloud formations along I-70 on my way to Moab.  I also found a pronghorn antelope skeleton and skull along the highway.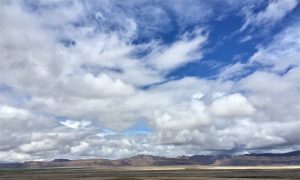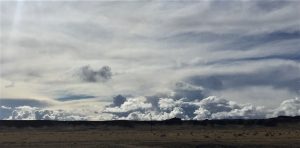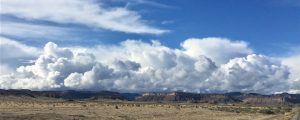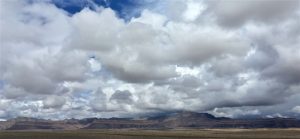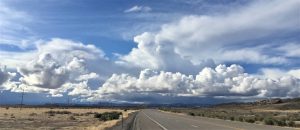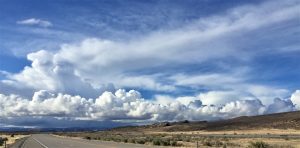 Nice cloud cover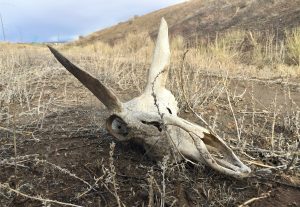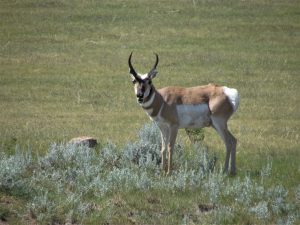 Pronghorn antelope skull beside a photo of a living one (photo taken in Alberta Canada this past summer)
Highway 191 to Moab has a shoulder but is very busy with a lot of fast moving vehicles.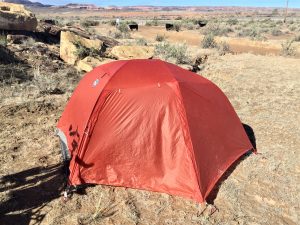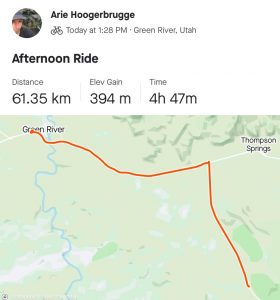 April 28
Km's pedalled – 39 km's
Destination – Moab
Some Notes – A short but beautiful ride to my hosts in Moab.  I am being hosted by Dave and Jana Knowles.  Dave offered to host me via a comment on a Facebook post looking for help trying to replace my front panniers back in St George.
The afternoon was spent uploading over 500 photos to Flickr and posting my most recent blog posts.  Utah Part 1, 2 and 3 where posted.  All my photos and a few video files were also uploaded to Dropbox.  I went to bed at 1am.  I still have tons of photos to post to Flickr from Capitol Reef NP and Goblin Valley State Park and most of my video files need to be uploaded to Dropbox still.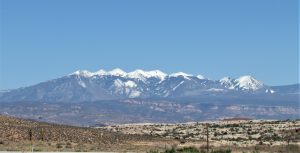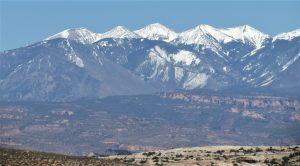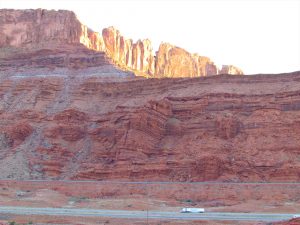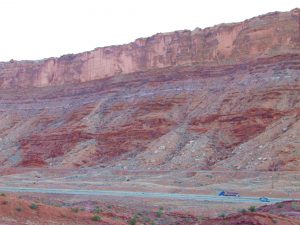 The Moab Valley – notice the size of the trucks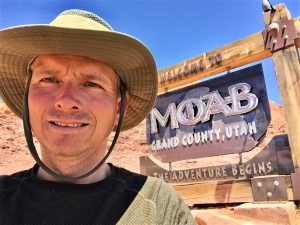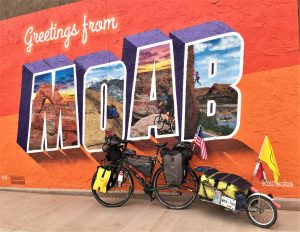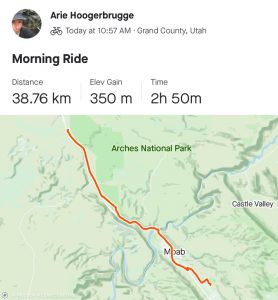 April 29
Km's Pedalled – 51.5 km's
Destination – very close to the junction for Dead Horse State Park
Some Notes – The sun was out in full force today which did not help on a very physically demanding day.  I was planning on visiting Arches NP today.  But realizing from a motivational perspective it would be better to go to Canyonlands NP first.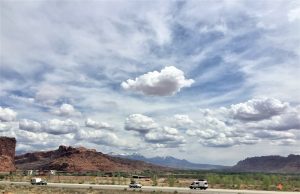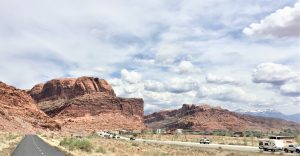 Basically as soon as I was on the outskirts of Moab I never stopped climbing except for a short flat stretch on Hwy 191 and just when you first turn on Hwy 313.  But all afternoon – climbing, climbing, climbing.  I am pretty beat.