April 19
Km's Pedalled – 64.5 km's
Destination – 15 km's from Bolder City
Some Notes – While last night didn't not get as cold as the last few days I continue to sleep like crap. Which has me sleeping-in the morning as usual.  I usually don't like biking downhills as what goes down must go up.  But with my late start I appreciated the 28 km downhill at 27.5 km's per hour into Escalante.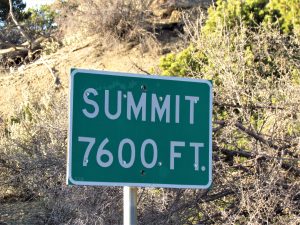 Last nights climb
While in Escalante me and Brandon did a Road Show.
Continuing east the riding was good.  The scenery was nothing short of awesome.  I swear I even had a bit of a tailwind.  The whole day was sunny and hot.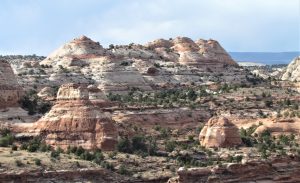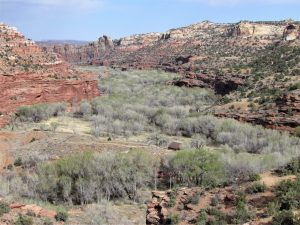 Beautiful Utah
Later in the afternoon the wind picked up strong.  Sometimes it was a wicked headwind sometimes it was a bit of tailwind helping me with my last massive climb of the day.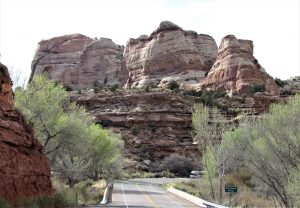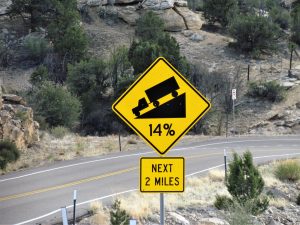 Today's big climb
I am camped on what I hope is the summit of this current hill.  I am a tiny bit sheltered from the worst of the wind.  That being said I could taste sand in my Kraft Dinner tonight and my tent has a fair bit of sand inside it.  During these windy times in the desert, I do my best to keep everything (my bags) closed and as much stuff packed as possible to attempt to keep as much sand out of everything.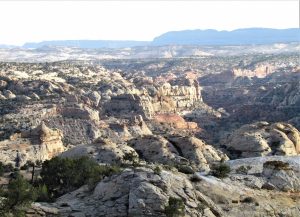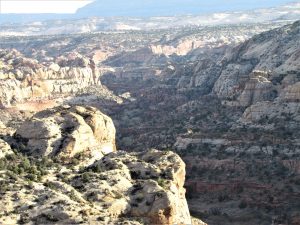 Near where I was camped
Even with the wind and sand a very good day to be in the bike.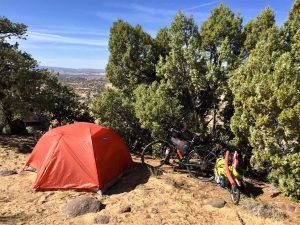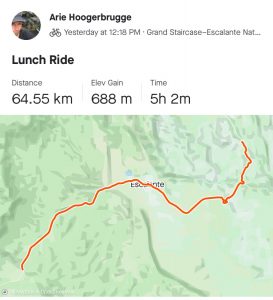 April 20
Km's Pedalled – 48.5 km's
Destination – 27 km's to Torrey
Some Notes – More warmer temperatures last night.  I slept a little better.  A very tough and slow day. Leaving Boulder City, it was a climb all day.  I think a local said it was about 2,500 feet over the next 15 miles over Boulder Mountain.  Slow and steady to begin with but then the real climbing began.  Just in time for the clouds to hide the sun.  Making the sweat off my back to cause a chill.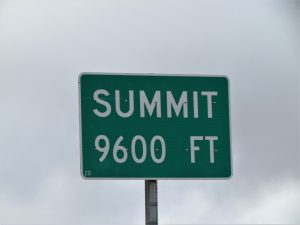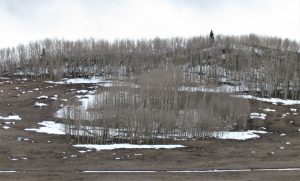 Patches of snow
I saw some Steller jays today and lots of deer herds.  I haven't seen Steller's jays in many months.  Utah is full of deer.
What an exhausting day.  The climb practically killed me.  I climbed to 9,600 feet.  There are snow patches everywhere up here.  Another cold evening in the tent tonight.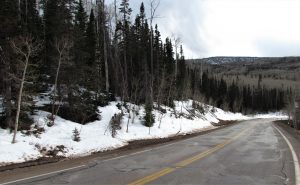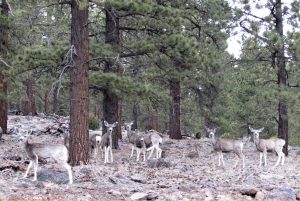 Snow & deer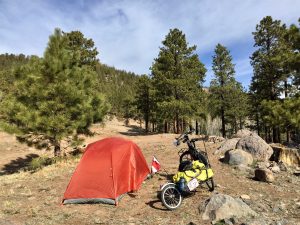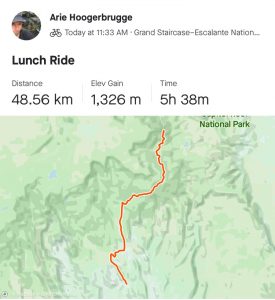 April 21
Km's Pedalled – 60 km's (with some hiking)
Destination – Capitol Reef National Park
Some Notes – My water bottles where full of ice from cold temperatures last night and my legs were jelly from yesterday's climb.  But a beautiful sunny day.  Always a slight chill in the breeze in Utah but the sun feels good.
I met Kevin my first cycle tourer (from Grand Junction Colorado) since San Francisco coming into Capitol Reef NP.  He is head towards and up the Pacific Coast.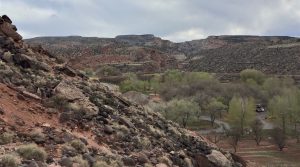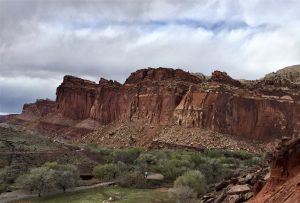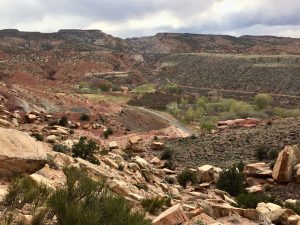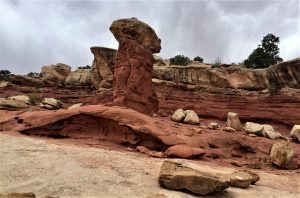 Capitol Reef NP
I took about 1½ hours and hiked the trail by the park campground.  It was right before dark when I started looking for a camping spot.  I went down the road a few miles but then had to turn around because I was now passing a hiking trail I wanted to hike tomorrow.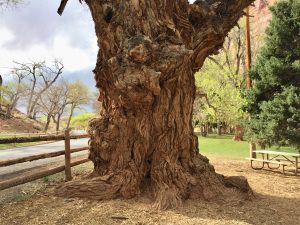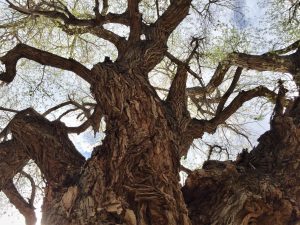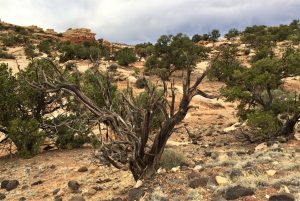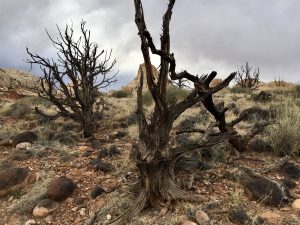 Capitol Reef NP
I thought I found a place but while I was scouting the immediate area I discovered I would be setting up camp right in front of a trail camera.  I guess they will have a few interesting photos of me when they check the camera at some point.  I continued biking another few miles back to a camping spot behind a massive rock I noticed earlier.  I should have just gone there first.  I was just worried that I would be to close to potential falling rocks from the mountain beside.
A windy night but the warmest evening temperatures I have experienced to date.
Capitol Reef NP has not disappointed me at all.  My phone now has over 1,000 photos since St George plus hundreds and hundreds of more photos on my regular camera.  I need to figure out where I can sit down and edit and update my bike ride documentation.  This is my 3rd national park visited since St George.  I am probably easily 20-30 hours behind in documentation work now.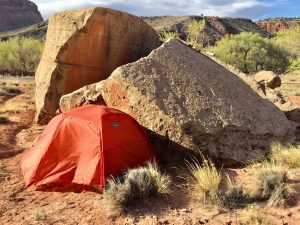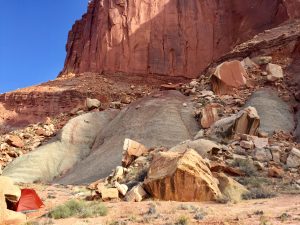 Admittedly I was worried about falling rocks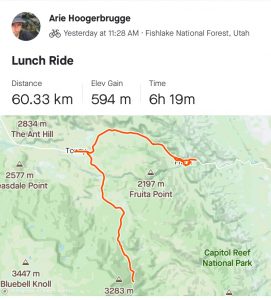 April 22
Km's Pedalled – 64.5 km's
Destination – Hanksville
Some Notes – The tent shook most all night and into the morning but with milder temperatures I slept my best night so far since St George.
I started the morning checking out the petroglyphs boardwalk and then I hiked the Hickman Bridge trail.  Capitol Reef NP is a pretty beautiful park.  In a way I could have possibly hiked another day at Capitol Reef NP.  There were some potential trails to hike into the interior of the park but I decided to move on.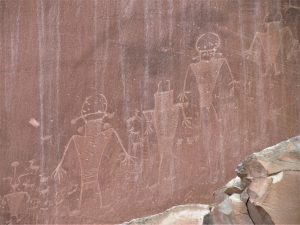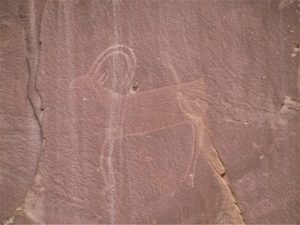 Petroglyphs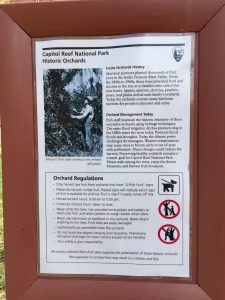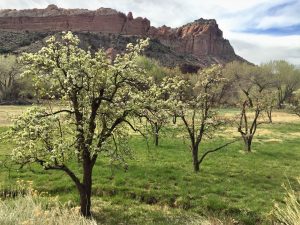 Historic fruit orchards are found throughout Capitol Reef NP
Any "hiking day" in a national park usually results in at least 4 extended conversations with people from all over America visiting Utah.
In Nova Scotia I was known as "you're that guy (biking across Canada)."  In Utah I am beginning to be known as "you're that guy with a pool noodle."  People are starting to come up to me asking about the pool noodle because they saw me biking the other day or they saw my bike in the other national parks.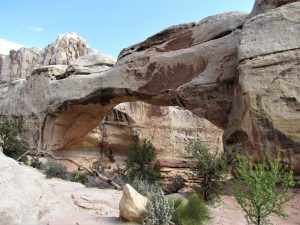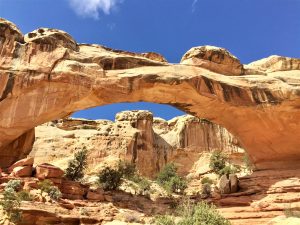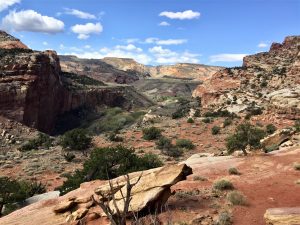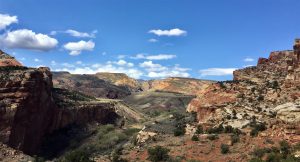 Hickman Bridge Trail – Capitol Reef NP
Capitol Reef NP did not disappoint at all.  The day had amazing weather and the ride to Hanksville was pretty easy with only a few small hills to climb.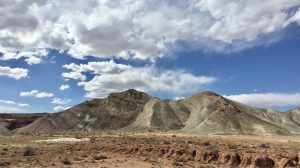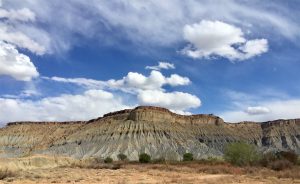 Utah beauty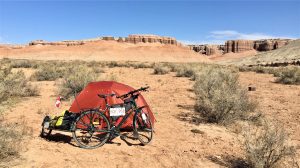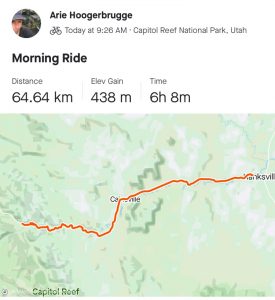 April 23
Km's Pedalled – 37 km's
Destination – Goblin Valley State Park
Some Notes – The day did not go as planned that's for sure.  According to Google Maps Goblin Valley State Park is 10 km's off of Hwy 24 east of Hanksville.
The problem was that 10 km's was little more than a lane way through a sandy desert.  It was a lot of hard work but I figured not impossible.  I was confident where this so-called road was headed and I knew I had enough supplies to see the challenge through.  But thank goodness it was April and not the middle of the summer.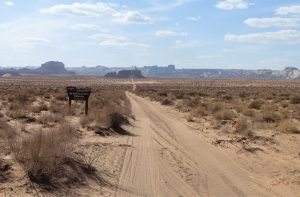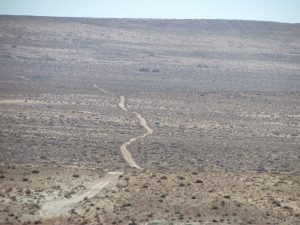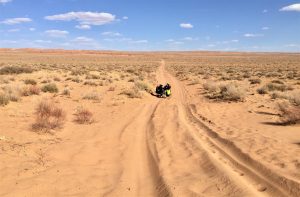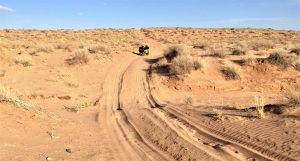 Pushing, pulling and dragging my fully loaded bike through the sand towards Goblin Valley State Park
It's one thing to push your loaded bike through sand but it's a whole other thing to pull/drag a fully loaded bike through sand drifts.  Twice I had to unload and reload my gear to push on.  Once through a short deep ditch and right at the end of the night to get to the top of a hill.  Never before on this ride have I had to unpack my bags and trailer to move forward.
I finally found a gopher snake.  I have been looking for a bull snake or gopher snake since Alberta.  The gopher snake looked like it had gotten into a fight with something (possibly even today).  He had some recent wounds that were covered/scabbed over in desert sand.  The desert is a very unforgiving place.  I am not sure if he will make it.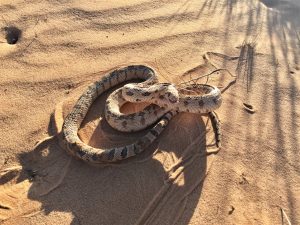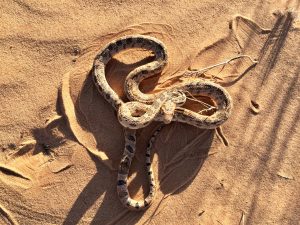 An upset gopher snake
I also found a lucky horseshoe in the desert and earlier today (on Hwy 24) I finally found a Utah license plate.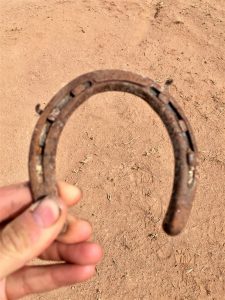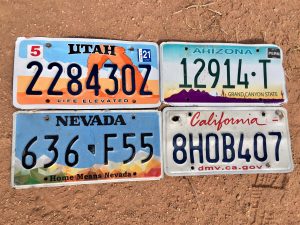 I also discovered an interesting looking spider called a camel spider (solfugid sp.) while setting up camp.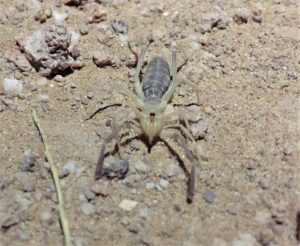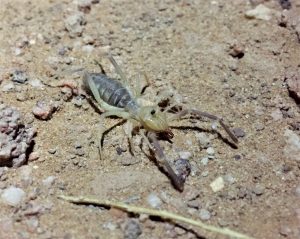 A camel spider
I ended up pushing and pulling/dragging my bike for about 8 km's until 9 pm (Into the dark).