June 5
Km's Pedalled – 42 km's
Destination – 15 km's north of Quartzite
Some Notes – I dragged my morning waiting for my second Covid shot appointment.  After that I was motivated and worked on a future blog post about my US bike ride experience summary.  Today is a high of 43C/109F.  My plan is to head out of town this evening and see how far I get.
Just as I was about to get on the road I discovered my trailer had a flat tire.  I then discovered about 5-6 thorns in my tire.  I have no idea what I pushed my bike through?  I then went to Walmart for a minute and returning to my bike discovered the trailer tire flat again.  I then discovered that the tire had a small tear in it.  I guess I was lucky to be in a town with a Walmart.  I purchased new tubes, package a tire slime and a new tire.
I left Parker after 8pm.  Almost 2 hours later than I wanted.  I guess I will see how this night riding works and how far I can get.  It's 56 km's give or take to fresh cold water.
I biked until 1 am.  My rear bike light battery died just as pulled off the highway.  I feel nauseous and weak and my arm is tender from this mornings needle.  Leaving Parker most of Hwy 95 had no shoulder so I regularly had to pull off the road for vehicles.  Fortunately traffic was light.
The road was mostly flat but then there was a bit of a headwind. When I finally pulled off the road I had barely the energy to get off the road but I had to be far enough that cars would think there was a dead cyclist.  I never even bothered with my sleeping pad tonight.  I just laid my tent footprint on the sand and I never even took my boots off.  I just collapsed on the ground.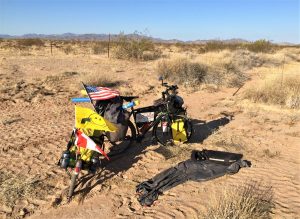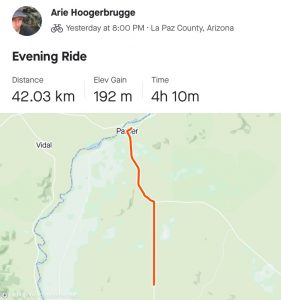 I didn't even bother with the sleeping pad
June 6
Km's pedalled – 48 km's (Strava shut off for 19 km's)
Destination – Ehrenberg
Some Notes – My arm is sore.  I feel like crap and I feel tired.  The worst part of my situation is that I have no appetite and I don't know what to do about that????
Quartzite is a city of more RV parks then you can imagine. 1,000's and 1,000's of acres of RV parks.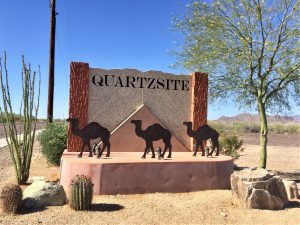 Camels?
At the Pilot truck stop I was outside in the shade and this girl comes up to me and asks if I am all right.  I say yeah I am just trying to deal with the heat.  She asks if I am hiker I say no I am on the bike.  Then all of a sudden she exclaims "Your eyes!"  She said it in way that I thought between my weakened condition and my Covid-19 shot that I was very seriously sick.  I said "Yes?"  And then exclaims again "Your eye!"  I am actually becoming convinced that something was seriously wrong. "Yeah?"  "Your eyes!" again she exclaimed for the third time.  At this point I am sure that my eyes are revealing my impending death. "Those are most bluest eyes I have ever seen!"  At this point I am convinced I am doomed and then she says "Those are the most beautiful eyes I have ever seen."  And then she simply walked away.  All I could really think was – ok…. then I am okay right?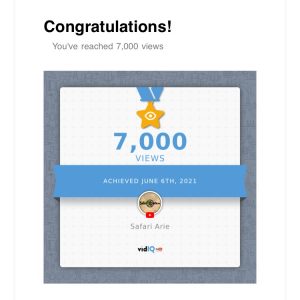 I received an email with this news today
Down the road about 30 km's at the Flying J truck stop I am grabbed a shower.  I feel pretty crappy still from the Covid shot.  I shared the Prairies to Badlands video to 20 Facebook bike groups.  I am so tired.  I spent the evening putting photos to Flickr.
The temperatures dropped this evening.  Part of me want to move forward and get this next push started.  But I am so tired wisdom suggests get a goodnights sleep.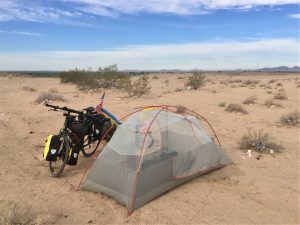 June 7
Km's Pedalled – 2 km's Arizona & 68 km's in California (Strava shut off again)
Destination – in the desert on Hwy 78 somewhere
Some Notes – I started this morning with a Road Show with Brandon.  Ultimately, I had a slow start to my day.  The day went slow and I went slow.  I had lots of headwinds.  Supposedly a high of 100 F today with a few clouds.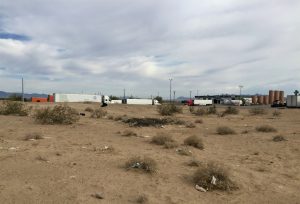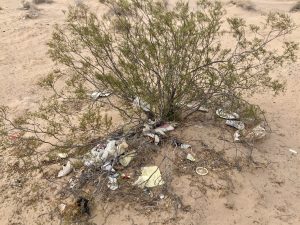 Tons of garbage can be found behind truck stops all across America
I have entered California for the last time.  And I am preparing to do my longest stretches (100 km's) between cold water.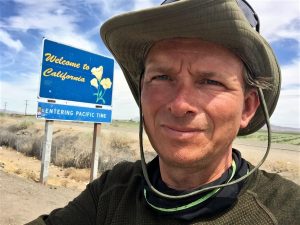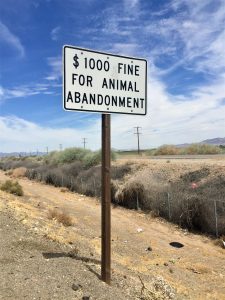 A really rough day today.  Hwy 78 is not a good road to be on a bike with at all.  Up and down dips with no shoulder and lots of truck traffic.  It's actually quite dangerous.  My day actually really sucked with lots and lots of winds and headwinds.
I took my last sip of rationed cold/cool water at 6:30 pm.  I would have paid $10 for another cold bottle of water in that moment.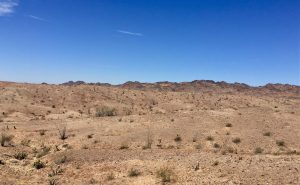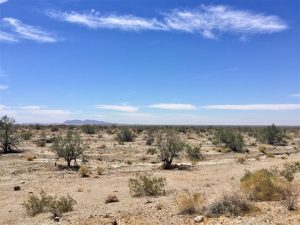 There's just nothing out here
Lying in my tent tonight I am amazed how weak of a person that I am that I would give almost anything for cold water right now.  And then I think of people that have gone through wars, droughts, starvation and the Mexicans crossing this desert as I write this.
But I did just this evening discover a potential store on Google Maps only 20 miles away.  How on earth did Google Maps not show me this place before?
I was far to tired to make super.  Probably the best part of my day was that I survived.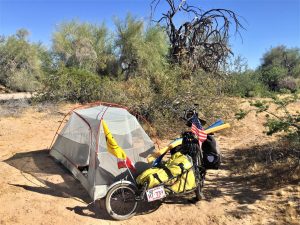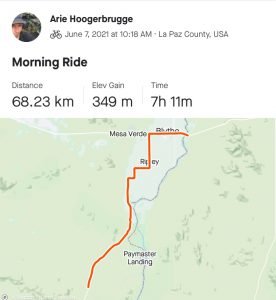 June 8
Km's Pedalled – 98 km's
Destination – Heber
Some Notes – I discovered this morning that my arm is no longer sore from my vaccine.
I don't think temperatures broke 100 F and the wind s died down considerably.  A way smoother day today.  Five miles down the road the dips also disappeared.  I am so glad that section of the road is done.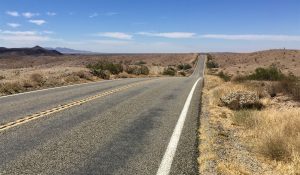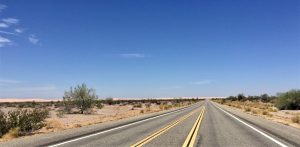 FYI cyclists – stay away and off Hwy 78.
In Glamis an oasis appeared.  Ok, there is nothing pretty there but thank goodness there was a general store with cold drinks.  Lucky for me I got there at lunch because they close at 1pm in summer.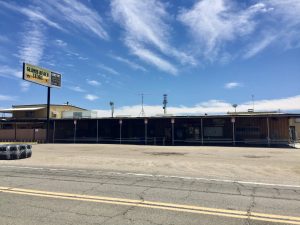 Cold water
I then went through the Imperial Sand Dunes recreational area.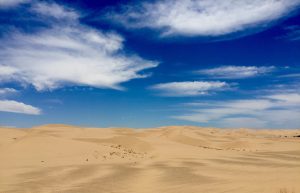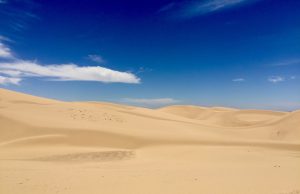 There is no stealth camping options at the Pilot truck stop at Brawley.  I couldn't be bothered with a shower though I need one bad enough.  So, I biked south on Hwy 111 ever closer to the Mexican border and I found a vacant lot beside the very noisy Hwy 111.  Twenty five minutes later the police showed up!!!  Somehow someone saw me enter this area.  I saw no one so how anyone saw me is beyond my understanding.  Anyways they were cool.  They did an Id check and told me to have a nice day.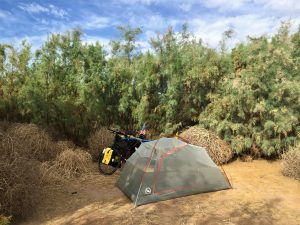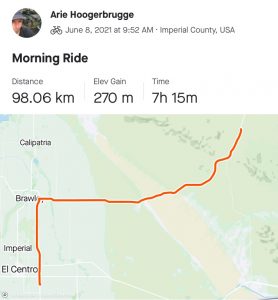 My last camping spot in the US
June 9
Some Notes – Ultimately, I would bike 14 km's to the Mexico border and cross quickly and without incident.  Pick up that story in the next blog piece.
I entered the US on October 25, 2020 and exited June 9, 2021 biking 7,857 km's.
Summary
As far as Arizona is concern, visiting the North and South Rim Grand Canyon are for sure part of my bike ride highlights.  I also enjoyed visiting Glen Canyon/Lake Powel and seeing the Colorado River at various points along the way.
As far as the last few weeks are concerned.  These last few weeks were tough.  The 40 C+ temperatures made things miserable and tough.  My financial spending got expensive because of how much time I spent in truck stops trying to escape the heat.  I was forced to change my route to get south and out of the Southwest US desert quicker.  I bypassed Joshua Tree NP and Slab City.  All I can really say is stay away from this part of the world at this time of the year.  In a sense this was not how I wanted to complete and experience my final US section of this ride.  On a positive it got me into Mexico quicker and sooner than expected.
I have written a blog post specifically about my US experiences as a whole and you can find it HERE.  Overall, my US experience was awesome.
Arizona Part 4 – May 31 to June 4