May 31
Km's Pedalled – 41 km's
Destination – 10 km's from Bullhead City
Some Notes – I wrote and posted Arizona Part 3 and I researched and made a bunch of notes for biking the Baja Mexico.  I left the Kingman truck stop at 2 pm.  On Hwy 86 in the desert over 1/2 mile stretch I found 3 stashes of water bottles left for illegals crossing the desert.  I also saw a bunch of wild donkeys right at the end of my day.  The heat is on.  When I left the truck stop in the afternoon it was like a furnace outside.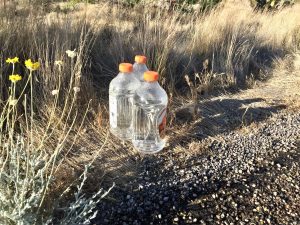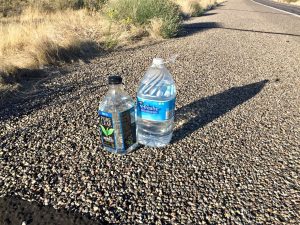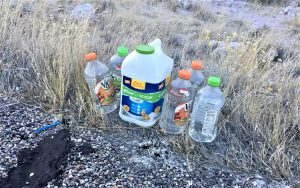 Bottle of water left out of illegal Mexicans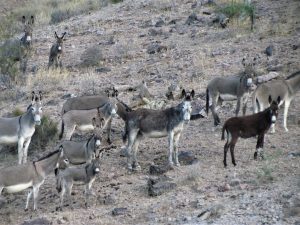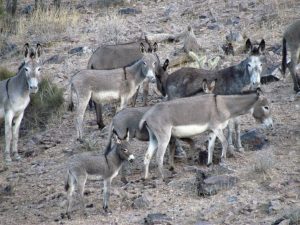 Wild burros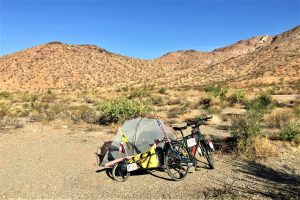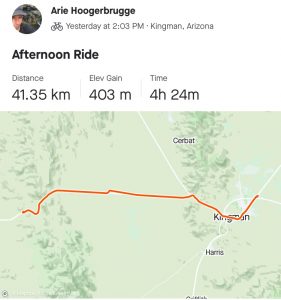 June 1
Km's Pedalled – 82 km's
Destination – Topock
Some Notes- I got into Bullhead City and then I crossed the Colorado River just to say that I went back into Nevada.  From there I then picked up my recent Amazon purchases at the Amazon Hub Locker.  And then I then went to a nearby bike shop to get my front derailleur adjusted.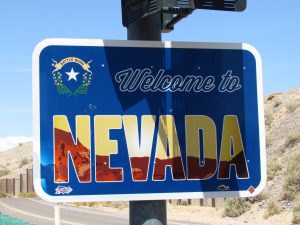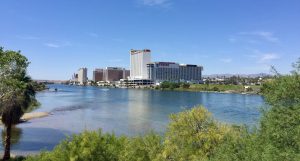 Laughin, Nevada
I also needed to deal with some video edits regarding the long awaited Prairies to Badlands video.
I also "accidentally" biked into California.  I am heading south to below Lake Havasu City before I cross into California.  And as I crossed the Colorado River into Needles, I realized I missed my turn off and was in California.  So, I turned myself around.  So technically I was in 3 states this afternoon.  That is a first on a bike for me.  Other then Four Monuments I don't think it's too easy to hit more than 2 states on a bike except maybe in the north east.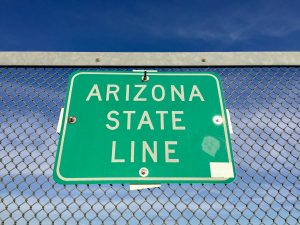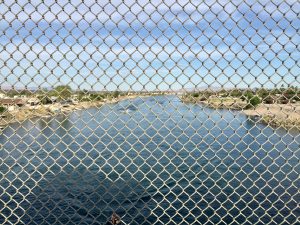 The Colorado River – AZ & CA
It's hot like a furnace this afternoon at 42C/107F or hotter.  I actually can't believe I did 82 km's.  I feel like I dragged my day because of the heat.  I just needed some time to wrap my head around these temperatures and being on a bike.  I guess the worst part is actually that no liquids (water or drink) is able to stay cool or cold for anytime period.  Drinking hot water or any hot drink does not quench your thirst at all or is refreshing.  And I suspect I will have to deal with these temperatures for many months.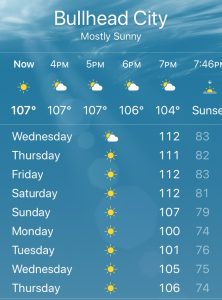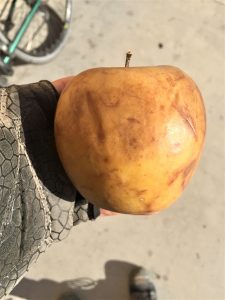 A Granny Smith apple purchased 3 days ago in Kingman turned brown in the heat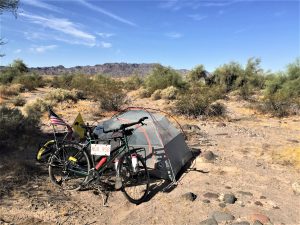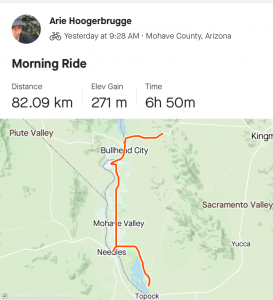 June 2
Km's Pedalled – 44 km's
Destination – Lake Havasu City
Some Notes – I was 20 km's from the truck stops in Lake Havasu City and of course  I stopped there.  So, I am having a third shower in 7 days.  In once sense it seems like a pointless shower after only 2 days since my Kingman shower.  But I don't actually know when my next one will be.   Also, any excuse to get out of this 40C+ heat I have to take it.
I got to the truck stop at 12pm and left at 5:30pm.  Somehow my day got away with from me.  I suppose I am not going to complain about getting out of the heat.  I had to deal with and work on the Prairie to Badlands video, some emails with Belize and I scheduled 30 posts to Instagram.
I am not sure if it's laziness but I couldn't bother setting up my tent tonight or make any super.  Because of the heat I don't need my sleeping bag or any kind of blanket.  I just sleep completely exposed.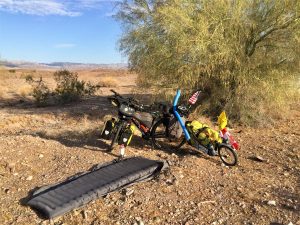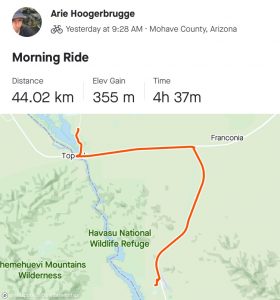 June 3
Km's Pedalled – 76 km's
Destination – Parker
Some Notes – I woke up through the night with multiple leg cramps.  Getting to Parker Dam (50 km's) absolutely killed me.  I mean really killed me.  Thank goodness there was a gas station there for something cold to drink.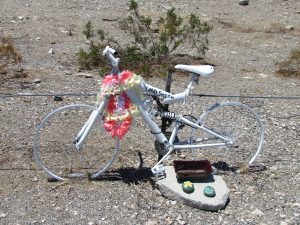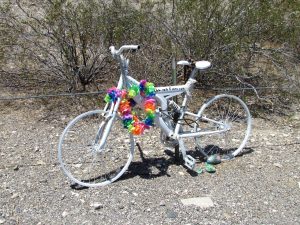 Two ghost bikes outside Lake Havasu City
I am taking break after break after break.  The heat, the wind and the sun is completely relentless.  Today was almost as bad when I went through the Lake Mead Recreational area except conditions were was worse then because I was sick.  I feel sick now but a different kind of sick.  I have had very little to eat all day.  I have no appetite.  My mouth and throat is so dry.  I almost feel like I could throw up.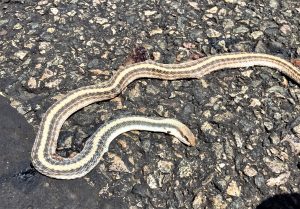 A dead Western Patchnosed snake
I started to walk/push my bike up hills to exert less energy.  I actually lost track how often I was pushing my bike up hills and then collapsing beside my bike.  I don't think I would have lasted another mile.  I don't know what to do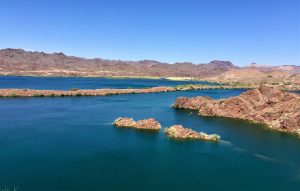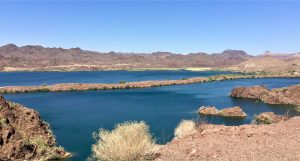 The Colorado River
At the end of the day my foot and leg muscles are seizing up and cramping at any given moment even while walking.  An attempt to sit on a toilet had me jumping up instantly in pain.  I can't even lift my leg over my bike.  It's very painful.  I am in a real mess.  It took almost 20 minutes to actually lie down on my sleeping pad due to leg muscle cramps.
I am camped behind the Walmart but I am not camped.  Once again just my sleeping pad on the ground.  I had cramps through out the night along with ants crawling all over me.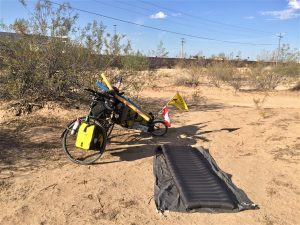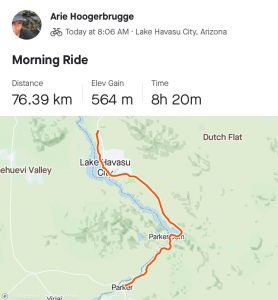 June 4
Some Notes – I am sitting in the Walmart this morning.  The sun was hot by 7am.  I need a day off to give my body a break.  While I feel reasonably good this morning except for being tired I know that biking today would not be smart given how rough yesterday was on me.  I sit here and I don't know what to do?
I biked around town a little to see what was around.  There is nowhere but McDonald's to escape the heat.  The library is closed on weekends.  I booked my 2nd Covid-19 shot at Walmart for tomorrow at 11:20 am.  Rumour has it the second shot kicks your ass.  Where am I going to go to get out of the heat then?  There are no truck stops here.  Hotels are outrageously expensive in this town.  I have no idea why?  I am so tired and it's only 10:30 am.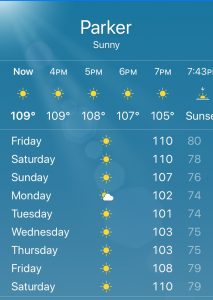 Every once in a while, I reflect on my current situation and I have to really shake my head – how on earth did you get in this situation.  This is one of those situations and it's not really a good situation.  Things really suck right now.
I tried to book a hotel room at Quality Inn only to discover that Choice Privileges expired my points?!?!  I am so pissed.  I sent a complaint via Messenger.  I will see what happens.  I can't bring myself to pay $100 plus for a night at a hotel.
Back to my situation and this heat.  I am making some route changes for sure.  There is no point going to Joshua Tree National Park anymore.  Joshua Tree is virtually 200 km's west across the desert.  If that doesn't kill me which I am pretty sure it would it's not like I am going to hang around and hike and enjoy the park in these temperatures.  As long as I am in 40C/100F type temperatures I have only one choice but to head south.  And I really don't know what to do with my lack of appetite.  I know this is making things worse for my body but how do you eat when the idea of eating causes you to want to throw up?
I sat in McDonald's all afternoon with limited motivation.  I was able to get this current Arizona Part 4 blog written and posted.
I continued some reading and research on Mexico.  I did become distracted by YouTube videos.  Our Prairie to Badlands video was released.  My appetite continues to be limited which has me quite worried about moving forward down the road.