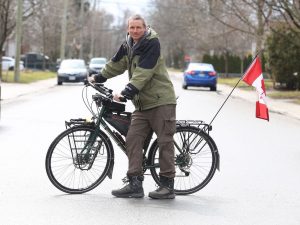 KINGSTON — An Ontario man who was on an epic bicycle ride across two continents has had to put his ride on hold and ride out the COVID-19 pandemic in Kingston.
Arie Hoogerbrugge, 46, of Grimsby is staying with his aunt after arriving in the city almost two weeks ago.
Starting in January, Hoogerbrugge pedalled his bike 4,900 kilometres through Atlantic Canada and Quebec and arrived in Kingston on March 18.
Prior to starting the ride, Hoogerbrugge worked as a long haul trucker, living out of his truck for the past several years.