I have had so many amazing interaction during my bike ride already.  In many ways my bike ride has just begun and the interactions are almost already too many to count.  From old friends giving me a place to sleep to complete strangers giving me a place to sleep.
I wanted to make note of some of what I have learned or experienced from the many interactions along my route.  Sometimes the experiences were profound sometimes the experiences were simply about needing the time to get out of the elements to relax and enjoy.  But everyone mentioned in these moments gave me what was needed in the moment.
Some Amazing Experiences and What I Learned
Thirteen days into my ride I was offered a free night's sleep at Eddy's Restaurant and Hotel in South Brook Newfoundland.  I can't begin to explain how ecstatic I was at that offer.  It was raining outside and I had just gone 12 days without a shower.
Sean R. – My meeting Sean was an experience I won't soon forget.  Sean found me in the middle of a snow storm and gave me a warm bed for 2 nights.  Sean was an military veteran for both Britain and Canada and I will be eternally grateful and humbled to have heard some of his story.  A true warrior in every sense of the word.
John & Bea Pike – Arriving in  Nova Scotia and being completely soaked and cold by the time I reached their home; the Pikes are old friends from Ontario but originally from South Africa.  I stayed with the Pikes for 3 nights which gave me time to catch up on blogs and stuff and relax.  John helped me with 2 modifications on my bike.  During my time with them I learned a bit what it was like to live in South Africa and the political and social turmoil going on in that country.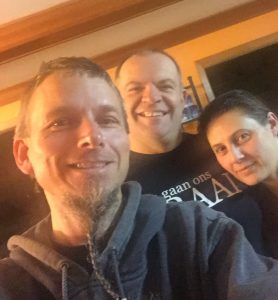 Dennis Dell – Dennis was an old friend from Hamilton.  I spent an amazing 2 relaxing nights in Hawkesbury Nova Scotia.  My time with Dennis was relaxed and casual – a much needed environment.  Dennis spoke of the happiness found from moving out here.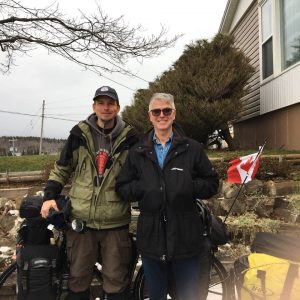 Mattieu Fraser – Matt had reached out to me via Facebook offering me a place to sleep and a free bike tune up at his bike shop.  Matt was able to help me with a "bike fitting issue" that was causing a tremendous amount of discomfort in my ride. While with Matt I saw a hard working guy with a young family full of ideas and passion.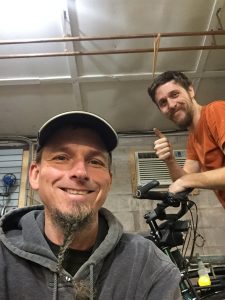 Alasdair Vietch – reached out to me and gave me a place to sleep.  Alasdair was a wildlife biologist in northern Canada for over 30 years.  I heard stories about what that was like and learned about the state of our population of wild animals in the north.  The concerns and challenges are real for our wildlife.  Alasdair brought me out for an amazing dinner and helped me run 2 errands in town the next morning.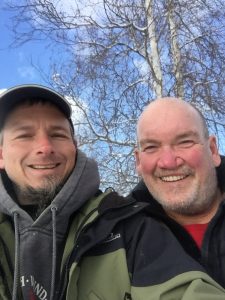 Irene MacIsaac – Irene's message for a warm bed came through Facebook at 10:30 pm during a -17 C wind chill wind storm in Charlottetown.  From the moment I walked into Irene's front door she made me feel like home.  The next day Irene took me around Charlottetown to show and teach me about its architecture.  We toured two cathedrals.  Had it not been for Irene I would have never known you could just walk in [some] of these cathedrals during the day.  I also learned about her historical and family connections to the island.
Irene gave me another night's sleep after Christmas when I headed back west through PEI.  And she connected me with her niece for another warm bed.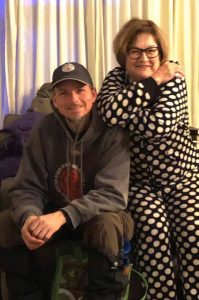 Brenda Doucette – Brenda is Irene's niece.  Brenda gave me a place to sleep for the night and the next day took me to her brothers to show me a really cool designed home and yard.  Brenda also took the time to give me a tour the catholic church in Tignish.  Brenda's partner Michelle told me all about the fishing industry at this end of the island and about how and why the lobster industry is alive and well.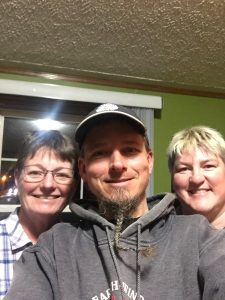 Craig Costain – Craig waved my up his driveway after reading a CBC article about me being on the Island.  Craig gave me a place to sleep and sang a most beautiful song that he had sang at a wake for a local fisherman.  His partner Carla Kelly and her best friend Nicole Ellsworth taught me about their friendship.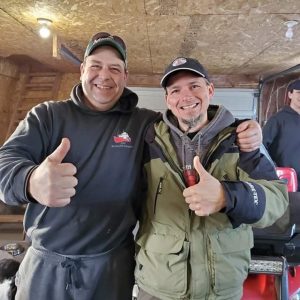 David & Heather Voortman – David my cousin moved to the island just over a year ago.  David has a small farm and I spent two nights here.  I learned how to and milked my first cow.  I was also exposed to his two amazingly behaved children and realized their manners put me to shame.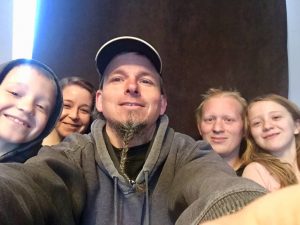 Kelly Arsenault Richard –In Kelly I saw a woman that I did not know completely leave her comfort zone and show tremendous courage in inviting a strange man into her house because it was cold outside.  Her courage was profound.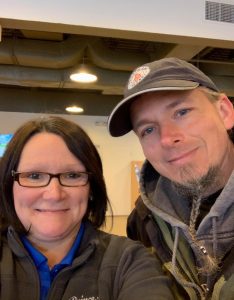 I have also had 2 restaurants make available unused buildings to get me out of the elements.  I had  Mark Jackson a Roads Department supervisor in New Glasgow, Nova Scotia give me and my bike a ride to New Glasgow out of my second snow storm right to Alasdair Vietch front door.
I have had a good handful of people randomly give me from $10 to $100 to help support me on my ride.
In my wildest dreams I could never of imagined the fortune and blessings that I have received on my bike ride at this time of year.  The interactions have been so profound that I have and am adding many extra kilometers to my Atlantic Canada route that I might have many more opportunities to interact and meet random people here in Atlantic Canada at this time of year.
My original expectations for biking at this time of year was all about misery and proving to myself that I was strong enough.  I could not have been more wrong and am so thankful that this ride has evolved and taken the direction that it has.  Many people have commented that this is a bad time or the wrong time of the year to be biking.
Everyone of them I tell them that this has been the very best time of year to bike Atlantic Canada and that I have been having an amazing time.  This ride could not go any better if I wanted it to.