September 11
Today was a very busy day.  John Leung who I was a guest on his YouTube show The Healthy Way Vibes stopped by the hostel to take me out to lunch.  We had a great time.  It was really good to finally meet in person.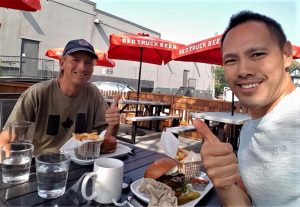 With John Leung
I had an initial conversation with a past host about the possibility of starting a t-shirt side business using the Safari Arie brand.   That conversation was fairly positive.
I got a call that my bike is ready for pick up.  I am going to stop using my hub for my lights.  The report is that the hub is not generating enough electricity likely due to a build up of corrosion and I simply do not have the interest in spending more money when I have USB chargeable lights.
Reflecting on the overall cost of the hub and lights and feel the investment was not worth it.
And I was able to hammer out some plans to head out to Coquitlam, Langley and White Rock on Monday.
September 12
I have noticed that forest fire smoke is rolling in everywhere.  I picked up my bike at Mighty Riders with a $330 bill.  A new chain and cassette and cables and new brakes and my rear derailleur completely cleaned and probably other stuff.
I was finally able to meet with Andy Sward of Million Bottle Pledge.   Andy has run across Canada 3 times and so far picked up about 115,000 bottles, cans and Tim Horton's cups.  Many people are inspired by my ride.  Andy inspires me.  He is cleaning up our planet.  We had a beer on Jericho Beach.
The forest fire smoke was real bad over the bay.
I reached out to all Vancouver newspapers this evening.  I also created another profile on a Upwork to continue my search for a PR person.
September 13
Today was largely an uneventful day.   I emailed a few podcasts.  I also got an amazing response to my latest PR request.  I might have found my PR guy
September 14
Km's Pedalled – 33.5 km
Destination – Coquitlam
Some Notes – This morning Brandon and I recorded our first – intro to the new show on Zoom.  I checked out and left the hostel at noon.
On my way through town I stopped at Mighty Rider to see if they had a hack saw that I cut a stripped screw head off my bike to remove my front head light.
Me – "Hi I was in the other day with the MEC National having dynamo hub issues.  I was wondering if I could borrow a hacksaw for a moment?"

Mighty Rider – "We don't have a hack saw."

Me – "In a bike shop full of steel you don't have a hacksaw?"

Mighty Riders – "We don't lend our tools out."

Me – "When I was here the other day I saw you lend a bike pump out?"

Mighty Riders – "We lend out bike pumps, not tools."

Me – "But I just gave you guys $330 two days ago.  My bike is right there [pointing to it through the window]  Can you not help me out?"

Mighty Riders – "Well it's not about the money…….."

Me – "Ok, thank you." And I left.
I arrived at my hosts Graeme and Karen Illman at 5 pm.  Graeme reached this past Wednesday very unexpectedly.  I haven't seen Graeme in 25 years and I had no idea he lived out this way.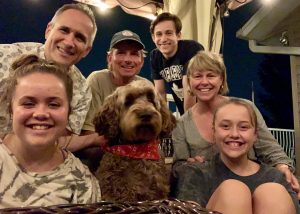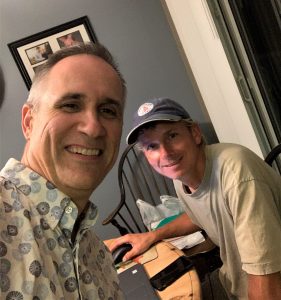 Graeme & Joel in the back.  Charis, Brooklin the dog, Karen and Hannah in the front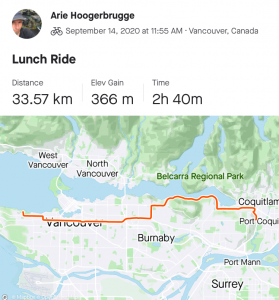 September 15
Some Notes – Today was totally crazy.  This morning started with a Zoom call with my potential PR guy.  The conversation went very well.  I am very excited about that.
Shortly after that conversation John Leung messaged me asking me to call Matt Best from CBC Vancouver for an interview.  And that lead to invitation tomorrow morning at 5:30 pm to be on CBC radio with Gloria Macarenko.
I have also been invited to a meeting this Friday morning to meet with some people interested in helping me out.  So I am very interested and curious to what that might mean.
In the evening Graeme took me to Terry Fox's grave site.  His grave stones along with his parents were caked with grass clippings from a lawn mower.  So I had the honour and privilege to wipe their stones clean.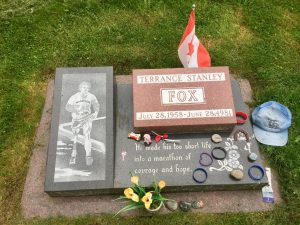 Wiped clean
It was a pretty crazy moment to be at his grave site.  I mean this was Terry Fox and I started my bike ride from his memorial in St John's Nfld.  And I was wiping his and his parent grave stones clean.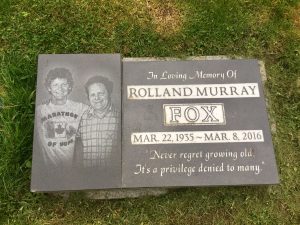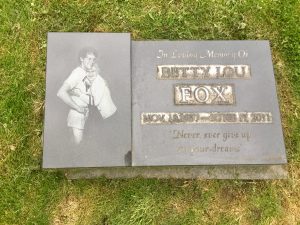 Terry's parents
September 16
Km's pedalled – 41.5 km's
Destination – White Rock
Some Notes – Yesterday evening the smoke was starting to clear but this morning the smoke is back.
I made my way to Langley to visit my friend Andrew Markle originally from Vancouver.  Andrew was my good friend during the time I lived in Vancouver back in 2011. Getting to Langley from Coquitlam wasn't too difficult.  Google Maps did a pretty good job of getting me there pretty quickly.
On my way to my host in White Rock I did a CBC Vancouver radio interview at 5:30 pm with Gloria Macanenko.  That can be found HERE.
The interview actually went super well.  Also people started responding pretty quickly with comments to my timeline.  Something that has never happened like that before.  I also got an invite for a home cooked meal and another hosting invitation on Vancouver Island.
Tonight I arrived at my 50th host.  Which is a pretty crazy accomplishment.  I realized today that I really actually do look very homeless.  I look pretty messy.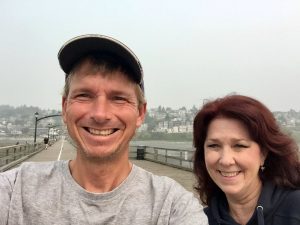 With Patty Walters on the Longest Pier in Canada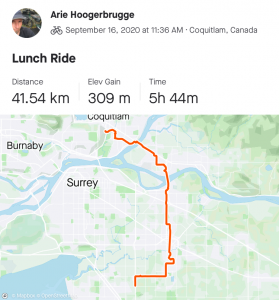 September 17
Km's Pedalled – 62.5 km's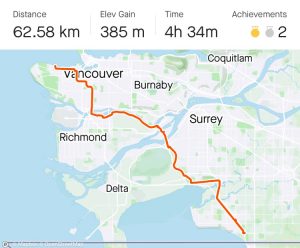 Destination – Vancouver – HI Hostel in Jericho Beach
Some Notes – Patty Walters was my 50th host and my host last night.  I had a most enjoyable evening as I usually do with all my hosts.  This morning Patty took me all over White Rock and out to the "Longest Pier in Canada" and then out for fish & chips.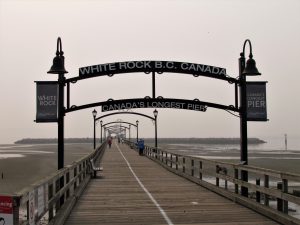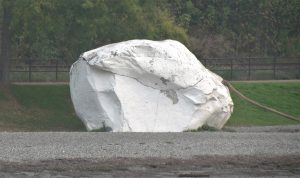 Biking back to Vancouver I biked through a lot.  I biked along highways and along rivers, over highways and over rivers.  I biked through forests, residential areas, commercial areas and industrial areas all through the cities of Surrey, Delta, Richmond and Vancouver.  (The main river being the Fraser River.)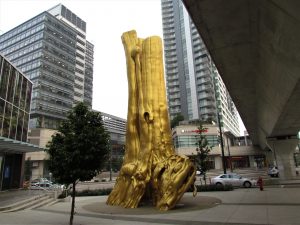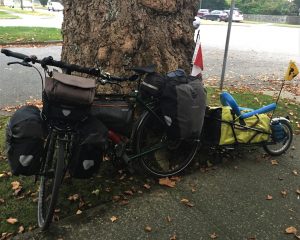 I enjoyed White Rock and wished I could stay longer.  Unfortunately forest fire smoke prevented a lot of photos today.
September 18
Some Notes – I had another sit down with John Leung and met his partner Fatima Sumar from The Healthy Way Vibes show I was on September 10.  There was an interesting conversation about being a regular on their show every few weeks.  I like this idea and hope that this can come about.
Much of the rest of my day was rather uneventful.  A lot is going on, but I would like to get back on the bike and get back on the road.  So I watched a movie and took a nap.  The plan was to forget about the ride of a few hours.
Being in Vancouver so close to the finish line (Victoria) for crossing Canada by bicycle this is the time to get myself organized for the/my future.  Last week was a very busy week meeting people and getting my bike looked at.  In the mean time forest fire smoke has completely enveloped the entire Vancouver and Greater Vancouver area.  So I have not had a chance to really visit any of the areas of Vancouver that I was hoping to.  Basically because photography is impossible.  And going to Vancouver Island with all this smoke is no good either.
Also financially I need to replace my front chain rings and crank on my bike, upgrade my phone for better pictures and do something about my wardrobe.  So I am a little stressed about spending that kind of money.
Vancouver Part 1 (Sept 5 to 10)
British Columbia – Getting closer to Vancouver (Aug 29 to Sept 4)