June 18
Km's Pedalled – 38 km's
Destination – Thunder Bay – Warm Showers host
Some Notes – A beautiful sunny day.  Shortly after getting on the road a cycle tourer came up behind me –Victor Beraud.  Victor was France and had been studying in Quebec.  He left Quebec on his way to Vancouver.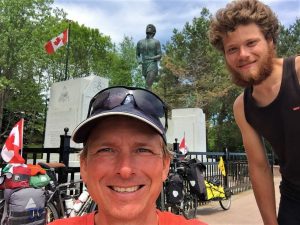 With Victor Beraud
It was 25 km's to the Terry Fox memorial.  Memorial to Memorial (St John's NL to Thunder Bay) was 6,650 km's pedalling for me.  Between peddalling into Kingston on the first day of spring this was probably my biggest milestone.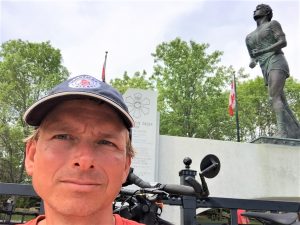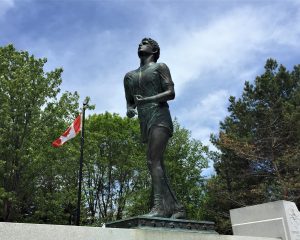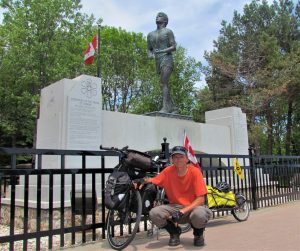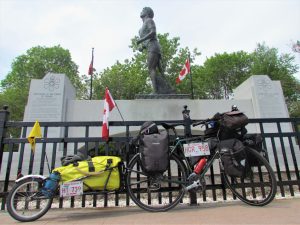 6,650 km's pedalled to get to the Thunder Bay Terry Fox memorial

In Thunder Bay a lady in front of me in McDonald's drive thru paid for my lunch.  Which was super amazing.  This was after the manager gave me a hard time about not being on my bike in the drive thru.  I was expected to push my 180 lb bike and hold my food and drink all at the same time.  And then I had to shake my head as the McDonald's employees had to cross the drive thru lanes multiple times to bring out food to all the cars waiting for their food.  It was actually a pretty humours traffic jam of cars.  And proof once again the common sense simply does not prevail.
I am staying with Annie Morin a Warm Showers host.
June 19
Some Notes- I dropped bike off for tune up and worked on blogs and documentation much of the day.  I also took a tour around on The Buddy Bike with Annie.  The Bike Buddy was a pretty crazy experience for me but Annie loves and any chance she can talk someone to go out on a spin she does.  We also went to visit an Alpaca farm where her boyfriend collects manure for gardening.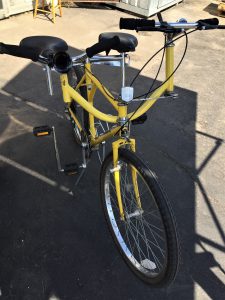 Bike Buddy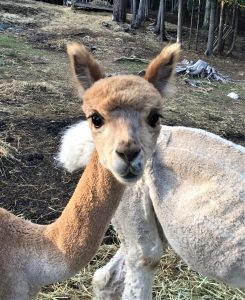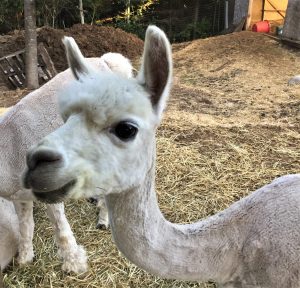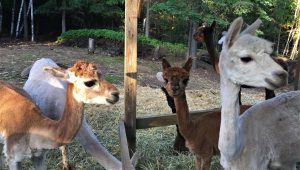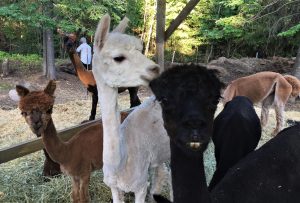 Alpaca farm
June 20
Some Notes – Spent much of the planting a squash garden. Well mostly squash, some kale and tomatoes.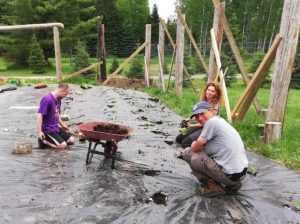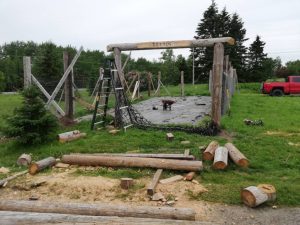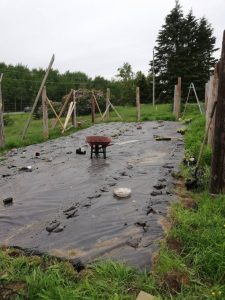 Planting a squash garden
I picked up bike from the bike shop.  The chain, rear cassette and middle front ring was replaced.  They also had to replace the rear tire??? The rear tire was completely worn out with less than 2000 km's pedalled.  I am bringing the tire with me to MEC in Winnipeg for a warranty return.  The bill came to $300.
June 21
Km's Pedalled – 42 km
Destination – Kakabeka Falls
Some Notes – Today was a beautiful sunny day.  In fact every day has been beautiful and sunny since the wet and cold day leaving Wawa almost 2 weeks ago.
I seem to have a hard time visiting some of the places that I have researched.  But I did make it to Kakabeka Falls.  And I must say the falls are pretty beautiful.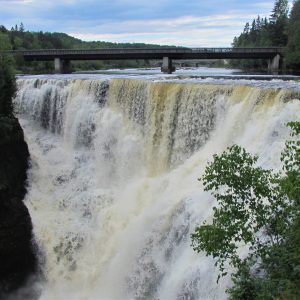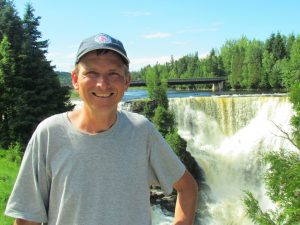 Kakabeka Falls
Within minutes of arriving at the falls I had a random meeting with the Tempelman famiy.  They a approached me curious about my fully loaded bike.  Pretty quickly Martin noticed my Voortman Cookie hat and made a comment about the founder Harry Voortman.  Which is when I told them that Harry was my great uncle.  In which Corinne informed me that then I had relatives living in Thunder Bay.
The Tempelman's had lived a few years in Burlington and attended the same church as my uncle Harry and was familiar and friends with a few of Harry's and Bill's children.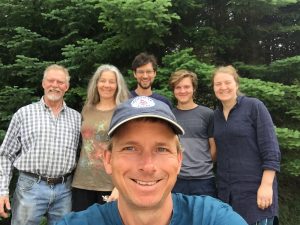 With the Tempelman's
Very quickly an invitation was extended to their farm about 6 kilometers off the highway from the falls.  I instantly agreed.  My time with them was so appreciated I actually secretly didn't want to leave the next day.
June 22
Km's Pedalled – 92.5 km's
Destination – 90 km's east of Atikokan
Some Notes – Another beautiful sunny day with headwinds.  Later in the day the clouds rolled in and highway got pretty hilly.  Today was a physically demanding day.  Today I also crossed into the Central Time zone.
I was able to photograph a family of foxes.  The photos of the mother turned out pretty great if I do say so myself.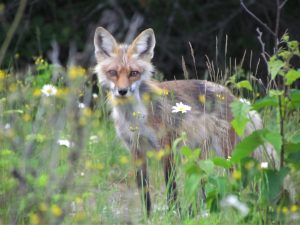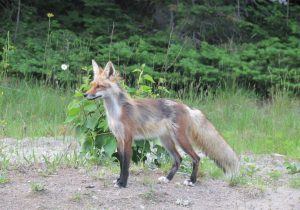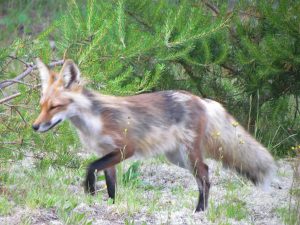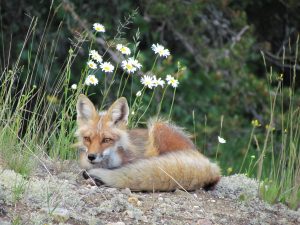 Making my way down Highway 11 my phone rang.  It was Harry Ludwig an old co-driver from Voortman Cookies.  Harry was currently driving through Nipigon with his wife on his way west to Winnipeg to visit their daughters and grand children.
It was so cool and amazing that he took Highway 11 to say hi as I was pedalling west.  I owe Harry a lot.  Harry was my trainer and was responsible for getting road ready in the truck.  I will forever owe that to Harry.  And it was amazing to see a familiar face.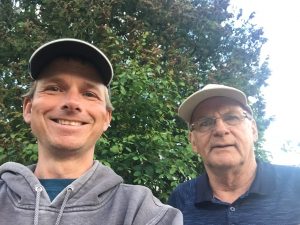 With Harry Ludwig
Harry is the third driver I have connected with on my bike ride.
Tonight I am camping on a lake shoreline.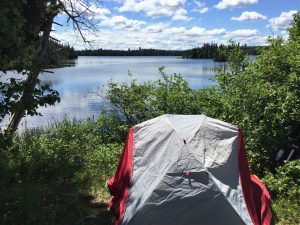 June 23
Km's Pedalled – 65 km's
Destination – Sapawe /Niobe Lake
Some Notes – Another amazing camping spot on a lake.  A beautiful sunny day with some clouds, headwinds and hills.
It took forever to exit my tent.  I was complete exhausted after yesterdays 93 km's.  I thought for sure I would have a few 100 km days by now.  This is not look likely in Ontario.
My frying pan almost floated away this morning while I was doing dishes and social media at the same time.
Today I crossed the watershed crossing where any rivers on one side of the highway flow to the Arctic and on the other side the rivers flow to the Atlantic.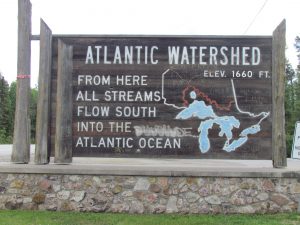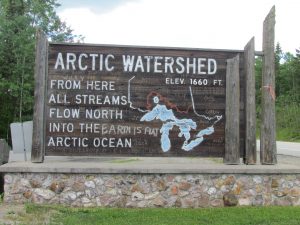 Watershed Boundaries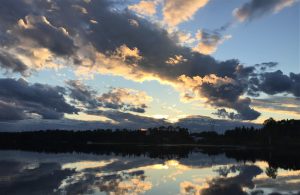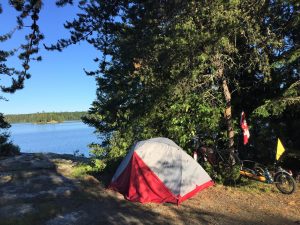 June 24
Km's Pedalled – 105 km's
Destination – 65 km's east of Fort Frances
Some Notes – Another beautiful sunny day with lots of hills. The headwinds were not to bad.
 I helped 2 painted turtles and a snapper turtle cross the road. I did a Facebook Live video of the snapping turtle crossing.
And I did it!  I finally broke pedalling 100 km's.  But my bike is giving me problems?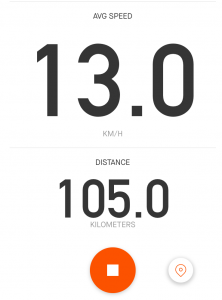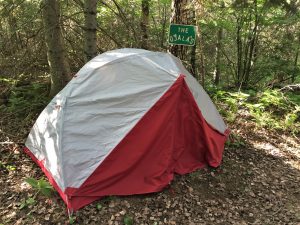 June 25
Km's Pedalled – 66 km's
Destination – Ft Frances
Some Notes – A beautiful sunny day again. Not to hilly or windy. I made really good time getting to Fort Frances.  And something is definitely wrong with my bike.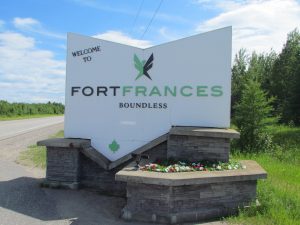 Coming into Fort Frances I helped and seen my very first Western Painted turtle.  Western painted turtles have a red belly, where as the Midland painted turtle does not have the red on the belly.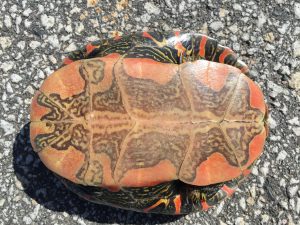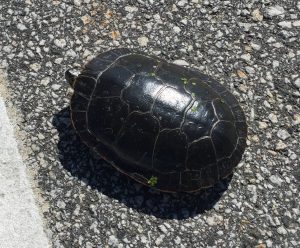 Western painted turtle
Staying with a host that reached out via Facebook – Tara MacEachern.
June 26
Some Notes – I brought my bike into the local sports shop.  It would appear my rear hub and ball bearings are completely dried out and my rear cassette was seized.  This is super frustrating because it would have been virtually impossible for the bike shop in Thunder Bay to miss this when they replaced my cassette only days ago.
Taggs Source For Sports is trying to get a new rear bike hub from a bike shop in Kenora.  Other then that I kept busy blogging and documenting.
Further West into Northern Ontario – June 11 to 17