June 5
Km's pedalled – 53 km's
Destination – Harmony Beach
Some Notes – Yesterday evening Ray Chin a fellow cycle tourist showed up at the hotel.  Notes on meeting him can be found at the last blog post update.  A link to that post will be found at the bottom of this post.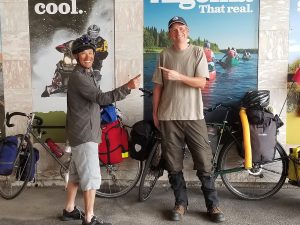 With Ray Chin
I worked feverishly away on my laptop until check out time – 11am.  And then me and Ray parted ways.  I then found a laundry mat in town.  It is kind of frustrating when your hotel does not have laundry.  I have been to a lot of hotel over the last few years.  This was a first.
I actually was so distracted typing a blog post during my laundry that I ended up putting my washed laundry into a different style washing machine (instead of the dryer) and only realized my mistake after listen to the machine fill up with water.  I wasted $3.75 but the half hour it took to go have the clean laundry go through the spin cycle again gave me enough time to get that blog posted.  So maybe it worked out in the end?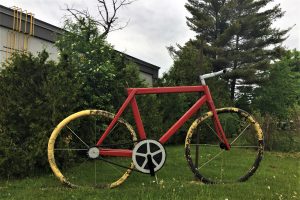 It started to rain as I finished laundry.  Ray told me about the historic locks downtown but with the rain I had no motivation to go back.  I will say that found downtown Sault Ste. Marie pretty run down.
I grabbed lunch, groceries, and a bike tube at the bike shop and left town pretty late.  Exiting the Sault the weather also cleared up.  I saw my first pair of sandhill cranes with 2 babies west of town.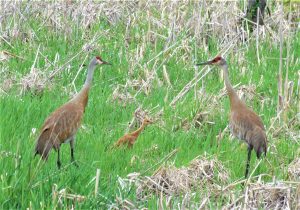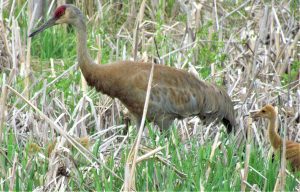 Sandhill Cranes
Much of the highway follows the Lake Superior shoreline and is really nice and scenic.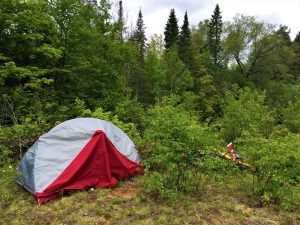 June 6
Km's pedalled – 53 km's
Destination – 130 east of Wawa
Some Notes – The highway continues to follow the Lake Superior shoreline and continues to be very beautiful.  Today was beautiful sunny skies with a bit of a headwind.
I watched 2 tv shows on my laptop last night and slept in until 11am.  I was so fried from no sleep in Sault.  It was so hard to get out of my tent in the morning.  It is so nice just listening to the birds in the morning.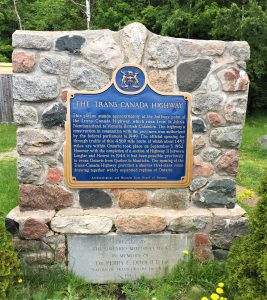 Half way across the TransCanada Highway
I didn't get as far as I hoped to today.  That doesn't happen very often that I am disappointed by my lack of progress.  But I did get a very nice camping site.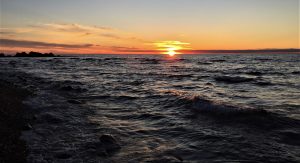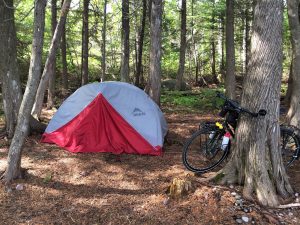 June 7
Km's pedalled – 78.5 km
Destination – 53 km's east of Wawa Baldhead River
Some Notes – It was pretty cold last night and I didn't sleep so great.  The terrain is a little hilly but a beautiful sunny day.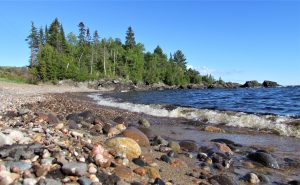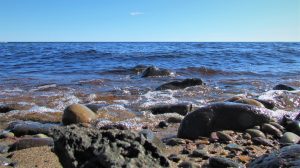 It occurred to me today that because of Covid had I not started my bike ride when I did I might have probably canceled the whole ride and moved to Belize.
The day turned cloudy and cool and mountainous.  It is crazy how many truck drivers wave and give me friendly honks.
I am physically beat.  It has been a long time since I had to climb this many hills.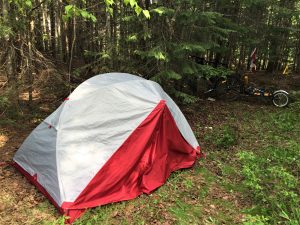 June 8
Km's pedalled – 73 km's
Destination – Catfish Lake Cabins 15 km's west of Wawa
Some Notes – Today was a beautiful day with a bit of a tailwind.  I saw a Pileated Wood Pecker coming into Wawa.  I am camping at Catfish Lake Cabins for 3 nights for $30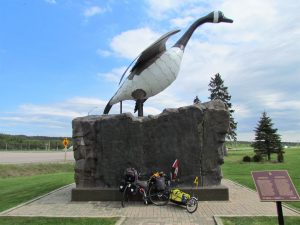 The famous Wawa Goose
June 9
Some Notes – I slept like crap which is no surprise as I have too much to do (documenting) and too much on my mind because of it.
I ended up having 2 FaceTime conversation that lasted 5 hours in total today.  On this day (June 9) I thought they were very productive conversations.  Fast forward a week later has I turn my notes into a blog post both conversations were a waste of my time.  But maybe that actually means they were productive?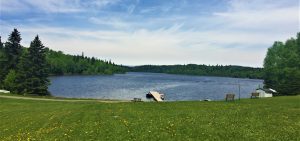 The view from my tent – Catfish Lake
June 10
Some Notes – Today was rain and blowing and very miserable weather.
I am finally trying to get on top of my blogging.  The owner of Catfish Cottages basically kicked my out of their laundry room/cottage. Something about paying for a camping spot and not a cottage.  The thing was is that it was the laundry room with standing room only?  Whatever, I ended up being pretty productive regardless.
Admittedly neither the husband or the wife have a very friendly vibe to them.  When I arrived here I had in my head that I should tip these people for their services.  I mean who makes money at $10 a night?  I am probably the cheapest person I know and I felt bad for only paying $10 a night.  But in the end I didn't know how to tip inhospitable people?
It was probably a good thing I got kicked out of the laundry room.  There were times throughout the day that the tent shook so violently it felt like I was the reason the tent didn't blow away.
Getting into Northern Ontario – May 27 to June 4