Challenges
So I am back on the road as of May 19.  Premier Doug Ford started lifting restrictions thanks to Covid-19 on May 19 and I took that as my cue to start moving again.  As with many people I face daily challenges and much uncertainty about the future.  They talk about a second stronger wave hitting in September but then they also say that is when kids go back to school?
I feel my best form of action is to start pedalling west and not worry about too much until I have something to worry about and then pivot accordingly.  That being said now that I have been on the road for over a week I am noticing some challenges.  Some challenges are a direct result of Covid-19 and some challenges are a result of simply pedalling during a completely new season.
Some of my Covid-19 challenges are a lack of washrooms and open restaurants such as Tim Hortons and McDonalds.  So far most of my routing has been back roads but I was surprised getting into Huntsville that McDonalds front doors were still locked and they were only serving via drive thru.  The lack of available washrooms is fairly self explanatory but it is also where I would normally top up water bottles.  This leaves me with either boiling water or purchasing water.  Boiling water is not so bad other then who wants to drink hot water on a hot day?  If I have flowing water available to me in the evenings I boil what I can.
The lack of open restaurants also make access to wifi and updating blog posts such as this one also very difficult to do.  And of course it is very difficult to charge batteries.
Currently local interactions have not been affected too much by Covid-19.  I get many friendly waves and honks along the road through out the day.  Perhaps some people that might be tempted to stop and talk don't?  As I type this I am at my second host in 7 days.  Not too bad for being in the middle of nowhere.  But 7 days is not exactly a sufficient enough time to gage what things will look like down the road.  Not too mention I am about to head into far more isolated areas.
Some of my new challenges related to now pedalling in the summer is the heat and sun.  Except for one partial day of rain and showers the sun and lack of clouds has been unrelenting.  I find after pedalling an average of 75 km's a day in some fairly hilly terrain that I am beyond exhausted at the end of the day.  Much of any exposed skin is sun burnt.
This exhaustion is also making it difficult to stay on top of my content creation from inside the tent in the evening.  I simply to have the strength or motivation after a long day of pedalling.  This was rarely a problem during the winter.
Along with the all this sun the need for water is insatiable.  I find my self going through at least 4 litres of water a day.  And water is heavy to carry – 4 litres of water weighs 8.8 lbs.  So far I have not run out of water.  But in this heat I would be in trouble pretty quickly.  Also I would feel uncomfortable asking strangers for water from their tap due to Covid-19.  
Summary of the first week
In the interest of trying to save some time (that I have very little of) I will sort of summarize the past week and then make a few separate notes regarding each separate day.
Most every day has been very sunny with generally no clouds.  Temperatures have been high 20's to at least 30 degrees Celsius.  Ever since heading north of Highway 7 the roads are generally hilly and sometimes very very hilly.
Other then being totally exhausted at the end of the day physically and mentally I have been feeling very good.  And for that I am thankful.
Some evenings stealth camping has been more challenging then other evenings but so far I have had pretty good luck with stealth camping.  Black flies have generally been bad.
May 19
Pedalled – 79 km's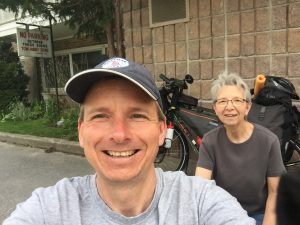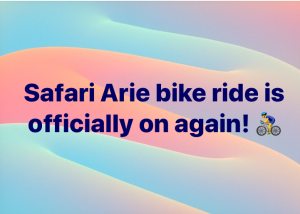 Thanks to my aunt Henny letting me stay with her for 2 months
Destination – 10 km's south of Kaladar
Some notes – Camped at conservation area which was a really nice spot.  The day was beautiful day and I got nice and sunburnt. Mentally felt great. I saw lots of sun bathing turtles, beavers and great blue herons. And lots of black flies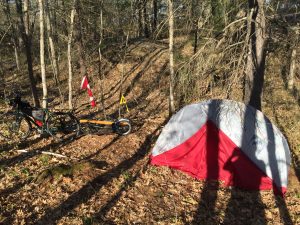 May 20
Pedalled – 76.5 km's
Destination – 13 km east of Havelock
Some notes – As I was packing up camp a lady pulled into the conservation area without seeing me or realizing I was there and dropped her pants to take a pee in front me.  I just yelled out "sorry!"  She had a good attitude and moved down the road to take her pee.  On her way out yelled there was a better place to camp down the road but I told her I was packing up not setting up.
I had a really cool meeting with an old co-worker/driver from Voortman Cookies.  John Ligtenberg called my a few days earlier and during our conversation we realized that there was a small chance to meet on the road.  And meet we did just north of Tweed by Highway 7.  It was super nice to reconnect.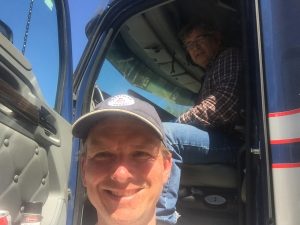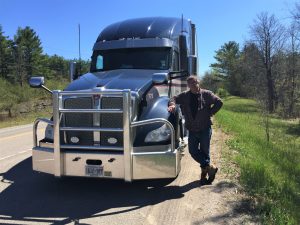 John Ligtenberg and his new truck
I had another really cool experience and found a Blandings turtle along the road.  I have not found one of these since I was a teenager at Long Point when I use to go up to the tip.  Finding this Blandings turtle was very cool for me.  Unfortunately, I also lots of dead baby turtles.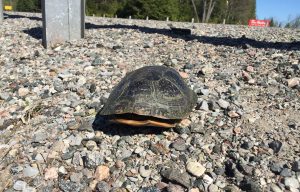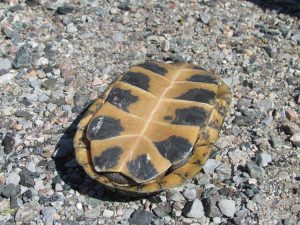 Blandings Turtle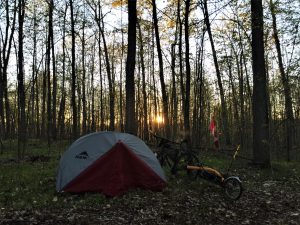 May 21
Pedalled – 94 km's
Destination – 3 km's east of Bobcaygeon
Some notes – Weather continues to be beautiful, sunny and hot.  Overall I am still feeling good physically and mentally.  I saw my first porcupine today.  Really hilly today and I pushed hard.  I find myself running out of water during the day.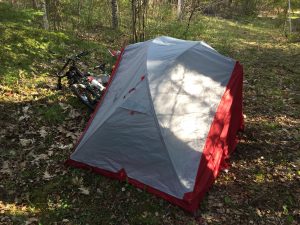 May 22
Pedalled – 39 km's
Destination – Between Kinmount and Minden
Some notes – I finally found my first live hatchling painted turtle.  Unfortunately, I also my first Eastern Hognose snake – dead.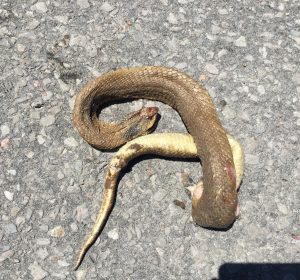 Dead Eastern Hognose Snake
Darren Lunn from the local Halliburton – Minden newspaper met me in Kinmount for my first newspaper interview.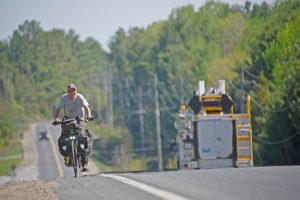 Photo taken by Darren Lunn
This was all thanks to my first host Russ Duhaime.  Unfortunately Russ had to leave me very shortly after I arrived, leaving me in the capable hands of his son Owen and his girlfriend.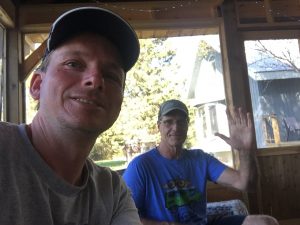 Russ Duhaime
Shortly after arriving at my hosts I pretty much physically died due to heat and exhaustion; I was totally fried.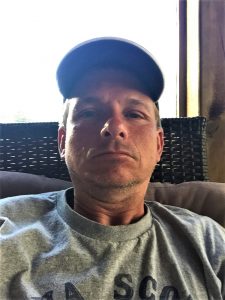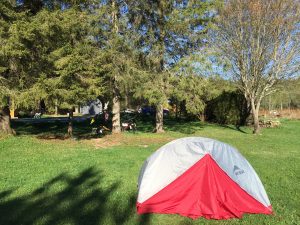 Totally exhausted
May 23
Pedalled – 73 km's
Destination – Just outside Dorset
Some notes – Today in Dorset I met a really cool 17 year old kid named Julian Lukasik.  Julian is looking to bike from Toronto to Vancouver this summer by himself.  And to top it all off he just purchased a MEC National bike for his ride (same bike as mine).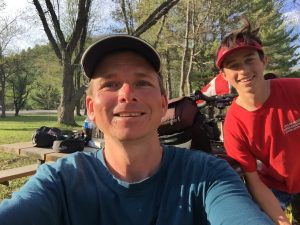 Julian Lukasik
Thanks to his dad I was able camp at my best camping spot ever.  It was so cool I had to dismantle my trailer to get all my gear down the trail.  My camp site was right beside a river and waterfalls.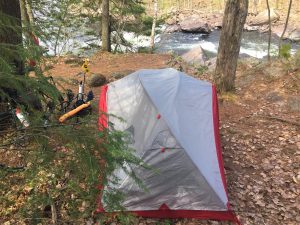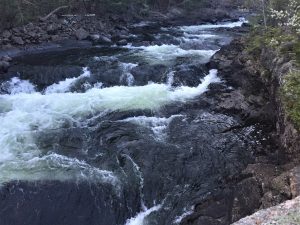 I also found my first dead baby snapping turtle.  So far of all the (dead) baby turtles I have found are painted turtles, this was the first baby snapping turtle.
May 24
Pedalled – 74 km's
Destination – just a few kilometers south of Burk's Falls
Some notes – Finally a cloudy and not as hot. I actually got rained on Huntsville and later that afternoon got rained on again.  Hwy 60 was under construction.  Lots big hill today. I found out that there was no biking on Highway 11.  I pedalled a little bit on 11 and was able to take a few side roads.  I ended up setting up the tent in the rain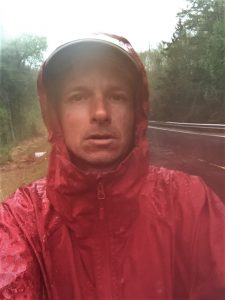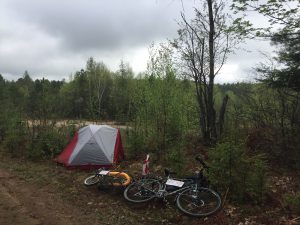 May 25
Pedalled – 75 km's
Destination – east of Powassan
Some notes – Slept pretty good last night.  This morning I found fresh moose tracks outside my tent and last night I heard at least 4 species of frogs and toads calling last night. Made me think of Belize.
Today was super hot and sunny day.  Today I took highways that paralleled Hwy 11 for the first part of the day and later on in the afternoon I was able to get on the 11.  Today I also walked my first hill since I think Nova Scotia.  I guess eventually I would hit a hill I could not pedal.  I was pretty dead at the end of the day.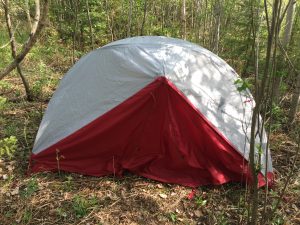 May 26
Pedalled – 19 km's
Destination – Reptile Camp in Bonfield
Some notes – I had no where to be for a few hours so I spent the morning in the tent looking up at the sky listening to the birds and breeze.  I love lying in my sleeping bag in the morning listening to the birds.
I arrived at Reptile Camp owned and run by Steve and Holly Featherstone.  I will be spending 2 nights here and will right a special blog post just about the camp.