By Darren Lum 
Riding up County Road 121 a few kilometres from Kinmount, 47-year-old Arie Hoogerbrugge pedals his bicycle, smiling, free from the constraints of an ordinary life, pushing his physical and mental limits during his epic 55,000 kilometre dream ride that started in St. John's, Newfoundland on Nov. 12.
It was a wobbly start, as he couldn't even get on the weighed down bike to ride it onto the ferry destined for Newfoundland, as he was saying goodbye to his parents. By the time he went through Kinmount, he had ridden more than 5,000 kilometres. His result is proof of his determination. However  he is still a long way from his ride's completion, which will see him travel for three years through 24 countries, including Northern Canada, the U.S. and South America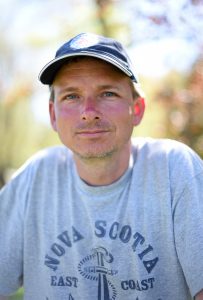 The former long-haul driver is used to challenges and large loads, requiring skill and finesse under difficult conditions all year round. His touring bike is like a three-wheeled, push pedal version of a transport truck. It is barely visible for the panniers on the front and the back of the bike except for the tires it rolls on. The bike pulls a trailer with his sleeping bag and tent. The entire haul includes everything he needs to document the journey with GoPro cameras and his laptop; and for living on the road, whether its food and water, clothes, or tools for maintenance and emergencies.
Hoogerbrugge is a guy that follows the beat of his own drum. This trip is indicative of that way of life. It's a test of his mettle and will serve as documentation of his courage, and the good in people. "In my world this is perhaps the greatest challenge that I can come up with that would possibly push me to the point of failure. I have to believe that at my age that some of my best years are still ahead of me. And this seems like the way to prove this to myself," he said, as he posted online before starting his trip.
Hoogerbrugge recognizes the challenges to his plan imposed by measures to reduce the spread of COVID-19, which includes limitations to access public bathrooms and restaurants. It prompted him to bypass the Greater Toronto Area in favour of smaller towns like Kinmount and Minden Hills and has made him consider altering his journey to get to the US sooner in his trip, as they have less restrictions. "My goal is exhaust all options. Pivot accordingly and exhaust all options," he said.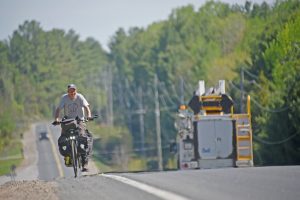 Born on May 18, 1973 to Arie Sr. And Gerty, Hoogerbrugge is the eldest of three boys who were raised in Grimsby, Ontario.  He is accustomed to hard work and risk. Hoogerbrugge's work life started at 10 with a paper route, which grew to two routes. He saved his money and spent it on his hobby of buying and keeping reptiles and amphibians. During high school he owned 50 types of reptiles and kept them in his parents' basement. This hobby was parlayed into a business, as he became a reptile wholesaler in 1995, which then evolved, into opening the retail store, The Reptile Store in Hamilton. He also opened a fish store. At the height of  his business operations, he had 13 full and part time employees. In 1997, he took his first ever trip out of North America to Belize where he picked rice and found his love for the jungle. It led him to sell his house he bought before he was 20 and use the money to buy a house in the Belize jungle. Now he has 40 acres and a place he calls home and his future.
Then by 2011 he shifted gears, moved to Alberta and worked in the oil and natural gas industry. Later that year, he completed his first expedition bike ride that took him 6,500 kilometres across Western and Northern Canada, completed over 14 weeks, less a day. That ride planted the seed that drove him to plan this epic ride, which will include the Dempster Highway – which connects the Klondike Highway in Yukon to Inuvik, Northwest Territories – where it will take him to the village of Tuktoyaktuk, Northwest Territories.
A couple of years later he became a long-haul truck driver for Voortman's Cookies. In six-and-a-half years of driving he drove close to 1.2 million kilometres.  From his website, he said it was the "craziest, most difficult and most challenging accomplishment of my life." He's using his savings from that work to embark on this once-in-a-lifetime ride.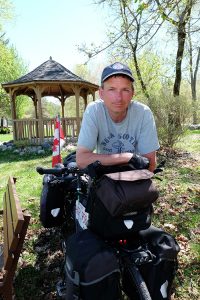 The lonely road biking is actually full of hope and people willing to open their hearts, Hoogerbrugge has discovered. There were numerous people he encountered, who gave him support in the form of money, gift cards, meals and places to stay, particularly in Nova Scotia and PEI. He said he went wherever people took him. His notoriety grew through his online presence, which included a CBC report about him. He added 1,300 more kilometres to his trip, as a result of the welcome.
He told them to expect more people to follow in his tire tracks, as others will be inspired. "When you see someone else do it all of a sudden you have permission," he said. That's how he was inspired to hit the road.
"Years and years ago, I watched a YouTube video of a kid half my age, biking on the Dempster Highway during the winter. It was like, 'You can do that?' Basically, the video was saying, 'Of course you can do that.' And that's where all of a sudden, well, I can bike across Canada during the winter," he said.
Russ Duhaime of Minden invited Hoogerbrugge to spend the night, saying this was about giving back after he and his son, Owen had experienced a similar generosity while they were on a 30-day bike tour a few years ago.
"We were overwhelmed by the kindness of people all along the way, So, when I heard Arie was changing his route and would be travelling through the area, I sent him a message. It's sort of an extension of the generosity we received," he said in a text. Duhaime, who has a passion for cycling, said he only knew of Hoogerbrugge through a cycling forum.
Hoogerbrugge is thankful to all his supporters, in particular his aunt. She allowed him to stay for two months when COVID-19 restrictions were implemented in Ontario. Any fears he has on the road pale in comparison to the fear of an unfulfilling life.
From his website, Hoogerbrugge said, "Boredom, resignation and a life of predictability are my biggest fears. And I will endeavour to do my best to keep these fears at bay and that my story may have many more chapters ahead of it."
Hoogerbrugge hopes his documentation of his journey will be made into a documentary or short film.
He believes the completion of this ride will enable to help him in his legacy goal of planting a million trees, or be part of an effort to plant a billion trees, and help with a greener earth. Go with him on his journey through his website safariarie.ca, YouTube posts, and his various social media portals. His advice for others to complete their own adventures? "Just go for it," he said.