June 11
Pedalled – 65.5 km
Destination – a rest area 10 east of White River
Some Notes – I thought maybe it would be a good idea to grab one last shower before I left Catfish Lake Cottages.  The shower are in the laundry room/cottage.  The owner decided to throw a load of laundry in the machine.  Fortunately it did not affect water temperature, but it did affect water pressure.  I just know for a fact that he knew what he did.  But all good at $10 a night.
Before the weather changed for the bad a fox joined me on the highway.  He trotted along the other side of the highway with me for a while.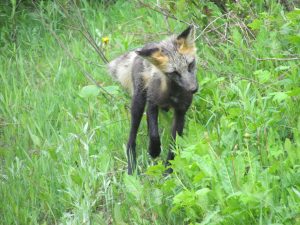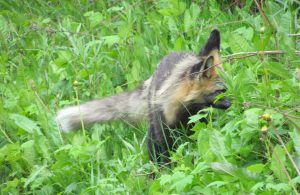 Today was cold and very windy and overcast.  The day was also fairly hilly, but fortunately nothing to steep.
The weather was so miserable day might as well be snowing and at the end of the day I was setting up my tent in wet snow/rain.  Pretty miserable day, but all good.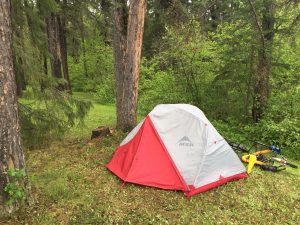 June 12
Pedalled – 86.5 km
Destination – 18 km's east of Marathon
Some Notes – The day started out overcast and cool.  Later in the day it got sunny with a bit of a head wind.  The terrain continues to be hilly.  It was a cold night last night with a low of 2 degrees.
So I had an interesting experience in White River this afternoon.  I went into a Robins Donuts.  I had a gift card from way back when I was in Nova Scotia.  I asked if they could tell me how much was on it because I knew not much.  Apparently "their" machine could not take Robins gift cards.  I asked how much a coke was.  I was told $2.60.  I declined as I figured the Esso across the road would have 2 for $4. I paid for 2 donuts and as I was leaving held the door open for another (female) customer who was walking up to the door.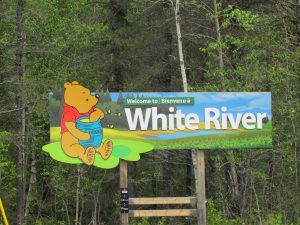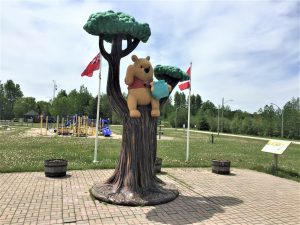 White Rive – Home of Winnie the Pooh
Before I had my first donut finished sitting against the building that customer I held the door for comes out with a coke for me plus the change from a $5 bill.
My bike is giving me issues with loose spokes.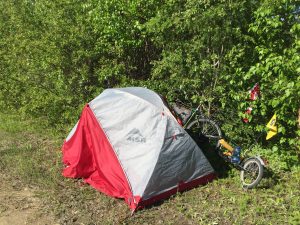 June 13
Km's Pedalled – 70.5 km
Destination – 24 km's east of Terrace Bay
Some Notes – A beautiful sunny day.  A late start as usual.  A killer hill before marathon and another killer hill after Marathon.  A very physically demanding day.  I can't remember a harder one.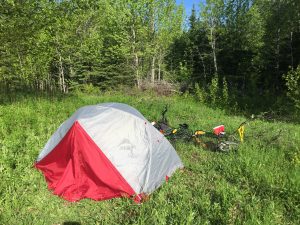 June 14
Km's Pedalled – 53 km's
Destination – 10 km's east of Rossport
Some Notes – A beautiful and sunny day. I spent a few hours in Terrace Bay charging batteries and posting the blog post Moving Forward.
A rough morning and day today because of an email I received from someone claiming that they were a trusted friend.   For the sake of this blog post if you want more detail just click on the hyper-link to that post HERE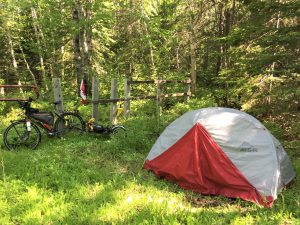 June 15
Km's Pedalled – 73 km's
Destination – 9 km's east of Nipigon
Some Notes – Another beautiful sunny day.  The weather has been just awesome since that bit of wet snow the other day.
Some of these climbs and mountains in Northern Ontario are just ridiculous.  It seems like they go on for miles.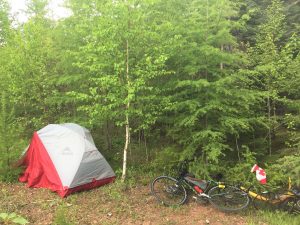 June 16
Km's Pedalled – 16 km's
Destination – Stillwater Campground just on the west side of Nipigon.
Some Notes – I am not sure if it was a good decision to only pedal 16 kilometers today or not.  I guess I will figure that out over the next few days.  The problem is that I am running out of battery power, I need to do a laundry and it has been more then a few days since my last shower.  And of course I am always falling behind on my documenting.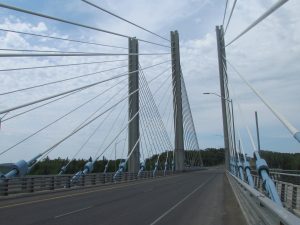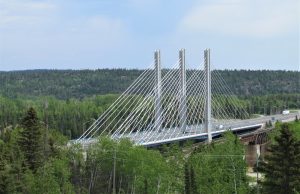 I pedalled into Nipigon to pick up some groceries and was trying to figure out my plans for Thunder Bay.  As I was heading west I notice a tent campground.  I had called a campground just east of Thunder Bay.  They would not let me stay there.  I actually u-turned to go back to Stillwater Campground expecting them to turn me away.  Then my decision about what to do would be made for me.  Turns out they were open and even after a late start this morning if I checked in it would be early enough for me to get a few things accomplished.  So I bit the bullet and paid the $30 including taxes.
I guess I did not have to spend $3 on water at the grocery store after all.  Hopefully the $30 for a campsite is worth it.  That being said I am finishing my third blog post, had a shower, did my laundry and am charging batteries.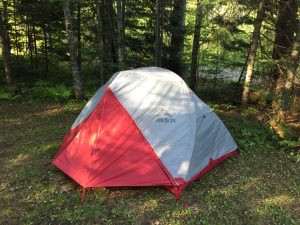 June 17
Km's Pedalled – 72 km's
Destination – Amethyst Harbour
Some Note – Check out from Stillwater Campground was 12 pm.  I pulled out at 12:01.  I feel like I was pretty productive so I feel good about stopping.  Today was sunny and hot with lots of headwinds.  But I don't feel too bothered by the wind.  Traffic is very heavy and the mountains are gone.
But by the end of the day I would describe today as tough.  There were no mountains but always climbing. The heat and wind really took their toll by the end of the day.  And I got another flat tire so soon after the last flat?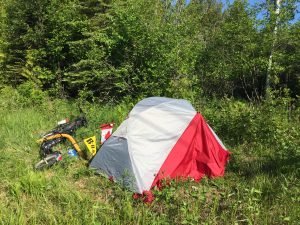 Northern Ontario – June 5 – 10, 2020