February 21
Pedal: 63 km's (including the last 20 km's in NB)
Destination: Temiscouata-sur-le-Lac, QU
Weather:  The morning was sunny and cold.  I started the day with -20C and thankfully the sun stuck around all day.  The high was -8C with almost no wind all day.  I followed the Madawaska River all day.  There was only an occasional hill here and there.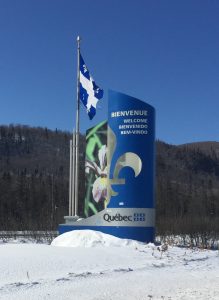 I look forward to warm days when I can just set up my tent and go to sleep.  I notice that I am so tired at the end of each day.  There is no point in going to sleep early as the cold temperatures will eventually wake me and make falling back to sleep very difficult.  Probably a low of -8C tonight.  Looks cloudy outside as I type this.
As I left New Brunswick I had 3 Fisher Transport trucks (in a small convoy) headed south just inside the New Brunswick border all give my friendly honks.  Fisher Transport is out of Nova Scotia.  I wonder if the lead driver knew about me?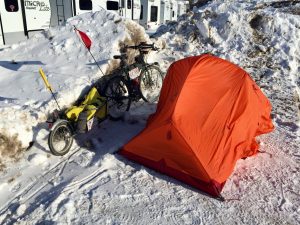 Camped in the Tim Horton's parking lot
February 22
Pedal: 66.5 km's
Destination: Riverie-du-Loup
Weather:  Sunny with warmer temperatures today.  Heading north the first part of the day was pretty hilly.  Sandy Carr the truck driver (that originally brought me out here) called me out of the blue as I pedaled Highway 85.  He was in Edmundston heading back to Ontario to the bakery.   I raced the 20 km's to the Irving Truck Stop in Saint-Antonin and beat Sandy by 5 seconds.  Thanks Sandy for lunch!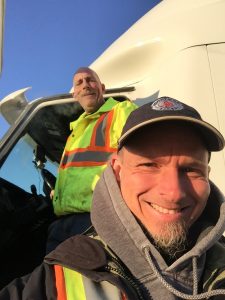 For other cyclist:  Highway 85 sucks in my opinion.  Fortunately for winter biking and camping there is a strategic Tim Horton's in Temiscouata-sur-le-Lac.  If it had been summer time I would have been upset with my decision to go this way.  There was lots of traffic with crummy or no shoulder.  While I have never taken the route that heads to and follows Lac Baker I have to believe it to be a better route for consideration. It has also been brought to my attention that there is a pretty good rail trail along this route.  Obviously at this time of year it has lots of snow for the snowmobilers.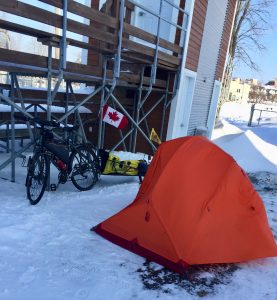 The wind kept me up the whole night.  Camped behind a sports arena.
February 23
Pedal: 42 km's
Destination: Kamouraska
Weather:  Today continues to be sunny and even warmer but there was a head wind every minute of every kilometer that I pedaled.  I am physically drained even though Route 132 is nice and flat.
Last night I camped behind a sports arena and the wind kept me awake the whole night.  Tonight I have a bed to sleep in thanks to Andrew Caddell.  Andrew lives in Ottawa but has a family home in Kamouraska.  I pedaled in low gears all day.  I have never been so tired pulling up to a home.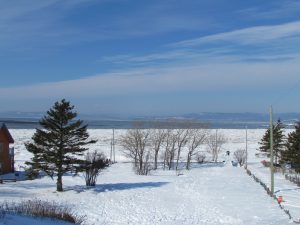 View from the back window over the St Lawrence River
Andrew was in Ottawa so I had the place to myself and watched TV on my laptop upon arrival for a few hours as I had no energy to get off the couch.  The home is a beautiful rebuilt 200 year old home on the St Lawrence River.  The home had the first dumbwaiter that I had ever seen.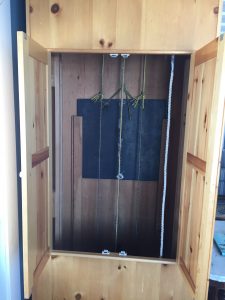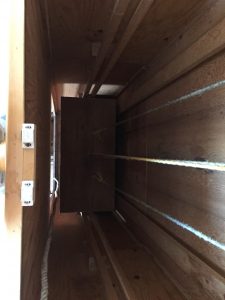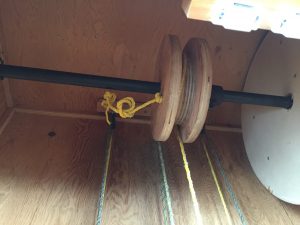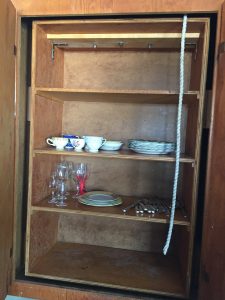 A dumbwaiter
February 24
Pedal: 56 km's
Destination: Saint-Jean-Port-Joli
Weather:  Sunny and 4C was how my day started and went to a high of 6.  Within the first minute of pedaling my body reminded me of how hard yesterday was.  And before I was even out of town the headwind reminded me that I was getting no breaks today.  Another day of headwinds.  My body is so beat that my legs are sore.  Fortunately with the even warmer temperatures my day was not nearly as bad as it could have been with typical seasonal temperatures.  But another day of low gears all day.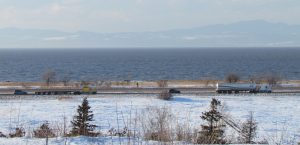 I continue to follow the 132 and continues to be very flat and wide open.  The small villages and towns that dot the highway continue to be quaint and charming.  Route 132 is definitely the way to go; just go west to east not east to west.
I am camping behind the snow drifts beside the Petro-Pass Truck Stop (and between the highway).  I don't recall sleeping at this truck stop ever but I did stop here a few times to access the Tim Horton's across the street from it when I drove a truck.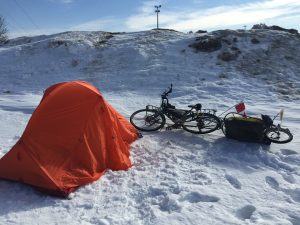 February 25
Pedal: 101 km's
Destination: Levis
Weather: Sunny and 2C when I woke up maybe even a bit warmer.  I slept in until 10 am and I feel that it was one of my best mornings ever in a tent.  I didn't even put on gloves to break camp.
A late start and physically beat but no headwinds today.  I didn't plan on pedaling 101 km's today; but rarely do I ever plan these long days.  There simply is no services between Montmagny and Levis.  So I kept pedaling.  After super in Levis I wanted to camp right away as I was too tired for anything else.  I actually couldn't find an appropriate place.  I ended up pedaling an extra 8 km's into the old part of Levis and then to the ferry terminal and then past the ferry terminal to find a small parking lot behind a church.
If it was not so hilly around the old part of Levis I might have gone back the next morning to take a few photos.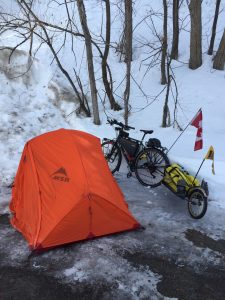 FYI for other cyclists that are considering biking this route in the winter.  Most restaurants in the small towns are closed during this time of year.  Pretty much only towns with Tim Horton's have open restaurants and there was one restaurant in Kamouraska open.
February 26
Pedal: 6 km's
Destination: Quebec City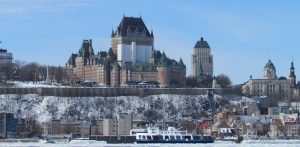 Quebec City from the ferry
Weather: It is colder today.  Last night was a low of -4C and I slept like crap. Easy day today.  A few kilometers to the ferry and 15 minutes later I was in Quebec City.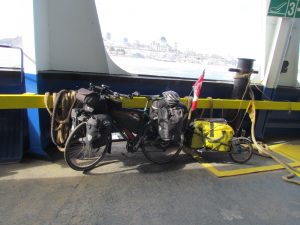 On the Ferry
I am staying at the Auberge Internationale or (Hi Quebec City Hostel)  For $25 a night I have a bottom bunk bed in an 8 bed dorm room.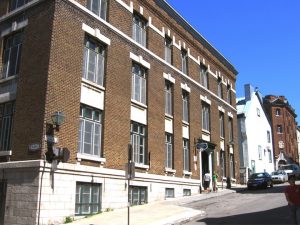 Not my photo
I grabbed a shower, lunch and then they checked me in for 3 pm.  After I got myself settled I grabbed the #800 bus to go check out Monmorency Falls.  It was a 45 minute bus ride and I am glad I bussed it verses biked it.  The falls were ok.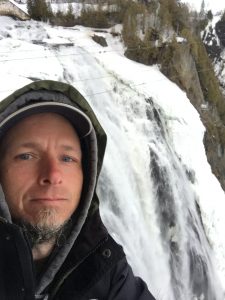 They are calling for a winter storm tomorrow.