Newfoundland Complete plus summary
November 24
Pedal: 53 km's
Destination: Camped at Catamaran Park.  Was going to go into the dark a bit longer until I noticed covered gazebos at a RV park that was closed for the season.  I called the phone number on the window.  No one called me back.
Weather: Sunshine!! Beautiful day but there was a slight head breeze that really prevented an speed.
Woke up with a ton of moisture in the tent.  Highways was fairly flat, occasional hills but always seemed to be the slightest incline.  For a beautiful day it was a bit of a tough pedal.  I don't expect to many days as sunny and as nice as today in Newfoundland.  Shortly outside Bishop Falls I came across an open truck scale.  I had my bike weighed.  The MOT officer felt confident that the scale was accurate at 185 lbs for bike and gear.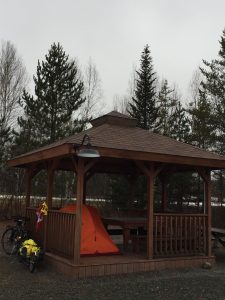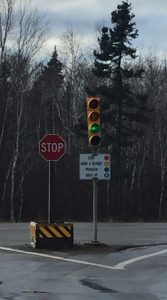 November 25
Pedal: 42 km's
Destination: South Brook
Weather:  Thankfully camped under a gazebo.  Rain started half way getting packed up.  The rain was heavy enough and never stopped.  Today was officially the wettest day so far.
I already knew about the rain coming and I figured as long as I could get to a restaurant in South Brook I would have a place to dry out.   Drying out a Eddy's and will camp behind so I can take advantage of breakfast in the morning.
Really too bad about the rain.  The kilometers came real fast and I could have gotten few more in quite easily.  Put the Bar Mitts on the bike and good thing I did.  Was able to wring out a cup full of water out of each mitt.  Pedaled 11 am to 2:30 pm.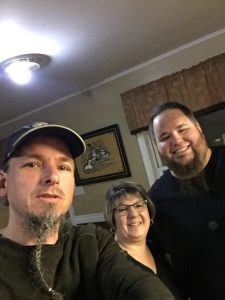 Kimberly and Adam at Eddy's
November 26
Pedal: 42 km's
Destination: camped on a logging road 42 km's west of South Brook
Weather:  Had a very filling breakfast and started pedaling at 11:00 am.  The weather didn't look to bad – overcast but there ended up being a head wind the whole day.  The day was cold and every stroke of the pedal was a grind.
I received an amazing gift last night.  Adam at the convenience store/restaurant/hotel called his boss about where to camp and I received a complimentary night in one of their rooms.  What a gift! It was still raining outside and my first shower in 12 days.  I had clothes and gear drying all over the room.  Even had my tent set up in the room.  I was doing 5 things at once.  Drying gear out, charging batteries, watching TV and uploading pictures to Flickr.  Before I knew it was 1 am.   Thank you Adam & Kimberly.
Ended up on a logging road just off the TransCanada.  Cooked my dinner at camp for a third time since leaving St John's.
November 27
Pedal: 88 km's
Destination: Deer Lake
Weather: Started out cold like winter.  Head wind; the first 35-40 km's were a grind.  And then the sun came out and the wind decided to disappear.
Started at 9 am and right before lunch the winds stopped and decided to push into the dark to get to Deer Lake.  I think I biked to about 6:30 pm.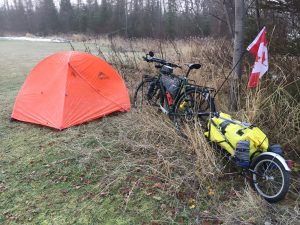 Camped at the Irving Big Stop
November 28
Pedal: 0
Destination: Stayed at Deer Lake
Weather: Very foggy.  Good decision to stay put.
Got into my sleeping bag after 1:30 am and was still wide awake at 4:30 am.  Decided to stick around another day to get my to do lists completed and get some blog posts out of my head so I could sleep better at night.  Productive but some anxieties started to creep in.
Received a $20 Tim Horton's gift card from a guy I ran into and spoke to last night.  Thank you!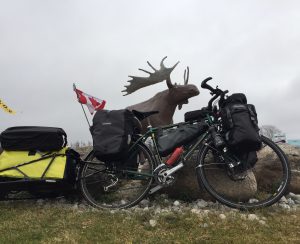 Leaving Deer Lake
November 29
Pedal: 76.5 km's
Destination: Georges Lake
Weather: Morning started overcast and rain by the time I reached Corner Brook.  West of Corner Brook the rain turned into snow.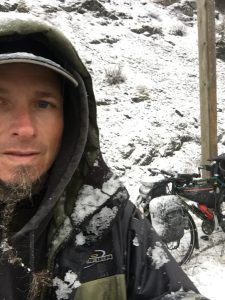 Slept really good.  Pedaled 10 am to 4:30 pm.  Pedaled through my first snow storm.  Decided to pull over at another closed RV park.  Totally soaked.  Boots wet inside and 2 sets of gloves soaked.  Thought for sure  that this was going to my initiation into true misery.  Completely soaked in the middle of a full blown snow blizzard.  Half way setting up camp Sean Richardson. pulls up and offers me place to sleep at Georges Lake.  He claimed to not be an axe murder and promised not to kill me.  I had to take him up on his offer.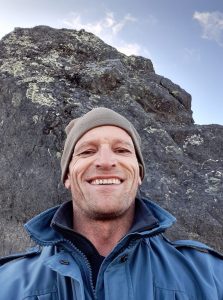 November 30
Winter storm continued in full force.  Stayed at Georges Lake.  Power went out all day into the next day.  Sean turned out to be a veteran of the British army and Canadian army.  It was an honor and at times holy to hear to hear some of Sean story.  Hearing some of Sean story a real highlight of Newfoundland.  Sean is the first warrior I have had the honor to be around and listen to.
December 1
Pedal: 92 km's new record
Destination: Crabbe's River Restaurant
Weather:  Cold, almost no wind.
Lots of hills and mountains.  Pedaled 10:45 am to 8 pm.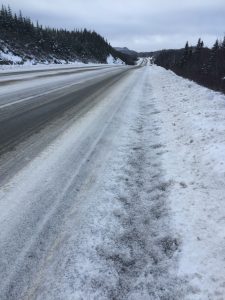 It's a new world out there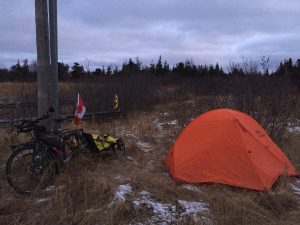 Behind Crabbe"s River Restaurant
December 2
Pedal: 98 km's
Destination: Port aux Basques
Weather: cold and no wind but a beautiful day.
Set the alarm to make sure I could make it to the ferry.  Started out pretty hilly walked 3 hills/mountains.  Knees were killing me all day.  Many many sections of shoulder beaten up along this section.  Physically beat.  Pedaled 9am – 8pm
Summary
Newfoundland is complete – 963 km's total/ 21 days/ average 46 km's a day
3 down days (2 weather & 1 blogging)
$411.02 for ferry to and from Newfoundland and 3 nights in a hostel in St John's
$353.88 for assorted supplies/souvenirs
$506.57 for food divided by 21 days = $24.12 per day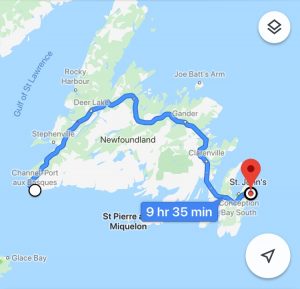 Newfoundland Route – straight across
Newfoundland – November 10 to 23, 2019