The plan is to post two week summaries of my ride.  So this November 10 the day I arrived in Newfoundland to November 23.  The summaries are pretty short.  In many ways for my own personal memories.

Arrive in Newfoundland Sunday November 10 @ 7:30 pm via ferry to Port aux Basques
Arrive St John's Monday November 11 @ 9:30 pm via DRL bus
Weather:  Rain & cold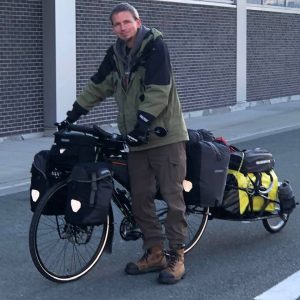 At the Sydney ferry terminal
November 12
Pedal:  40 km's
Destination:  Ride to Cape Spear and back to St John's
Weather:  Cool temperatures/overcast no rain/little wind, cold at Cape Spear, hardest day of my life, all up hill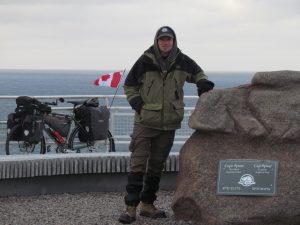 November 13
Pedal:  20 km's
Destination:  Ride around St John's.  Visited Signal Hill, Quidi Vidi, many churches, Jellybean row, war memorial, Terry Fox memorial
Weather:  Warm 15 degrees, very light rain but very windy on Signal Hill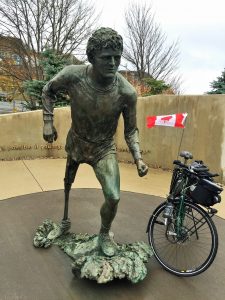 Heading West
November 14
Pedal:  30km's
Destination:  Left St John's, just before lunch.  Got to Hwy 61
Weather:  sunny and cool, some wind chill.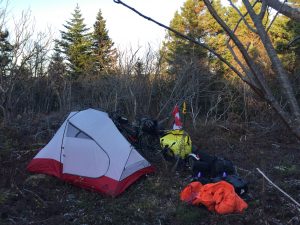 November 15
Pedal:  57 km's
Destination:  Good day for km's.  Started about 9:30am. Got to Whitborne set tent up in back of restaurant.  Tent shook for 11 hours straight that night.
Weather:  Weather wasn't too bad, wind chill as usual.  Tent shook for 11 hours in the wind.
November 16
Pedal:  20 km's
Destination:  Got caught in hunters snare checking out my campsite.  Got to Collier Bay Brook.  Pushed my bike a few times.  Tough going.  Had a local stop on the TransCanada and gave me a coke and $10.
Weather:  Started raining first thing in the morning.  Left at 12:30 PM very windy and quite chilly. Wind kept blowing me off the road. There was snow blowing.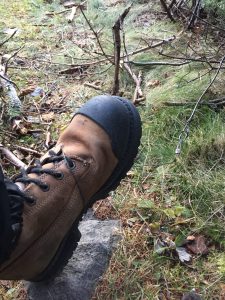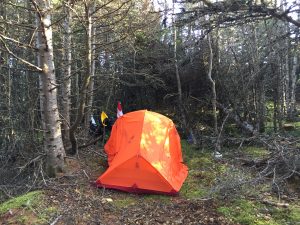 November 17
Pedal:  29 km's
Destination:   Made it to Arnold's Cove.  Pushed my bike again a few times.
Weather:  Tent shook all night.  Ended up sleeping in and didn't start till like 11am.  Sunny but cool.  Wind chill for sure. More hills and wind.
November 18
Pedal:  67 km's
Destination:  Camped on  Thorburn Lake service road.  Amazing day
Weather:  Started at 9:40am with sunny skies and 0 degrees.  Amazing day but always hills and mountains.
November 19
Pedal: 40 km's
Destination:  I camped east of Newman Sound Campground.  Everything is so soaked.
Weather:  Pedaled 12-7pm.  Rain – at first wasn't going to ride.  Glad I did.   Above freezing no wind. Fixed flat tire and broke my bike pump in Port Blandford.  Guy in car happened to ask if I needed help and had a car pump in his trunk.  Sleeping in Terra Nova National Park off the side of highway   Felt good riding.  Went into the night.  Going to bed wet.
November 20
Pedal: 42 km's
Destination:  Stopped in Gambo.  Camped behind a bar on the river.  Calling for snow and rain the next 3 days
Weather:  Started at 10:30 am above freezing overcast.  But cool.  Slight breeze
Stopped at 12:45 for lunch/dry clothes/charge battery for a few hours.  Store manager at Mary Browns Chicken gave me her gloves.  Said she would be blessed for it.  Pedaled into the dark again.  Pretty good day.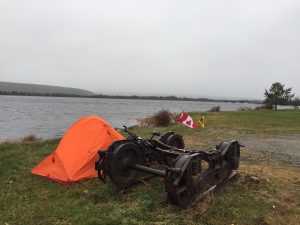 November 21
Woke up to wind.  Dried out my tent.  Yeah!  Then it started to rain.  Calling for 25 cm's of snow in Gander.  Decided to sit tight for today.  Rain did turn to snow.  I think it was a good call to stay put.  Spent the day in the local bar for the day.
Notes on Gambo:
Gills Grill open 12-7 pm.  Excellent food and reasonable prices
Trailaway Cabin Lounge Bar open 12-12 am.  A place to set up your tent and get out of the rain and dry out.
November 22
Pedal: 45 km's
Destination: Stopped in Gander.  Camped in the cover gazebo at the Information Center right off the Trans Canada  Highway.
Weather: Windy, wet and cold
Left Gambo at 10:30 am.  Had a small window where the rain stopped long enough to break camp.  Two nights on the river bank with no wind protection.  Both nights very windy.  As I loaded my bike and the tent started to empty out and get lighter the tent almost blew into the river.  Happened to catch it with one hand.  What a mess I must have looked like trying to roll up a tent in the wind.
Got a heck of a surprise as I get on the TransCanada Highway.  As I got on heading east bound was a bike packer flying at 30 km+ an hour.  He just yelled "Have a good ride brother!"
I got to Gander soaked; should have put my Bar Mitts on the bike for today.  Lots of climbing as usual; walked a few mountains.  But I got there just before dark. In Gander I picked up some extra mitts, extra boxer briefs and a replacement pump.  Spent many hour till midnight drying out.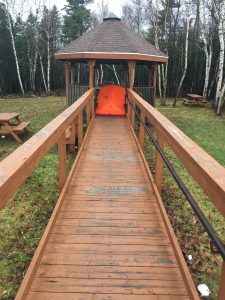 November 23
Pedal: 81.5 km's  – huge accomplishment
Destination: Bishop Falls.  Camped behind the Tim Horton's
Slept good.  Started at 10 am and pedaled a little into the dark. Started overcast and cold.  Temps warmed up to above freezing.  Mountains seemed to mostly disappear as soon as I left Gander.  Light rain on and off all day.  Soaked by the end of the day.  Spent many hours in Tim Horton's drying out.  Noticed that my knees are a little sore.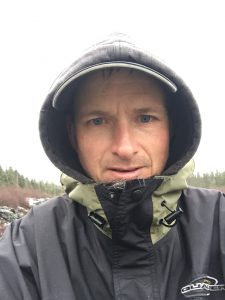 My first day riding to Cape Spear can be found here
And what I learned in my first week biking in Newfoundland can be found here