April 5
Km's Pedalled – 62.5 km's Nevada plus 3 km's into Arizona
Destination – 3 km's inside Arizona
Some Notes – I woke up feeling more normal this morning but I am very weak from barely eating anything in the last 3 days and still biking 181 km's in all that heat.
It's another hot day (of course).  I am attempting to have some soup for breakfast.  It was a hilly 6 km's to the interstate and a big hill once I was on the interstate and then virtually flat all the way to the town of Mesquite.
I made it to Mesquite in very good time but at the same time amazed that I made it.  At the McDonald's I had a milkshake and a large coke.  I had no appetite.  I was pissed that I couldn't sit in the restaurant (because of Covid-19).
[At the McDonald's] I sit here typing this not knowing what to do.  I know that I don't have the energy to climb and reach St George.  And I have no way of getting out of the heat.  I have no motivation to move or go anywhere.  I eventually decide to go to Walmart for more soup and water.  I figure by I at least committing to going to Walmart I am at least moving [forward].
Leaving McDonald's to go to Walmart my bike shifter cable snapped…. what a nightmare.  Fixing you shifting cable is actually pretty easy to do if you know what you are doing.   I didn't.  Every step I had to figure out and learn the hard way by doing it wrong.  Doing it wrong meant jamming and getting things stuck and a heck of a lot of grief.  But I did it!  My first mechanical bike repair of the bike ride.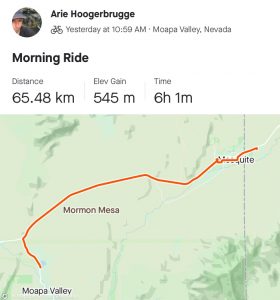 I had McDonald's for super and then biked into the dark to get out of town and crossed into Arizona. Nevada is done.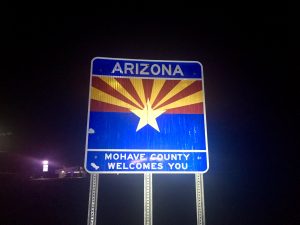 Welcome to Arizona.  Goodbye Nevada
Nevada Summary
I basically biked 612 km's through Nevada over 13 days.  (Basically, as much km as I bike through Washington).  I entered Nevada from Death Valley (in the south) and exited Nevada into Arizona towards Virgin River Gorge.  I spent a day in Beatty Nevada east of Death Valley for supplies.  I also spent 60 days in Las Vegas that I did not count towards my time "on the road" of this bike ride.  (Just like taking time off for Covid-19 first wave and Christmas 2019).
Getting back on the road from my stop-over in Las Vegas would prove to be the toughest part of my bike ride so far.  As far as the little piece of Nevada that I biked is concerned.  The state was easy enough to bike and navigate.
Arizona
April 6
Km's Pedalled – 16 km's
Destination – Littlefield AZ (truck stop)
Some Notes – I slept like crap last night.  Between my monkey mind not shutting off and traffic from the interstate.  It's a cooler day for sure. I don't want to leave my tent.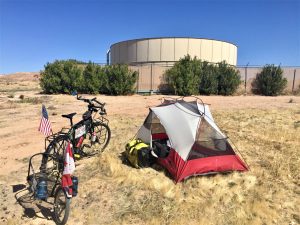 A peaceful uneventful morning
I started my morning with a Road Show.  I then attempted to make breakfast and that is when my day went to hell in seconds.
Attempting to light my stove the whole area lit up in flames.  So quickly that it was impossible to stop and it moved around so much that my tent, sleeping bag, sleeping pad and one of my front panniers caught on fire and were destroyed.
I never seen anything happen so quickly in my life.  A few times I thought I had it under control and then it was out of control. I couldn't help but think of the fires in California and that my bike ride was over for good.  But I had no choice I had to call 911.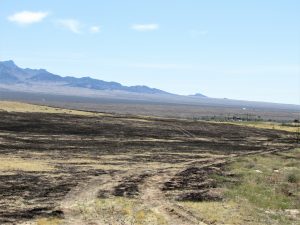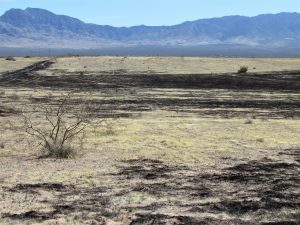 And then "Seth" showed up (from the water company I was camped behind).  I never seen anyone so cool about what was going on.  He had a shovel and rake to help put the fire out.  But I was already pretty weak from fighting the fire for the last half hour plus (in the desert heat) and being so weak from eating so little the last 5 days.
And then while we were fighting the fire at one end the fire came up to Seth's truck.  I couldn't believe my eyes and was thinking now I am really dead.  I am also responsible for blowing up a pick-up truck.  I yelled to Seth.  But the flames were to quick and went right under and past his truck.  I couldn't believe what I saw.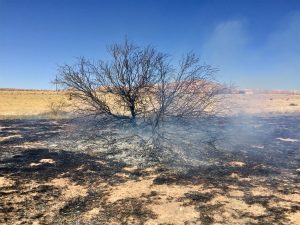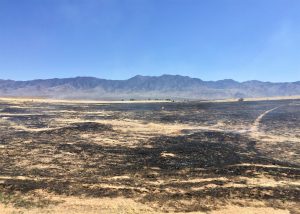 Some other local showed up and put out a section of fire that wouldn't burn out. I never did see him again.
Shortly after that the fire department finally showed up.  Just as a back area completely flared up.  And then 15 minutes later another truck showed (40 minutes after my 911 call!!!).
At that stage I was by my bike and what was left of my gear.  After the fire was out Seth drove past me and into the yard he worked at.  I walked over and he had this attitude as if nothing happened and all in a days fun.  I thanked him profusely.  I couldn't believe how quick and good he was.  Just jumping into action as if it was nothing.  I feel like he saved my life.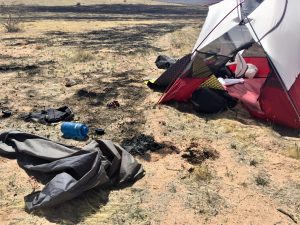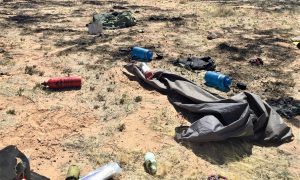 Burned gear
There must have been about 5 acres in total burned.  As one of the firefighters was walking the perimeter, I asked him how much trouble I was in.  He said he couldn't answer that because fire is a separate department then the sheriff department.  I figured minimum was a $100,000 USD fine.  I really though my ride was over forever.
Later when both fire trucks came up to my burnt tent the guy in charge called his supervisor and basically said they were not going to purse the matter.  Just don't let it happen again.  There was 3 of them Jeffery, Ernesto and another guy (I forgot his name).  They never took my name or number or anything.
They just said that the sheriff was still coming.  So, who knows what that means?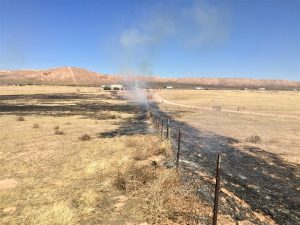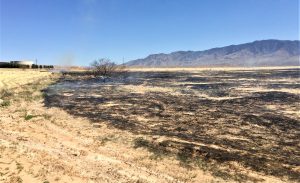 I cleaned up my gear and bagged the burned gear and I waited in the desert heat for the sheriff.  I waited 4 1/2 "after" my 911 call.  By then it was after 4pm.  I had almost no water and no shelter (tent or sleeping bag).  So, I left.
On the way to the truck stop 16 km's away my trailer got a flat and then a second flat from the same splinter.  And then I came across Chris Foster who has been walking (backpacking) from St Louis headed to San Francisco and then to Delaware.  So, we talked for quite a bit.
And then I finally made to the truck stop and had my first meal of the day.  But I didn't have it in me to keep going and it was just getting dark.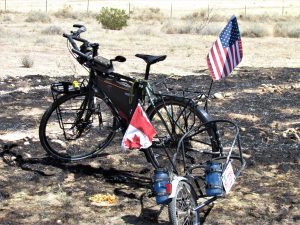 I tried to find anyone at the truck stop going to St George but with no luck.  [Currently] I am about 1,000 feet from the truck lying on my remaining 80% of my sleeping pad wrapped in a tarp.
It could be better but it could be 100,000 times worse.  And would you believe someone stopped along the interstate on April 5th and offered me a ride to St Georges?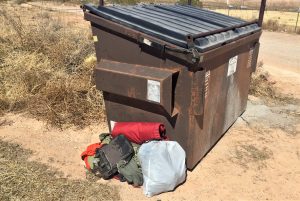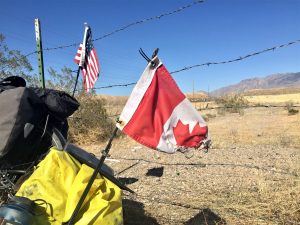 Burned gear and Canadian flag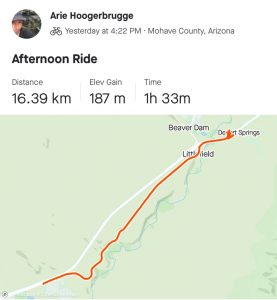 Las Vegas Nevada – Red Rock Canyon Part 2 (Feb 15 to 16)