April 1
Km's Pedalled – 65 km's
Destination – Henderson
Some Notes – A nice sunny day with possible temperatures into the 30's/90's.  I left the Airbnb – 5807 Pastel Colors St, Las Vegas at 11:30 am.  I hope my time there was productive but I also never plan to stay anywhere that long ever again.  I learned a lot about myself and staying anywhere longer than 30 days other than my home in Belize.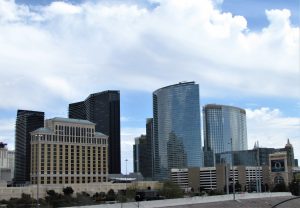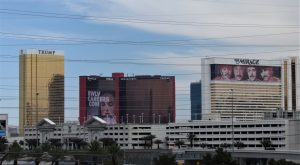 Las Vegas
I headed to the strip to make my way to Fremont Street only to discover that they have since blocked the Fremont Street Experience to bikes from entering.  The Vegas strip is way busier than it was at the end of February.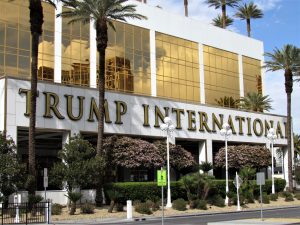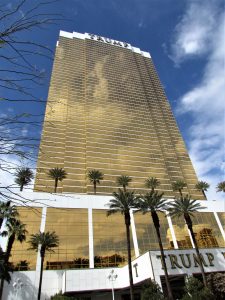 Trump International
I went to the Fountains of Bellagio. The fountains go off every 30 minutes.  I got a good video clip on my GoPro and then I went back 30 minutes later and did a bad job of taping the next one on Facebook Live. And this second time the fountain show wasn't as good either.
The plan was to hang at the strip until after dark.  I ended up not having the energy or motivation.  I left the strip and got as far as Henderson
Back on the road. I have no idea when a next shower will be or anything.  Good bye Las Vegas forever!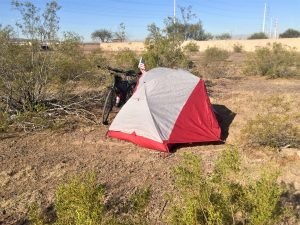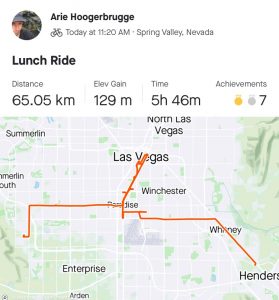 April 2
Km's Pedalled – 57.5 km's
Destination – Lake Mead Visitors Center
Some Notes – I slept way better than I thought last night.  Today is hot and my first day in the USA in shorts.  I ended up getting sun burnt.
I biked to the Hoover Dam.   I am beat and exhausted.  It's a bit of climb getting out of the Hoover Dam.  It killed me.  On my way up and out I saw some Desert Big Horn sheep.  According to a local Desert Big Horn sheep have bigger horns than the ones up in Canada.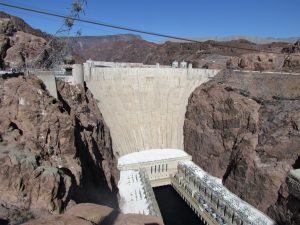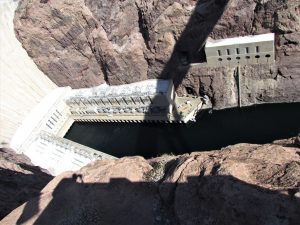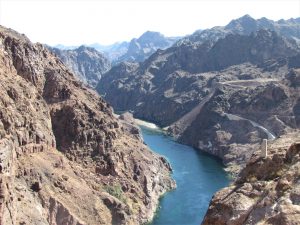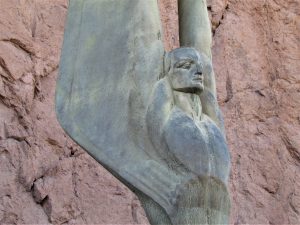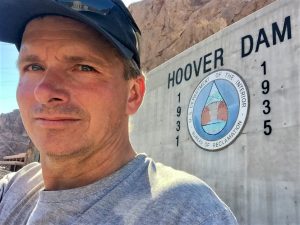 The Hoover Dam
I am so beat.  I had no breakfast this morning but I also have no appetite.  But makes me wonder how I will get through the next couple of weeks.  I am camped across the highway from the visitor's center.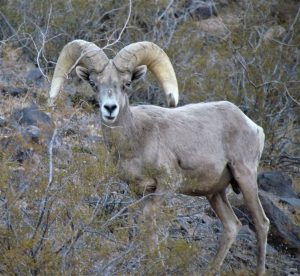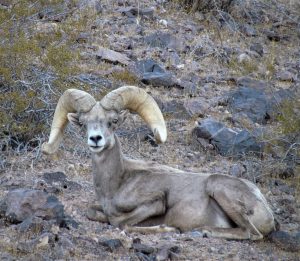 Desert Horned Sheep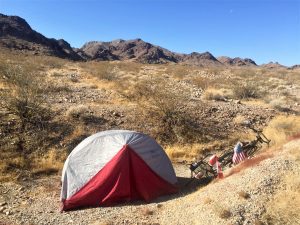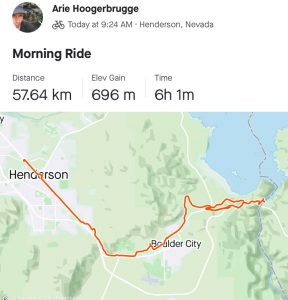 April 3
Km's Pedalled – 56 km's
Destination – 56 km's into the Lake Mead Recreational Area
Some Notes – I slept well again and I could definitely stay in bed all day.  I never made breakfast yesterday because I had to go grocery shopping first. But I wasn't hungry afterwards. I wasn't even hungry last night though I am sure not-eating breakfast had something to do with how beat I was yesterday.  This morning I have no appetite but I am forcing myself to eat.  Every mouthful of eggs requires a sip (or 2) of water to wash the food down.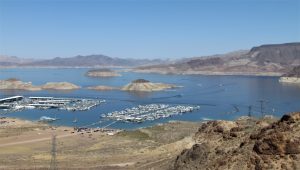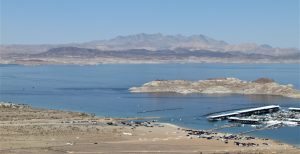 Lake Mead
Temperatures are as high as 34C.  It sucks drinking hot water.  I am not responding well to this heat.  I took like 3 short naps on the pavement with lots and lots of short breaks in between.  One guy stopped and gave me a cold Gatorade.  I think he saved my life.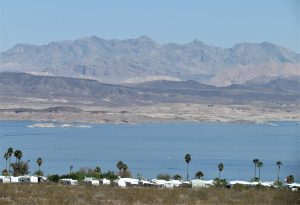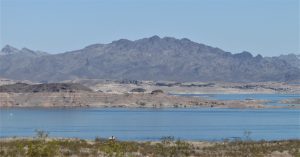 Lake Mead
I biked about 2 hours into the dark until 9 pm.  Which turned out to be a very good thing as most all of those 2 hours I was on an incline.  Not a huge incline but given my physical condition and heat would have killed me tomorrow.
I was so tired I just laid my sleeping pad and sleeping bag on the ground.  I think this is actually the first time I have ever slept under the stars.  (I can see me doing this a lot in the desert moving forward).  I was too tired and no appetite to make super.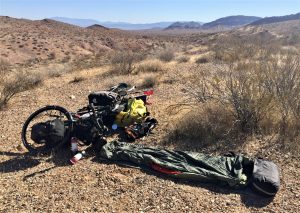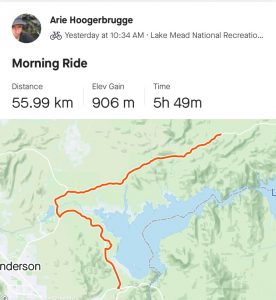 April 4
Km's Pedalled – 67.5 km's
Destination – 6 km's from I-15
Some Notes – I woke up with no appetite.  Breakfast made me gag.  I couldn't finish it.  I did a video diary of how wasted I was from the heat.  After biking only 10 km's I was feeling sick.  I pushed on slowly like yesterday taking lots of breaks.  During mid day I was able to get cold water from a guy.  That helped a lot.  In the beginning of this ride, I wrote that I thought every minute of every mile of this ride (during the winter) would suck.  Every minute of every mile these last few days is HARD.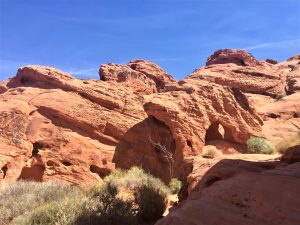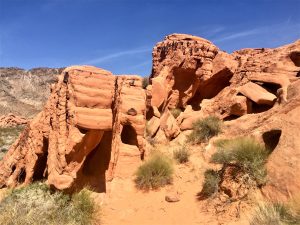 I have seen a lot of desert lizards that are too quick to photograph.  Some species are zebra-tail, common side-blotched and a dead-on-the-road desert horned lizard.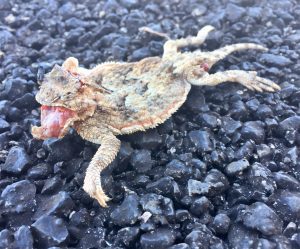 A dead Desert Horned Lizard
Just before dark a family stopped with more water and 2 cans of Pepsi and some McDonald's food. Thanks to the Pepsi I was able to eat something.  They were fascinated to see me biking fully loaded like I was.  It actually gave me a super huge boost.  I was able to pedal forward stronger then expected.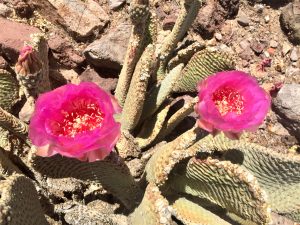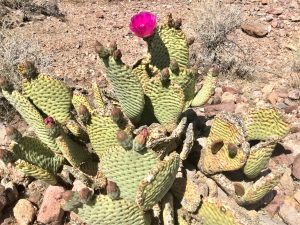 Prickly Pear Cactus in bloom
I had planned to go through Valley of Fire State Park and thought there was a way through from going through the Lake Mead Recreational Area.  This turned out to be wrong.  While I could enter Valley of Fire from where I was the road would be taking me back towards Las Vegas.  I simply do not have the strength or motivation for that.  I should have looked at the map closer.  That being said, I am not sure if I would have adjusted course from the Hoover Dam.
I am very close to I-15.  Hopefully things improve for me tomorrow.  I biked until 9pm.  I can't believe how far I got today considering how I felt this morning.  I thought I was going nowhere.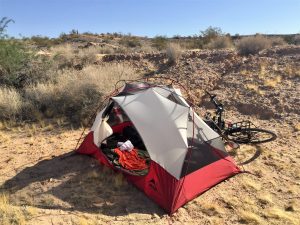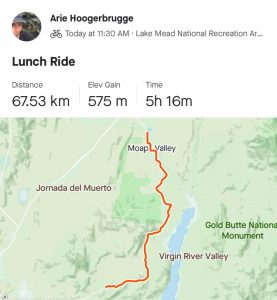 Las Vegas Nevada – Red Rock Canyon Part 2 (Feb 15 to 16)
Las Vegas Nevada Part 1 (Jan 27 to Feb 1)