July 1
Km's Pedalled – 31.5 km's
Destination – Tripui
Some Notes – I am back on the road.  I headed towards the beach just to check out some of Loreto and it was nice to see along the water and watching the pelicans catching fish.  Needless to say the day was overall pleasant getting back on the road.  Beyond that my day did not quite go as expected, in a good way.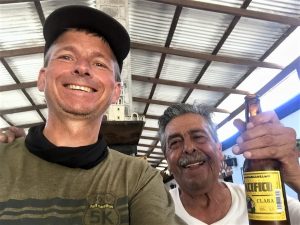 With Abel the owner Hostal Casas Loreto – which I highly recommend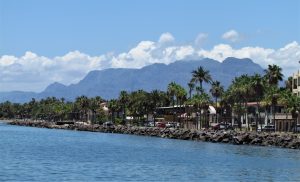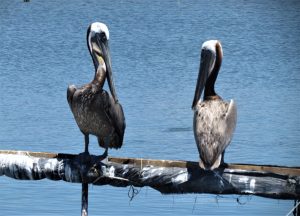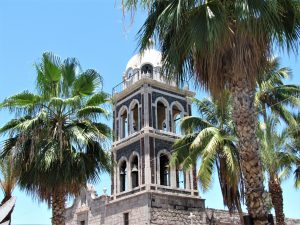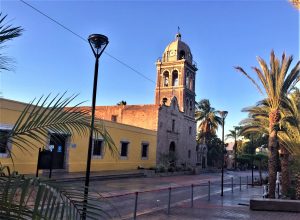 Loreto
Along the highway I was able to enjoy my first coconut water out of coconut for the expensive price of $4 USD.  I actually can't believe I paid that.  But after drinking my coconut water the guy scooped out and chopped up the coconut flesh and added lime and salt to the coconut flesh and dumped everything back into the empty coconut shell.  That was a first for me to eat coconut that way.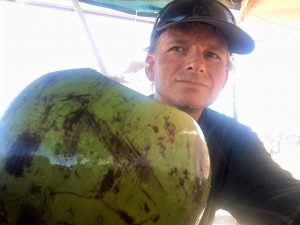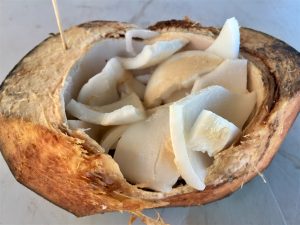 A new way for me to eat coconut
But maybe this coconut water break helped set up my timing for my next event.  I ended up biking off the highway for a store to grab an extra bottle of water.  That store turned out to be at a marina.  I would generally never go to a marina for anything as marinas are where things are expensive.  Other than the fact that I was this far down the road already I am not sure why I continued to the store.  Anyways my stop for a water and a coke break turned into meeting John King originally on North Dakota now of Phoenix AZ with his father-in-law and a friend which turned into my first beer in Mexico which led to a boat ride for the afternoon in the Sea of Cortez which turned into more beers which turned into pizza dinner.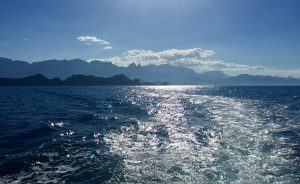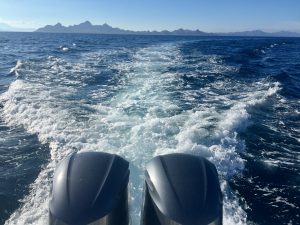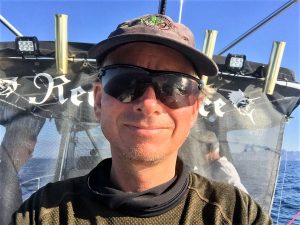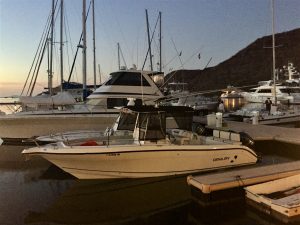 An expected boat ride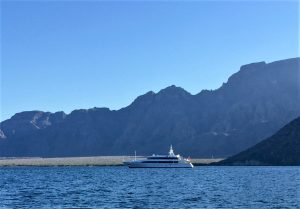 I am told that this is Steven Spielberg's boat and his jet was currently at the airport
I got to see my first manta ray and it was a really nice break from my bike.  Towards the end of dinner, a visit to the men's room revealed that my first beers since Las Vegas would prevent me from biking anywhere further this evening.  I am camped about a mile from the marina.  My only concern is that now I have a massive mountain to climb tomorrow during the heat of the day that I was planning to climb in the cool of this evening.
It is hot tonight and there is no breeze.  Therefore, no sleeping bag necessary.  Maybe it was good not to bike this evening?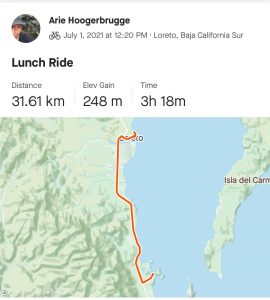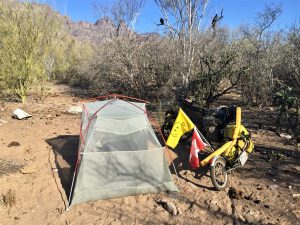 July 2
Km's Pedalled – 96 km's (Strava shut off for 9 km's)
Destination – Ciudad Insurgentes
Some Notes – I anticipate today to be my last worst day on the Baja.  I have approximately 40 km's of mountain climbing.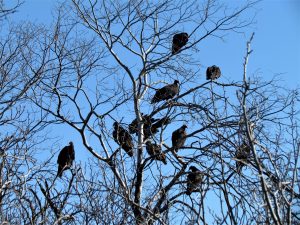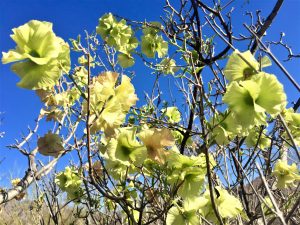 At my campsite this morning
The day would go smoother than expected.  I would get a breeze fairly regularly through the day but not always.  And I was shocked to discover 1/2 way (20 km's) into my 40 km's of hilly mountain climbing a restaurant to get something cold to drink. Temperatures were at low 90'sF.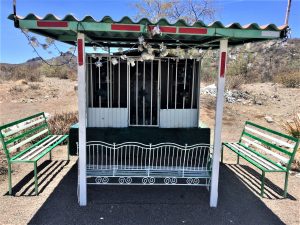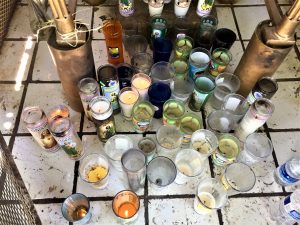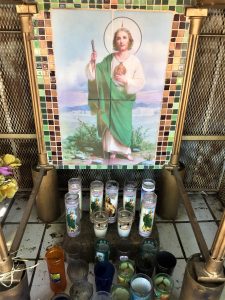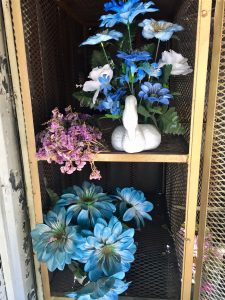 A roadside descansos
I have realized often the hard days hit you unexpected which forces you to push through them.  And the anticipated hard days are never as hard as you expected them to be.  Today went way better then anticipated and I am pleased with my kilometres considering I was pretty worried about today. Ultimately there was about 10 tough kilometres and the other 30 anticipated tough kilometres were not so bad.  Apparently, the hill I climbed is called La Cuesta de Ligui.  A low of 66F this evening – yeah!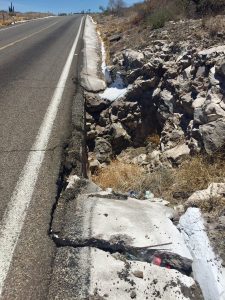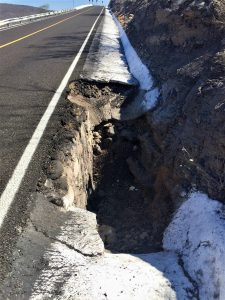 I call them Mexican Surprises.  Can you imagine veering your car or truck into one of these?  I have passed 1,000's of them along the highway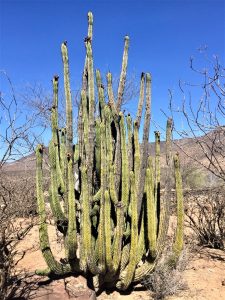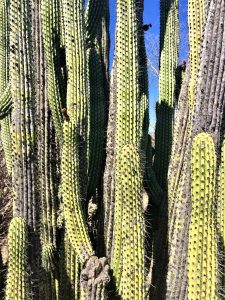 Organ Pipe cactus?
About 235 more kilometres until La Paz and off the Baja.  I am very excited about that.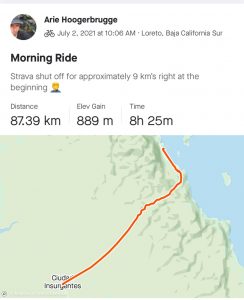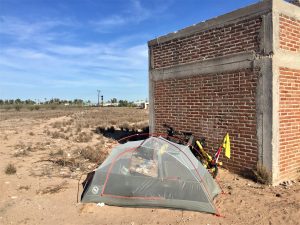 July 3
Km's Pedalled – 130 km's
Destination – Las Pocitas
Some Notes – What a difference in temperatures this morning.  I could get use to this.  The day, the terrain, the landscape was about as boring as can be.  But flat as a pancake.  A high of about 95F.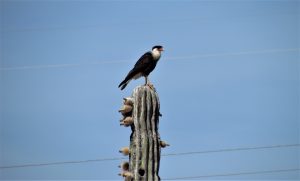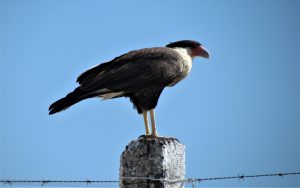 I fought a headwind virtually the entire day except for when there was no wind at all (which is almost worse in the heat of the day).  I suspect that I will bike the entire Baja without a tailwind.  I knew they didn't exist.
A long day for sure.  I only had a small dinner tonight.  Sometimes these Mexican restaurants serve crappy tacos.  I was chased by a lot of pissed off German shepherds today.  A crappy camping spot for the second night in a row.  110 km's until La Paz.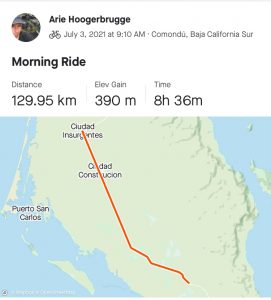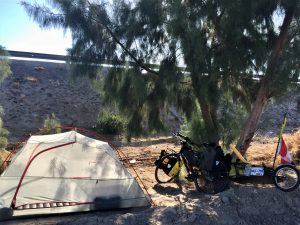 July 4
Km's Pedalled – 99 km's
Destination – La Paz
Some Notes – A long hot sunny day with lots and lots of hills.  Mostly I preoccupied my day by counting down my kilometres to finish the Baja.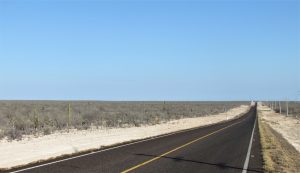 A whole lot of nothing
I really didn't think I would get to La Paz tonight (technically I have about 15 km's to go) after already 2 long hard days in a row.  After a few days of crappy meals, I had a good super this evening.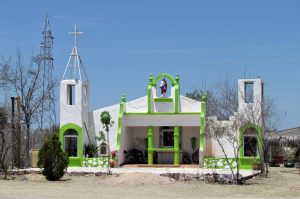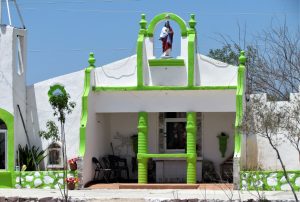 I am camped in a vacant lot getting into town a few hundred feet from Hwy 1.  I really hope that my camping spots improve in the near future.  I sometimes wonder if another cycle tourer would ever ride with me more than 1 day considering some of the places I camp?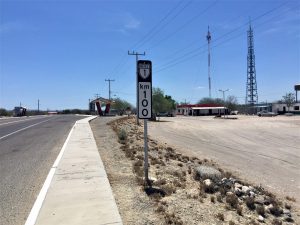 My last 100 km's of the Baja
My bike was acting up this afternoon.  All of a sudden, the crank is not pedalling smooth and the friction shifter is really difficult to shift.  I just had the bike tuned up?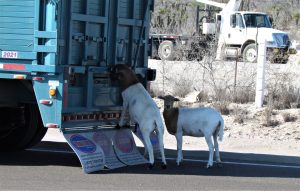 ???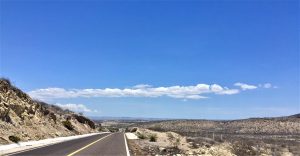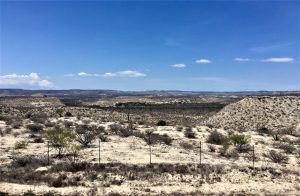 Still lots of nothing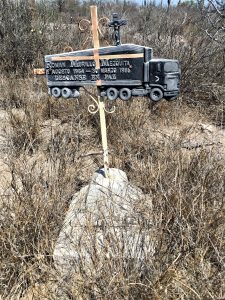 A truck drivers descansos
I can't believe I am basically completed the Baja.  This has been by far the hardest part of the entire bike ride so far.  I can only hope that the rest of the ride all the way to Argentina is easier.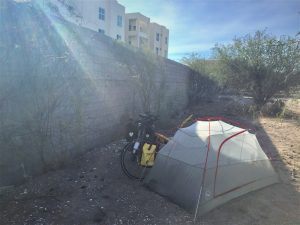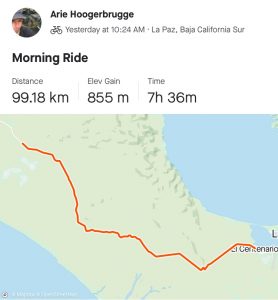 July 5
Km's Pedalled – 23 km's
Destination – La Paz
Some Notes – I thought I had a host in La Paz thanks to meeting Augustoo & Junuen Cervantes from Mexico City.  They pulled over on their motorcycle on July 3 to meet me as they were heading north.  Anyways that potential host opportunity fell through.  Because of my bike issue I sent 2 messages to possible hosts on Warmshowers.org to see if I could get lucky with no notice.  And I got lucky.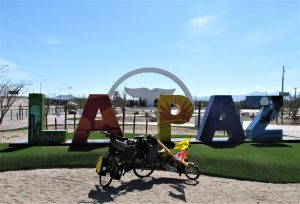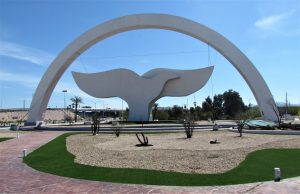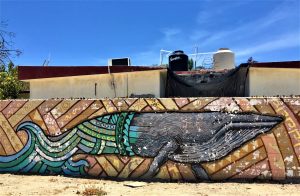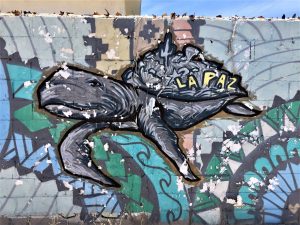 La Paz
Finally getting out of my tent and actually looking at my bike I discover that it was only my lower pulley wheel on my rear derailleur that needed to be replaced.   Biking into town I got that fixed and made it over to my La Paz host.  I wrote and posted Mexico Baja Part 6 and 7 blog posts.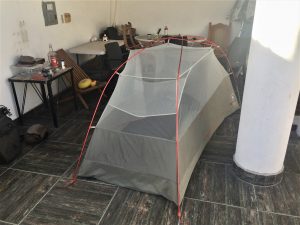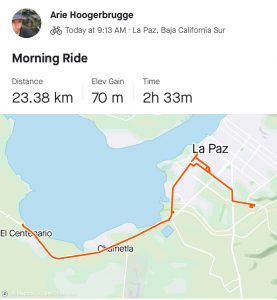 July 6
Some Notes – Most of my day was occupied in front of my computer by getting all my photos up on Flickr.  I have now surpassed 25,000 photos on this current bike ride.  I scheduled 30 Instagram posts over the month of July.  I had a celebratory beer for my completion of the Baja.  The first and only beer I have purchased since getting into the Baja.  Most of my day was spent researching Copper Canyon and catching the ferry over to Los Mochis.  I actually didn't realize that there are stops along the way that you can get off and spend a few days exploring.  I finished writing and posting this current blog post.  And I 99% completed my Cycling the Baja of Mexico in review blog post.  Hopefully I can get out of here tomorrow early enough to see a few places on my way to the ferry.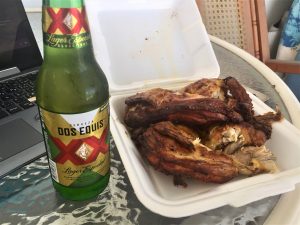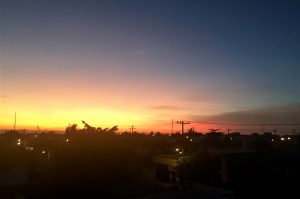 A celebratory beer for surviving the Baja and the sunset this evening from my hosts roof
Mexico Baja Part 6 (June 28 to 30)