I just spent 3 nights in Guerrero Negro and am getting back on the road this morning.
June 24
Km's Pedalled – 142 km's
Destination – 10 km's north of San Ignacio
Some Notes – This morning I was able to get the rest of my photos up to Flickr and yesterday's Road Show was posted. With a late check out, lunch and a visit to an ATM had me leaving GN at 1 pm.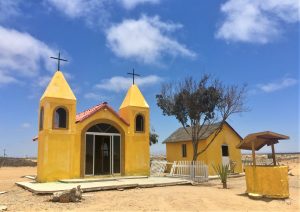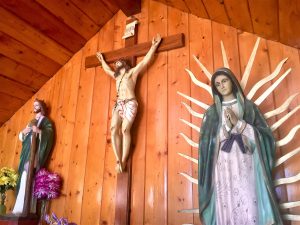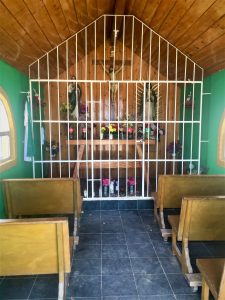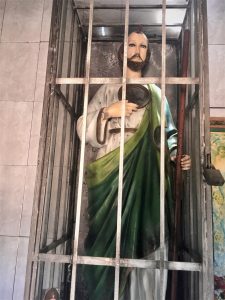 On my way out of Guerrero Negro
The first half of the day was flat, straight and not a thing to look at.  That being said, full focus was required on the road. This highway is narrow and quite scary when 2 vehicles reach each other as they pass me.  For the first time on this bike ride a truck ran me off the road.  Luckily both of us were going slow and I was able to come to a stop quickly.  Three more feet and I would have dropped 4ft into a wash going under the highway.  This was all after I just finished singing the praises of truck drivers on this highway during yesterdays Road Show.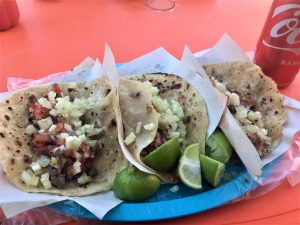 Dinner Mexican style
There was an occasional large area/patch of cactus's until I reached the town of Vizcaino and then it was cactus as far as the eye could see the rest of the evening.  I never expected to break a mileage record today.  Especially after starting at 1pm. But the terrain was as flat as a cyclist can hope for with no headwinds!  I also pushed it until 9pm when I realized I could break my record from March 18, 2020 of 141 km's between Ottawa and Brockville Ontario.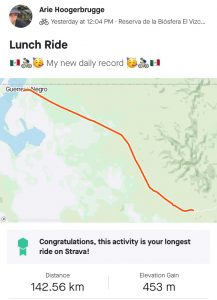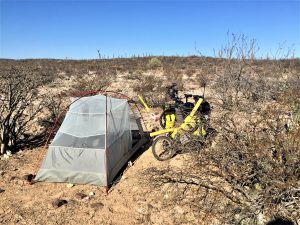 June 25
Km's Pedalled – 87 km's
Destination – Santa Rosalia
Some Notes – Today was a real tough grind.  Nothing like yesterday.   I am certain temperatures broke a 100F.  Today was hilly with mostly no breeze or an occasional headwind.  A few times I pushed bike my bike to conserve exertion under the hot sun.  Getting into Santa Rosalia I was completely parched and beat.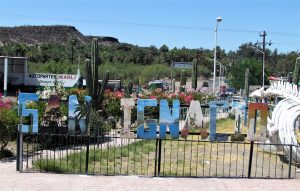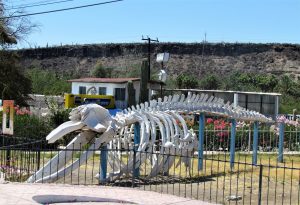 San Ignacio & whale skeleton
Coming into town there is a mine here and the waterfront is an industrial area. The road is in horrible condition and tons of garbage everywhere and undoubtedly a ton of garbage gets blown into the sea here.
Another "newer' situation to deal with recently is that I am starting to get chased by dogs.  And they are generally big and nasty and aggressive.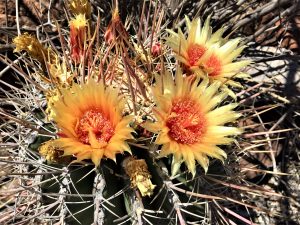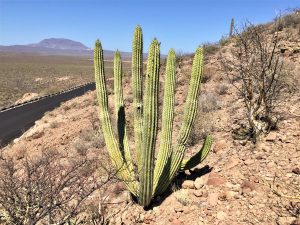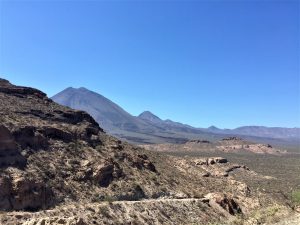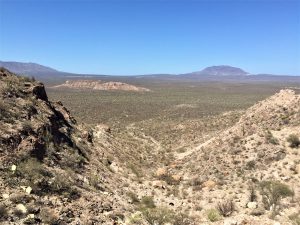 I got into Santa Rosalia late and by the time I was done super it was practically dark.  Not how you want to find yourself in a Mexican town or any town for that matter.  Luckily out of the corner of my eye I caught sight of a gravel road down to the water(sea) just as I was exiting the town.  Because it was already dark, I knew I could camp down there without being noticed tonight.  We will see if I get any visitors in the morning as I am pretty much in the open for all to see.  There is no breeze tonight so the tent is hot. Only a low of 82F tonight.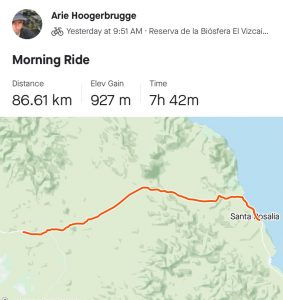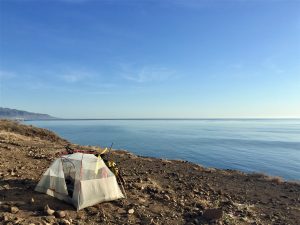 June 26
Km's Pedalled – 69.5 km's
Destination – Mulege
Some Notes – Boy did I screw up with my camping spot.  Shortly thereafter getting into my tent people started showing up to drink and play loud music only about 200 ft from my tent until 4:30 am in the morning. (Yes, I said 4:30 am).  And then the sun had me sweating and awake and out of my tent by 7:45 am and still there is no breeze.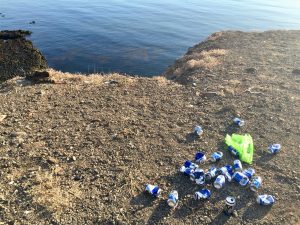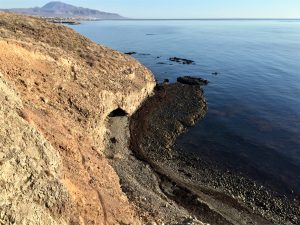 Garbage by the sea
The beer drinkers left all their garbage not 10 ft from the shoreline cliff.  Never have I seen a country care so little for the planet and their country.  Evan in a place that is practically half American.  How many Americans sit here all winter doing nothing?  How about a leadership role?
A bit of a climb getting out of SR with no breeze.  From there the road flattened out but then I fought a headwind pretty much all day.  Not as hard a day as yesterday but still a real tough grind of a day.  Fifteen km's out of Mulege I pushed my bike.  I actually had someone stop to offer me ride but I wasn't totally dead yet so I declined.  I am not sure if the day got hotter than 100F.  It sure felt like it pushing my bike up that last hill.  I am so tired.  I don't know how much I had left in me today.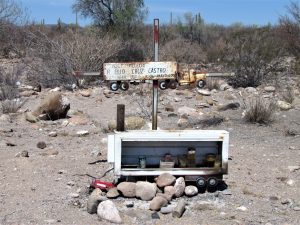 A truckers descansos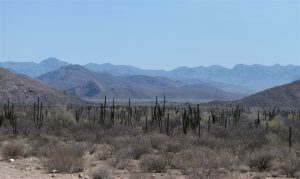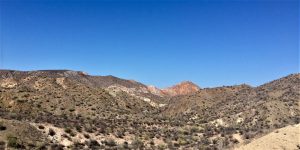 Mulege seems like an oasis in the desert.  I am quite mixed in my emotions dealing with this heat.  Mulege would probably be a neat town to bike around for a bit and the same with SR but I simply have no motivation or care to.  I really only care about getting south and out of this heat.  On one hand this attitude sucks but it would seem that this part of the ride is about endurance and perseverance and I should just accept that for what it is.  There are only another 1,000 more places down the road to explore.  I am so soaked in my sweat lying in my tent tonight.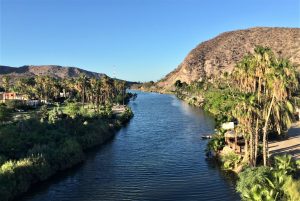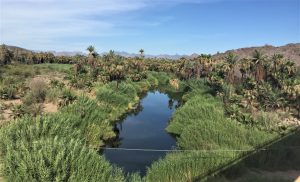 Mulege – an oasis on the Baja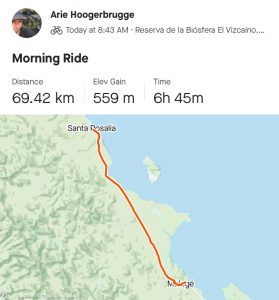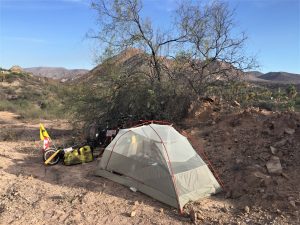 June 27
Km's Pedalled – 79.5 km's
Destination – El Rosarito
Some Notes – My first 25 km's was over hilly terrain with no breeze.  I just want to die.  How can I be so close to the sea and no breeze?  At the restaurants at Playa Santispac I couldn't even get a cold bottle of coke or cold 1 litre bottles of water.  I think my only way forward to bike at night.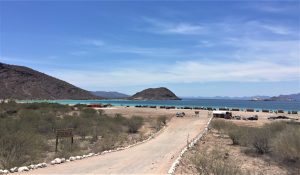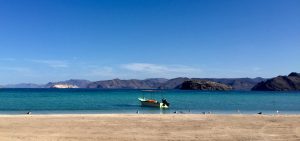 Playa Santispac
I stayed at the beach in Playa Santispac for a good 5 hours at a restaurant in the shade.  I edited my photo and watched 4 episodes of Breaking Bad and got back on the road at 6pm.  There was no breeze the whole day.  Initially there was another 15 km's of hills and climbing getting back on the road.  Surly I would have died if I biked over them this afternoon.
The breeze finally came around 9:30 pm for about a minute.  I biked until 11:45 pm.  Which is when I came across the one and only restaurant between me and Loreto.  If it wasn't for dogs barking, I might have biked right past it.  I am so exhausted I am just sleeping on my tent footprint under the stars.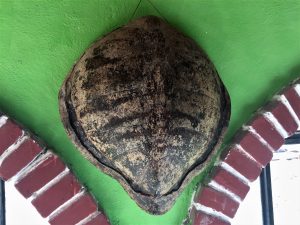 A sea turtle shell on the wall of the restaurant
I had a huge mountain to climb right at the end of my day.  I am convinced that climb would have surely killed me of heat stroke this afternoon if I pushed through.  I am certain of it.  Today was long and hard. Really long hard.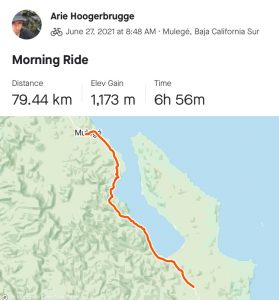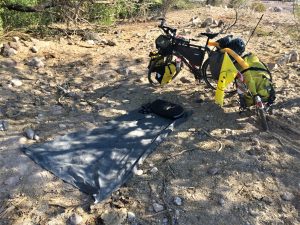 Mexico Baja – Part 4 (June 19 to 23)
Mexico Baja – Part 3 (June 16 to 18)