June 16
Km's Pedalled – 68 km's (Strava shut off for a 7 km)
Destination – 20 km's south of Puertecitos
Some Notes – I think temperatures are above 100F.  So a few degrees lower than my usual but I am dead.  I was considering getting a hotel room just so I could sleep all day.  I am practically out of laundry.  I was considering all these things when I arrived at Puertecitos with my last bit of energy.  Only to discover that there was none of that here.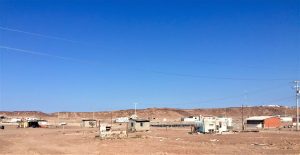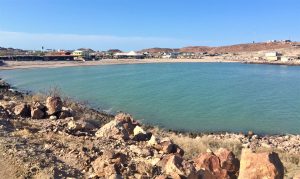 Puertecitos
I tracked down a lady that spoke a bit of English.  I was told that there was no open restaurant or hotel because everything shuts down in April.  After April it gets to hot and everyone leaves.  As she was telling me this I was starting to cry (on the inside).  I asked the dreaded question id hoarse voice.  How far to the next town?  I was told 85 km's more with nothing between.  Inside I started to cry thinking that you have to be F'ing kidding me!
I was able to rehydrate at the small store that was open in that ghost town.  Leaving Puertecitos the landscape got really really barren at this point.
Back on the road a truck driver threw me a cold coke.  Truck drivers rock I don't care what other cycle tourist say I will bike along truck drivers any day.  Then some guys pulled over and gave me an electrolyte drink.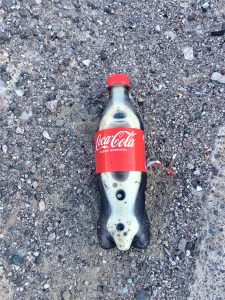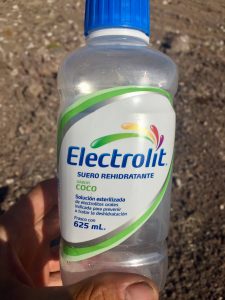 The Coke was tossed to me from a moving truck
Before my day ended I had my first main climb in Mexico.  Fortunately, so far the highway since leaving Mexicali has been pretty flat.
As darkness falls I sit on this rock overlooking the Sea of Cortez.  A hot wind blows.  The landscape is about as empty as empty gets.  After all these kilometres pedalled – empty.  Still empty inside.  I don't think after all these years and all my experiences this emptiness will ever go away.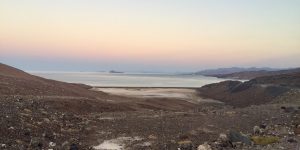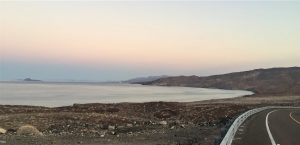 When I stopped as darkness was about to fall a wicked north wind came from nowhere blowing like the hottest furnace ever.  The wind was so strong it even blew my stove out.  What a miserable night.  The wind is so hot.  Setting up my tent would be nothing short of impossible without destroying it in this wind.  So I sleep with only my blow up mattress on the sharp rocks (with only my tent footprint to protect my sleeping pad from the rocks).  If you could only see me and how my evening went you would never consider bike touring.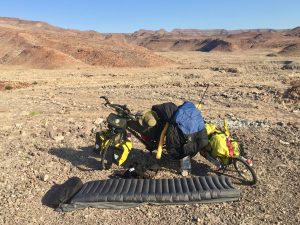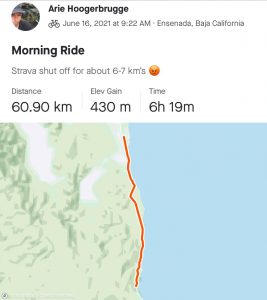 June 17
Km's Pedalled – 55 km's
Destination – Rancho Grande
Some Notes – Hot wind blew through the whole night and then it stopped just as the sun came up and then it was just hot.  Very hot.  I needed sleep more than anything.  I got very little. It was my hottest night that I can remember in the desert.  I anticipate today to be my hardest day yet.  I shall see what the day brings.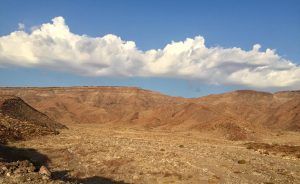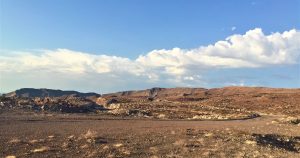 No breeze at all. The desert does not care weather you live or die.  I couldn't even make it up my first hill.  I bike for a about 10 minutes and then took a 20 minute break.  From that point I could no longer pedal up the mountain but push my bike.  It took me all morning just to make it 14 km's.  I would push a few 100 meters take a 20 minute break.  And over and over until I finally got tot the top of the mountain.  I knew I was done and I was about to give up on myself when I noticed a wash/bridge under the highway.  I pushed my bike under the highway and just I laid on the hard concrete for 4 hours in exhaustion until 4:30 pm.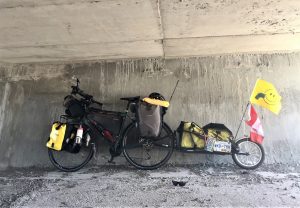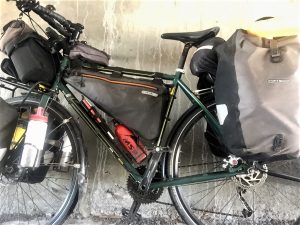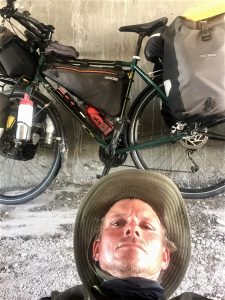 Four hours under the highway on hard cement
A few miles down the road I came across a restaurant in the middle of nowhere that was selling cool (not cold) cans of coke.  I didn't trust their menu due to the millions (maybe billions) of flies I could hear buzzing at the back of the restaurant.  So I have basically eaten nothing today.  I have no appetite and whatever I do attempt just sticks to the back of my throat.
Rule number 1 about biking in Mexico or any other third world country.  Do not bike at dark.  Truthfully, I would rather risk a bullet between the eyes if it gets me something cold to drink.  15 km's from town (Rancho Grande) I have nothing left in me.  It's 8:45 pm   It's dark and I just want to throw up.  Between the strong crosswinds and my overall weakness the winds blew me all over my lane.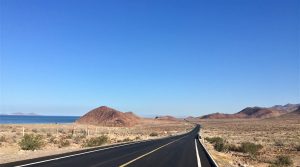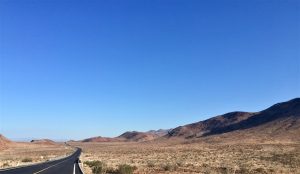 Vast and nothing
I arrived at Rancho Grande at 9:45 pm.  Everything is closed of course.  In a course parched voice I asked some guys in pickup trucks parked in a parking lot for water.  One of the guys gave me what was left of his water.  Not cold but not hot either.  Shortly there later they showed up with a cold Gatorade and electrolyte drink for me.
A security guard let me sleep in a protected fenced area under a trailer veranda and then he gave me some cardboard to sleep on and a cold drink.  I had no energy to blow up my sleeping pad.  In many ways I can't believe I survived this day.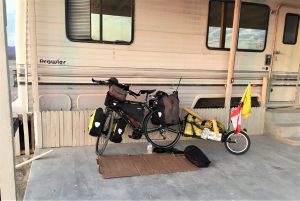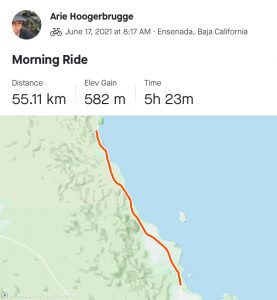 June 18
Km's Pedalled – 47 km's
Destination – 6 km's to Hwy 1 Junction.
Some Notes – Another hot wind blew the entire night.  Not quite as hot as the night before but not a breeze either so sleeping on the cement deck had me exposed the entire night.  Also, there was a loud generator about 1,000 ft from me that ran all night and so again I slept like crap.
And then at 5am when the sun rose the winds stopped just like the day before but this time out came the flies.  Get me the heck out of this place!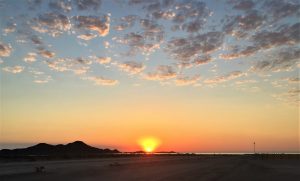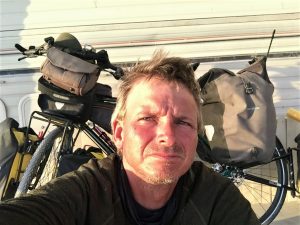 Sun rise and exhausted
I wanted to rent something (anything) for the day so I could just sleep and get a shower.  I was told that they had nothing available.  It's a wickedly hot day today.  I basically sat in the shade looking for empty pickup trucks headed south that by chance are stopping here.  Trying to get a ride south.  At least just the 60 km's to the Hwy 1 Junction.  I am having no luck at all.  I am pretty sure biking to the junction would likely kill me.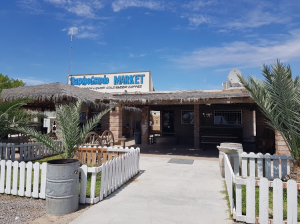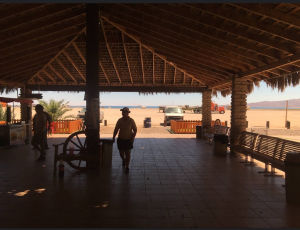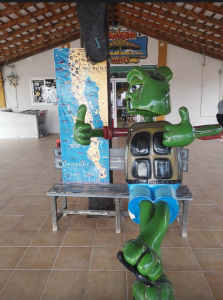 I sat on the bench (top right photo) from 8 am to 7:30 pm.  [Not my photos. Credit to Google Maps]

I will have no other choice but to bike it through the night (and dark).  I am told that there are hills to climb.  I really don't know how to do this without dying.  Yesterday really took its toll on me and I really tried to be careful.  I am feeling pretty anxious and very tired.
I noticed Mexicans would pull up and just leave their vehicle door open and then go do their shopping.
Some guy all of a sudden said that someone was coming through shortly that could give me ride.  Luckily there was someone who could translate.  Supposedly a guy who always stops here would be able to give me a ride except he doesn't know he's giving me a ride.  I am just supposed to look out for him and ask for the ride.  Such is life and how things work in Mexico.  I don't see much choice in this decision to catch a ride.  If it was simply a matter of discomfort then I would push through.  Except at 7:30 pm still no one had arrived.  So I left Rancho Grande at 7:30 pm.
The heat has created an attitude of I don't care about anything.  Not in a sense being impolite with people but in sense of appreciating any of the scenery or appreciating the moment or even caring about my well being.  I don't care what I smell like or look like.  I am just completely exhausted.  And I have no appetite for nothing.  I don't think about ending the bike ride.  I do have the sense that my current situation is only temporary but all I want is end the suffering of the heat now.  All the other suffering resulting I could care less about (ie. safety, hygiene).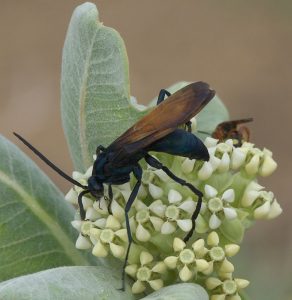 Not my photo – A Pepsis Wasp also known as a Tarantula Hawk Wasp
I was trying to photograph a bunch of them without success.  I have seen a lot of these over the last few days.  At first I didn't realize what they where because they were pollinating flowers.  I turns out that they have a wickedly painful sting.
After leaving Rancho Grande I realized that I should have brought more water.  So I pushed my first drink break until 20 km's pedalled or 1/3 of my way to the Hwy 1 junction.  Also realizing I would have to now push at least 50 km's tonight as to no run out of water in the morning.
It turned out to be a blessing that I never got a ride.  The evening temperatures were the best in weeks. Why was I surprised?  And traffic was super light.  Overall I felt good after 20 kilometers.  Not that I anticipated feeling good all night but it gave me courage that my attitude about the heat was also temporary.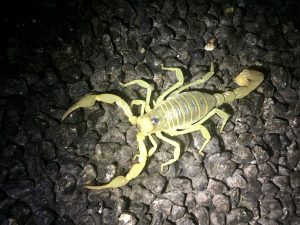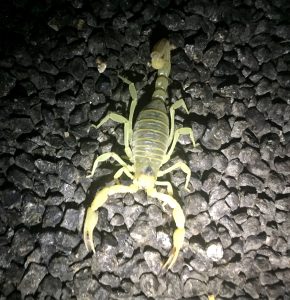 I believe this to be a Desert hairy scorpion
The moon is at about ¾ so I have some light on the landscape.  From what I can see of the landscape this area looks to be the nicest yet.  But if I had been biking this in the heat of the day I wouldn't have cared anyways.  What a change in temperatures this evening.  It seemed 1/2 to 3/4 of my night was climbing.  I would have surly died in the heat of the day if I had tried to bike this earlier today.
I biked until 1:30 am.  Even after seeing my first scorpion (on my bike ride) earlier in the evening I had no energy to set up my tent.  I didn't even have the energy for blowing up my sleeping pad.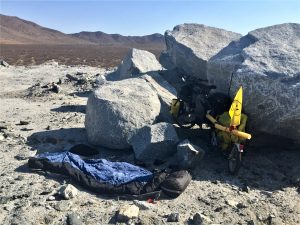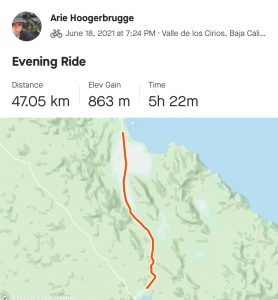 Mexico Baja – Part 2 (June 11 to 15)
Mexico Baja – Part 1 (June 9 to 10)
Some photos from June 16