January 15
Life in the jungle: I was pretty productive most of the day.  I went into the bush and checked and found along my one property line for on old PVC pipe waterline and an electric wire that was used to run a water pump when we pumped water from one of the fish ponds a year or two ago.  I finished yesterday's weed whacking.  I than went back into the bush and salvaged about 100 ft of wire and 150 ft of PVC pipe.
One of my first priorities after yesterday's email from Jack is to get myself off their waterline if they shut my water off.  After salvaging the wire and pipe I laid out the pvc pipe to the river.  I also replanted a half a dozen coconut trees that didn't take last months transplanting so well.
January 16
Life in the jungle: This morning I properly cleaned and chopped a (new) wide fence line to the river.  Along this future fence line I plan to run my waterline.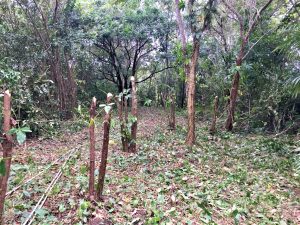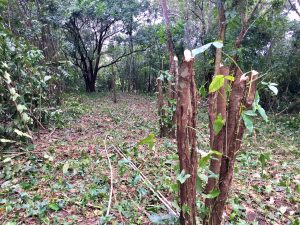 Chopping out bush for a future waterline
It appears that Jill may have cut me off from pumping water from the river.  For the first time my vat was not filled this morning.  No worries, I expect to have my own pump running before I run dry.
After lunch I ran up to the village to fill Derrick in on my latest drama and to get his advice on all the parts and supplies that I would need to get my waterline running.  Derricks advice was extremely helpful.  On the way home I ran into a Coatimundi coming up the road towards me until we both noticed each other and he ran into the bush.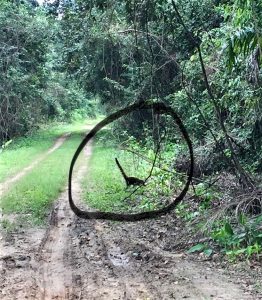 A Coatimundi  – it can be hard to get a good photo of these guys
Another productive day.  Last week I lost a lot good working hours.  I am very happy to be getting back on track.  The road is dry and I thought rain was coming for sure but it didn't so everything is dry.
January 17
Life in the jungle: I headed to the city today.  My first stop was Belize Electricity Company.  You had to dial a WhatsApp number and someone would be in touch within 24 hours.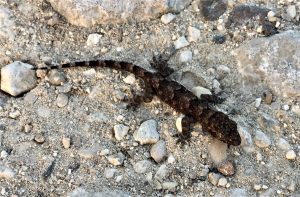 Found this little gecko waiting for the bus
I then went to some hardware stores to get all my plumbing/pump parts to start pumping my own water from the river.  My time in the city was largely nonstop until it was time to catch the bus home.  As the bus was about to depart the city the electricity company reached out via chat.  I told them I was trying to have my meter put in my name and that my property managers would probably not comply with the requirements.  We chatted back and forth and I sensed that maybe I was getting somewhere and then the person just disappeared during the conversation.
I than got an email from the Labor Department telling me that my application is incomplete.
Arriving home, I raced out to the local hardware store for 90 ft of 1" pipe.  It sounds like Derrick is coming tomorrow to help set up the pump.  A quick inspection of my water vat found that Jill has not topped off my water.  Too bad for her that I will be pumping my own water very shortly.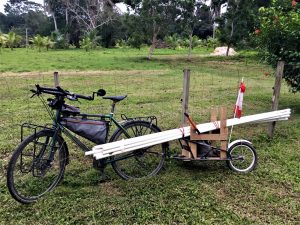 My bike trailer has been coming in super handy
January 18
Life in the jungle: Derrick cancelled on me last minute to help me start working on my waterline.  But it really wasn't a big deal because I didn't have my electrical wire.  And I have to dig a trench for the pipe and conduit pipe from the river bank to my house anyways.  I spent the whole day digging the trench.  I would like to think that I am close to halfway done.  The weather has been perfect as usual.
Some good news is that Belize Electricity is going to allow me to have the bill switched to my name.   The bad news is that the Labor Department emailed me that they want Heather's Social Security number for my application which I will never get.  My work permit application will have to be done all over now.  Thursday I will visit and see about applying as a farmer working my own land.
I found out from Jill the one Jacks main issues with me is about a response email I sent him months ago about repainting the house.  I was pretty upset about the unexpected news about having to spend $1,000's of dollars to repaint a house less than 5 years old and my email expressed that very much.  So, I before calling it a night I sent an apology email.  Not that it will make a difference but when you upset someone it's always a good idea to apologize for that.  I also said shame on him that he is fighting this one-sided war while he is all cozy in Canada and his 74 year old wife is stuck in the middle.
January 19
Life in the jungle: First thing I had to ride up to the hardware store to pick up my electrical wire (that I had ordered) and some more 1/2" pvc pipe.  Just as I finished breakfast Derrick pulled up and we spent the day installing my new waterline.  I am now independent of Jack and Jill's waterline.  And for all intent and purposes as soon as the electrical bill is switched, I am 100% independent of everything shared between Jack and Jill except a shared weed whacker.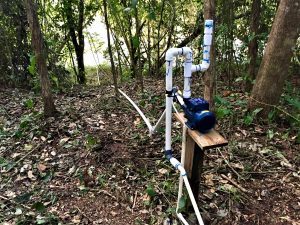 Installed waterline and pump
It was a long day and after installing the waterline I collapsed into my hammock.
January 20
Life in the jungle: I arrived at Belize Immigration at 7:45 am for their 8 am open time.  No one showed up to the counter until 8:30 and then it took a whole hour to get my stamp.  Back in the day it costed $50 USD and you were in and out in 10 minutes.  Now you pay a ridiculous $100 USD and you wait an hour.
A few stops at the hardware store and then a bus to the downtown to attempt to get a few things straightened out at Belize Tourism Board.  Just before my arrival my mutual lawyer (with Jack & Jill) called me.  I was very surprised he called as I figured he is staying loyal to Jack and Jill.  He told me that Jill is planning to take her name off the business license and allow me to add mine.  I was surprised and skeptical of this possibility but I simply responded that we would wait and see.  At the tourist office I was able to get my tax payment procedure figured out and they said that someone would reach out about the license renewal shortly.  [I would end up waiting over a month for them to respond.]  I was able to get to the bus just in time.  I never made it to the Labor Department but I was feeling pretty good that things were going my way.
Arriving home, I continued working on digging my trench for my waterline installation.  Shortly thereafter Jill came looking for me all sweet and nice asking about my day.  She inquired about where I got my materials for the waterline.  I said the hardware store and I salvaged the rest from an old waterline on my property.   That's when she freaked trying to tell me that my pvc on my property wasn't mine to take.  She was also freaking out about electricity because she is convinced, I am going to cut her line.  The more I interact with this woman the more I am convinced that she is certifiably nuts.  She eventually stormed off swearing at me.
Shortly there after that I got the craziest email from Jack about sex photos of mine from over 12 years ago being posted on a porn site and how if I don't leave Belize and continue my bike ride ASAP he was going to send a link to my entire social network and my family.  I simply responded – share away, and sorry for him that this is his new life.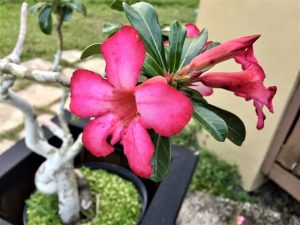 My Desert Rose is in bloom
Glossary
Glossary of words or people that may or may not be part of this blog post.  This glossary will be at the bottom of every blog post for Belize.
Jack & Jill – These are my ex-property managers (names changed).  They are Canadian, they introduced me to Belize in 1997, sold me their house in Belize in 2003, and rebuilt my house from 2014 to 2018.  I have known them for over 30 years.  After almost 20 years of me supporting their life here in Belize Jack decided quite unexpectedly to declare "war" on me right before Christmas 2021.  They live on the farm, but not on my land.
Wayne – He is the son of the original owners of the farm (both owners are deceased).  The original farm was 2 – 30 acre pieces minus 2 – ¾ acre parcels for my house and 2 – ¾ acre parcels that Jack & Jill own which were all originally purchased from the original owners.  In 2017 Wayne sold me 40 acres of land from the original 60 acres (30 acres plus 10 acres).  Wayne lives in his parent house and has a few cows on his remaining 17 acres of land.
Nery – a local in the area that helps me with certain projects when needed.  A very knowledgeable guy originally from El Salvador. He teaching me a lot about farming and tree.
Derrick – a local in the village that helps me with certain projects when needed.  Mostly he helped early on after my arrival to Belize.  He doesn't help me so much into the future.
The ponds – I have 2 large (300ft long x 50ft wide x 10ft deep) ponds on my 30 acre parcel of land which is basically jungle.  I have about 60 coconut trees (mostly mature) around the ponds.  I have plans to plant a few hundred papaya trees here plus other fruit bearing trees around the ponds.
The coconut field – I have about 400 coconut trees planted (various growth states) on about 3 acres of cleared land of the 10 acre parcel.  I plan to add various fruit trees to the same field as soon as I can.
The river lot – my house sits on a ¾ acre lot.  I have a second joining ¾ acre lot that allows me river frontage on the Belize River
The dry – Belize has 2 main seasons.  The rainy season and the dry (no rain)
Chopping – using my machete to clear brush and unwanted trees