Of Wellington PEI
Kelly had heard of me while on PEI and was following the ride.  She actually saw me pedaling near Wellington PEI and messaged me.  She asked me if  I was ok and if possible to stop the PEI information center that she ran to say hi.  Kelly also forwarded me a photo that a friend had taken of me pedaling to Summerside on New Years Eve in the middle of a snow storm.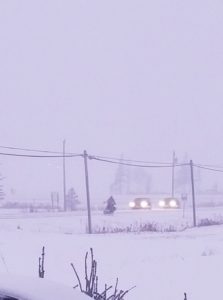 From New Years Eve
I arrived at the PEI Information Center during the afternoon of January 9.  It was wicked cold and windy day.  I remember that as I arriving at the information center the trucks were just starting to cross the bridge after being closed due to high winds for a good part of the day.
I was pretty cold and frozen and sent about 15 minutes inside the information center saying my hellos to Kelly and Elizabeth.  It was about 3:30pm when I said that I was going to head to the lighthouse for a few photos and then Tim Horton's to decide what I was going to do moving forward.  The cold and winds were wicked and there was only about an hour left of daylight left with nothing on the New Brunswick side of the bridge.
Within minutes of trying to take a few photos at the lighthouse my fingers were frozen.  Upon reaching the Tim Horton's I decided the smart thing to do was work on my laptop till 9 or 10pm and then catch the shuttle to the other side and roll out my sleeping bag inside the information center on the other side of the bridge.  The building on the other side was closed but the doors were not locked so that pedestrians could call for the shuttle van. And who was going to bother me at that hour?
I just finished ordering my double double and doesn't Kelly come walking through the door.  She had just closed up the information center and the wind was so cold she felt she had to come looking for me to offer me a warm bed for the night. So I packed up my bike and pedaled it to the information center so my bike could spend the night there and I was off all the back west to Wellington.
I have to admit I was pretty happy not camping out in that weather.  I had a most pleasant evening with Kelly and came into work with her the next morning to continue my ride.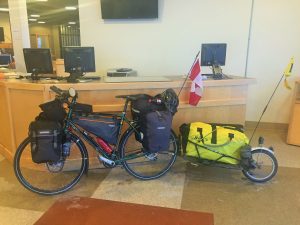 Parked in the PEI information center for the night