July 3
Life in the jungle: It's Sunday so it wasn't my most productive day.  With a late start to my day, I retrieved some more 1/2″ PVC pipe that had previously been laid and buried out towards the ponds past the coconut field.  I'll need the pipe for the greenhouse at some point.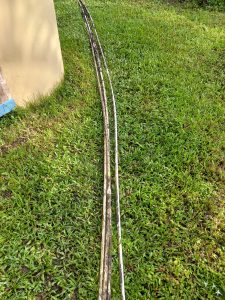 Reclaimed PVC pipe
I then spent a couple of hours chopping in the coconut field.  Other than a few walk-throughs to check on my new fruit trees I have been neglecting the coconut field since it was bush hogged the other month.  I eventually returned to the house after it started to rain.  And that's when I took a nap in the hammock waking later in the day only minutes before one of my brothers called me and that would be the end of my day.
July 4
Life in the jungle: So today didn't exactly go as planned in a potentially very good way.
I started my morning and day trying to figure out where the break in the waterline into the coconut field might be.  Ultimately, I had to expose small sections of buried PVC pipe and make a cut in the line.  Then turn the water and check the water pressure coming out of where I cut the pipe.  It took 3 cuts in the first 200 feet of line to find the break.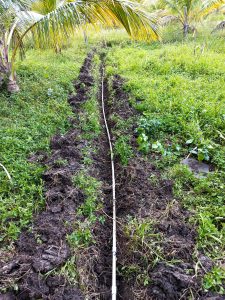 I started out exposing all the pipe until I realized that was too much work. Better to cut the pipe incrementally looking for a loss of water pressure.
But before I could find the next break, I got a message from my web developer.  He brought to me a very interesting and exciting opportunity.  Unfortunately, my phone's internet signal from the village was too weak to maintain an online conference call.  So, I biked up to the village for a stronger signal.  My web developer typically builds and maintains large corporate websites for large sums of money.   Anyways, my developer has recently hired a social media guy and wants to invest in adding social media to his corporate clients, particularly with reels and short videos.  And he wants to use my life and everything I experience in Belize as a case study for what he can offer his clients.  The thing is that he would need to grow my social media followers exponentially in order to offer corporate packages to his clients.  And his corporate prices are not cheap so he would have to really, really grow my followers.  The plan will be to grow my Instagram and YouTube followers and get me on TikTok.  This could be a real opportunity for me.  By the end of the day, I had made 28 short videos for him to use.  [Ultimately, they would make 69 short reels for me and abandon the project.]
Before dark I was able to eliminate one more potential section for a break in the waterline.  No rain today.  And I still have my cough after more than 30 days.  This morning I got a quote for satellite internet from a company I came across a few weeks ago.  The cost – $1,550 USD for equipment and installation and $275 USD a month for the data.  Business plans only, no residential plans.  These people must be nuts.
July 5
Life in the jungle: Orlando showed up this morning without Joseph.  We basically formed and mixed the cement for the section of the bathroom for the toilet.  After Orlando left for the day a small order of construction supplies was delivered for tomorrow's work.  I spent some time cleaning up the work area and removing all the old cement form frames from the recently poured greenhouse forms.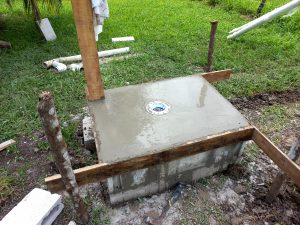 Bathroom toilet floor
The last part of the day was spent making many, many trips to the coconut field bringing and placing some of the seedlings that I have been raising for the last few months.  Before dark arrived, I was able to bring out 28 cashew and 36 soursop seedings.  There was only one rain shower late in the day.
July 6
Life in the jungle: I got a super early start to try to get some seedlings planted before Orlando and Joseph arrived.  After they arrived, we framed and mixed and poured concrete to finish the bathroom floor.  We were interrupted many times by brief rain showers.  Fortunately, the rain did not wreck the wet cement.  We also got the last 4 front posts for the front entrance/work area of the greenhouse up and some of the rafters for that roof up.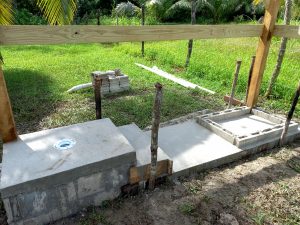 Bathroom floor
After clean up I had to race up to the village because a piece of 4'x4′ sheet steel was coming on the bus from the city.  The sheet of steel is required to finish my fire hearth.  I was able to make a run for the grocery store right before closing.   By the time I was on my way home, it was after dark.  A very full and busy day.  My chronic coughing returned this evening.
July 7
Life in the jungle: The road is so bad that it was the first time biking out with rainboots to go to the city.  Today was passport stamp day.  Immigration took me only an hour this time.  It was a reasonably laid-back trip to the city for mainly paint and construction screws for the greenhouse.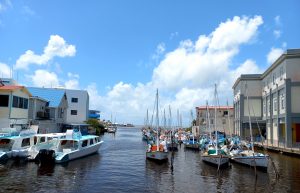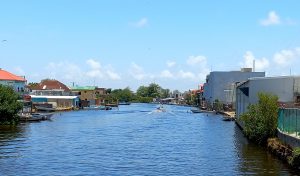 The Belize River from the Swing Bridge in Belize City
As soon as I got home, I started planting seedlings.  I also brought 8 more soursop seedlings out to the coconut field.  I went to bed late extracting papaya seeds from the papaya I purchased today.  No rain.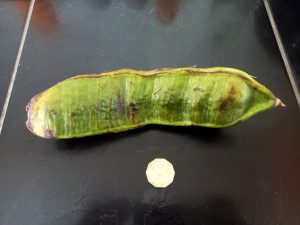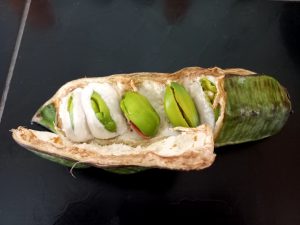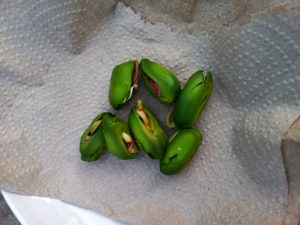 Its called Ice Cream Bean. I was given it in the city. You eat the white stuff surrounding the seed. It tastes like green beans.  [I would plant the seeds and they successfully grew and are panted in the coconut field.]
July 8
Life in the jungle: While waiting for construction materials we (Orlando, Joseph and myself) cut down a sick coconut tree beside my house.  A tractor-load of materials arrived and was unloaded just before a rain shower.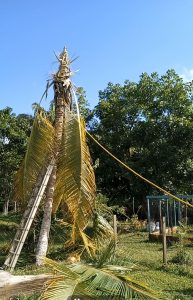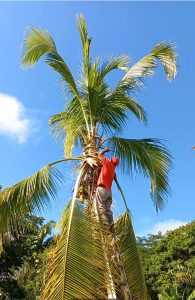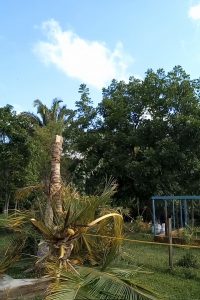 Removing a sick coconut tree without taking out my fence
We got the cinder block base and 2 1/2 apartment walls framed this afternoon.  I desperately needed to plant trees afterwards but I needed to pay for the construction materials that were delivered tonight.  Nery is coming tomorrow evening with some cabbage wood.  I did plant some Lemon and passion fruit seeds tonight in the dark.  Less than half of the passion fruit seeds that I planted a few weeks ago germinated.  I went to bed late tonight finishing my papaya seed cleaning.  Papaya seeds need to have the soft surrounding gelatin removed from the seed before planting.
July 9
Life in the jungle: First thing this morning I planted some lemon seeds.  Between yesterday morning's planting and today, I planted 54 lemon seeds.  It looks like about 25 lemon seeds have germinated from the other week.
Orlando and Joseph showed up.  Today's job was to continue framing the apartment, a little cement work around the base of the apartment walls and the rafters for the apartment.  This will be the end of greenhouse work for a bit as I plan to go to Hopkins on Monday for a few days.  When I get back mostly only Joseph will show up when he has a day off.  Most of in the next little while I won't need Orlando's building expertise.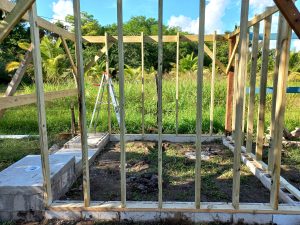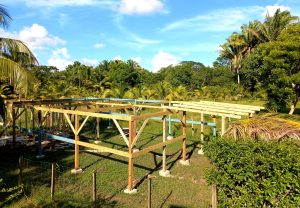 A framed in apartment
After cleaning up I continued to plant soursop seedlings in the coconut field.  Nery showed up right before dark and delivered 100 8ft 1×4 cabbage palm pieces.  I worked in the dark until 8 PM moving that lumber to the back of the house under a moonlit sky.
Between the greenhouse and the cabbage palm, I am officially "very busy."  I went to bed super late organizing my expense receipts for the last 3-4 weeks.  No rain today but a few short showers late in the night.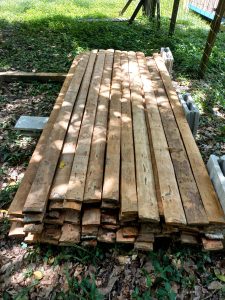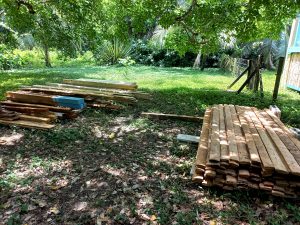 100 pcs of Cabbage Palm lumber and a growing lumber yard
Belize Part 32 (June 27 to July 2)
Belize Part 31 (June 21 to 26)

Glossary of Terms
Glossary of words or people that may or may not be part of this blog post.  This glossary will be at the bottom of every blog post for Belize.
Jack & Jill – These are my ex-property managers (names changed).  They are Canadian, they introduced me to Belize in 1997, sold me their house in Belize in 2003, and rebuilt my house from 2014 to 2018.  I have known them for over 30 years.  After almost 20 years of me supporting their life here in Belize Jack decided quite unexpectedly to declare "war" on me right before Christmas 2021.  They would end up stealing my business license and causing me a lot of grief.  They live on the farm, but not on my land.
Wayne – He is the son of the original owners of the farm (both owners are deceased).  The original farm was 2 – 30 acre pieces minus 2 – ¾ acre parcels for my house and 2 – ¾ acre parcels that Jack & Jill own which were all originally purchased from the original owners.  In 2017 Wayne sold me 40 acres of land from the original 60 acres (30 acres plus 10 acres).  Wayne lives in his parent house and has a few cows on his remaining 17 acres of land.
Orlando & Joseph – Orlando is an older gentleman from the village and Joseph is technically one of my closest neighbours living just across the river.  These are the guys I now call on when I need construction help.  They kind of work as a team but sometimes only or the other shows up when I call.
Nery – a local in the area that helps me with certain projects when needed.  A very knowledgeable guy originally from El Salvador. He teaches me a lot about farming and tree.
The ponds – I have 2 large (300ft long x 50ft wide x 10ft deep) ponds on my 30 acre parcel of land which is basically jungle.  I have about 60 coconut trees (mostly mature) around the ponds.  I have plans to plant a few hundred papaya trees here plus other fruit bearing trees around the ponds.
The coconut field – I have about 400 coconut trees planted (various growth states) on about 3 acres of cleared land of the 10 acre parcel.  I plan to add various fruit trees to the same field as soon as I can.
The river lot – my house sits on a ¾ acre lot.  I have a second joining ¾ acre lot that allows me river frontage on the Belize River.  I call that my river lot.
The dry – Belize has 2 main seasons.  The rainy season and the dry (no rain).  The wet is obviously the rainy season.
Chopping – using my machete to clear brush and unwanted trees