Back on October 23, 2019 I posted Part 1 and then on November 10 I finally posted Part 2.  I am finally finally posting Part 3.  For those interested in this post I suggest you read Part 1 and 2 first.  You can find the links for those posts at the bottom of this page.  I have just been so busy with the bike ride to finally get this post finished.
Part 3
Saturday evening and Sunday all day were very busy with my bike ride preparation.  Forever researching equipment, blogging and creating website content.
I started Monday morning at 8:30am (local) from Arcata.  I travelled Highway 299 through to Redding California and arrived at 12:45pm with a 45 minute construction delay.  Highway 299 is a beautiful highway and I highly recommend anyone to travel it if they can.  The road winds through mountains and ravines and no shoulders and no phone service through much of the area.
Upon my arrival to Redding I made my final delivery in a rundown commercial retail parking lot.  I swept the trailer out, had lunch and was back on the road by 2:30pm.  I had traveled 6,078 km's to my last drop.
I arrived at the Flying J truck stop in Lodi at 6pm driving at total of 538km's, working 9.5 hours.
Tuesday morning at 9:30am (local) I ran into truck problems and went into a de-rate the second I pulled out my parking spot.  De-rate meaning my truck could not drive faster than 5 miles an hour.  I instantly parked again and called Penske Road Service.  A mechanic came out and claimed to have fixed my truck issues.  I did not believe him for a second.  I left the truck stop and arrived at a winery just down the interstate for my backhaul by 11:30am.
I was given a door at 1:30pm and my truck went back into a de-rate as I backed in to the door.  I waited all afternoon for a tow truck which brought me a rental unit.  I followed the tow truck to Stockton where I switched all my things over to the rental, leaving Stockton at 7:45pm.  I drove 500 km's today to Lovelock Nevada with no meal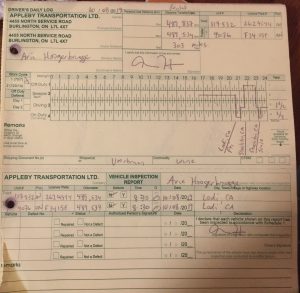 In the rental I had to switch to paper logs
Wednesday morning I started at 10am (local) with a 30 minute lunch stop and 15 minute fuel stop in West Wendover Nevada.  My day finished at 12pm, driving 1,112 km's in 10.5 hours making it all the way to Wamsutter, Wyoming.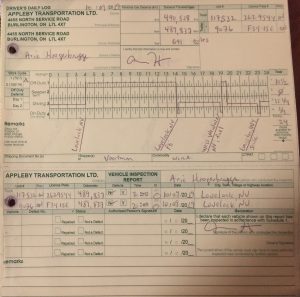 Thursday morning I started at 10am (local) making a 15 minute fuel stop and 45 minute lunch break in North Platte, Nebraska.  That night I made it to Lincoln, Nebraska driving 982km's in 11.25 hours.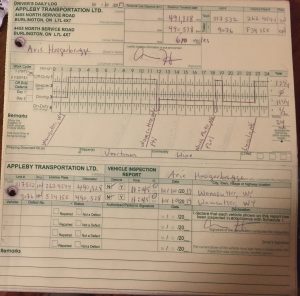 Friday morning I started at 9am (local) taking a 45 minute lunch in Walcott, Iowa.  I drove 969 km's to Sawyer Michigan in 10.5 hours.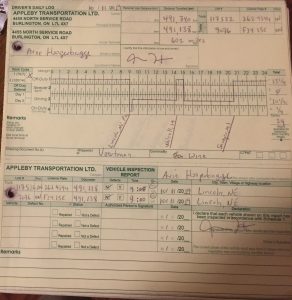 Saturday morning I started my morning at 8am and made back to the bakery at 4:45pm driving in 6.75 hours of driving.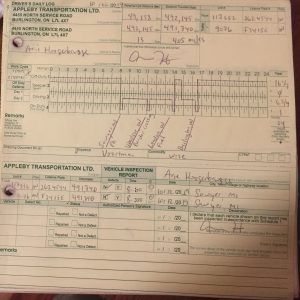 This trip had me drive a total 10,596 km's with 14 drops and a backhaul of wine.
Now that you have seen a few photos of paper logs I will show a few photos of what E-Logs (or electronic logs) look like.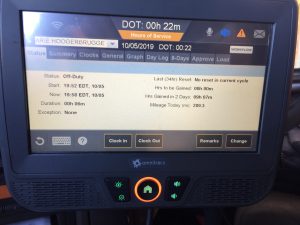 The main screen – the only real important part is that it shows me I only have 22 minutes left before I am out of hours for the day.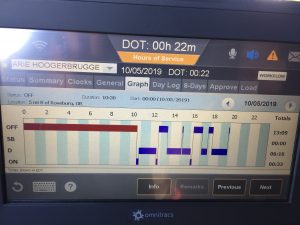 The Graph (SB = Sleeper Birth / D= Driving / ON =On Duty Working)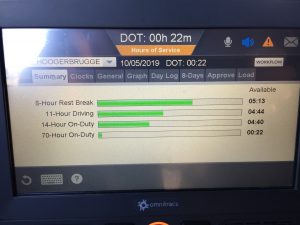 Remaining time left on my day and week.  Only 22 minutes left on my week so technically the remaining time on my driving and on-duty for that day would run out anyways.
Day in the Life of a Truck Driver PT #1