Actually this is going to be more than a day.  It occurred to me that as this trucking career winds down I should document a California trip so I have something to go back to someday.   I should also mention off the top that this run did not start out typical by any means but at the same time I should mention that I have had many runs that were not typical.  Perhaps I shall share some stories in my last blog post/part of this [complete] blog.
So  the plan is to document one of my last runs to California.  At the moment of typing this I am not 100% sure the format of my documentation but hopefully it develops into something.  The run I am documenting is a Redding California run.  At our company, our "run title" is based on the city we empty out in regardless of all the other drops on the trailer.
So let's get started.  I got back to the bakery/yard September 24 at about 3:30 pm from a Smyrna, Delaware run.  My trailer for Redding California was loaded and reading to go when I pulled into the yard; except the paperwork was not ready.   A month or so ago the bakery switched to a new system that requires all paperwork to cross the border to be completed after the trailer is fully loaded.  In the good old days as soon as the trailer was loaded away we went.  I say the good old days because under this new system we now wait for the paperwork to be completed and no one communicates with anyone.  And there are so many departments the paperwork goes through that I am not even going to pretend to understand this system.  All I know is someone way up the chain really screwed our system up real bad.
The good news is I am at the end stages of getting ready for this amazing bike ride so I am beyond busy getting ready for this new adventure.  So whenever I run into any delay of any kind I quickly pull out my laptop and get to work on my ride preparations.  Anyways while my paper work should have been finished by Tuesday evening  I finally get a call Friday morning that they finally hope the paper work will be completed by 2:30 pm.  The good news is I was very productive while all this time was wasted on waiting for paperwork.
In the last few days I had been busy getting my bike set up for my ride.  Some of these tasks included fitting my panniers, installing my bike lights and attaching my Canadian flag pole.  I found myself running to MEC (my bike shop) of few times for odds and ends.  One of the big items still left on my list of things to do was figure out and purchase any spare bike parts or bike tools I should carry with me.  I also needed to order and arrange delivery of my main winter gear.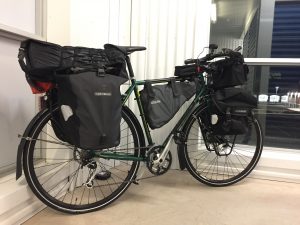 Working away in my storage unit
Most of my winter gear is coming from a company called Wiggy's out of Grand Junction, Colorado.  I have gone through Grand Junction many times; but not since discovering this company.  With my job coming to an end very shortly I could not afford to take any chances.  I needed to order this gear and ended up making arrangements with a distributor in Oregon to receive it for me.  [Note: I ended up going through Grand Junction on my very last run as a truck driver but did not stop by as I had all my gear by then.]
Apparently Wiggy's has manufactured winter sleeping bags for the US military.  So this is what I ordered (US currency):  sleeping bag – Antarctica -60F($250), snow pants($90), lamilite winter socks (1 pair) ($31.50), 1 full body base layer suit($97.50) and set of shoe dryers (meant to suck moisture out of your foot ware over night)($40).  Total invoice $509.  Probably all that is left for winter gear is to get some synthetic (wicking) underwear and shirts.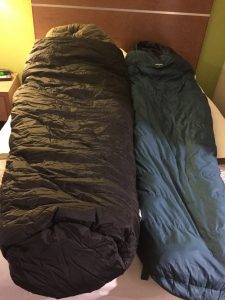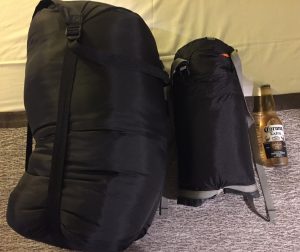 Two photos of my new -60 Fahrenheit Antarctica sleeping bag compared to my old sleeping bag
As productive as I have been these last few days it is now Friday September 27 and time to get the show on the road.  Shortly after lunch I get a phone call from dispatch informing me that they are putting a skid on the end of my trailer which is to deliver just outside Chicago.  And then I am informed that this skid cannot be received until Monday morning September 30!!  I have been waiting since Tuesday September 24 to get out of here!!  But whatever, I am just trying to get through these last weeks with a smile on my face.  Dispatch tries to put a positive spin on things by suggesting now I have the time to do that test run with my new bike that I told them I needed do before leaving for the East coast.  I had not been able to plan this over the last few days simply because I was waiting for a phone call any minute telling my paperwork was completed.
Anyways I back my trailer into an empty loading dock to have this skid added to my load.  While waiting for this skid approximately 45 minutes after docking a newly hired shunt driver (a driver that shunts trailer back and forth between loading docks) attempts a u-turn in our yard hooked to a trailer and proceeds to rip off the front bumper of my truck!  Long story short this actually the second time in less than two months that a shunt truck driver has hit me (I was driving a rental truck at the time of the first accident).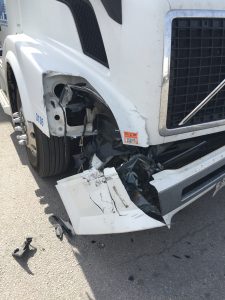 The next five hours are spent cleaning/washing the interior of another truck and moving all my stuff into a different truck.  Moving your stuff between trucks is extremely time consuming.  First you need to thoroughly clean the inside of the new truck.  Then you collect a hand full of your stuff in your old truck; climb over the stick shift and climb down and out.  Then you climb in the new truck and over the stick shift and place items in their desired places.  The whole process takes longer for me as I am the only driver that actually "lives" in his truck so I have a few more items then most drivers.  An average transfer of trucks seems to average 4 hours depending on how dirty the other truck is.  Imaging moving your entire bedroom into the next room in your house.  Another long story short is that because of recent bad luck with truck breakdowns I think I have had to move trucks about six times or more in the last two months.
I think by the time I was settled in for the night it is almost 2am.  I wake up at 8am Saturday September 28 and race over to my storage unit (where I keep my new bike).  I do some last minute packing and preparations and start my test ride at 10am.  This is the first time riding this bike and for the first time riding a fully loaded bike since 2011.  The ride was sweet and smooth but heavy and I had totally under estimated my destination.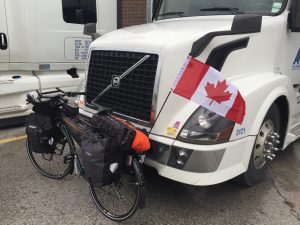 Loaded and ready to get this test ride on the road
My plan was to visit my grandfather in Carluke, ON.  I had not seen him in a good two years because of both living on the road and not owning a car.  I didn't realize Carluke was about a good 35km's away which is 70km round trip!!  Even my first bike tour  back 2011 I only made like 65 km's in my first day.  Eight years younger and had not spent the last 6 1/2 years driving a truck.  Ten kilometers down the road I stopped for lunch and was convinced I had bit off way too much for a test ride.  And the weather did not look promising.
Well I made it.  I had to climb our escarpment into Ancaster and I made it all the way to the top without stopping.  I made it to Carluke and had a nice one hour visit with grandpa and his caregiver.  I knew putting my shoes back on I was going to feel those last 35km's through my body and I was sore.  Shortly on my way back the rain came and I needed to gear up in my rain gear.  Heading back seemed to drag pretty slow; my ass was sore.  I stopped for super and got back to the bakery at 9 pm with a solid 70km's pedaled.  I did it.