This Part 2 of a blog that I was attempting to write weeks ago.   I posted Part 1 all the way back on October 23.  I will include the link at the bottom of this post if you haven't read it yet and want to start at the beginning.
I just got so busy with final preparations with my bike ride all of a sudden to finish this post in a timely fashion.  This post will have at least a part 3 and possibly part 4 I think.
Part 2
I woke up Sunday morning not nearly as sore as I thought.  My day was busy; as I needed to drop my bike off at MEC again for a last tune up to tighten the hand built front wheel and anything else that may have come loose on its test run.  I also needed the handle bars taped and a shorter stem swapped out for the handle bars.
I may not have been as sore as I thought I would be but I definitely knew better then to pedal my bike to the bike shop.  Strapped the bike on the back of the truck and away I go.  I spent more time then I had planned at MEC but who doesn't like to talk about bikes?
I race back to the bakery and hook up to my trailer and leave the bakery around 11:30am.  As soon as I pull forward my dashboard flashes Check Engine Fault.  It is Sunday morning; nothing I can do about that at this point.
I drive to a Petro Pass (truck stop) to scale myself to make sure my truck and axels are not over weight.  Don't I get the biggest surprise to discover that I am 1,580 lbs over weight.  In America your combined weight in a truck cannot be over 80,000 lbs.  That's 12,000 lbs on the front wheels (steers), 34,000 lbs on the back truck wheels (drives) and 34,000 on the trailer (tandems).  I am 81,580 lbs.
It is now Sunday afternoon, the bakery and warehouse is closed.   I had to wait an extra 2 days for this lousy skid that should never have been put on my trailer in the first place and now I am over weight!  I head back to the bakery.  A quick text and dispatch is informed.  And I am informed that that skid must be delivered to Chicago by Monday.  I am instructed to off load some of the other cases of cookies to lose the weight.
The problem is that all the other cookies are loaded on the floor with sheets of plywood leaned up against them for securement.  And this skid is like 1,500 lbs pushed against the plywood so that I have no way of moving the plywood out of the way to access these cookies that I need to remove from the trailer.  The craziest thing though.  For no good reason there is a pump cart in the yard and there was also a straight truck with a lift gate.  So I transport the pump cart on the lift and up into the straight truck and then back the straight truck to the trailer so that I can shift the skid enough to access the rest of the cookies.  I move 200 cases into the straight truck close my doors and away I go.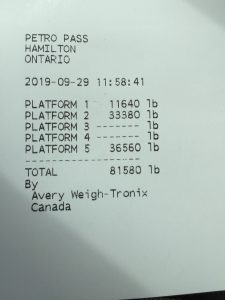 Scale ticket at truck stop – 1,580 lbs over weight
Two hours behind schedule and now it is 3:00 pm.  I get to the Queenston ON / Lewiston NY border at 3:45pm and sit in the longest line I have ever sat in at that border.  It takes an hour to get to the booth but I clear at the booth.  Why they cross me at Lewiston NY when I am heading to Chicago for my first drop I have no idea but it's extra miles on the pay sheet.
At 5:45pm I stop at the Angola Service Plaza on the NY Through-way for my breakfast, lunch and super.  After super a half hour down the road in Pennsylvania was my last chance for a Tim Horton's for the next 2 weeks.   I made it to a service plaza in Ohio almost at the Indiana state line at 11:45pm; driving 715 km's.
Sunday Summary:  Twelve hour and fifteen minute day.  Over weight trailer, an hour long delay at border, one meal and one coffee stop.  715 km's driven
Monday morning (September 30) I start my morning at 9:45am.  By law I am required to park for 10 hours before moving the truck the next day.  I get to my Chicago drop for 12:30pm (remember we are now in Central Time – one hour back).  Back on the road in 30 minutes.  I stop for my first and only meal in Walcott, Iowa at 4 pm.  Thirty minutes later I am back on the road.  By 8:45pm I make it to a rest area just east of Omaha, Nebraska  driving a total 1,040km's.
Monday Summary: Twelve hour day with two 30 minute stops including my one meal.  1,040km's driven.
Tuesday morning (October 1) I start at 8:45am and drive 30 minutes down the road to Gretna, Nebraska to fuel up 195 gallons of diesel.  Next stop is North Platte, Nebraska for lunch and grocery shopping at Walmart (1hr).  My day ends at a truck stop in Rawlings, Wyoming at 8:15pm (Mountain Time – another hour back) driving 1,085km's.
Tuesday Summary: Twelve and a half hour day with a 15 minute fuel stop and a hour lunch and shopping stop.  One meal for the day and 1,085km's driven.
Wednesday morning (October 2) I sleep in and start my day at 8:45am.  I get to my first drop Roy, Utah at 1pm for my delivery.  Half an hour to unload 166 cases of cookies.  By 5pm I am in Blackfoot Idaho and take an hour to unload 550 cases.  I arrive at a truck stop in Jerome, Idaho to fuel up and meet a distributor to unload an easy 100 cases.  Forty five minutes to accomplish both tasks.  I drive 45 minutes down the road (no parking left at the truck stop) to Bliss, Idaho to park for the night at a rest area by 10pm driving 1,001km's.
I guess I should take a moment to explain that Voortman Cookies are delivered to grocery stores via independent distributors, not distribution centers.  That means individual drops all around America and Canada and sometimes multiple drops in major cities.  90-95% of distributors utilize public storage units about 5-10% of distributors use their homes for storage.  All cookies are unloaded by hand and a roller system.
Wednesday Summary: Thirteen hour and 15 minute day, 3 drops – 816 cases of cookies unloaded, one fuel up, 1,001km's driven and no meal.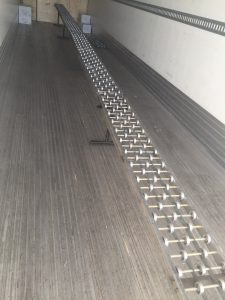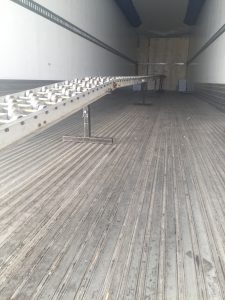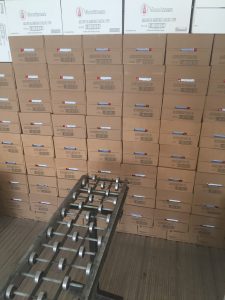 These photos are taken when the trailer is virtually empty.  We set up rollers working our way to the nose of the trailer as we unload
Thursday morning (October 3) I start at 8am and get to Meridian, Idaho (just outside Boise) for 10am.  I unload 590 cases that takes 2 hours (longer than normal but it was 2 drops at the same location).  Twenty minutes down the road I stop at a truck stop for 2 hot dogs.  I get to Bend, Oregon at 5pm (Pacific Time – another hour back).  He makes me wait but we have his 123 cases unloaded by 6pm.  I end up driving 3 more hours and park at a closed weigh station at 9pm in Sandy, Oregon at 9pm driving 847 km's.
Thursday Summary: Fourteen hour day, 2 drops – 713 cases of cookies unloaded, 2 hot dogs eaten and 847km's driven.
Friday morning (October 4) I start at 8am and am in Wood Village Oregon for 8:45am.  Our Wood Village drop is one of our few drops that is on pallets.  [Admittedly at the time of writing this now I have lost my original load sheet so I am unable to properly document number of cases unloaded.  That being said I have done this run enough times to have a pretty good estimate on the rest of the drops.]  The Wood Village drop is probably about 1,500 cases; so about 12-13 skids.  The thing about the Wood Village drop is it is not off loaded with a loading dock to so it takes a pump cart and forklift to unload this order.  We are unloaded by 10:15am.
I get to my Eugene OR drop at 12:45pm but he makes me wait.  I go grab lunch and wait for his arrival.  We unload about 400 cases and am finished with this distributor at 2:30pm.
I get to White City OR at 5:30 pm and we only have about 300 cases to unload.  I had also made arrangements with this distributor to have my winter gear shipped to his home.  So today is the day I receive most all of my winter gear.  Happy days!  My winter gear was ordered from Wiggy's out of Grand Junction Colorado (www.wiggys.com).  I ordered and received a -60 Fahrenheit sleeping bag, fish net long johns and top, laminate winter socks and shoe dryers (pull the moisture out of my boots at night).  This delivery takes one hour.
At 8:15 I pull into the Loves truck stop in Roseburg OR.  I need to top up my fuel for the next and final stretch of my deliveries.  I am heading to the coast and then south into California with no truck stops to speak of.  I still have 45 minutes left in my day; but there is also truck parking still available here.  I have time to make my Saturday morning delivery in Coos Bay with time to spare.  I decide to cut my day short and get my first shower of the week and a second meal of the day.
Friday Summary:  Twelve and half hour day with 3 deliveries and a fuel up.  Two meals today and my first shower all week.  700 km's driven.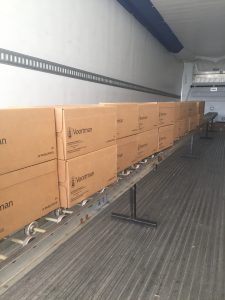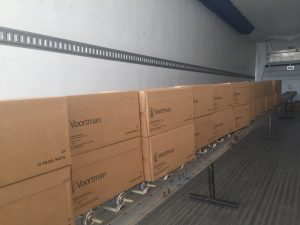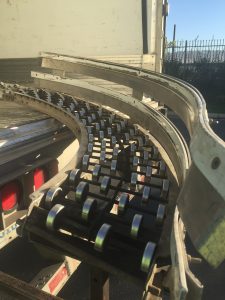 Cookies are typically whipped down 2 cases at a time.  Unless the distributor makes me wait too long I start to get antsy and start loading the rollers.  The last photo is of our curve as most distributors unload to the side into their storage units.
Saturday morning I start my day at 8am and make it to the coast and Coos Bay for 9:40am.  Just a small order of about 150 cases and we are finished unloading at 10:45am.  From Coos Bay I get one of the most beautiful drives along the Oregon Coast.  I look forward to this route on my bike ride.  The Oregon Coast is awesome.  I arrive at my last drop for the week in Harbor OR for 1pm and have that drop of 150 cases done by 2pm.  Yes I admit I spent time talking with both distributors today.  It happens.
Harbor is practically at the California state line and in no time I am driving through Redwood National Park in the truck.  Another amazing section of highway I have had the pleasure of driving.  This is only the third time I have gone south into California here and I love it.
I make it to Arcata California at 5pm.  I do not have the hours left to keep driving to my last drop of this trailer in Redding California.  That drop must wait until Monday.  I am basically at my 70 hours (max)meaning in total I have worked the usual 80 hours since leaving the bakery last Sunday afternoon.  But on the books and electric logs I can't work a minute over 70 hours.  I am able to get those extra hours done by putting myself off duty while unloading cookies.
Saturday Summary: Nine hour day with 2 drops.  466 km's driven.  Weekly totals – 11 drops, 5,852 km's driven and a good 80 hour work week.
I should also mention that because my bike ride is getting so close that I am spending about 2 hours every night working on assorted bike ride related topics from blog writing to gear research to emails to my web developer.  At least one night I would have been watching a movie because at this point my brain goes to mush every once in awhile.