Have you ever wondered what to pack on your first bike tour?  This is the "everything you ever need to know about what to pack and how much to pack on your bike tour" blog post.
"Bad decisions make for great stories"
Did you know that there are cyclist like Mark Beaumont that break world records biking around the world?
Do you know that there are cyclists that bring a guitar with them?
Did you know that that there a cyclists that bring their dogs with them?
Do you know some cyclists don't even camp?  They go from hotel to hotel?
Did you know there are cyclists that go around the world with like only 10lbs of gear?  Or something like that.
Do you know that I think breaking world records compared to enjoying the ride is stupid?  (Though I do enjoy watching Mark Beaumont's videos on YouTube).  Did you know I can't play a musical instrument so for me to bring a guitar is stupid?  Do you know I would never for all the money in the world let a wet dog sleep in my tent?  Do you know how much money hotels cost?  Did you know it would be cool to go around the world with almost no gear but I don't know how?
And did you know none of these people care what I think?  And you shouldn't care what other cyclist think either.
What to pack on your first bike tour
So where do we start when trying to figure out our equipment and what to bring?  Start with Google.  Google will tell you almost anything you want know.  Ask Google what you should bring on a bike tour.  And Google will spit out tons of bike touring blogs.  So start reading and start making lists.  If you have any camping experience then reflect on those experiences.  What were you glad you brought and what did you not use.
Then if you are Canadian I recommend to visit and spend a lot of time browsing the closest MEC – Mountain Equipment Store.  If you are American to the best of my knowledge you want to visit your local REI shop.
Their websites are awesome and use the "compare" option to help decide what equipment works best for you.  Be sure to read the product reviews and questions and answers.  Reviews are your friend.
And then start asking questions on various bike groups on Facebook.  These groups can be your greatest friend when attempting to figure out bike related things.  But you can also find a million different responses.  Which doesn't always help.
Many an experienced bike tourer has suggested just use the bike you got and the equipment you have already.  Who am I to argue.  I bet you have lots of fun.  But I bet you much of your gear fails and I bet you learn a heck of a lot too.  So I say go for it.  That being said; that is not my idea of fun.
Bike touring options
So ultimately you have to decide how you plan to carry all your gear.  Your main options would include:
1) bikepacking
2) 2 rear panniers
3) 2 front and 2 rear panniers
4) combination of numbers 2 or 3 with a trailer
Don't forget you can strap things to your bike racks and of course get a handle bar bag.  Also now a days the number of frame bags is practically limitless.  Take advantage of all that empty space.
Ultimately the best way to decide how you plan to carry your stuff is going to largely depend on where and for how long you plan to tour.  Do you live in British Columbia with the wilderness in your backyard?  Why not try bikepacking?  Are you planning a 3 year, 50.000 km bike ride all across Canada and down to Argentina like me?  Perhaps bikepacking is not the best plan?  Though there are cyclists that do just that.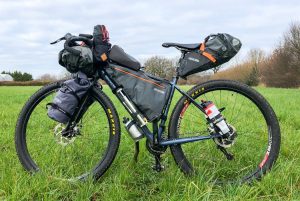 Typical Bikepacking Set Up (not my photo)

Most cycle tourist can easily bike around the world with just 4 panniers and a bar bag.  Here's another question.  How do you plan to document your ride if you plan to?  Are you going all out with a laptop, cameras and GoPro's?  That takes up space.  What about crossing Canada during the winter like me?  Winter gear takes up a heck of a lot space.
My set up for the 2019-20 winter
MEC National Bike
Frame Bag (for tools and spare parts)
2 Front panniers (clothing in one and GoPro stuff in the other)
2 Rear panniers (camping gear in one and food and laptop in the other)
Bar bag
BOB Trailer (sleeping bag and tent)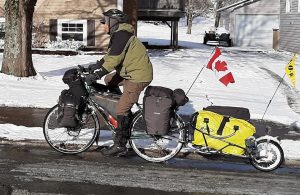 My set up while biking across Canada during the winter
Bike Trailers
I want to allow a special place in this post about bike trailers.  Some people like them and some people don't.  There are pros and cons to pulling a trailer.  I decided to pull a trailer for my first bike tour in 2011 and I really liked having it.  Currently I am pulling a trailer on this tour to help carry my winter gear.  And believe it or not I get lots of criticism for pulling a trailer???  Have you ever heard more ridiculous advice?  People are telling me to lose the trailer when I have experience and enjoy pulling a trailer!
I feel pulling a trailer in Canada or the US is a great idea but not for everyone.  But I am not 100% convinced pulling a trailer in many 3rd world countries is so great where there is a greater chance of having to get on a bus.  "I feel" that there is a greater chance of your trailer being separated from you or out of eyesight if you have to unhook it for travel arrangements.  But my opinion is not based on experience.  This is something I will have to figure it when the time comes.  But what I do know is that people pull trailers successfully all around the world.  So who am I to judge?  By the way I pull a BOB trailer.
My recommendation is to ask on Facebook bike groups and let the debate begin.  Write down the pros and cons that come up and decide how relevant they are to your plans.
Recently a cyclist that has toured with and without a trailer suggested a theory.  Now this theory cannot be proven but I suspect he is right.  He believes that cars and trucks are much more friendlier to you if you are pulling a trailer.  He says that there is a noticeable difference in the amount of friendly interactions when he is pulling a trailer vs when he did not.  Believe it or not?
Check out a blog post I did specifically on trailers HERE
When people ask about taking too much gear
I start with if you can pedal and pull it and it fits in your bags then go ahead bring it.  But that is not where I finish.
First, some suggestions on equipment.  Not all camping and touring equipment is built alike.
1) Purchase the best and lightest equipment that you can possibly afford.
2) Do your best to make your equipment serve more than one purpose or make certain items redundant.  For example I won't bring a cup because I have water bottles.  And I don't bring a cup to scramble my eggs – I use my one soup bowel.  My bear canister is my seat/chair.
3) If you feel that you can live without it then you should try.  Weight is weight.
4) Ultimately you can only fit so much in your bags.  If you are convinced that you need certain things to make you happy then bring them.
5) There are items that you want to bring for emergencies that hopefully that you never have to use.  That takes up space.
6) Speaking of emergency items or tools.  First Responders – the people that save other people's lives have a very important rule.  Two is one and one is none.  Some possible examples – flashlights, phone chargers or hex tools.  If you lost your "one" as you pedal down the road or leave it at a campsite; how much trouble are you in?
7) Everyone has their luxuries.  Don't let anyone on the other end of a Facebook post tell you not to bring something you want.  When you are 5oo miles from the closest camping store and you wish you had brought something that you didn't.  Who is the bigger idiot?  The guy who told you don't bring something or you for listening to him?
Where I finish
This is the trick.  At the end of your first week look over all your equipment and make note of what you are not using.  And then the second week and then the third week and then the fourth week.  Make honest assessments on what is not being used and address accordingly.   Donate it, leave it a hostel or ship it home.  Everyone has done this before.  No one became an expert on their first tour.
Ride your ride
This is real important.  Ride your ride.  You will figure it out.  Everyone does. Don't let people who don't know your vision pressure you into decisions about your ride.  And if your vision for your ride changes based on your experiences than who is all the wiser?
Bringing too much stuff and exercise training
Oh bringing too much stuff is defiantly possible, almost guaranteed.  If you are planning a year long tour in Asia then you might want to pedal your bike around the block a few times first before boxing everything for the airport.
I know nothing about exercise and so I give no exercise advice at all.
But let me tell you about how I did things and maybe it is best not to follow my examples.  My first tour was western and northern Canada in 2011.  I was attempting to hitchhike across Canada and eventually had to take a Greyhound bus to Calgary where I decided to buy a bike and transfer all my camping gear from my backpack to a BOB trailer and 2 rear panniers.   At the time I hadn't been on a bike for almost 8 years.  I just started pedaling and 14 weeks later I had pedalled 6,500 km's.  No exercise, just started pedaling.  Sore at first, not a lot of kilometers either; but stronger and further everyday moving forward.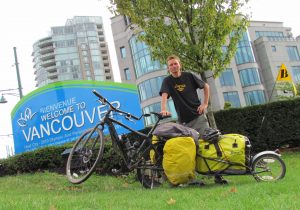 My first tour in 2011
My current tour.  You defiantly don't want to follow this example.   But can I add something?
You know those people that have stories and they say – but don't try this at home or I would never try pulling that again?  Those people are also part of pretty special club.  Just saying.
Current bike tour
Anyways, I believe that I first announced my cross Canada during the winter bike tour during an argument with my now ex-fiancé.  I have never camped later in the year then mid October.  And I know nothing about winter camping.  Anyways when my fiancé became my ex-fiancé I went ahead full steam ahead with this plan.  I never even considering whether I could actually do this.  My attitude was that if people could winter camp and survive then surely I could; and do it by bike.
I also never properly test drove my bike 100% fully loaded until I was already at the starting mark in St John's Newfoundland all by myself.  You ask how is that possible?  Do you know how much work I had to do between the end of May till my start date November 12, 2019 with no bike, no winter equipment and no website.  Plus I worked 80 hours a week as a long haul truck driver criss-crossing North America every week.
I will never forget the day I loaded everything into a Uhaul trailer and my parents dropped me off at the ferry terminal in Sydney Nova Scotia.  I loaded my bike properly loaded for the first time and I instantly went "Oh crap!" inside my head.  My bike was so heavy I refused to pedal it.  I walked my bike to my ferry lane, I walked my bike onto the ferry, I walked my bike off the ferry.  I was so scared to get on my bike.  And I was two days from starting a 50,000 km, 3 year bike ride starting during a Canadian winter.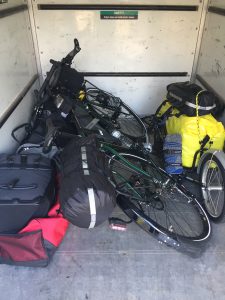 All my gear loaded and ready to go
Anyways at the time of writing this post I have crossed Newfoundland, pedaled the first part of Nova Scotia, Prince Edward Island and am a good way across the second half of Nova Scotia.  So far I have pedaled over 3,000 km's with my best day at 100 km's.  My shortest day has been 20 km's. [Update: currently (March 5, 2021) in Las Vegas Nevada 16.850 km's]
Remember there is no right or wrong way.  Ride your ride.  And if one day your ride across the planet with only 10 lbs of gear – well then look at you!