October 25
Km's Pedalled – 17 km's
Destination – Near the Fauntleroy ferry
Some Notes – Wow, I am on a plane during a pandemic.  So many vacation and travel plans have been cancelled and here I am on a plane about to start a next leg and a brand new adventure.  For I have never biked in the US before.
The flight was only 50 minutes in the air so it felt way shorter then that. Take off, reach cruising altitude and 5 minutes later (it seemed) an announcement to prepare for landing.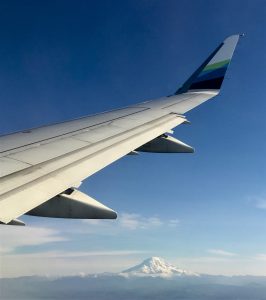 Mount Baker in the distance
Landing in Seattle I realized that I never had a last Timmies.  It could be many years before I have one of those again.
And I didn't have to go through customs again?   I don't know if something has changed since last time I flew into the US but every time I flew to Belize with a layover in the US you were required to stand in line for 2 hours at US Customs at Toronto Pearson Airport and then go through Customs wherever your layover city was.  Collecting my gear and bike the exit was right there?  No more customs. I sort of feel like I escaped or something?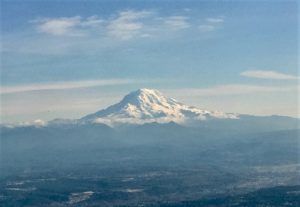 Today was 100 times smoother than I could have hoped for.  Probably the easiest and best flight I have ever had in my life.
It took me a little over an hour to put my bike back together. Nothing was broken or lost.
Cooler temperatures.  I put on my winter gloves pretty quickly biking.  I grabbed super and then groceries.  I found what I assume and appears to be a large water tank on a residential street to camp behind.  This getting dark at 6pm is not good.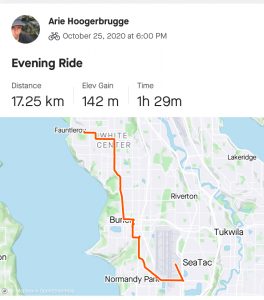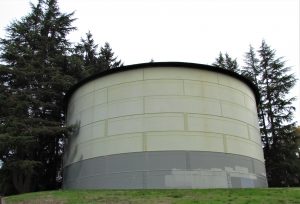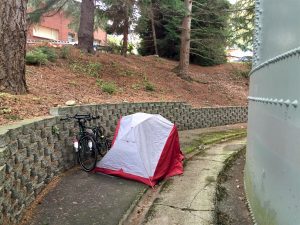 First stealth camping in the USA
October 26
Km's Pedalled – 61.5 km's
Destination – Poulsbo
Some Notes – I slept ok, but not great.  I got use to a bed (in Vancouver) for the last week.  A low of 3 degrees last night.  Cooler temperatures in the morning make waking up not so pleasant.
I started the morning doing a Road Show with Brandon and then I realized that I couldn't make breakfast because of no lighter fluid.
I was less then 2 km's from the Fauntleroy Ferry So I was able to get out of the greater Seattle area pretty quickly.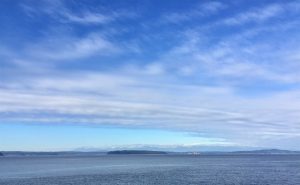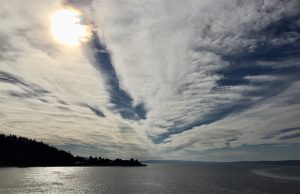 From the Fauntleroy Ferry
The one thing I noticed is that only restaurant drive thru seems to be open.   Mostly city and heavy traffic biking today.
Picked up my camp fuels this evening and I have been having problems opening my bike lock the last few days.  [For other cyclists] I went to YouTube for a solution.  Squirt some chain oil into the moving parts.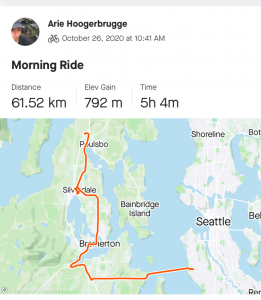 October 27
Km's Pedalled – 111.5 km's
Destination – 10 km's West of Port Angels
Some Notes – This morning I was woken up at about 5:30 am by the police.  I thought I was safe to camp in some trees behind a Walmart.  Apparently I did not make the people at Walmart feel safe.  Anyways the cops were cool and friendly enough so it was all good.  Just unfortunate that this had to happen in the US after all the biking I did in Canada without incident.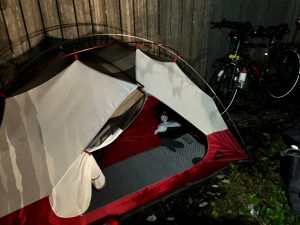 Breaking camp in the dark thanks to Walmart
Being kicked out at 5:30 am put me on the road about 6:30 am on the freeway in the dark.  But if you are reading this you know that I survived.
Cooler temperatures today but a sunny afternoon.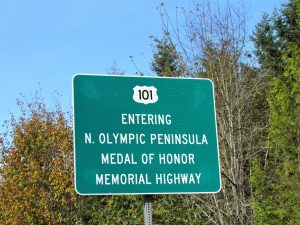 This highway will be home pretty much all the way to San Francisco
Today my web guy Jordan and new media communications guy Matt completed a Press Release for entering the US
Challenging biking conditions. Temperatures are cool but I'm always sweating which makes for very uncomfortable biking. I take on and off my hoodie all day long to keep warm or prevent excessive sweating.  I am very much a sweaty mess. No expectation of shower quite some time.  Lots of hills but fortunately mountains.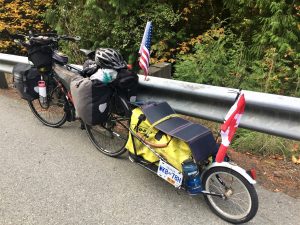 Trying out my new solar power panels thanks to Andy Sward
Port Angels is likely where I would have actually started my US leg of this bike ride if it was not for Covid-19 and having to fly to Seattle.  I would have simply taking the ferry from Victoria to Port Angels for probably $25 instead of the $500 or so in total connected charges that it cost me to fly.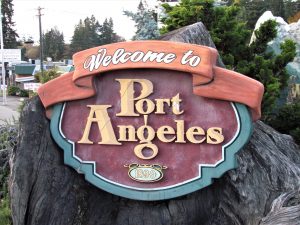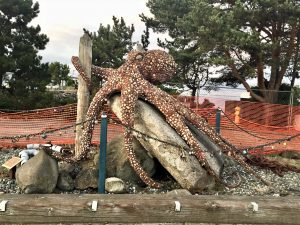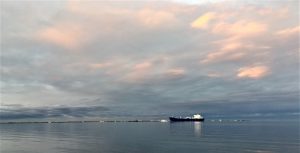 Port Angels
I had a heckuva time finding a campsite in the dark tonight.  I literally camped to the side the road.
And it would seem that gone are the friendly honks and waves I'm used to in Canada?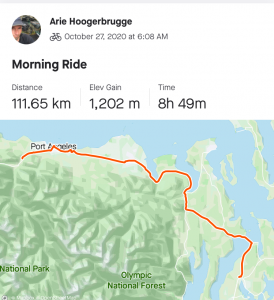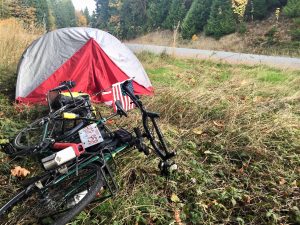 October 28
Km's Pedalled – 69 km's
Destination – 10 km's east of forks
Some Notes – I found my bungee cord!  Last night I thought I lost my trailer bungee cord and I was so pissed.  Not that losing a bungee cord is the end of the world but a few days earlier I left my [cheap] gloves at the ferry.  It is very important to always be mindful of all your things at all times.  It is so easy to drop things and usually things are pretty important or you wouldn't have them.  Losing things is bound to happen but when it happens only days are apart; I was pretty pissed with myself.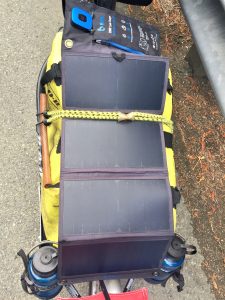 Bungee cord securement
What happened is the day before I was trying out my new solar power unit that Andy Sward gave me in Vancouver.  Anyways when it got to the end of the day I packed up the solar panel and forgot to resecure my bungee to my trailer and when I stopped last night it was no longer hanging from the trailer.  I actually found it about 6 feet from my bike this morning.  Which means it held on all that time and finally fell off when I stopped.
Toady was a slow day today.  Worked on some final edits for my Ontario YouTube video.  A cool overcast day.
Today I came to and started biking through Olympic National Forest.  A very beautiful ride; that being said there is a 11 mile dangerous stretch with no shoulders and many windy bends in the road.
A light mist rain this evening; I camped just in time.  I actually got farther then expected today.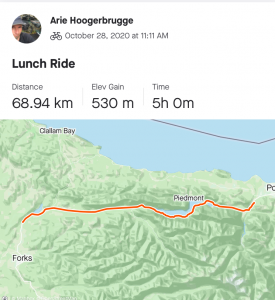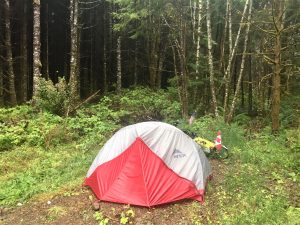 October 29
Km's Pedalled – 64 km's
Destination – Hoh Rainforest
An overcast and dreary day.  Admittedly I don't want to put my cold sweaty wet biking clothes on this morning.
As overcast and as dreary as it was it never rained and was not to bad of day.  Meaning I wasn't soaked in sweat all day
My battery packs are draining and I am about to take 100's and 100's of photos with my phone.  And there is no sun to charge my battery packs via solar
I met my first potential random host in Forks for Dublin CA.  The first thing he asked me was if I had heard of Iohan of Bike Wanderer (a famous Canadian bikepacker).  Iohan is very much part of my inspiration to start this bike ride in the winter.
I found dead Oregon newts and a Northwestern garter snakes on the road coming into Hoh Rain Forest.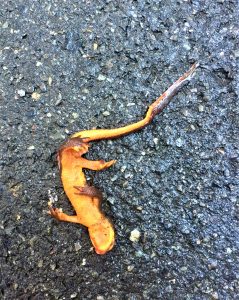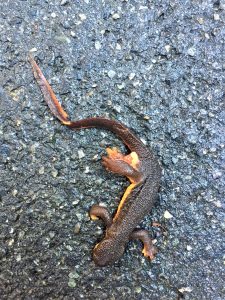 Oregon Newt (we use to sell them regularly in the pet trade)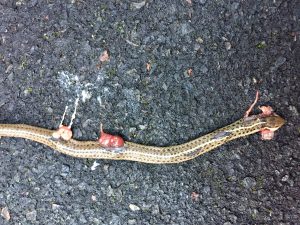 A northwestern garter snake
I saw many newts and garter snakes dead on the road
Olympic National Park is amazing so far.  And Hoh Rain Forest is my first official US destination on my list of places to visit in the US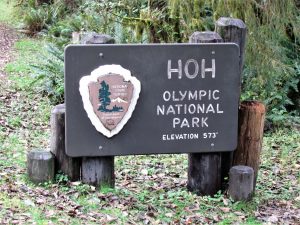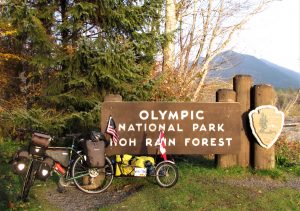 Rosevelt Elk can be seen right in the campground but impossible to photograph because of how dark it was.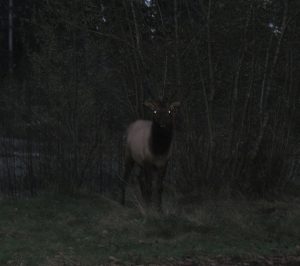 Rosevelt Elk could be seen walking through the campground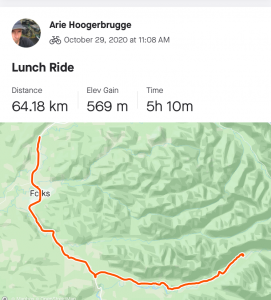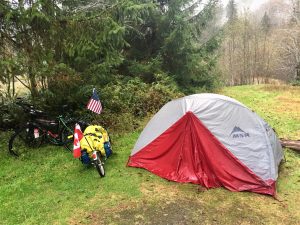 Vancouver, and I am out of here (Oct 19 to 25)