It seems to be crazy to be laying out my plans for the Unite States at this time.  For multiple reasons.  First I should probably already be in San Diego California by now.  Secondly I have to fly and admittedly I have a small bit of anxiety about getting past US customs (not that I should have any problems) and then thirdly we are starting to enter a second wave of the Covid-19 pandemic.
Am I foolish, crazy, stupid, naive or a lot of all of the above?
When it comes to Covid-19 I basically have had one philosophy – as long as the road is open and I have options I move forward.  And everyone is welcome to judge me all they wish.  People judged me before I pedalled my first kilometer and they will judge me on my last kilometer.
And the judgement does not bother me and I don't reference the judgement as a bad thing.  We all make thousands of judgements every day whether they are good, bad or selfish.  But one thing this ride has helped me understand is everyone elses judgement did not help make this ride what it is today.
"I ride my own ride."
Anyways, I digress.  The plan is to fly to Seattle from Vancouver, which really kind of sucks.   I have a lot of gear to pack up and bike to box up and get myself to the Vancouver airport all for a one hour flight that should take 10 minutes to bike (across the border).
From Seattle I will attempt to get out of the city as quickly as possible and head for the Pacific coast to Olympic National Park and Hoh Rainforest.  I simply can not get enough of temperate rainforests.  From there I will make my way along the Pacific coast to the Columbia River and make my way to Portland Oregon.  From Portland the plan is to head back to the coast and follow the coast all the way to San Francisco.  Entering California with be the Redwood State Park which I can't wait to visit.  I have actually drove through Redwood State Park in a big truck a few times.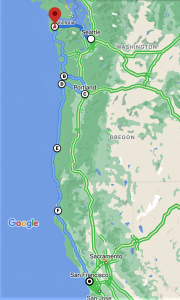 My Seattle to San Fransisco plans (the letters means nothing – just helped direct the routing)
From San Francisco the plan will be to head east to Yosemite National Park and then head south through Death Valley National Park.  If I survive Death Valley then the plan is to head to Las Vegas and the Hoover Dam and then make my way into Utah.  The south east corner of Utah up towards Moab has all those amazing canyons.  The plan is to swing around and through most of the main canyons such as Zion National Park, Arches National Park and Monument Valley and then make my way to the Grand Canyon in Arizona.
From the Grand Canyon the plan is to make my way to Joshua Tree in California.  From there originally the plan was to then head straight to San Diego but I have a long time and close Safari Arie follower who keeps asking when I will arrive in LA.  I won't name any names but I am pretty sure he will read this. LOL.  It is important to me to do my best to connect with those who take the time to follow my ride.  So from Joshua Tree National Park I will make my way to Los Angeles.   And from Los Angeles I will make my way along the coast to San Diego.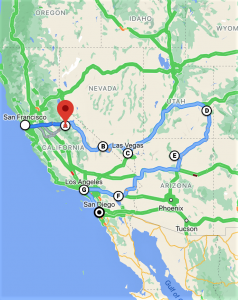 My San Francisco to San Diego plans (the letters means nothing – just helped direct the routing)
And of course when I am ready to leave San Diego I will enter Mexico to bike down the Baja but that is for another blog post.
This route will have me pedal pretty close to 6,000 km's and hopefully I can pedal a little quicker than I pedalled Canada.  Hopefully I can get to Mexico by March.