Bike touring is hard on equipment.  Bike touring in the winter is even harder on gear.  I needed the right bike and the right gear and I needed to be able to count on my provider.  There was only one choice to put my trust in and that was MEC and their Rocksolid Guarantee.
I had three equipment issues on this ride and MEC came through wonderfully all three times. 
First issue was the studded tires that were installed on my bike turned out to be old rubber.  I was forced to replace my tires in Charlottetown PEI.  As I was getting closer to Halifax, I had my father ship the old tires to me and I returned them in person to their Halifax location approximately 6 months after they were purchased no questions asked.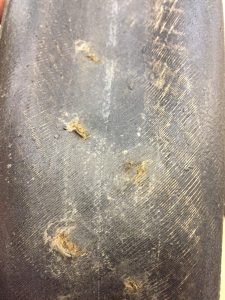 Inside of the studded tires
Second issue was with my tent.  I purchased the MSR Access 2 person 4 season tent for my winter tent.  Over all I was very pleased with how the tent stood up.  Except for one thing, the shock cords.   For some reason the shock cords would lose their elasticity in the very cold.  No one seemed to understand why this was happening.
For those that don't know what shock cords are they are the cord that run inside the tent poles to hold the poles tightly together.  For some reason in the very cold the cords would lose their elasticity and remain loose and dangly.  Making it very difficult if not impossible to use your tent poles correctly.  A very irritating situation trying to set up a tent in the dark in -10C or colder.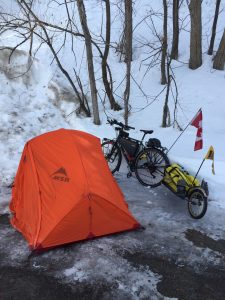 My old tent.  I never thought to take photos of my defective shock cords simply because that was furthest from my wind in the frigid cold and dark
I brought this issue up with MEC in Halifax when I dealt with the bike tires.  Unfortunately, because the store did not have this tent in stock nor do they typically carry 4 season tents in stock the best they could offer in the moment was free replacement cord and for the quickest repair suggested I watch a YouTube video on how to replace the cords.
Upon returning to my host I watched a few YouTube videos to discover that the pole tips for this model of tent were glued in and not screwed in.  I would have to order and replace 6 separate pole ends.  At that point I called MSR.  I requested MSR to send the new pole ends to my future host in Saint John NB.
Upon arrival to Saint John NB I discover that MSR sent 4 of the wrong pole ends.  The next logical location was to ship the 4 remaining pole ends to the MEC in Quebec City.  Upon arrival to Quebec City I found out that MSR did not bother shipping the replacement poles.  I then requested that they ship them to the MEC in Montreal.  Upon arrival to Montreal; well you get the picture.
The MEC associate I spoke to Montreal suggested to call the MEC warranty and service number.  I first decided to call MSR.  When I call MSR they voice operator said the offices were closed due to a storm.  Since when do they get those kinds of storms in Seattle?  From there I had nothing to lose but call MEC.
I ended up speaking to James a supervisor and he told me that I had gone above and beyond to try to get this issue resolved.  He suggested to return my tent in Ottawa and that he would put a special note in my file in case there was any return issues.  I said thank you very much.  And that is why the last time I posted a photo of me camping I was in a brand new MSR Elixir 3 season 2 person tent.  After almost 5 months of winter camping, I was able to return my tent at the same time saving just under $500 for my troubles and at the same time move into a more practical tent for the upcoming seasons.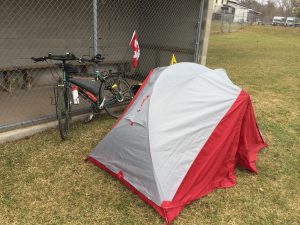 My new tent
Third issue was with my B.O.B bike trailer.  During my last few days in Nova Scotia the internal components of my trailer wheel failed and all the bearing fell out.  Fortunately, the wheel still turned.  I was able to pedal and make it to the Digby NS ferry and into NB.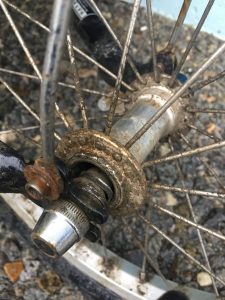 Does not look good
A local bike shop was able to sort out all the broken pieces and discover that my hub bearings had failed.   Ultimately everything came apart because the wheel lock nuts had been installed backwards causing them to loosen and have all the ball bearing fall out.  The bike shop was amazing and repaired the trailer for only the cost of replacement hub bearing.
After the repair I called MEC and explained the repair and submitted an email explaining the repair and they very quickly reimbursed me for the hub bearings purchased.
Three warranty issues backed with MEC's Rocksolid Guarantee.  MEC did not desert me through the tough times I put my equipment through.
Choosing my bike
Have written an earlier blog post about how I decided on purchasing the MEC National bike.  That can be found here.  For the purposes of this post I will point out that one of biggest reasons I choose the MEC National bike was that I could count on MEC all across Canada as I crossed Canada.  MEC has 22 locations across Canada.  The other main reason was that the National's quality was comparable to the Surly Long Haul Trucker bike which is probably the most common go-to touring bike around the world.
Conclusion
I think that you will be hard pressed to find a company the size of MEC that is as committed to their customers as MEC.  I make every effort to support and purchase all my camping and adventure gear at MEC.
MEC also has an amazing environmental vision and record for their company.  But that is another blog post.
The MEC guarantee copied and pasted right from their website
Our Rocksolid Guarantee
We guarantee the quality of our products. If the quality of an item hasn't met your expectations, you can bring it back. We also guarantee the product selection advice we give. If something you purchased based on this advice turns out to be unsuitable, you can bring it back for an exchange, refund, repair, or credit.
How long can I expect my stuff to last?
Members come here for quality and value, but even quality items have a practical lifespan. They will eventually wear out and can be damaged by accident, neglect or misuse, so those things aren't covered, but if we can, we'll fix them for a reasonable fee.
We view the spirit of this guarantee in the same way we view the spirit of this co-op: provide good gear, give good advice and deal fairly with one another.