I had the pleasure on May 26 and 27, 2020 to visit Reptile Camp in Bonfield Ontario.  I had a few questions for Steve Featherstone the owner and camp director.
How many animals are under your care?
We currently have 74 animals under our care and almost all these animals are rescues through the Ontario SPCA, Environment Canada and private owners.
You had a devastating fire. When was the fire?
In September 2018 our main animal facility/building was burned to the ground.  More details can be found HERE
How many animals were lost?
We lost 71 animals
How much in damages?
$300,000
I understand that you had a large skull collection.  What was your skull collection worth?
We had easily the largest private skull collection in Canada with a value of $130,000.
Some of the skulls we had included assorted wild cats including tiger and jaguars.  We had water buffalo, grizzly bear, crocodile, primate and a hippo skull to name a few.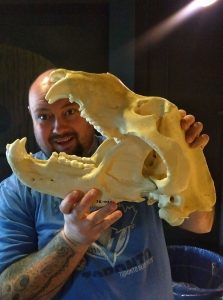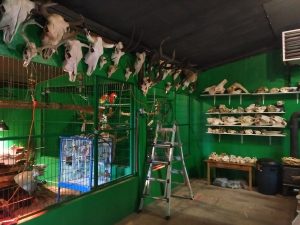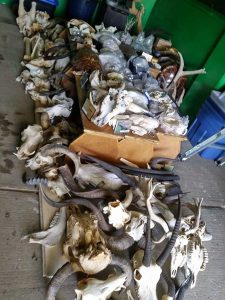 What are the main programs offered by Reptile Camp?
We offer day camp & summer camp, team building, after school programs and more.
More information can be found HERE
How many kids can attend these various camps?
We try to keep groups small for the best possible experience.  Usually 14 kids a week but we are capable of taking on 28 kids a week.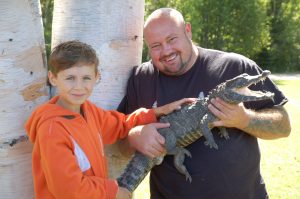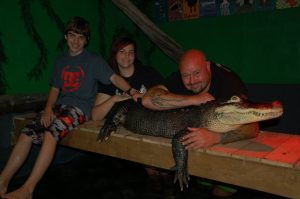 How did you get into this line of work?
I studied Parks and Forest Recreation at Sir Sanford Fleming College.  That lead to an educational internship at Jungle Cat World which was basically my introduction to wild animals. When that internship came to an end I was back in Hamilton.  Where I applied for a job at your store The Reptile Store.  Fast forward all these years later here I am.
Tell us about Mojo
Mojo is an 8 foot probably 200 lb female American Alligator.  One of only 2 animals that survived the fire.  Mojo was able to survive because of the size of her enclosure.  When the building caved in she was able to take shelter under water the whole time.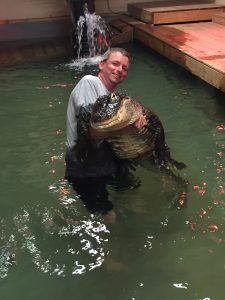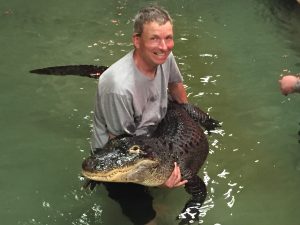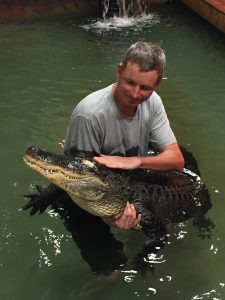 I got to jump in the pool with Mojo
How big and how much have you spent on her new enclosure?
Her new enclosure is 32 ft x16 ft and holds 17,000 gallons of water and cost $145,000
***On a personal side note.  In 1999 I built The Reptile Store in Hamilton where and how I first met Steve.  At the time of selling the store in 2002 the store was in possession and owned Mojo.  So for me personally it is very cool to be able to see an animal that I once owned and the journey this animal has been on to educate literally 10's of thousands of kids over the years.
What is your favorite snakes?
The Green Anaconda without a doubt.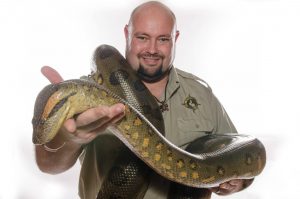 More Information from Reptile Camp's Website Home Page
Participants will get a hand's on approach to learning about all kinds of animals, therefore developing a greater understanding of the species, creating a lifelong link with the love of nature and animals of all kinds. We take pride in being as interactive as possible working with as many different species of animals possible during each and every camp week! We try to balance out every camp week so we are learning about all kinds of animals, not just reptiles. We also study mammals, birds, insects, arachnids, fish and more! Every week is something different! Participants can expect to develop the skills and expertise to care for all of the animals at the store including snakes of all species and sizes, turtles and tortoises, crocodilians like alligators and caimans, lizards, arachnids, amphibians and more!
The children will be submerged into the animal kingdom as they experience live educational animals shows from Savannah Steve and the rest of Reptile Camp staff. They will also participate in a snake feeding seminar, with the possibility of feeding the snakes by themselves if they wish. The other shows and topics during camp include Arachnids and other Creepy Crawlies, Nocturnal Hikes, Endangered Species Education, Loss of Habitat Discussion, Animals in Captivity and more. The children will also have a chance to play games, create crafts, fill out their Jungle Journals, take photographs with animals and study the animals at the camp. During the final camp day the children will have the opportunity to entertain and educate their family on the animals they are presenting in a formal classroom style lecture! The kids do the show!
In addition to the zoology and animal portion of the camp we will also spend time participating in adventure programming. Now that the camp has metamorphosed into a residential program, or overnight camp we have included new programming! Campers will partake in team building, low ropes initiative courses, hiking, orienteering, geo caching, team and individuals sports, life skills such as cooking and meal planning, archery, kayaking and more! This is now a true summer camp, creating authentic summer camp memories.
This summer camp program will pick your children up in the middle of the concrete jungle we live in and overwhelm them with the natural world around them. They will study thousands of species and learn hundreds of facts about these creatures. This will definitely create a greater passion for wildlife in the life of your child.
Save the planet with us, one step at a time! It starts with knowledge, and knowledge starts at the Reptile Camp!
Contact Information
Website: http://reptilecamp.ca
Steve Featherstone: Ph# (705) 493-5367 or (905) 531-5367
Facebook: Reptile Camp
In Montreal I got to visit One Tree Planted.  Check out that blog post HERE