Intro to New Brunswick
My route through New Brunswick is pretty straight forward.  I will travel from Saint John to Fredericton up to Edmundston and then into Quebec.  Because of where I am in the province I will not be going through Moncton.  This has me a bit frustrated because I only found out that the one main attraction that I really did want to see in Atlantic Canada is out that way – Hopewell Rocks.
Hopewell Rocks, Bay of Fundy is one of the marine wonders of the world and a site of some of the world's highest tides.  I was totally look forward to seeing those unique rock formations that have been carved by erosion over thousands of years.  I guess I will have to come back to Atlantic Canada again someday.
I should also mention that for a given city I had more host offers out of Moncton than anywhere else.  Perhaps I am making a big mistake by missing Moncton.
February 9 to 13
February 9
I arrived in Saint John in the evening at some point.  I wasn't really keeping track of time.  I kept productive on the ferry with blogging and updating my notes.  My hosts Wayne and Sonya Arrowsmith from Quispamsis (just outside Rothesay) where waiting for me at the ferry terminal.  That certainly made life a lot easier.
After a relaxing evening we retired to bed at a reasonable time as we needed to be up very early the next morning for my CBC radio interview.  Who am I kidding; it was after midnight by the time I got to bed.
February 10
The alarm was set for 5:30am and by 6:30am we were sitting inside the studio of CBC Saint John NB.  This would be my first in-studio radio interview.  I was being interviewed by Rachel Cave.  I think I went on at about 7:50am.  It felt like the interview was longer than it was but I enjoyed the experience and was told it went excellent.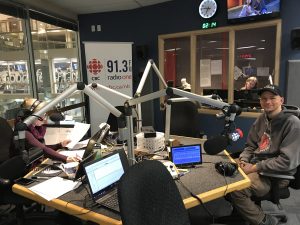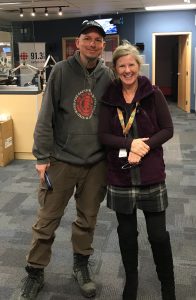 With Rachel Caves
After that interview we headed to breakfast and then Wayne drove me out to Reversing Rapids to take some photos.  Reversing Rapids is phenomenon that is caused by the tides in the Bay of Fundy.  During high tide, the tides actually rise higher than the river level, and force the river to flow upstream to the point of causing uphill rapids in the river.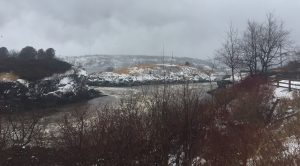 Reversing Rapids
From there we headed to back to the house to pick up my bike and trailer to bring it to Millennium Cycle & Sport shop.
The trailer wheel needed to be rebuilt.  I guess technically what happen was the hub bearings failed and the dust shields along with all the ball bearings fell out.  The good news was that it was fixable.  We just needed to have the parts ordered.
Richard the mechanic also gave the bike cassette and rear derailleur a cleaning.  While Richard was working on the bike Wayne called CTV and announced that Mike Cameron from CTV News would be here in 15 minutes.  In the mean time Dean Roberts the bike shop owner showed up.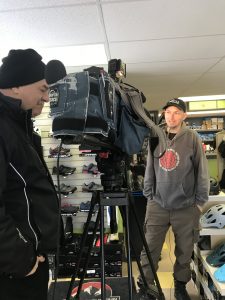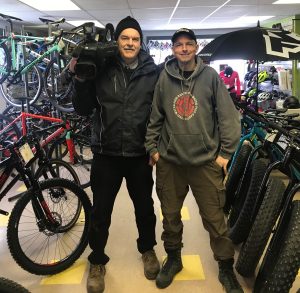 With Mike Cameron
I had a really cool interview with Mike in the bike shop.  I was really happy the way it went.
After the interview Dean had Richard installed a puncture resistant tube on my rear wheel (Dean only had 1 tube in stock).  Dean also gave me my tune up complimentary and set me up with a real good quality front and rear bike light.  What a day this has turned out to be.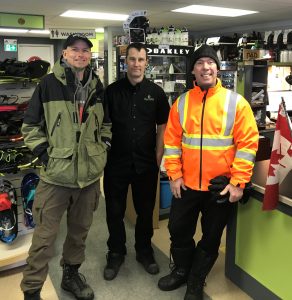 With Richard & Dean
Getting back to the house I proceeded to fall asleep for a good hour an half long nap.  The weather all day had been stormy (snow & rain) and miserable.  A lot happened today.
February 11
Spent the day working on photo editing, blogging and organizing my gear.  By the end of the day I learned that the parts for my trailer wheel did not arrive.
February 12
Spent the day working away on the laptop.  In the afternoon we headed up to Millennium Cycle & Sport shop to pick up my trailer wheel.
February 13
Pedal: 85 km's
Destination: Oromocto
Weather: Today was probably not a good day to be on the road.  It was snowing and the roads were snow covered.
Wayne actually drove me over the bridge in Saint John to start me on the west side of the bridge over near Acamac.  This was probably a good thing considering the weather.  I remember during the drive looking out the window thinking I should not be on the roads at all today.  But I was already committed and not to mention I had lost a good biking day waiting for my trailer wheel to be repaired.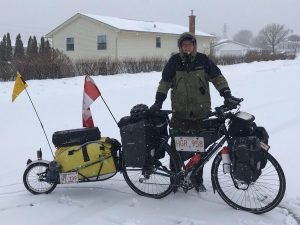 Snowy conditions today
I didn't really see too much of St John.  I kind of feel like I cheated St John by not really pedalling through it.  But I guess sometimes these things happen.  I remind myself that there will always be more cities to check out and the majority of my "Canadian experiences" will happen outside of the cities where locals actually go at a much slower pace.
I followed the bay to Highway 177 where I did in fact have such an experience.  Unfortunately I don't recall the exact community but as I was pedaling along the river a gentleman called out to me and I u-turned into his driveway.  His name was Russ Newman.  Russ was an American that spent 2 tours in Vietnam and had been pole/hydro worker in New Brunswick ever since the war.  Russ had one of the kindest souls I had ever met in a person and it was a true honour to have met him.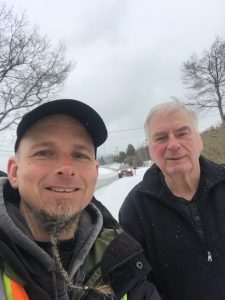 With Russ Newman
I ended up taking an extended lunch at the Tim Hortons in Grand Bay.  The Jeff Sammut Siriusxm Radio Show wanted to do an update (10 minute interview).  Which went really good.  I feel like I am getting the hang of these interviews.  LOL.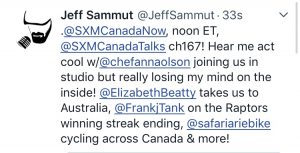 After lunch the snow cleared up for a bit.  I ended up on the main highway -7 when I reached Welsford.  As I pedaled into the dark to get to Oromocto the snow came back.  About 20 km's from Oromocto both my front and rear derailleurs failed me completely.   I had no shifting capabilities.  It looked like the front derailleur completely shifted??  Fortunately the highway was relatively flat for those last 20 km's.
So I was hosted by Wayne and Sonya Arrowsmith for 4 nights and Wayne really went above and beyond.  Wayne picked me up in the dark at the ferry.  He got up at 5:30am the next morning to bring me to CBC Radio St John.  He brought me and bike to the bike shop to get looked at.  Wayne made a phone call and arranged my CTV interview.  A few days later he brought me back to the bike shop to pick up my bike wheel and the next morning drove me all the way to the other side of St John.  And then of course there is all the little thing in between.    Wayne and Sonya went way way beyond giving me a warm bed to sleep in.  Thank you, thank you so much!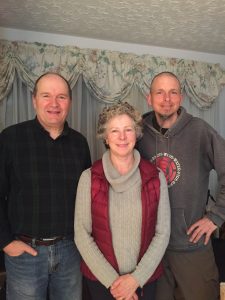 With Wayne & Sonya Arrowsmith