I make every effort to read every comment posted to Facebook and to either respond or "like" every comment.  From the beginning I have kept a record of my favorite comments/messages as I don't wish favorite comments to disappear into 1,000.s of Facebook posts. 
What can I say other than "thank you" for all the support and encouragement I have received from the day this amazing ride started?
It has been about 8 months since my last appreciation post.  Check out some of my recent favorites. 
Hey Arie.  Glad you got the fire out before it spread too far.  I hope that most of your gear is salvageable until your next rest stop.  Keep your head up, shit happens.  Keep the pedals moving.  Your journey so far as been fantastic to follow along and I feel honoured to have been able to help out with gear selection.  You're an inspiration to us all that are following as well as to those who haven't started following yet. – Cody Bartlett
Arie, thank you for spreading international good will to North America and beyond.  You truly are an international ambassador of good will.  Life and light.  Travel well. – Frosty Wooldridge
Let's make it viral!  This guy, I had the privilege to meet him.  He brought me merchandise from Canada to Texas when he was a truck driver.  I start to follow him on his page.  Tremendous challenge and what a privilege to pass through my beautiful Mexican country. – Mauricio Hernandez
The superb if not blissful life on a bicycle tour of the world… remarkable. – Frosty Wooldridge
Life is a movie we edit ourselves.  Today I learned that this great human being travels from Canada to Mexico with our Mexican flag and proudly… Simply giving away smiles and kindness… an example to follow that if you propose something you can achieve it and go very far. – Carlos Navarro
Thanks for your always positive comments by your own experiences during your trip in Mexico states.  We hope to see much more pics!! Have a great day – Joel Rios
I'm so glad you got to have such an amazing time in Mexico these last couple of months.  It brings me out of the loop of crap the media broadcasts about Covid everyday.  You're living a true and genuine life that seems like one we haven't been able to have due to our governments.  I almost want to get vaccinated and come join you.  No bullshit. – Jason Hoogerbrugge
This man Arie Hoogerbrugge is a super legit rockstar in my books. – Andrew Hawes
Wow! Inspiring! I am actually in Calgary.  I left Whitehorse on August 22, 2021.  I am headed to Vancouver and after, hopefully Seattle and San Diego.  And then?  Mexico was definitely not in my plans because all the same warnings you had.  But reading this gives me second thoughts…I might keep going on and go all the way down to Cape Horn.  Your publication here really makes me think. – Alexis Le Trotteur
You have been treated so well in Mexico… that's wonderful.  I hope they know we love our Mexican friends, colleagues and neighbours here as well.  My daughter was taught to cook many meals by a lovely Mexican lady.  Hello from Nova Scotia!!! – Jackie Thomas
At 23,000 km's and 500 days on the road he knows more than most about this and surely is well informed to what approach and equipment works.  What an adventure to have!!! – Douglas Jay Rat
One mans journey from an 18 wheeler to a two wheeler following his dreams… Discovering the dreams that create a great man. – Bernice Wilson
What a story you are writing (and living).  If I was 30 years younger, I'd be right behind you enjoying this once-in-a-lifetime trip. – John Leung
Ok I have to admit that I am very impressed with you. – Linas Bildusas
Keep up the amazing journey!!!  My kids have even become enthusiastic about you cycling to every little corner and village in North America and beyond! – Brian Moore
We are all checking in with all your pics and adventure… a big shout out to you for being determined and courageous for doing this tour!!!  We are all so proud of you and look forward to what happens next. – Trudy Allana Adams
I am a great fan of your adventure Arie.  Blessing to you. – Friar Rodney Burnap
WOW!  You should be so proud of yourself!  I have followed you ever since you were on Prince Edward Island!  Take care! – Joyce Sherren-Bernard
Rereading this article has given me considerable thought… I really appreciate everything you do and put out there… Someday we will meet I am sure… Chatting with you in the later winter this year was so influential to my decision to want to bike across Canada.  Truly you're exceptional.  Remember that and you're loved man. – Drew Hawes
Wow!!! You are unstoppable. – Emmy Suparmin
Arie, loving your work sir.  Keep writing and snapping those pictures.  Good times on two wheels. – Frosty Wooldridge
Great friend follow your destiny with protection from god father Jesus Christ… you are a very strong human being… I know you will reach your destination with a big smile.  Thanks for sharing your photos and adventures…Mexico receives you with love and joy… happy day. – Carlos Navarro
I remember that day though I don't remember reading this [What's out there? poem] I was thinking is this guy for real?  Glad your journey has been awesome and glad I stumbled on your post and we became friends.  Prayers for your continued joy, successes and safety. – Teddy Ubber
Godspeed Arie.  Been keeping tabs on your progress since Newfoundland.  Respect. – Jamie Rowell
You are a magnet for good vibes. – John Leung
Thanks everyone!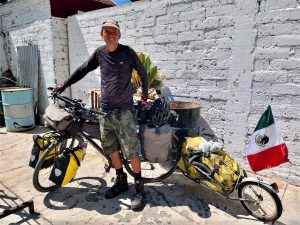 A shout out to all my amazing fans and supporters