July 12
Destination – Creel
Some Notes – I actually did not sleep very well last night at all.  There was some dog somewhere that would not stop barking all night.  The weather has cleared and awesome temperatures as per usual since I arrived at this part of the world.
I went back down the road a mile or 2 to the Adventure Park here.  They have a sky tram and zipline and I believe guided hikes.  I just came for the views.  It's only $25 pesos to get in and my bike is with me the whole time.  I saw a snake for an instant. I think it was a type of racer.  There are 3 canyons found a Copper Canyon though I have no idea which canyon is which: Urique, Tararecua and Cobre Canyon.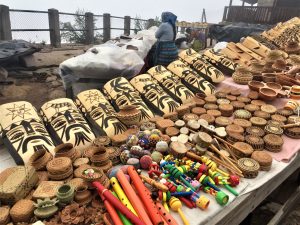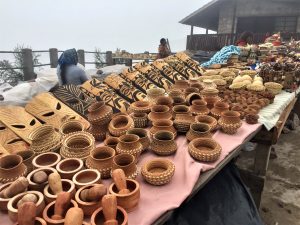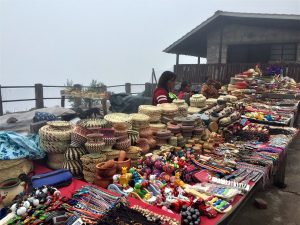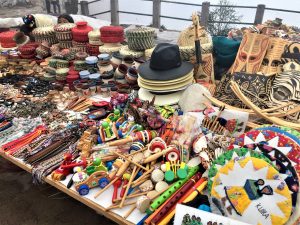 The Tarahumara people selling their wares
After completing my hiking around the rim of the canyon I went back to the market.  I realized my time here exploring was finished.  I wasn't entirely sure what to do   I was basically ready to move on but it was mid afternoon and about 50 km's to Creel on a fairly mountainous highway with no restaurants between.  If I leave now that means basically no super tonight and no breakfast tomorrow morning.  Or do I just sit around for the afternoon and leave tomorrow after breakfast?  The only thing is that all I can get to eat here are gorditas which I don't care for at all. A gordita is like a greasy gross taco.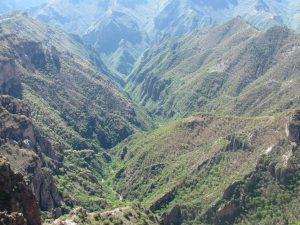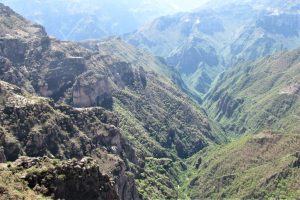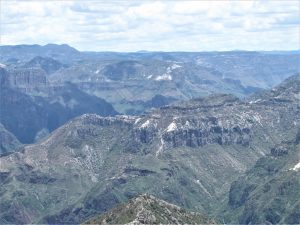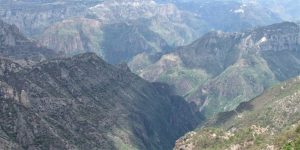 Copper Canyon views
While at the market eating one of these gross gorditas the mountain bike racing team I met yesterday showed up and subsequently joined me.  They were staying at a place in Creel but were trail riding here in Divisadero.  I am not sure if this is cheating but I asked if I could hitch a ride with them to Creel.  My original plan was to always catch the train to Creel anyways. I thought it would be worth my while to catch a ride.  I could learn a little more about Mexico and travelling around Mexico from my new amigos and it would save me a day and give me more time to check out Creel.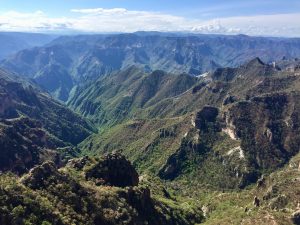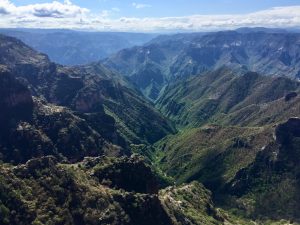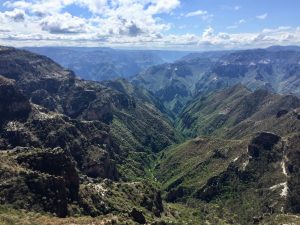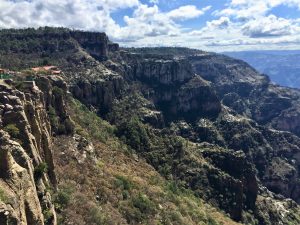 Copper Canyon views
Unexpectedly this ride to Creel also connected me with the bike ride guide these guys were using who set me up in a semidetached cabin in Creel for $300 pesos a night.  It wasn't really in the plans to get a room as I already knew that Creel was going to still be a little on the expensive side as it is connected to the Copper Canyon El Chepe train ride experience. Anyways I bit the bullet after bargaining hard to get him down to $300 pesos.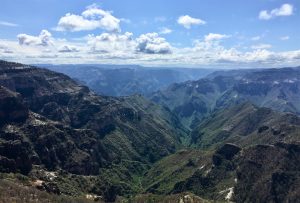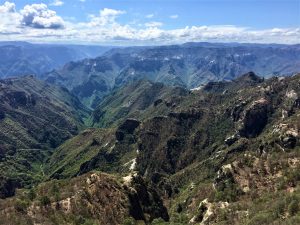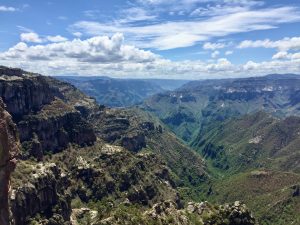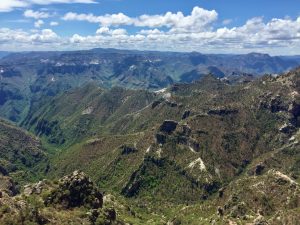 Copper Canyon views
I was able to get a hot shower and all my photos edited since leaving Bahuichivo.  So, I was pretty productive.
Some Resources for visiting Copper Canyon:
The El Chepe Train website: https://chepe.mx/en/
Copper Canyon blog post: https://www.mexperience.com/travel/outdoors/copper-canyon-mexico/
Another Copper Canyon blog post: https://thewholeworldornothing.com/copper-canyon-railway-guide/
July 13
Km's Pedalled – 42 km's bike and hike to San Ignacio and back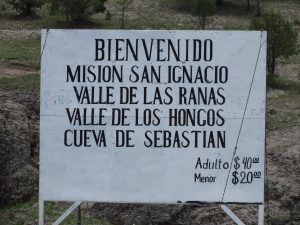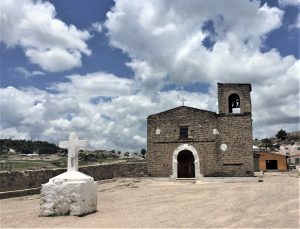 Some Notes – A late morning.  I went to bed late editing all my photos.  I was headed to Lago de Arareco and then I realized I left my bike lock keys back at my cabin so I had to go back to the cabin.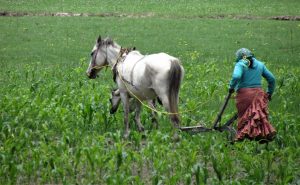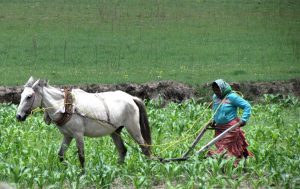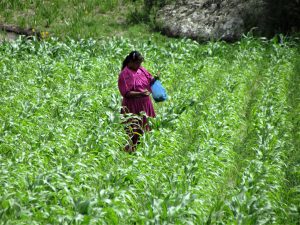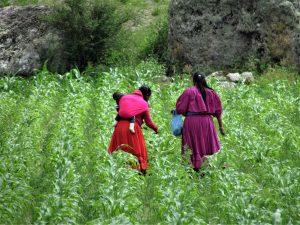 San Ignacio
I first visited the village of San Ignacio.  The village is located in this valley that has some unique rock formations and some nice pine forests.  It costed $40 pesos to enter.  It was an alright place to visit.  A nice bike ride for the afternoon.
Only a few kilometres down the road was Lake Arareco but they wanted $20 pesos to enter and I really couldn't justify paying money to go see a lake. So, I headed back to Creel.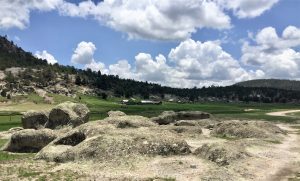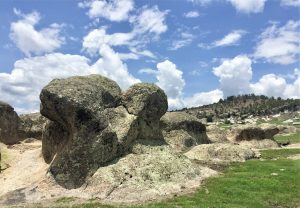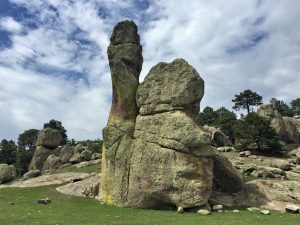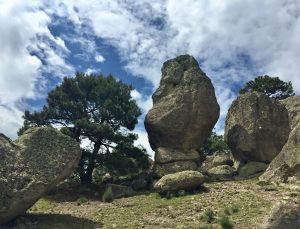 San Ignacio
While biking back through town Luis Vazquez who is a jewelry maker and vendor originally from Mexico City now living in Creel for the last 30 years waved me over.  Luis is also a cyclist who really wants to start bike touring after being inspired by another bike tourer many years ago.  We made plans to reconnect later this evening and I went to his place for the evening and met his wife Anna.  I left their place at 1:30 am.  I keep breaking all these Mexican rules by biking at late hours through a Mexican city.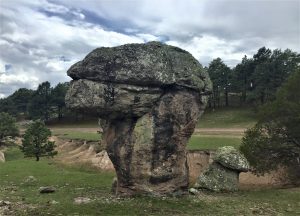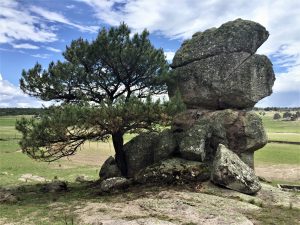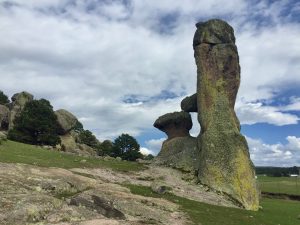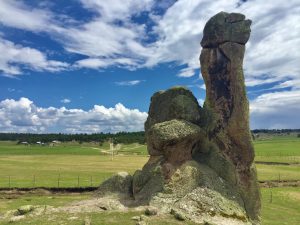 San Ignacio
I am going to stay with them for a night or 2 to work on my blogs as I got no work done this evening and don't have wifi at my cabin.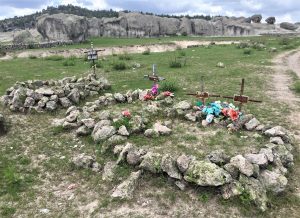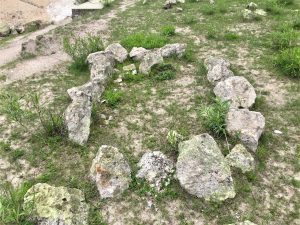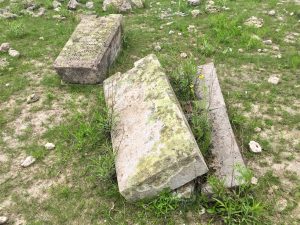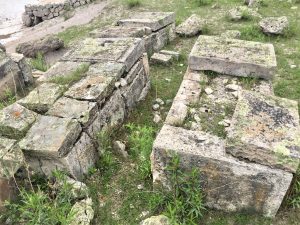 A forgotten cemetery – San Ignacio
July 14
Some Notes – I had an interesting experience on the way back to my cabin last night that was not a great one.   I am strongly considering to leave my bike trailer in Belize when I get there.  My ride has changed somewhat since getting into Mexico.  I basically never cook and don't really carry any food with me.  What little essential gear I carry in my trailer I can fairly easily attach to my bike.  But last night I was chased by some dogs while not pulling my trailer.  And the dogs got pretty close as they were chasing the bike and not a trailer.  So now I don't know what to do about continuing to pull a trailer?  On a flip side I can now add an additional reason to pulling a bike trailer to my past blog post 18 solid reasons to bike tour with a trailer.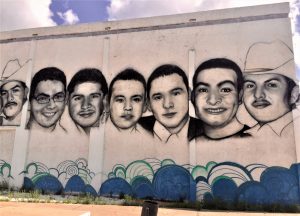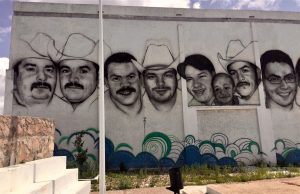 Victims of Narco violence in Creel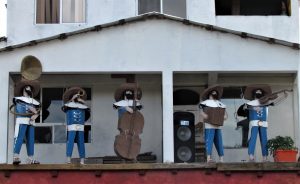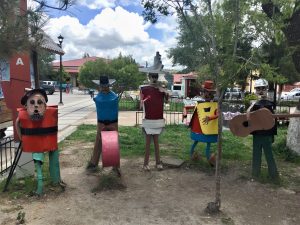 Downtown Creel
When I got back to the cabin I finished watching a movie that I had started before I left to visit with Luis and Anna.  So I went to bed at about 4:30 am.  After checking out this morning I made my way to Luis and Annas and I was able to write my Copper Canyon Mexico blog post Part #1, 2 and 3.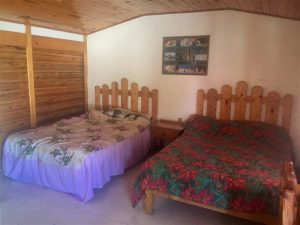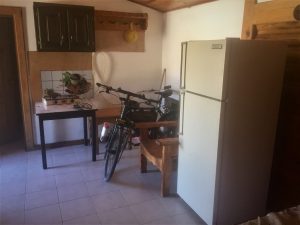 My place for the first 2 nights in Creel
July 15
Some Notes – I slept in longer than usual and that was really nice.  Today was a mixed day of hanging with my hosts and posting my Copper Canyon blog post Part 1 & 2 and 3.
Copper Canyon Part 2 (July 9 to 11)
Copper Canyon Part 1 (July 7 to 8)