July 9
Km's Pedalled – 33 km's
Some Notes – Took a ride out to Cerro del Gallego Lookout Point and back.
A beautiful day.  Unfortunately, I had to set my alarm for an 8 am breakfast here.  After breakfast I headed down the road further than anticipated to check out Cerro del Gallego Lookout Point.  I was under the impression that it was only like about 8 km's past the lodge.  It turned out to be more like 16 km's from Mario's lodge.  Not that I would have made it as far as Mario's yesterday by bike.  Today was even worse.  I estimate that it was about 18% grade climbs and descents all the way on hard packed gravel/stone.  I felt like I could barely get there on an unloaded bike.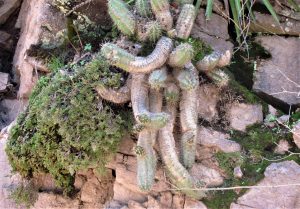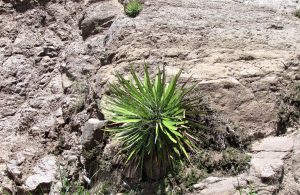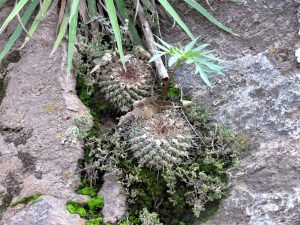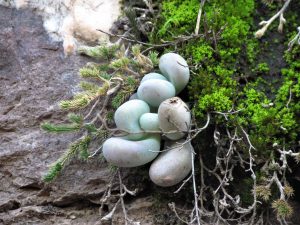 Assorted vegetation growing on rock cliffs
I actually ended up getting a 3 km's truck ride to the lookout as I was a little confused to where it was.  I initially came to a really amazing lookout and continued along the road but gave up as the road seemed to be going in a wrong direction and steeply downhill so I turned around thinking I was already at the lookout to then second guessing me turning around.  So I waited for someone to drive past and waved them down.  It turned out the lookout was still further down the road.  They offered to help put my bike in the back of the pickup and take me.  I accepted their offer and only ended up going another 2 km's steeply downhill past where I had turned around.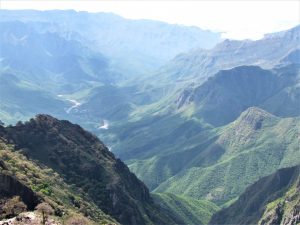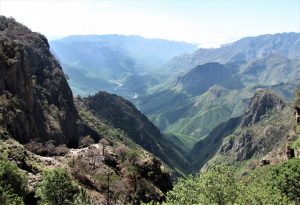 Urique Canyon – Viewpoint #1
I would have to say the two viewpoints were worth getting off the train yesterday.  Funny though because yesterday afternoon I was wondering what was I going to do with myself over the next day or two if I couldn't find the look out.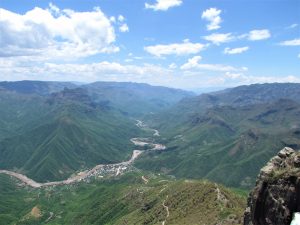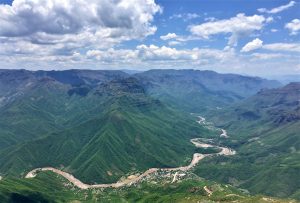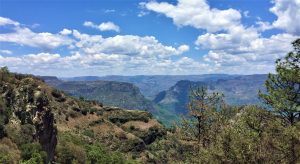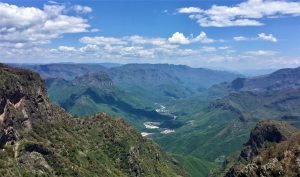 The town of Urique in Urique Canyon – Viewpoint #2
Thanks to the lodge I also had a place to edit all my photos in the evening.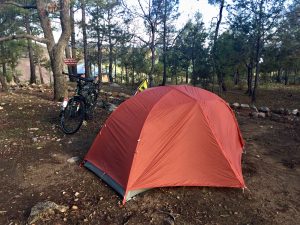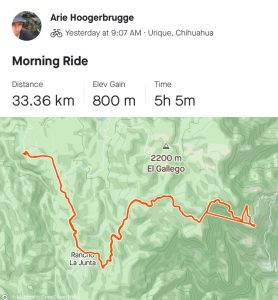 July 10
Km's Pedalled – 55 km's
Destination – 8 km's from San Rafael, Chihuahua
Some Notes – Lying in my tent this morning listening to the birds in my lifetime I don't ever remember so many different bird calls in a single moment anywhere.  I can't imagine how many species of birds must live here.  But I haven't noticed any crazy exotic species mind you.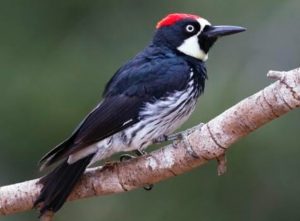 An Acorn Woodpecker – I was attracted to his call because they sound just like a parrot (Not my photo)
The 9 km bike ride down to Cerocahui from the lodge was so steep I feel I burned 6 months worth of brake pads on the downhill.  It was then the 14 km's back to Bahuichivo.  I got stuck in a rain shower on my way to town.  In Bahuichivo a dog bit my Canadian flag off my trailer.  That really pissed me off.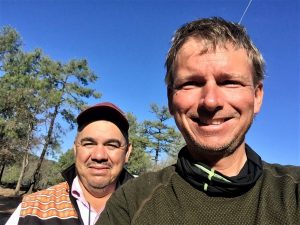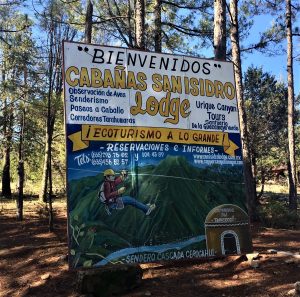 With Mario Munoz of Rancho San Isidro Lodge
It rained on and off the whole day.  This is my first time biking in the rain since Christmas Day in San Francisco.  Every day since I got off the train there is thunder.  Towards the end of the day, I was getting a bit cold in my wet shirt.  A long solid hard physical day of up and down mountain terrain.  It felt like a mix between BC, Northern Ontario and the Pacific Coast highway.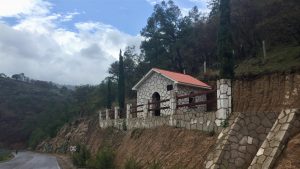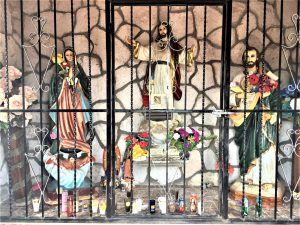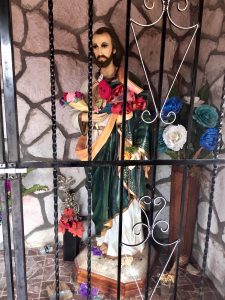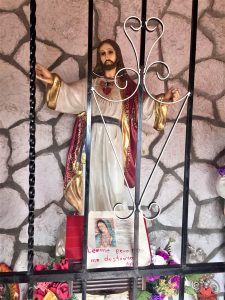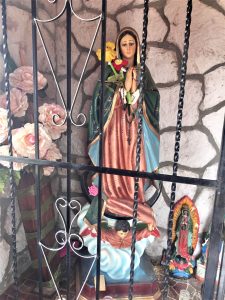 A road side descansos
This area is some of the most pristine and beautiful pine forests that I have ever seen.  I still can't get over how many bird species I hear at anytime of the day.  I discovered that apparently, the Copper Canyon is home to over 300 species of birds plus many migratory species in the winter.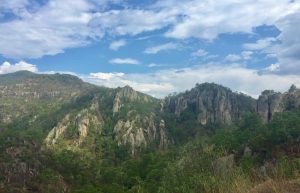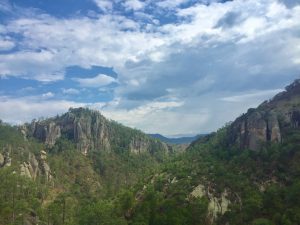 This whole area is beautiful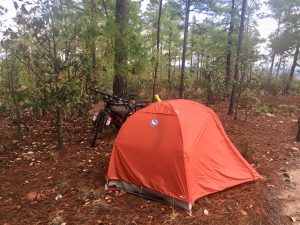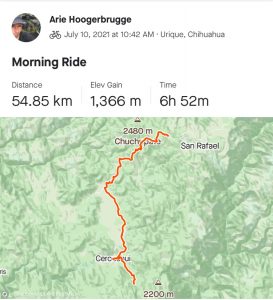 July 11
Km's Pedalled – 24 km's
Destination – Divisadero
Some Notes – It looked like the weather was going to clear but it ended up raining on and off through the day.  Arriving in Divisadero I sensed the canyons were not far off the road and I was correct and was met with a very epic view.
The views were short lived as heavy fog rolled in. The Chepe Express train arrived right after I did and I was able to get video of its departure.  I guess I saved some money by biking to Divisadero instead of taking the train.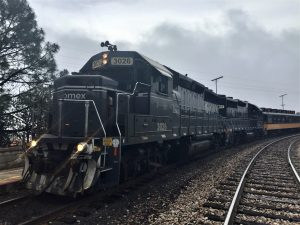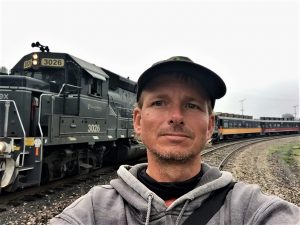 The El Chepe Train.  Actually dozens of people actually jumped on the front of the engine for photos.  I would like to see that happen in Canada or the US
There was a moment when the canyon was full of fog and within seconds right before my eyes the fog dissipated and the canyon was clear as day.  It was actually a pretty awesome experience to watch.  I was considering my day and how I planned to use when the fog rolled in again and this time never left.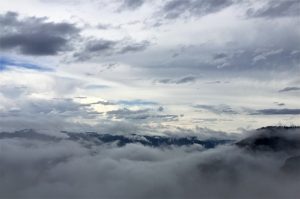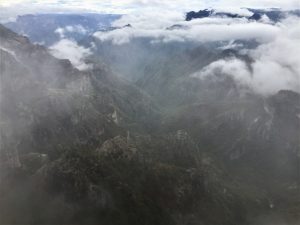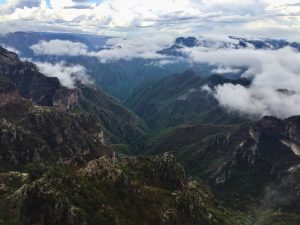 Three photos pointed at the same spot taken within seconds of each other
But my day ended up quite busy meeting many people as my bike attracts quite a bit of attention.  I met some people that just opened a cafe in the fancy hotel here.  I met Mexicans that lived in Denver.  I met (and received $120 pesos donation) from a mountain bike racing team that biked a race in Creel yesterday amongst other people.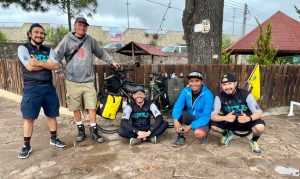 With Fabian, Ricardo, Heriberto, Luis mostly from in Ciudad Juarez MEX

Talking to guy that ran a snack food stall he mentioned a couple hundred feet back up the road was a massive empty building that I might want to sleep in instead of sleeping in the rain. Apparently, the government built this big building for street vendors.  But the vendors chose to stay at the old location as that is where the train stopped and people would have to walk a couple hundred feet to the new building.  So here sits a huge empty building.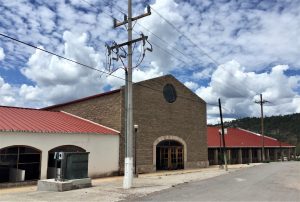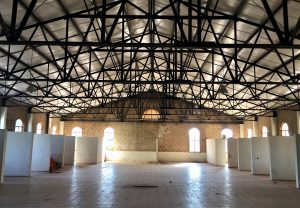 Notice my tent to the left of the second picture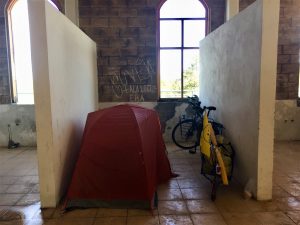 So, I get to stay dry tonight and as long as I hang here Divisadero.  For sure there are amazing views here.  But with this weather it's hard to say how long I will be here.
I had an interesting experience this evening.  A Mexican walked past the window where I was planning to pitch my tent (in the building).  I said hola, as that's the extent of my Spanish conversation.  The man stopped and from the window decided to watch the entire process of me setting up my tent and then cook some fried eggs.  Every once in a while, I would glance up at the window and there he stood silently watching with no words spoken until he suddenly quietly disappeared in the dark.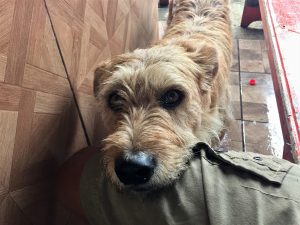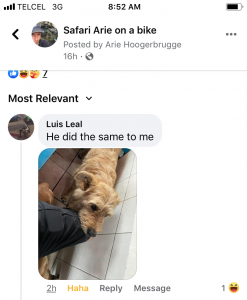 This dog knows how to beg.  Evan funnier was that he used the same on a Facebook Follower of the ride
There was a heavy thunderstorm just before I got into my tent.  I realized that I have actually only been in a few heavy rainfalls back in Oregon in November of last year.  What a lucky score on this abandoned building.  Admittedly though it's a little creepy camped in this massive abandoned building during a thunderstorm and in the dark in Mexico.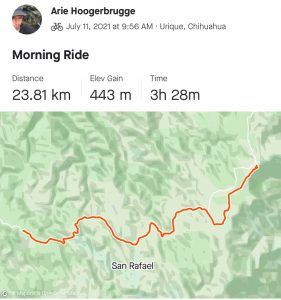 Copper Canyon Part 1 (July 7 to 8)