December 12
Km's Pedalled – 57 km's (Strava shut off for about 6 km's)
Destination – just past Valley Ford (3.5 km's)
Some Notes – I slept better than expected last night.  And this morning during breakfast the sun came out.  I am hopeful for beautiful day.
I visited an old cemetery along the highway at Ft Ross.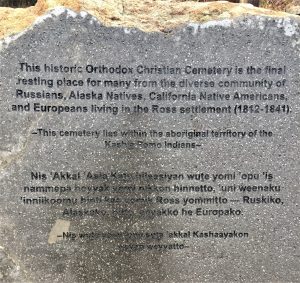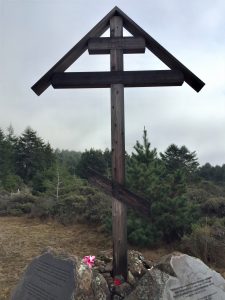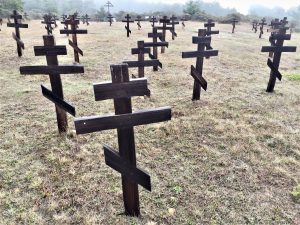 Then the fog came in thicker then ever.  And then it disappeared an hour later.  It ended up being mostly a cloudy day.  Today had some amazing coastal views (I hope that I didn't miss much from all the fog).
I pushed my bike down a hill this afternoon (I don't know if "pushed" a 170 lbs bike and gear down a hill is the right word?).  It's too dangerous to bike down.  I think I am through another set of brake pads since being replaced in Astoria OR.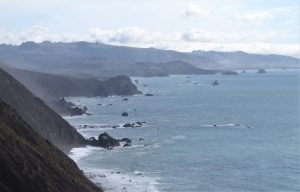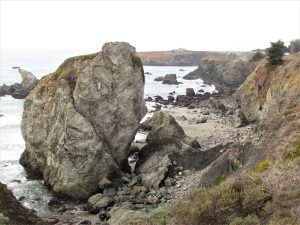 California Coastline
It's safe to say that I have virtually no control over my braking down hills, in fact usually I am using a Fred Flintstone method of slowing my speeding bike down with one of my feet.
There are 2 RV parks in Bodaga Bay and both don't allow tents. Very frustrating.
It was hard finding a place to camp.  I actually gave up looking tonight.  I am next to the road along a farmer's fence.  But I am a bit elevated so while I have no cover, I don't think I will be noticed tonight.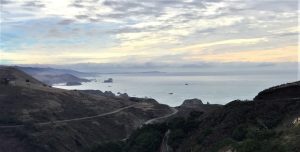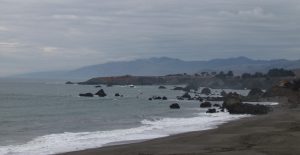 California Coastline
Over the last bunch of days, I was surprised by how much ranch land is in this part of the country.
On a positive, I never got rained on at all today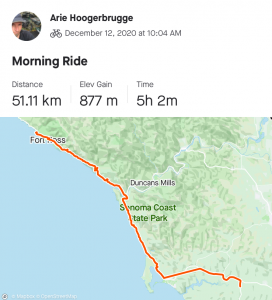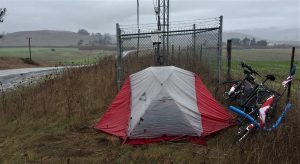 December 13
Km's Pedalled – 40 km's
Destination – Olema
Some Notes- It rained a good part of the night.  For the first in a very long time I lie awake in the morning in my tent waiting for the rain to stop.  Which it eventually did.  So away I went.
Today I got an email/letter from Belize regarding my place.  Now the clean up begins after those last 2 hurricanes.  Between mud, algae and black mold this is the worst hurricane aftermaths we have had to deal with that I now get to pay for.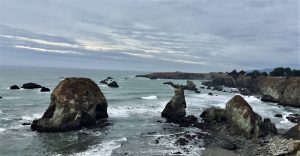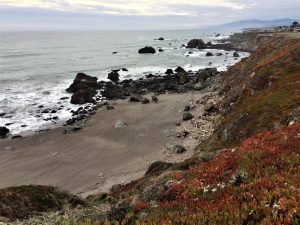 California Coastline
My bike brakes are so bad.  I continue to push/roll my bike down hills.
It rained on and off all day.  Today I biked along Tomales Bay and Point Reyes Station which was nice.
I am camping at Olema Campground because they have showers and laundry.  I am so pissed at $40 plus taxes a night.  In my lifetime I have never paid this much money for a campsite.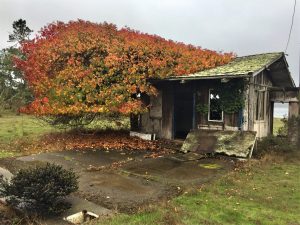 I worked, edited and charged batteries until 3am and I found a host in San Francisco.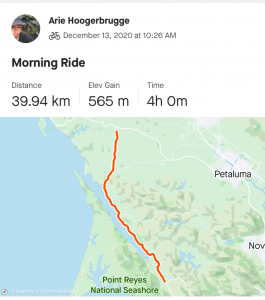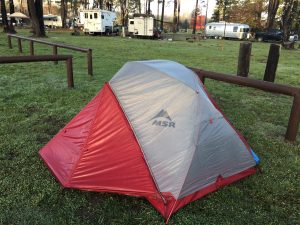 December 14
Km's Pedalled – 38 km's
Destination – 13 km's (north) from the Golden Gate Bridge
Some Notes – A cold night last night and a super late start this morning.  Sunny and beautiful as usual for California.
Today I biked through Stinson Beach.  Lots of big climbing thanks to Mount Tamalpais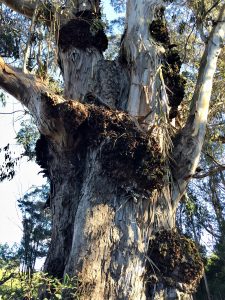 Eucalyptus Trees
Another hard day of locating a camping spot.  I biked into the dark.  But fortunately found a hiking trail off the highway.
Matt my media guy came through with a place for me to stay in Berkeley.  It sounds like I have a vacant apartment that I can hang out in for a few days to get 100% caught up on my work.  I am very excited about this.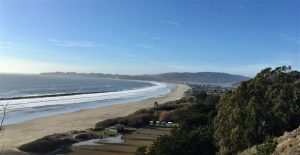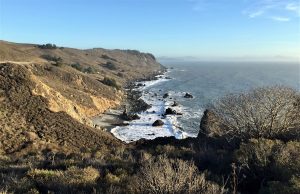 Stinson Beach & Mount Tamalpais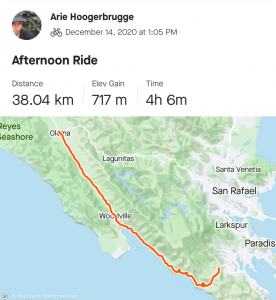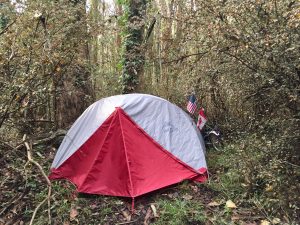 December 15
Km's Pedalled – 41 km's
Destination – San Francisco
This morning was probably the most dangerous downhill biking all trip.  Taking 15 mile an hour S curves at closer to 20 miles an hour on a bike with no brakes except my foot.  Complete blind curves with no clue what was on the other side.  This mountain was wickedly steep to be coming down.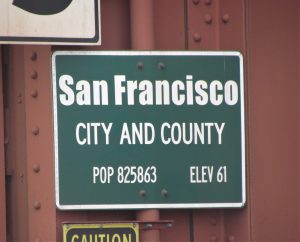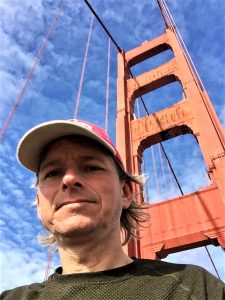 Golden Gate Bridge
I can't believe I am in San Francisco.  This the first major US city that I am visiting and I have hosting arrangements.  I took quite a bit of photos of the Golden Gate Bridge and followed the shoreline, harbors and piers towards the downtown and then made it to my host just as it got dark.  My host is Jim Sweet and he happens to be a bike mechanic.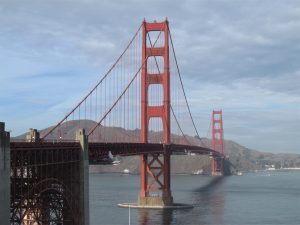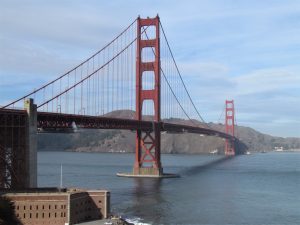 The Golden Gate Bridge
Looking at Google maps I discovering that a main highway through Yosemite National Park is closed due to winter season and has me thinking that I need to rethink my California route.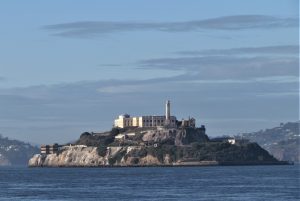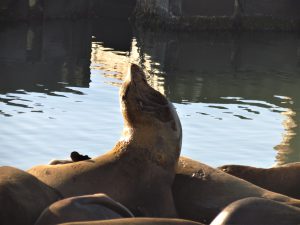 Alcatraz Island & Sea lions at Pier 39
Partly cloudy day and a little cooler than expected.  But a good day.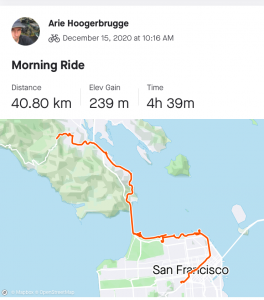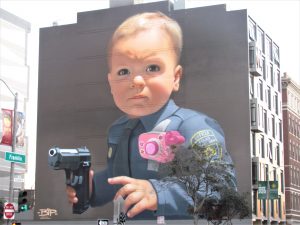 Welcome to San Francisco
December 16
Km's Pedalled – 22 km's
Some Notes – Me and Jim went for a bike ride with some of his biking friends.  So I got see some more of SF.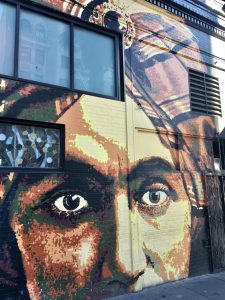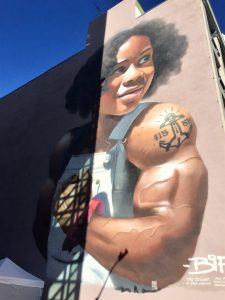 Lots of murals in SF
Then we started stripping my bike down.  Both brake calipers were seized.  Both rotors needed to be replaced.  The chain and cassette are being replaced.  Both tires are being replaces and I am switching from 37's to 38's.  And 9 of my rear spokes are being replaced because somehow my chain slipped back off the biggest ring and into the spokes.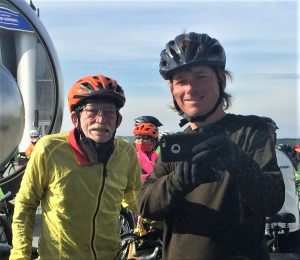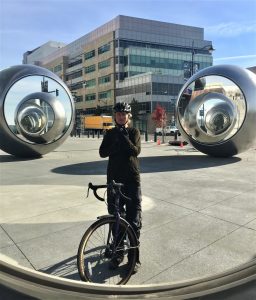 Because we are putting new brake calipers on and because they are a different brand Jim had to completely reassemble the front rack to the bike to accommodate access to the calipers for brake pad adjustments.
December 17
Some Notes – Pretty much the first half of the day was working on the bike.  I think Jim taught me more today about bike mechanics then I have ever known in my life about bikes.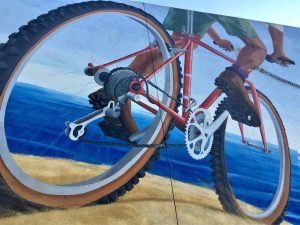 One of the murals across the street
I need to thank Garret at Wiggle Bicycle for taking care of me regarding the bike parts I needed to complete such a major overhaul on my bike.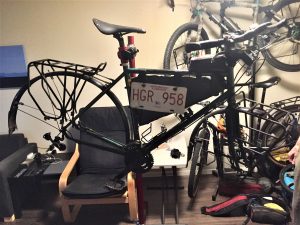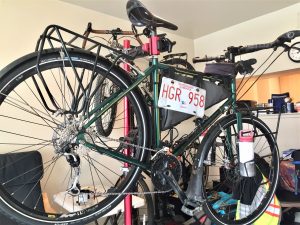 Before and After
I went for a test ride for an hour of 2 taking photos around SF after the bike repairs were complete.  After clean up I worked on my computer while Jim and I marathoned a new TV show (at least for me) called Mindhunter until quite late.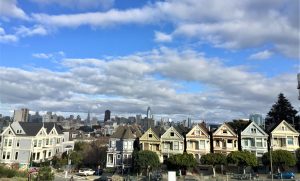 The Painted Ladies with downtown in the background
And it looks like I am going to just bypass Yosemite NP due to the highway closure that would route me to Death Valley.  It looks like the new plan will have me go to LA along the coast and then swing up to Death Valley and so on.  I am a little frustrated for bypassing Yosemite but with the main road I needed to take being closed my option are limited and it doesn't seem worth the effort to go all the way up there for the little tiny piece of the park that I would be able to go through.  Especially during winter time.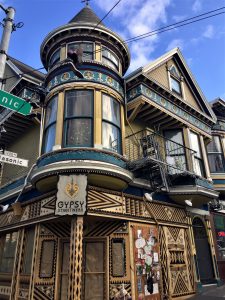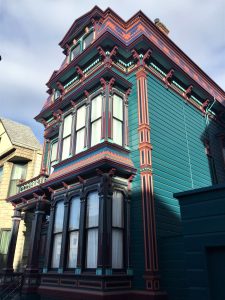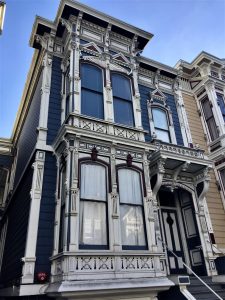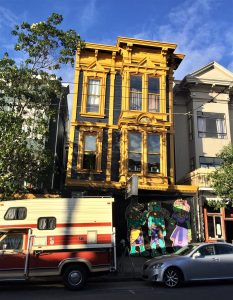 Lots of amazing architecture in SF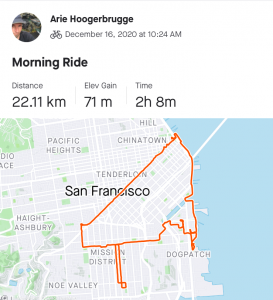 December 18
Km's Pedalled – 38 km's
Some Notes – Today was my day to bike around the city and take all the photos that I wanted.  I started with Twin Peaks and then made my way to the Mission District and then to the piers and then Chinatown and then Union Square.  Since arriving in SF I have taken 600 photos.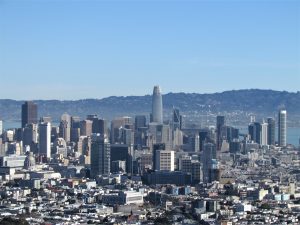 SF from the Twin Peaks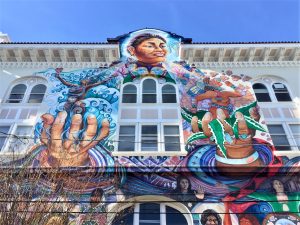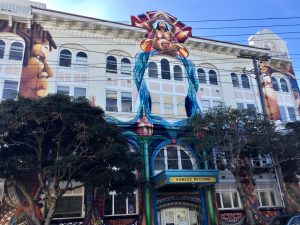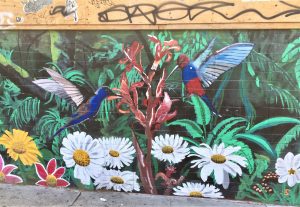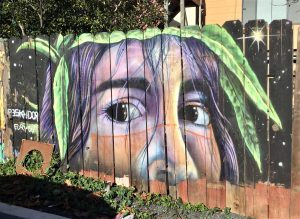 SF Murals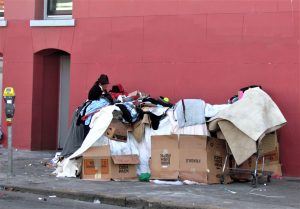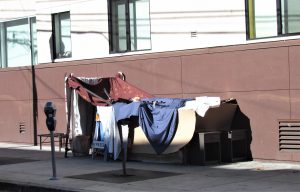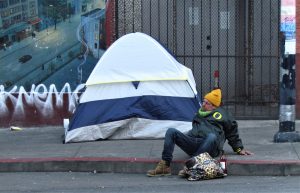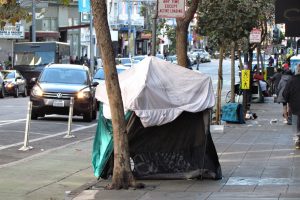 I biked all across the city and ran into some pretty rough neighborhoods with major homeless problems.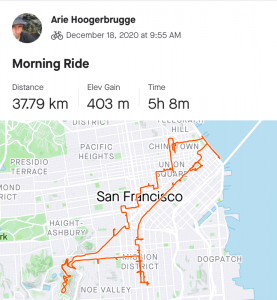 December 19
Km's Pedalled – 67 km's
Destination – Berkeley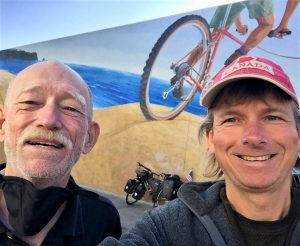 With Jim Sweet
Some Notes – A sunny and beautiful but cool and a slight headwind kind of day.  A largely uneventful day.  I bike back across the Golden Gate Bridge and then over the Richmond Bridge and sometimes missed my turn or got myself turned around.   I bike with 2 separate cyclists for a while on this side of the Richmond Bridge with the last cyclist bring me right to my new host front door.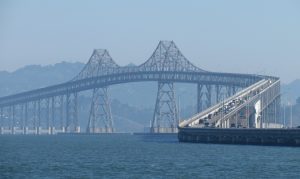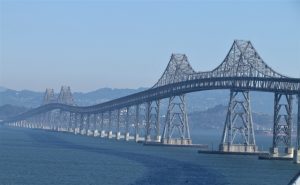 The Richmond-San Rafael Bridge
I have an empty, private all to my own vacant apartment at least until Christmas day.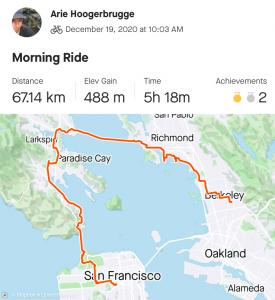 California Part 2 (Dec 6 to 11)