December 5
Life in the jungle: This morning I got 100% of my coconut field cleaned except for a few small/medium trees that I need a chainsaw for.  The next job is to start cleaning the far [new] fence line that backs the jungle.  I won't remove any mature trees to expand the field any bigger than it already is.  But I do need to run a fence line back there.  So, it needs to be clean.  I will also now have to keep on top of the undesirable vegetation that has gotten out of hand in the field.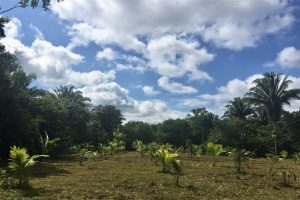 Complete
I did a laundry and some yard work during the afternoon.  I noticed an area/laneway in the trees between my house and towards the river where the vegetation wasn't so thick.  So, I started chopping and it didn't take long to reach the river.  I had planned to chop a lane to the river for the upcoming guest arrivals.  I just didn't plan on it today.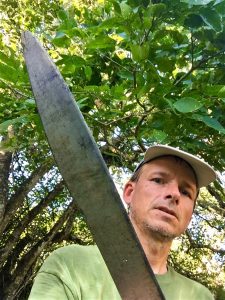 This is my machete. There are many others like it, but this one is mine. My machete is my best friend. It is my life. I must master it as I must master my life. Without me, my machete is useless. Without my machete, I am useless. I must chop my machete true. I must chop straighter than the weeds in my field, who is trying to kill me. I must chop them before they over runs me. I will. Before God I swear this creed: my machete and myself are defenders of my coconut field, we are the masters of our enemy, we are the saviors of my life. So be it, until there is no more weeds, but peace. Amen. – modified from Full Metal Jacket.
December 6
Life in the jungle: Last night 3 horses came down the road and on the farm in my coconuts.  I chased them out.  But in the middle of the night, I could hear them again and chased them out again.  This morning they were back but this time I could not chase them out as they ran further into the coconut field.  If my field was fenced, I would have corralled them.  I could then charge the owner a daily rate for holding them.  And likely the owner would not show up for weeks.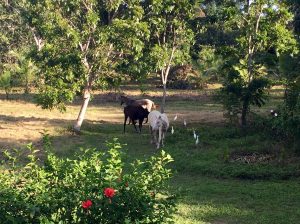 Escaped horses on my property
I could not take the time to chase them out as I needed to catch a bus into the city to withdraw more cash for the road repair.  This morning the bank machine told me I had already exceeded my withdraw limit even though I hadn't withdrawn anything yet.  SMH.  So, I stood in line inside the bank and discovered that I could withdraw up to $3,000 BZ at the teller (with a $10 service fee).  That just saved me a bunch of trips to the city.
I set aside $2,900 BZ for the road repairs and got a few groceries.  I looked into getting internet on the farm.  Right now, it looks like internet for my phone is going to cost me about $20 USD a month.  Internet on the farm would cost an extra $39 USD.  Overall, not horribly expensive except I don't have an income to pay for it.
The road phase 1 is done.  Twenty-five loads of sand spread by a bull dozer at $240 BZ/ $120 USD a load (of sand) = $6,000 BZ/ $3,000 USD.  We got very lucky with the weather.  From the beginning of this project the forecast was for rain which would have messed up the road horribly.  Phase 2 will be in a few months by spreading gravel over the sand.  I was able to acquire a complimentary load of sand for myself for landscaping purposes around the house.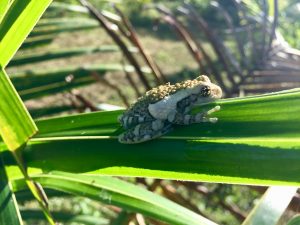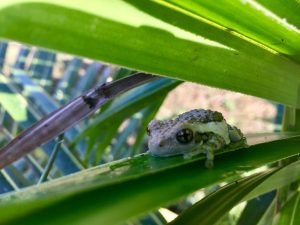 A juvenile Milky Tree frog.  These guys are pretty common around the house
December 7
Life in the jungle: I started the morning chopping out the far fence line in the coconut field.  I then learned how to change a toilet valve.  After that I fixed a deep rut in the driveway with some sand and rocks.  I then went out to the ponds and did some chopping and retrieved a small wheelbarrow load of coconuts.  And then to complete my day I started another pile of ginger plant cuttings along my property perimeter.
I am thinking that after finding the horses in my yard the other day I need to prioritize a fence around the property of my house and because there is a nice sunny place to build a greenhouse. I am also thinking that I should start my papaya and plantain trees at the ponds instead of the coconut field because the ponds are better suited ground.
My hands are sore and 2 new good sized blisters from this morning.  Today was the first day that it rained on and off all day.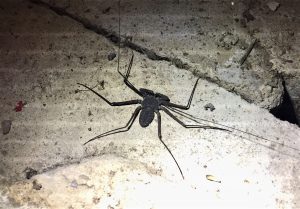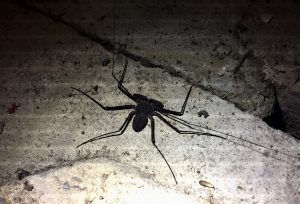 A harmless whip scorpion found underneath the house
December 8
Life in the jungle: This morning while working in the coconut field a 5ft Fer-de-lance slithered about 2ft away from me.  Locally known as Yellow-jaw Tommygoff because of their yellow jaw.  Most Belizean's are petrified of this snake as it is the most dangerous snake in Central and South America.  They are responsible for the most human deaths due to snake bites in all of the Americas.  This was truly a huge highlight and blessing of my week.  This was the first live adult I have ever seen.  All other adults have been killed by Belizeans before I got to see them.  I have only seen an occasional baby but not in many years.  Unfortunately, I was not able to get a photo as he slithered into some thick jungle bush.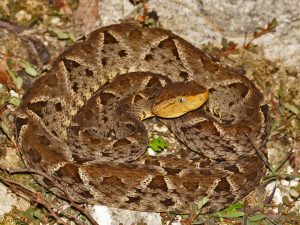 Fer De Lance – (Random photo off the internet)
Afterwards I went for groceries.  On my way back I found a White-lipped mud turtle.  This was actually quite exciting as this was my first one I have ever seen.  The Red-cheeked or Scorpion mud turtles are the most common mud turtles that I see on a regular basis.  So, this was another very cool find for me.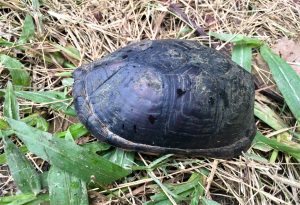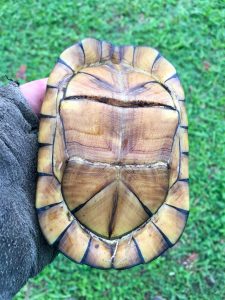 My first White-lipped mud turtle that would not show himself
In the evening I chopped and collected some coconuts by my ponds. Tomorrow I will pick up a papaya for its seeds.  I plan to plant them down the center of the mounds.  Perfect weather today.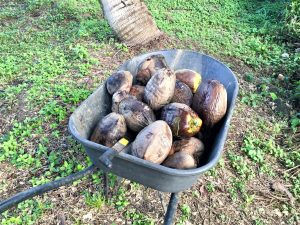 Collecting coconuts
December 9
Life in the jungle: My amusing Belize story of the day.  After I got on the bus this morning the bus driver got off and took s pee on one of his wheels.  And then half way to the city he stopped for a minute so a kid could jump off the bus to take a pee.  I can't imagine a Grey Hound driver getting off the bus to pee on his wheel.
It turns out that Thursdays seem to be a good day to go to the city.  Everything is pretty quiet.  Fridays are obviously a bad day but today was considerably quieter than my last Monday trip.  This morning in the city after my visit to the bank my main mission was to pick up some plant bags and a papaya.   In a few days I plan to start planting papaya seeds in seed bags.  A full-sized papaya cost my $2 USD.  Apparently, a papaya tree is capable of bearing 100 papayas a year, though I find that hard to believe.
Arriving home, I put some finishing touches on chopping a lane-way to the river (for my future guests) and then I went to the ponds and did some chopping.  In a few days I will be transplanting baby coconuts to my coconut field that have starting to grow around the ponds.
I actually stayed up later than I wanted to.  I started "cleaning" the papaya seeds from the papaya I purchased.  I read that the seed is surrounded by a thin jelly bag and that the seed should be freed from that jelly bag before planting.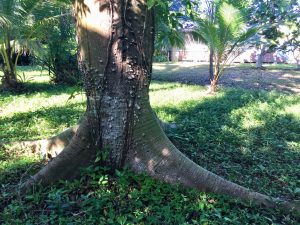 A Cottonwood tree in my backyard
Glossary
Glossary of words or people that may or may not be part of this blog post.  This glossary will be at the bottom of every blog post for Belize.
Jack & Jill – These are my ex-property managers (names changed).  They are Canadian, they introduced me to Belize in 1997, sold me their house in Belize in 2003, and rebuilt my house from 2014 to 2018.  I have known them for over 30 years.  After almost 20 years of me supporting their life here in Belize Jack decided quite unexpectedly to declare "war" on me right before Christmas 2021.  They live on the farm, but not on my land.
Wayne – He is the son of the original owners of the farm (both owners are deceased).  The original farm was 2 – 30 acre pieces minus 2 – ¾ acre parcels for my house and 2 – ¾ acre parcels that Jack & Jill own which were all originally purchased from the original owners.  In 2017 Wayne sold me 40 acres of land from the original 60 acres (30 acres plus 10 acres).  Wayne lives in his parent house and has a few cows on his remaining 17 acres of land.
Nery – a local in the area that helps me with certain projects when needed.  A very knowledgeable guy originally from El Salvador. He teaching me a lot about farming and tree.
Derrick – a local in the village that helps me with certain projects when needed.  Mostly he helped early on after my arrival to Belize.  He doesn't help me so much into the future.
The ponds – I have 2 large (300ft long x 50ft wide x 10ft deep) ponds on my 30 acre parcel of land which is basically jungle.  I have about 60 coconut trees (mostly mature) around the ponds.  I have plans to plant a few hundred papaya trees here plus other fruit bearing trees around the ponds.
The coconut field – I have about 400 coconut trees planted (various growth states) on about 3 acres of cleared land of the 10 acre parcel.  I plan to add various fruit trees to the same field as soon as I can.
The river lot – my house sits on a ¾ acre lot.  I have a second joining ¾ acre lot that allows me river frontage on the Belize River
The dry – Belize has 2 main seasons.  The rainy season and the dry (no rain)
Chopping – using my machete to clear brush and unwanted trees