March 18
Pedal: 141 km's
Destination: Brockville
Weather: A sunny morning that turned overcast much of the afternoon; but temperatures were good.
I am so glad to be moving on from Ottawa.  Ottawa was good to me.  I was able to meet and hang out with a long time supporter Andrew Caddell.  We did a road trip to Montreal, we had smoked meat in Montreal.  Andrew did a column in The Hill Times Newspaper about me.  The Hill Times Newspaper  is a newspaper published in Ottawa that typically covers the Parliament of Canada, the federal government and other federal political news.
On the 16th I did a 2 hour podcast with Bike Tour Adventures.  Coming into Ottawa another follower recognized me and pulled over to say hi.  I was also able to trade in my 4 season tent for a cheaper 3 season tent at MEC and saved quite a few hundred dollars.  So Ottawa was very good to me but I felt relief for leaving.
Also Chris Adam from Bike Tour Adventures wanted to come out and join me for part of my ride.  Chris showed up at about 10:15 am and we headed out of town.  I told him that I wanted to stop by Hog's Back Falls on the way out of town.  I also needed to stop by Best Buy as I need to arrange for a new laptop to be shipped to Kingston for me.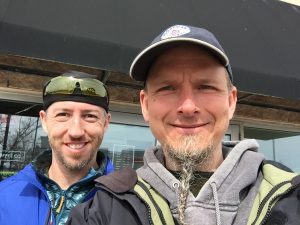 Chris Adam of Bike Tour Adventures came out for a ride
I had a pretty cool experience in Best Buy.  A female associate came up to me and asked me if it was true that I was biking across Canada.  Apparently the guy in appliances recognized me.  I would have loved to found the guy to talk to but unfortunately Chris was waiting outside with the bikes.  After sorting out the laptop situation me and Chris had lunch and Chris needed to head back home to Gatineau.
I followed the Rideau River to Kemptville and then took a more direct route to Brockville.  The young manager at McDonalds in Kemptville was quite upset with me for trying to eat my Big Mac in an empty restaurant.  Just before dark I somehow found myself on a gravel road.  I try to avoid these kinds of roads because sometimes these roads turn into pretty rough roads.  I had a neat experience going through a marsh area with a beaver.  I was using a bridge guard rail to lean my bike and a beaver was swimming around  the area tail slapping the water but always reappearing moments later.  At the same time 100's of Canada geese could be heard in the distance along with other birds.  It was very noisy area for wildlife which was great.
Because of the necessity of reaching Kingston the following night I pushed myself all the way to Brockville.  I pedaled another record distance of 141 km's and camped at the baseball diamond behind the Legion in town.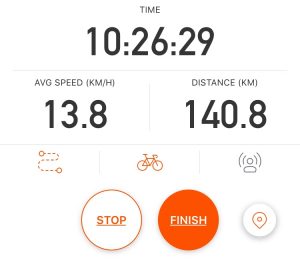 Another new record
March 19
Pedal: 89 km's
Destination: Kingston
Weather: I slept good in my new tent and the temperatures were mild.  I slept in and got a late start.  Tim Horton's would not allow me into their restaurant as they are now all closed to walk in customers and they would not serve me at the drive through.   I went across the street and had no problems getting service at Subway.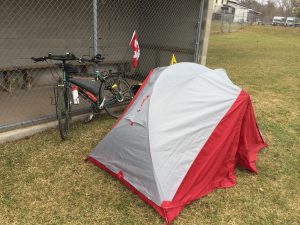 My new MSR Elixir tent
I took a few photos around Brockville and headed west.  Leaving Brockville a cyclists taking a ride east bound pulled a u-turn and joined me for a few kilometers which was pretty cool.  I grabbed lunch and took a few photos in Gananoque.  I arrived in Kingston right before 8pm.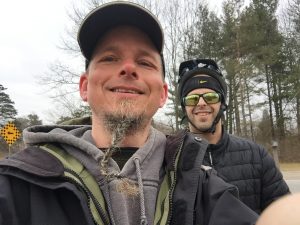 Josh Graveline joined for a few kilometers

I did not realize it until the very end of the day – that today was the first day of spring!  I survived the winter on a bicycle.  I pedaled 4,889 kilometers.  Of course I wish I had pedaled more kilometers; at least 5,000 kilometers.  Unfortunately with Covid-19 affecting my future the celebration wasn't even an afterthought.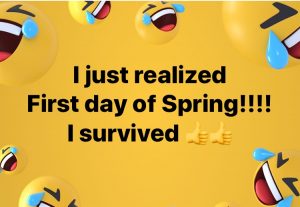 March 20
A mostly uneventful day.  I picked up my new laptop and started moving files between laptops.  This Covid-19 virus seems to be escalating and now there are talks about shutting the province down.  I don't know what this means in regards to moving forward.  I am currently staying with my Aunt Henny here in Kingston so I am lucky to have a place to stay with all this going on.  Wisdom suggests I should stay put for now.  That being said I am not too worried about being on the road during this time.  As long as grocery stores stay open; which they will then I am good.
March 21 – 23
Live is largely uneventful.  I do a little website work here and there.  Me and my aunt are making our way through the HBO Series Band of Brothers.  I mix in other favorite movies in-between Band of Brother episodes.  Things do not look good for moving on at all.  Provinces are starting to declare states of emergence and restricting movements.  As the days pass things are getting worse.
I wrote a blog piece on staying put until I felt confident  that I would not be stuck anywhere due to government restrictions on movement around the province.  For documentation purposes I do not plan to include my days in Kingston during this virus situation as "days on the road."
I am starting to feel a sense of uselessness during this "pandemic."  I am a capable, useful and I assume healthy individual that is currently sitting back and doing nothing.  Part of my problem though is that I am also living under someone else's roof who would be considered high risk if they caught the virus.  My aunt is in her early 70's and at the same time many of the people in her building where she may have (at this time) very limited contact with would also be high risk.  Technically I am a homeless person with no place to self isolate if something happened to me but could really make some people sick if I am not careful.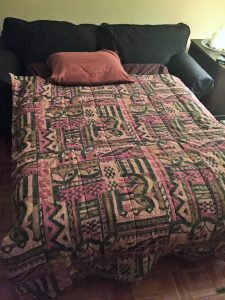 My new bed – for now
The weather has not been so great the last few days.  We have had some sun but mostly colder temperatures.  Some warmer temperatures are starting tomorrow for the rest of the week.  I realize how lucky I am that I arrived here when I did but I can't help but worry about the future and how to best spend my time currently.  I feel a loss of direction and purpose in these moments of uncertainty.  Perhaps I need to learn how to "chill."  But as an unemployed homeless person it is very hard to "chill."
With warmer temperatures coming I think I will need to take some long walks.
The blog post I did regarding my immediate and future bike plans