February 14
Pedal: 25.5 km's
Destination: Fredericton
Weather: I camped behind the Tim Hortons and the temperatures dropped to -18C.  I slept like crap though in the night but I didn't feel too cold.  The morning was frigid packing up camp.  That is always the trick.  It doesn't so much matter how cold it gets as long as you can get inside to warm your fingers after packing everything up.   In the middle of the night a commercial snow blower pelted my tent.  Scared the crap out of me.  I thought a wind had come and was about to collapse my tent in on me.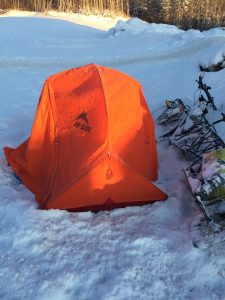 Looking closely at the snow you can see I was pelted from snow blower
Using lock de-icer last night and this morning has not helped my rear derailleur.  I pedaled the short 25 km's to Fredericton along the river.  Temperatures were cold for sure.
I noticed that some of the homes along the river as I came in Fredericton and headed to The Radical Edge bike shop were really beautiful  Too bad it was too cold to stop for photos.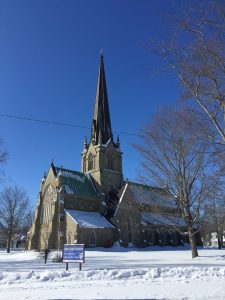 The Radical was initially able to fix my bike while I grabbed lunch.  Loading my bike and getting back on the road I very quickly discovered that my rear shifter was frozen again and not working instantly.   This was getting frustrating.  Their next suggestion was to replace the shifter with a thumb shifter.  Thumb shifters are basically considered bomb-proof.  I had never used one before and you ultimately shift more by feel then gears.  But at this point I was willing to try anything.  Cold temperatures were ahead of me for the coming weeks with no bike shop to help me again probably until Quebec City.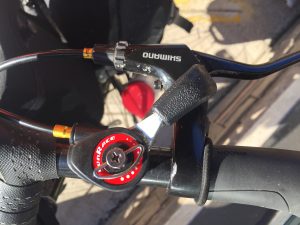 Thumb Shifter
By the time I was ready to get back on the road it would have been way too late to pedal and reach Nackawic for the night.  They are calling for -26C tonight and I have to have a place to warm up in the morning if I were to camp out in those temperatures.  Between not sleeping well last night, the current cold temperatures and the frustration with bike shifting I was not really having the best of days.
For basically the first time I was not in the mood to camp in these temperatures.  Perhaps if my day had not been so frustrating I would have been in a better head space.  So for the first time I searched Warm Showers and found 3 potential hosts in town.  I think it only took an hour to get  a reply from Michel and Tracy Poirer.  I have to say that it was super nice to get a reply with such short notice.  Not to mention it was their youngest son's birthday party that evening.  They have 3 children – Zavier, Kai and Anna.   Thank you so much to the Poirer family for giving me a warm place to sleep on a night calling for -26C.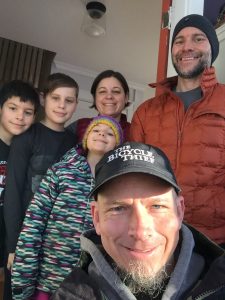 Kai, Zavier, Anna, Tracy & Michel Poirer
On a side note Fredericton looked like a pretty neat town that had many building that deserved photographing.  I did not take the time.  Coming into Fredericton I had more pressing issues with my bike.  After my bike was finally dealt with I was tired and not in the mood to be out in such cold temperatures.  On my mind I also had a fairly long day ahead of me on Saturday.
While I have pedaled a good handful of 90 to 100 kilometer days, rarely are they planned.  Usually a judgement call is made towards the end of the day and for some reason physiologically I get through a long day easier in those circumstances.  The reason for the long day planned was that I had a host waiting for me the next day in Woodstock, about 100 km's away.
As with Saint John NB I have to remind myself that I will always miss photos and photo opportunities.  Though I do feel I am going through New Brunswick way too quickly.  Maybe I feel the need to push some kilometers out on the road as technically I should be in Toronto by now?  I do recommend anyone to visit Fredericton though.
February 15
Pedal: 100 km's
Destination: Woodstock
Weather: The morning was cold.  I think the day started out at least -20C and perhaps a high of -8C later in the day.  If I did not feel the pressure to pedal to Woodstock I would have picked a different route.  I would have crossed the river and taken the 105.  Because I had a long day ahead of me I started out on the 102.  The main road that hugs the river on the south side.  At Longs Creek I jumped on the TransCanada Highway (Hwy 2).  For the wide shoulder and most direct route.
Just before getting to the TransCanada I had a pretty amazing experience.  It is experiences like these that remind me that I am on schedule and where I am suppose to be at that moment.  Either that or God is forever redeeming my choices.  Coming up a hill was Margo Campbell.  She was standing out in the cold waiting for me.
Margo had seen me pedaling down the road and raced home to warm up some soup and drove back to the road to wait for me.  I had a very pleasant time with Margo in her car as I ate my soup.  Saying our good byes an SUV pulled up and handed me $10.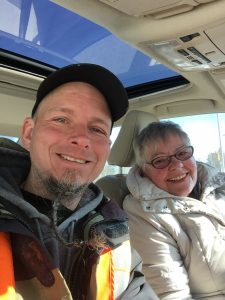 Margo Campbell
The 70 kilometers remaining to Woodstock was mountain after mountain after mountain.  Fortunately the climb was never very step but the climbs never ended – ever.  I have to admit while technically not the hardest day by any means but by the time I arrived at Crossing Paths Guest House I was beat.  Pedaling exactly 100 km's.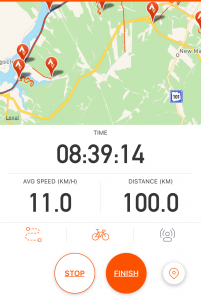 At the time of arriving, a birthday party event was about to be started.  What can I say about a party?  Everyone was nice enough; some people were very interested in the ride.  I could have exited myself very easily but instead I stuck around till 3am.  Parties are the very quick reminder that I don't fit in very well in social environments and I don't know why I stayed so long but I did.  And my host Shaun was very gracious forever connecting with me through the evening.
Side note – because of my more efficient route and long day I bypassed a spot that I might have stopped by for photographs.  Off the 105 about midway to Woodstock on the north side of the river is Howland Falls.
February 16
After going to bed so late I was going nowhere the next day.  Today I was reasonably productive with blogging and stuff.  Moving forward tomorrow I am going to do my best to avoid the TransCanada Highway for the rest of New Brunswick.  I should also mention as my notes are quite short today that the New Brunswick winter seem much different than Nova Scotia.  Here there is more snow accumulation unlike I have seen in many weeks and temperatures are much colder.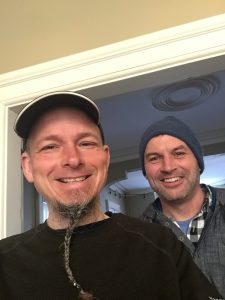 Shaun Albright of Crossing Path Guest House
February 17
Pedal: 84 km's
Destination: Perth-Andover
Weather: Today was mostly sunny and beautiful, but there was a bit of a head breeze.  They are calling for a very cold night tonight.
I took Highway 105 along the north side of Saint John River.  I got pretty cold taking photos of the Heartland Bridge.  There is a few short but steep hills on this highway.  They feel steeper than reality with pulling so much weight and sucking all that cold air in while climbing – really knocks you out.  Other than for a few hills this route was fairly flat and a good route to take.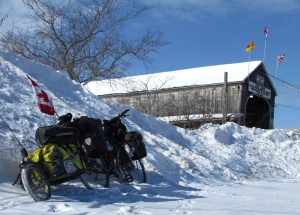 The Heartland Covered Bridge is the world's longest covered bridge at 1,282 feet long.  It crosses the Saint John River from Heartland to Somerville.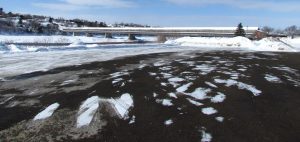 It was -12C when I finished my day and my hoodie was pretty frosty from frozen sweat when I took my coat off this evening.  It took me a while to warm up tonight.  Really tired.
February 18
Pedal: 61 km's
Destination: Saint Leonard
Weather:  Last night was the coldest of my life.  The temperatures dropped to a low of -24C and my feet froze all night and I got like no sleep.  I slept behind the Tim Horton's.  I should say I set up my tent behind Tim Hortons and then tossed and turned and froze all night long.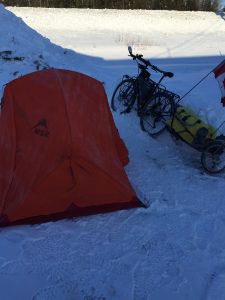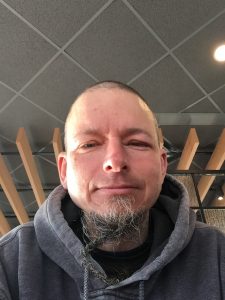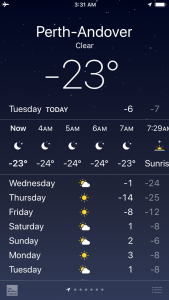 I think it took me almost an hour to warm up before I had the courage to break camp.  The owner – Ian of the Tim's actually noticed me and gave me a complimentary breakfast on the house.  I bet that doesn't happen too often at Tim's?  A local handed me a Tim's card on his way out.  He said there was $38 left on it.
A cold sunny morning as I headed out.  Fortunately no wind and I acclimated to the cold fairly quickly.  I took the 130 along the south shore of Saint John River to Grand Falls and then I took the 144 along the north shoreline to Saint Leonard.
I am so tired.  Part of me wants to set up my tent now so I can go to sleep but am aware of the likely hood of sleep being slim.  The other part wants to wait until last minute for the potential of a warm bed just because of how badly I want the sleep (and not necessarily to get out of the cold).
February 19
Pedal: 48 km's
Destination: Edmundston
Weather:  It was the morning after an overnight snow storm.  Initially the sun was shining and for much of the day.
I woke up to the sound of a pick-up truck and voices.  Not what I was expecting first thing in the morning in what appeared to be a vacant parking lot.  Last night a blowing winter storm rolled in.  The kind that creates snow drifts everywhere.  At first I thought I had found a good camping spot behind the Tim Horton's behind a fenced wall that stored the dumpster bins.  Then I realized the danger of camping in parking lot during a winter snow storm.  All these parking lots would be plowed in the middle of the night for first thing in the morning.  The problem is that finding a camping spot that is not three feet deep in snow is also nearly impossible this far into winter.  You want a flat solid surface that you can push you bike to and have your bike leaned nicely beside/near your tent for security purposes.
I walked from the Tim Hortons to the truck stop with eyes open for a possible camping spot at the same time pushing my bike through a blowing snow storm and accumulated 2-3 inches of snow on the roads.  This is really not how you want to find yourself at 11pm in a snow storm.  There was no safe places at the truck stop because of both snow plows and reversing trucks in the dark and snow.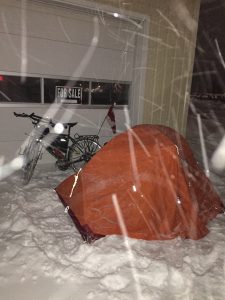 But across the street from the Tim Horton's was a vacant building and parking lot (for sale).  I figured this parking lot was as safe as could be expected.  Plowing vacant parking lots have to be the last to be plowed.  So you can imagine my surprise when I heard voices.  Assuming the voices came from the owners they could not be bothered to ask me what on earth was camping on their property for and soon left.
I took this as my cue to pack up and leave as well.  Two things of note – I slept pretty darn good and at some point the fly of tent had blown off???  To the best of my understanding the fly was intact during the entirety of the storm  but there were no foot prints to suggest anyone unhooked it.  Also just as I was loading my last pannier doesn't the plow show up!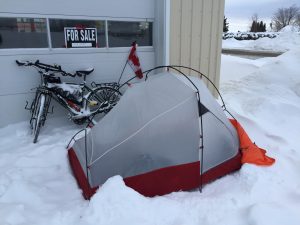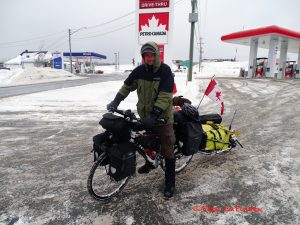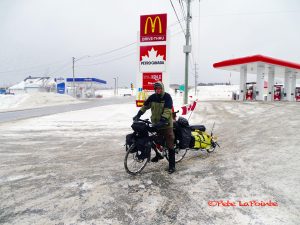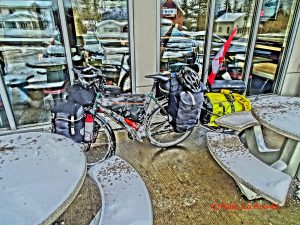 A photographer that I ran into in the Time Hortons in Saint Leonard took these photos of me
I followed Highway 144 all the way and only pedaled 48 km's into Edmundston.  Every minute of every mile was a headwind.  At first with the sunny skies I was unbothered by it but as the day wore on it physically beat me down.  Even though I felt like I had slept good the night before I was exhausted and all I want to do was take a nap.  I realized then the one thing that you can't do on a bike in the winter is take a nap.
They were calling for -26C tonight.  While I wasn't too excited about being in the cold what I was really concerned about was the sleep that I would not get.  I did a quick check of Warm Showers to discover with surprise that there was a potential host in Edmundston.  I sent a quick message with my fingers crossed.
Getting into Edmundston I was completely exhausted from an entire day of headwind.  I pedaled in the low gear the entire day.  I hung out at a Tim Horton's for an hour waiting for a reply from a possible Warm Showers host.  When that never arrived I decided to use some of my hotel points to book a room at the Travelodge at the north end of town.  I had gone a good part of the winter not touching my points.  This seemed like a good enough night to use them.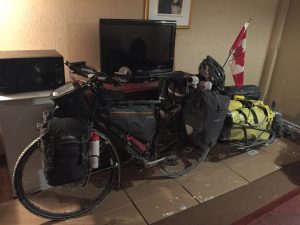 February 20
They are calling for another -26C night.  Decided to take a second night at the hotel.  Spent a good part of the morning and afternoon organizing and cleaning gear.  My bike is completely covered in salt and unfortunately it won't fit in the shower.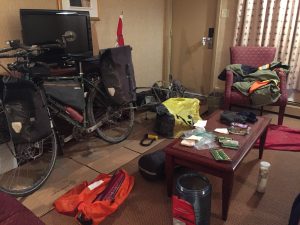 New Brunswick Summary
I only have 20 kilometers to pedal to finish New Brunswick and enter Quebec so I feel that I can offer a pretty good summary today.
New Brunswick was definitely a different kind of animal when it came to biking.  There was more snow accumulation and colder temperatures then I had experienced in some time.   Also for the first time in a long time I was not following coastlines anymore.
I definitely suggest following the Saint John River verse the TransCanada Highway.  Though the TransCanada had a nice wide shoulder.
My time in New Brunswick was pretty short.  I will only end up pedaling about 425 km's from Saint John to the Quebec border.  I should also mention that I pedaled an addition 107 km's in NB going into and leavening PEI by the Confederation Bridge.  New Brunswick did not disappoint as it was a different type of adventure and I had some very memory filled interactions with a few of the people living here.  I also had a lot people waving from their cars. I also had a pretty cool media day in Saint John being on both the radio and TV in one day.
Some of my followers and supporters were disappointed with the lack of warm beds made available to me.  Unfortunately they seem to forget that that is what I signed up for and it is winter time.  New Brunswick did not disappoint me!
By The Numbers
107+423.5= 530.5 km's total / 14 days / average 38 km's a day
6 down days (1 weather & 4 days in Saint John for trailer repair & 1 day for blogs)
I spent $74.32 on bike parts/repairs on a trailer repair and thumb shifter.  My trailer was repaired labor free along with a free tune up.  Parts purchased was mainly for future possible break down. As the parts for immediate repair were paid for by MEC.
$150.85 for food divided by 12 days= $12.57 per day.  I should mention regarding food that I was in Saint John for a bunch of days where I was feed and also that I ate a lot of Tim Horton's in New Brunswick via free gift cards.  My meal expenses continue to be very skewed due to random acts of kindness. [Thankfully]