The story of Arie Hoogerbrugge's second long-haul bicycle trip is, first and foremost, one of renewed faith in the human spirit.
The Grimsby, Ontario product was fresh off a broken engagement and six-and-a-half years delivering cookies by truck between Ontario and California when he set out Nov 12 from St. John's Nfld; on a ride he expects will cover 50,000 kilometers and eventually take him to Argentina………….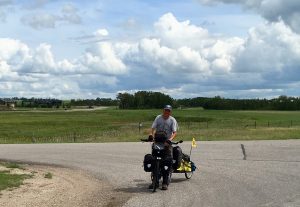 Follow the links below to full article
I received an email in May 2021.  According to Brad Brown the writer and editor of the article my story ended up wining third place in a Saskatchewan newspaper award nominations. There were eight finalist nominations across seven categories and ended up winning outright for best front page and best headline. Specific to my article, it finished third for best recreation story. The judges' comments were extremely complimentary of the article.  Click on the following link for the announcement.