My friend Horacia Velazquez who I met in Fresnillo wrote an article about me.  The link can be found HERE.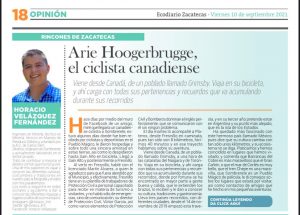 The English translate via the help of Google Translate is the following.
Corners of Zacatecas / Arie Hoogerbrugge / The Canadian cyclists
Days ago through a friend's Facebook wall. I saw that a Canadian cyclist would arrive at Sombrerete, he stayed for a few days where he was well received by cyclists and athletes in the Magic Town, they gave him accommodation and above all a sincere friendship in these lands, as well as they said goodbye to Sain Alto cycling. He came to Sain Alto and later to Fresnillo. When I saw him in Fresnillo, I spoke with Mr. Martin Álvarez, whom I thank for being served by the Municipality, and indeed, Fresnilo has on its staff of Civil Protection workers trained personnel to receive visitors in tourism matters, and I am not talking only about emergencies, but about communication, its director of Civil Protection, Victor Garcia, as well as various elements of Protection.
Civil and Firefighters speak English perfectly, they communicated with him without any problem. On Tuesday I accompanied him to Plateros, from Fresnillo on a walk, since it is only 8 kilometers, we did 40 minutes and on that journey we talked about your adventure. He comes from Canada, from a town called Grimsby, an hour from Niagara Falls and Toronto. He travels on his bicycle, and there he carries all his belongings and memories that he accumulates during his journeys, where fortunately he has mostly met good and warm people, who extend their arms, receive him and make him known. its culture, traditions and gastronomy It has traveled three countries, with different cities, since November 12, 2019 this trip began.
And in his third year he intends to be in Argentina and its furthest point, which is the island of the States. He has been more fascinated with this beautiful country called Mexico, because he says that its culture changes with just a few kilometers, and its ecosystem goes without saying. We talked and met in places we have visited, and he comments that Barrancas del Cobre is more wonderful than the Grand Canyon, or that the Sea of ​​Cortez is very beautiful, that the Chepe train is a marvel, that Sombrerete is a Movie Magic Town; I gave him advice on the places he will be about to visit, as well as contacts of friends I have made on my little adventures.
His passion is taking photographs, he is fascinated by architecture, and marvels at the different designs of the churches. When he told him that we would go to Plateros, he was moved to explain that it is one of the three most visited temples in the country, its architecture fascinated him, but he was astonished with the walls full of miracles, because they are halls and halls full of gratitude that people carries the holy Child of Atocha.
After the obligatory visit to Plateros, the Tourism officer arrived as promised, Eduardo Bolaños, who, along with his work team, took us to the traditional tacos and gorditas doradas, as well as to different churches in the municipality, with which Arie was totally grateful to the municipality of Fresnillo.
Arie doesn't speak Spanish, he just says good morning, hi, thanks, chicken (he loves rotisserie chicken), and struggles a bit when he can't find someone fluent in the language, and sells jewelry, so they can help him.
He has time left in Mexico, friends, if you see him greet him, invite him to visit his municipalities, join him and give him the face that our peoples deserve, of good, hard-working, honest, respectful and warm people.