The Airdrie Today.com picked up my Times Colonist article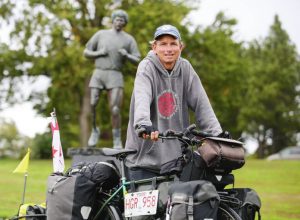 Wherever he goes, wherever he stays, Arie Hoogerbrugge just wants to share a message of hope with the people he meets.
Hoogerbrugge, also known as Safari Arie, arrived in Victoria on Wednesday after completing a 13,000-kilometre cross-country cycling journey — much of it during the pandemic.
He started his journey from the Terry Fox memorial in St John's, N.L., on Nov. 12 last year. When on the road, he pedals 70 to 100 kilometres a day, though his record is 141 kilometres.
The Canadian part of his journey concluded this week at the Terry Fox statue at Mile 0 of the Trans-Canada Highway.
Read the complete article HERE