Over the last 160 days from June 9 to November 15, 2020 I biked 6,020 kms through Mexico from Mexicali to Chetumal.
I am currently in Chetulmal for the next week getting 100% caught up on all my computer work.
Right now the preliminary reports about traveling through Belize are not good regarding Covid-19 paranoia and restrictions.
It is likely my travel time to my home in Scotland Halfmoon Belize will be quick and direct.  It is only about 200 kilometers between my home and Chetumal.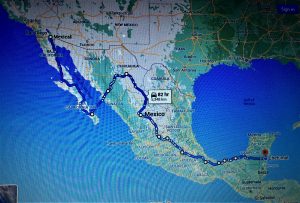 6,020 km's