Yesterday afternoon I was coaxed off the road for some beers by some locals.  Read about that HERE
November 7
Km's Pedalled – 120 km's
Destination – Jáltipan de Morelos
Some Notes – I did not sleep so great last night.  I spent most of the night fighting off mosquitos and it was also a rather noisy night being so close to the main road.  I ended up getting a very early start this morning.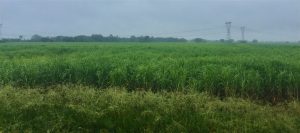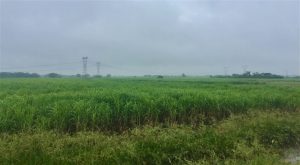 Sugarcane fields
The morning started out with a light drizzle and after a few hours the drizzle turned much heavier.  Most of the day was on and off rain but I didn't let that slow me down.  Everyday the humidity increases.
With an early start I was able to get some good kilometres today.  Another great day on a bike.  I practically feel like I am biking through Belize right now and that has me in good spirits and pedalling with energy.  Lots of waves and honks from people today again.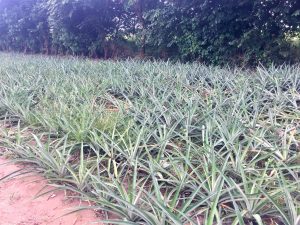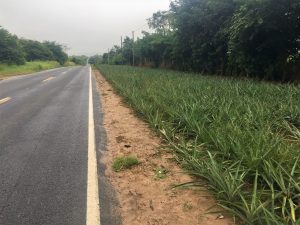 Pineapples
I arrived in Jáltipan de Morelos just as it was getting dark.  I found super and went to look for a hotel for the night.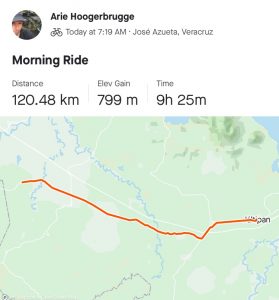 November 8
Km's Pedalled – 108 km's
Destination – La Venta
Some Notes – I was on the road by 8 am.  Leaving Jáltipan de Morelos I visited Iglesia San Francisco de Asis.  Today I reached the Gulf of Mexico via the city of Coatzacoalcos.  This the first time seeing the ocean since leaving the Baja California 4 months ago.  It was sort of a milestone.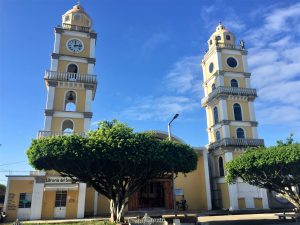 Iglesia San Francisco de Asis
Today was a lot of traffic and up and down terrain.  The weather was overall great but rain clouds formed at the end of the day but the rain was light and short.  I was forced to bike into the dark.  When I finally got around to putting my bike lights on, I was swarmed by mosquitoes.  I have to remember to get mosquito spray tomorrow.  I am not too happy that I had no choice but to get a hotel room again.  I was confident about finding a place to camp all day.  But I just could not find a place to camp. Fortunately, the hotel was only $200 pesos.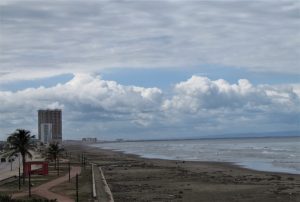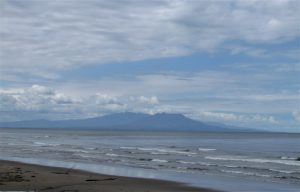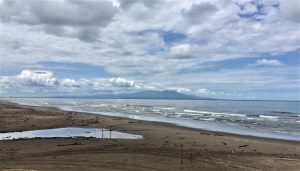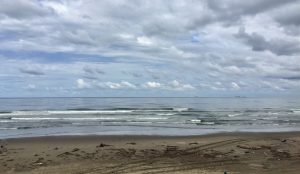 A milestone – The Gulf of Mexico
Biking past a wetland I saw some Roseate Spoonbill birds and other aquatic storks that are common in Belize.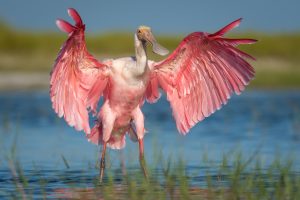 Roseate Spoonbill bird – random photo off the internet
It gets dark at 6 pm in this part of the world.  I am now setting my alarm for 6 am and will do this everyday now moving forward.  This was going to be my new habit arriving at the farm (my home) in Belize.
This evening I changed Mexican states.  My first 99 km's were in Veracruz State and my last 9 km's today were in Tabasco State.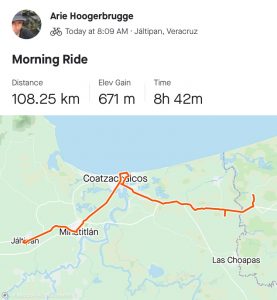 November 9
Km's Pedalled – 116 km's
Destination – Paraíso
Some Notes – I was on the road by 6:30 am and it was as about as good a day as one could hope for.  I so appreciate the number of birds and bird species in this part of the world.  I saw 3 Southern Crested Caracara today.  One was eating a road kill Central American Wolly opossum.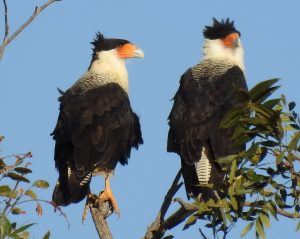 Southern Crested Caracara – random photo off the internet
I also saw my first Grey-necked Wood rail, plus many more bird species I recognize from Belize that I can't remember the names to.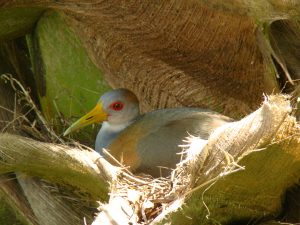 Grey-necked Wood rail – my photo taken in Belize
I received a $50 peso donation from some young guy on a motorcycle.
Biking through Sanchez Magallanes I photographed Parroquia Santa Ana.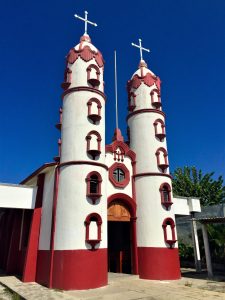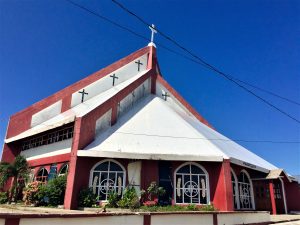 Parroquia Santa Ana
This area has lots and lots of coconut trees.  In fact, so many coconut trees there are actual coconut forests here.  I had no idea there was any such thing as coconut forests.  Its like a tropical paradise today.  I saw my first juvenile spiny tail iguanas today but I am sure I have biked past many.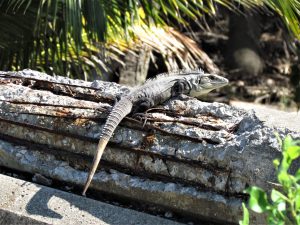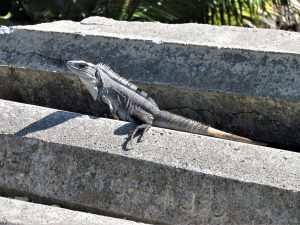 Spiny tail iguanas
I did come across an unusual situation that I had heard about in other countries.  First what happened was that I was biking on pavement until all of a sudden it looked like the entire road ahead was washed out into the beach.  I kind of panicked for a minute because I had come a long way today and I feared I was going to have to turn back.  As I discovered this a motorcycle going my way passed me but he veered away from the road and beach down a sandy road.  I noticed he yelled something to some guy that happened to hanging in the trees by the entrance of this sandy road.  I pulled up a bit further to survey the scene ahead of me.  Out of the corner of my eye I noticed that where this guy was hanging out in the trees that there was now a rope pulled across the road (that was not pulled tight when th motorcycle passed through).  I was thinking you bugger.  Now what do I do?  I am not going to let someone extort money out of me but at the same time perhaps because the road was washed out this sandy lane was now crossing private land.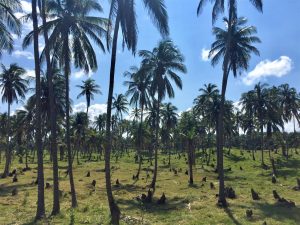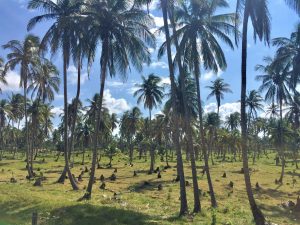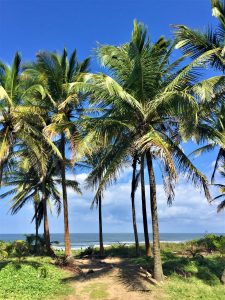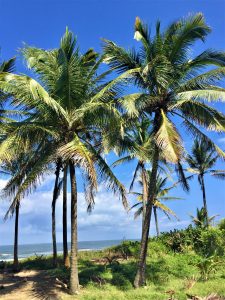 What I did notice looking ahead was that there appeared to be a trail where the road used to be.  I thought I would risk pushing my bike and hopefully I wouldn't sink in the sand.  As I pushed my bike along the beach, I noticed that the motorcycle that had passed me had come out of the trees down a ways and seemed to be back where the road was supposed to be.  I also noticed that there was another guy with another rope across the road.  Well, I sure wasn't paying an extorsion fee for pushing my bike on the beach.  When I came up to him, I said "are you dropping the rope?"  He just gave me this dumb look and stood there.  So, I put my foot on the rope and pushed my bike over the rope.  I would come across 4-5 more ropes crossing the road as I continued my day.   They either dropped the ropes or I pushed my bike around them.  But I never paid nor was I going to pay to bike on a legal road.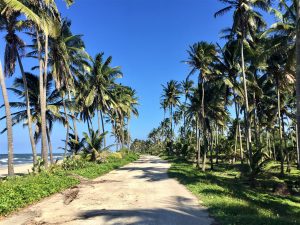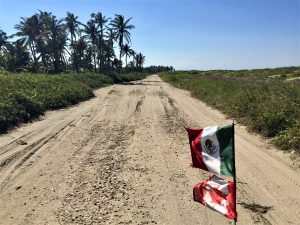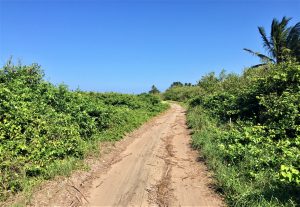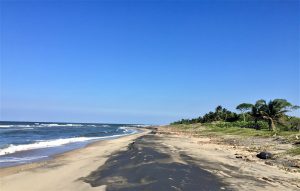 Speaking of the word road; many many times the road would become barely a sandy laneway.  I kept wondering if I was going to get turned around at any moment and be forced to face these rope guys again.  All afternoon I never knew if the road would simply end or become unpassable.  It turned out that the road continued through and I ended up having one my best days of biking and adventure days in Mexico since leaving the Baja.  And of course, the weather was perfect.  But it was a long and exhausting day.  The road was so rough that it took 12 hours on flat road to bike 115 km's.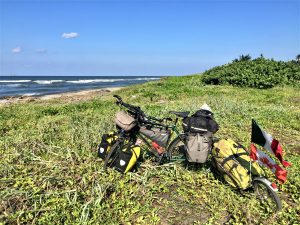 I had an amazing day of potential campsites along the ocean all day and then late afternoon the road veered away from the coast and it became unending houses and fenced off farms and it didn't take long before it was dark.  I am very frustrated by having to get a hotel night after night.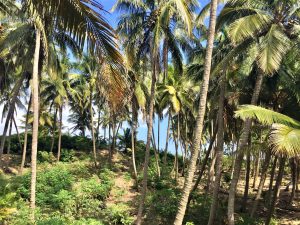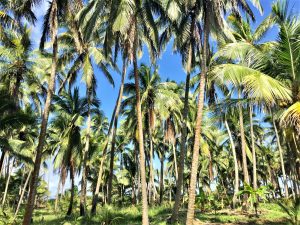 If I was in Belize, I would just ask someone if I could camp in their front yard.  But because of the Spanish language barrier I don't ask in Mexico.  While I don't doubt people would let me camp in their yards, I am not excited by the mentally fatiguing experience of trying to answer questions about my ride and out of the generosity of peoples hearts I know they would want to try to feed me and who knows what else.  I also don't have the courage to just camp anywhere.  Not out of a fear of danger.  I just don't want the headache of not being able to communicate with whoever discovers me in the dark if they ask me to move for whatever reason including a perceived danger, they think the area may have.  At least I am getting 100 km's days in everyday.  Chetumal is getting closer fast.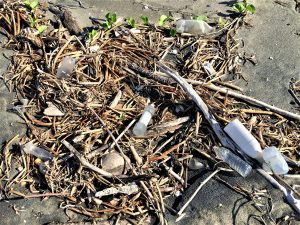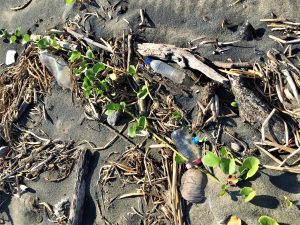 Always garbage everywhere
In Paraíso it was a bit of a gong show trying to find a reasonably priced hotel.  The city was quite busy which for some reason I wasn't expecting out this way.  I was able to negotiate a $400 peso room to $300. But even that was overpriced.