December 15
Pedal: 29 km's in New Brunswick + 54 km's in PEI = 83 km's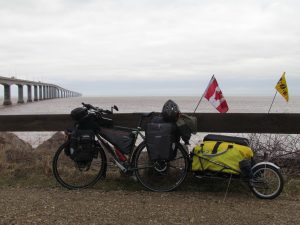 Confederation Bridge on the NB side
Destination: originally Cornwall, ended up camping behind the Simmons Sports Arena in Charlottetown
Weather: In New Brunswick all the way to the Confederation Bridge was tailwinds and warm temperatures.  Upon reaching PEI those tails winds turned into wicked crosswinds and some headwinds.  I pedaled into Cornwall hopeful to find a place to camp out of the wind.  The winds were wicked exiting to Cornwall.  After charging my phone in the Tim Horton's I started pedaling in the direction of  Charlottetown looking for a place to camp.  I couldn't find anything and the temperatures were starting to drop and the winds were merciless.  After what seemed like going in circles I finally found a spot behind the Simmons Sports arena.
Earlier in the day I stopped in at the Red Rooster Restaurant in Crapaud.  Some nice customers gave me $10 towards my trip and the waitress gave me my $15 lunch on the house.  All this was a very nice surprise.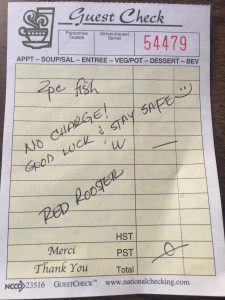 Five minutes down the road my front tire failed.  I ended up switching out and using my folding tire.  Who would have guessed I would have had to use my folding tire so quickly in my trip.  By the end of the night my rear tire was also flat.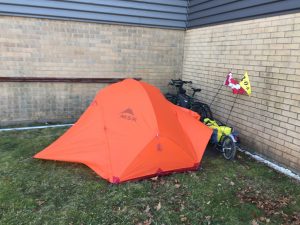 The best I could do to get out of the wind
December 16
Pedal: I only pedaled locally in Charlottetown to buy a few supplies and look for a different camping spot.  I didn't bother keeping track of my kilometers.
Destination: Charlottetown.  I stayed in town because of the weather.  The wind was unbelievable and last minute at 10:30 pm I got a place to sleep in town at Irene MacIsaac's home.  I was just about to head to Victoria Park to camp.
Weather: Relentless and merciless winds all day.  I mostly had to push my bike anywhere I went.  A very cold night, -17 degree wind chill.
I pushed my bike to MacQueen's Bike Shop only a kilometer a way from last night's camping spot to deal with my flat rear tire and replace my front tire.  While pushing my bike I also discovered my rear brake was not working properly.  You can imagine my dismay when I discovered MacQueen's was closed on Monday's for winter hours.  Fortunately there was another bike shop a 5 minute bike push away.
It took a while to get my brake issue fixed and I am still not sure what the issue was.  After getting all that sorted I met my father at the Tim Horton's to off load my 2 front panniers.  I spent some time getting a few supplies.  It was almost getting dark when I finally headed to the historic part of town looking for a different camping spot.
Pedaling around Victoria Park I witnessed a pretty cool sight.  Thousands and thousands of crows had congregated and were making a heck of a racket.  Apparently this is a common phenomenon.  Google Crows in Victoria Park in Charlottetown PEI to read related articles.
By the time it was dark the best location for a new camping spot was Victoria Park but the evening was still young.  So I spent the evening at a Tim Horton's working on my blogs and uploading photos and packed up my computer at 10:30pm.  I was about to head over to Victoria Park when I got a Facebook message from Irene MacIsaac.  Irene had a warm bed waiting for me and she only lived a kilometer away.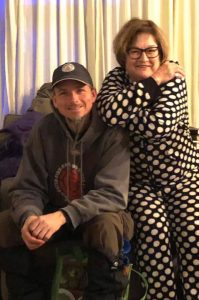 Irene MacIsaac – an amazing host
December 17
Pedal: 21.5 km's
Destination: stayed in Charlottetown for photos
Weather: temperatures warmed up and the wind died down.
Irene took me for an hour and a half car tour around Charlottetown historic district.  We toured the St Dunstan Cathedral and All Souls Chapel.  Afterwards I raced around taking photos of all the different historic locations around Charlottetown.   And then I went to MacQueen's to replace my front tire.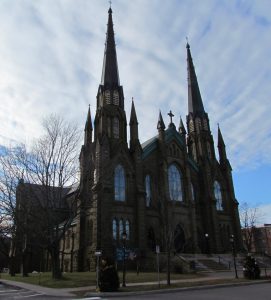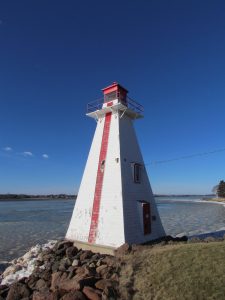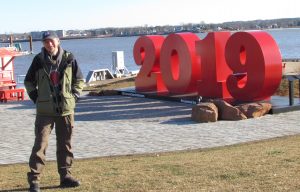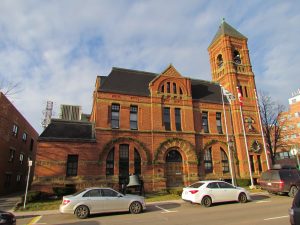 December 18
Pedal: 72 km's
Destination: my parents in Fortune Bridge
Weather: cold but very little wind.
Irene was an amazing host.  And am so glad and blessed that I got to meet her and spend time in her home.
Highway 2 in Prince Edward Island mostly has pretty good but narrow shoulder.  A few hills here and there.
At this time my plans for the rest of the island is still undecided and what day I start pedaling after Christmas.
December 19 to December 26
Off for Christmas.  I tried to be productive.  I think I was but it also feels like I got nothing done.  In many ways if I think about what was it that I accomplished during this time I can't think of anything off the top.  I ended up taking the 26th off just to be able to finally pull out my GoPro to learn enough about the options in order to finally test it out on Dec 27.
It was nice to spend time with family but I really do not like Christmas time at all.  So many get-togethers and so many interactions with people.  I find it very suffocating and an in-your-face reminder that I don't fit in with people.  Christmas use to be a lonely time for me.  Everywhere you went or turned everyone had a family (significant other) and then there was me.  Two years ago on December 26 I proposed and was engaged to the woman of my dreams happiest time of my life sensing that I was no longer going to be that weird introvert single guy.
Yes, as a single introvert guy when I observe other single introvert guys I judge them.  Just as I imagine people must judge me as being weird (and not in a good way).
Almost a month before my bike ride was to start I found out my ex-fiancé was married 4 months after she left me.  Funny thing is, is that I am no longer lonely as Norma killed any desire to be with anyone in my lifetime.  But now it would seem Christmas is a reminder that you just don't fit and you will be that weird single guy that sits quietly among other people suffocating to death for the rest of your life.
Why can't I just make things and see things simple?  I always have to complicate my story.
This has all caused me to reflect on my first month of my ride.  While off for Christmas I would often look out the kitchen window watching the snow or wind blow yearning to be on the road.  When I was in relationship with Norma I was the happiest and most fulfilled of my life.  On this bike ride I am not sure how to describe my emotions??  I am still trying to find my place on the road.  I thought I was going to really hate these first 6 months in the cold.  Turns out I am really enjoying them and can't wait to get back on the road.  But I am not sure that I would describe that as happy?  I sort of feel that the road is where I belong?  Thank goodness I had all this planned for so many years.
December 27
Pedal: 54.5 km's (10:15 am to 4:15 pm)
Destination: North Lake
Weather: Mixed sunny and overcast.  Temperatures were not too cold; maybe at freezing.
It was real nice to get back on the road.  Just a few hills to East Point Lighthouse.  Shortly after leaving the lighthouse my rear tire was flat and the tire was pealed from the rim.  I ended up putting my folding tire back on the bike.  I pedaled to my parents property on North Lake just before dark which gave me an opportunity to cook super.  Fourth meal I have cooked on the road since the ride started.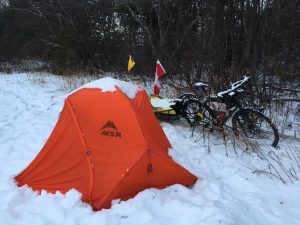 North Lake
December 28
Pedal: 45.5 km's (8 am – 1:45 pm)
Destination: back to my parents
Weather: It snowed last night.  There was a bit of snow on my tent for the first time.  Thankfully the roads were plowed in the night.  The temperatures were not too cold but there was a headwind.  The headwind probably had some kind of wind-chill but truthfully I didn't mind because I was biking.  Mixed sunny and cloudy skies.
When I woke up this morning I didn't want to get out of my sleeping bag.  Not because it was cold.  In fact the temperatures seemed not too bad.  I didn't want to get out of my sleeping bag because it felt so good to wake up in a sleeping bag and my tent.  I can't explain or understand why I am so enjoying being out in this cold weather.
I biked to Shipwreck Lighthouse and then back to my parents.  Basically yesterday leaving my parents I have biked to the eastern tip of PEI along the south shore and around and then following the north shore back.  Upon reaching Shipwreck Lighthouse I went due south back to my parents.  A 100 km round loop.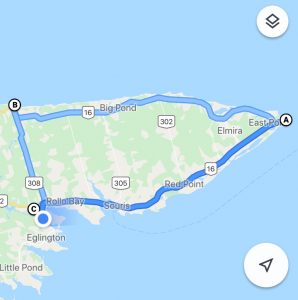 100 km loop around the eastern point of PEI
Just east of Souris the shoulder disappears.  Traffic was very very light for the rest of the entire loop.  It was interesting to see how many homes I passed in the east end of the island where it was apparent that the homes stay vacant during the winter.  Traffic undoubtedly picks up during summer months during tourist season.
December 29
I have to take today off because I am now replacing my rear tire in Charlottetown.  I called the bike shop and they have a replacement tire waiting for but if you recall they are closed on Mondays for winter hours.  If I headed for Charlottetown today I would be stuck there until Tuesday morning to switch tires.  I might as well be stuck at my parents if I am going to be stuck anywhere.
I have also decided to miss New Years so that I can get back on the road.  I feel the holidays were too long.
December 30
Pedal: 70 km's
Destination: Charlottetown, stayed at Irene's again
Weather: Sunny to overcast, slightly below freezing with no wind.
Slept in and then the neighbors stopped by to say good bye and good luck.  Thanks George and Teresa!  Just as I was loading my bags on the bike I realized that I wasn't wearing my hoodie only to discover my mom accidentally put it in the laundry 2 minutes earlier.  So I didn't leave Fortune Bridge until after 1pm.
I pushed through the dark to get to Stratford to get super and then realized how close I was to Charlottetown so it was a no brainer to go a few kilometers further and sleep in a warm house.
December 31
Pedal: 82 km's
Destination: Summerside
Weather: The day started overcast and just below freezing.  By mid afternoon I was in my third winter storm of the ride.  After I got to Summerside the snow turned into rain pellets.
Started the day at MacQueen's Bike Shop to replace my rear tire.  May I never need to use my folding tire again!  It was well after lunch by the time I exited Charlottetown and just east of the Confederation Bridge cut off the snow started flying.
I kind of like pedaling through snow storms.  Luckily traffic was light and the wind prevented any major accumulation of snow on the highway shoulder.  After I grabbed dinner the snow turned to ice pellets.
I had dinner at the Starlite Diner and I received a complimentary soup. The young guy serving me informed me that the building behind the diner was unlocked.  What another lucky gift.  The winds are pretty strong and now with these rain pellets I don't want anything to do with setting up a tent.  Later that evening at the Tim Horton's a local handed my coupons for 2 free coffees.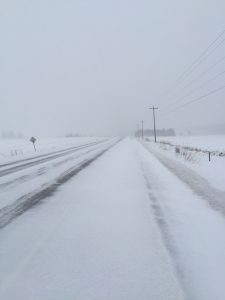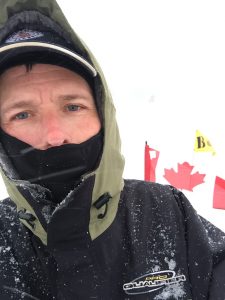 The road to Summerside