March 12
Pedal: 122 km's
Destination: Ottawa
Weather: Today was sunny coming into Ontario and bit on the cold side.  Temperatures warmed up and while there was a bit of a crosswind more often than not the crosswind became more of a tailwind.  Which was a very good thing as I had a long day ahead of me.  I needed to get into Ottawa this evening as the forecast was for rain tonight and into tomorrow.  I will do anything to avoid rain at this time of year.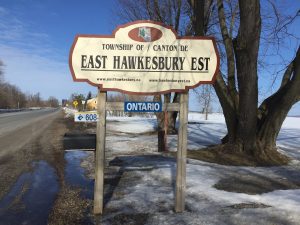 Entering Ontario
My original route was to follow the Ottawa River into Ottawa which was approximately 150 km's.  Because of the distance and the urgency to arrive in Ottawa this evening I decided on a more direct "as the crow flies" route.  Taking this more direct route allowed me to shave almost 20 km's.  At the end of the day my final total kilometers pedaled was 132 km's (including the last 11 remaining kilometers of Quebec).  132 km's is not only me new record it is also my new lifetime record.  The furthest I had pedaled on my first ride was 115 km's.  Which is crazy to think; I was 9 years younger and like half the weight in bike and gear.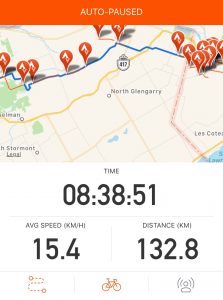 The only small adventure I had today was somehow I ended up on a gravel road and where the road T'd the turn I needed to make was closed due to flooding.   Based on my best judgement the flooding did not look very deep and the crossing was probably a few hundred feet wide.  I put plastic bags over my boots as a precaution and pedaled across no problems.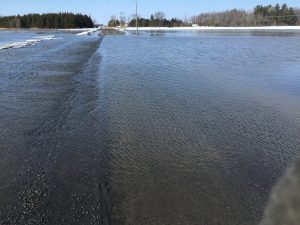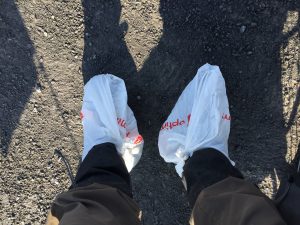 I had a super cool experience as I was leaving Bourget.  Heading west just outside of town a white pickup truck pulled over and a guy gets out asking me if I was Arie.  How cool was it that only hours after entering Ontario I am recognized.  His name was Brian Kostick and he is interested in riding The Great Divide Trail.  It was so cool that he stopped to say hi.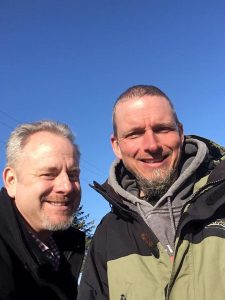 With Brian Kostick
March 13
I slept in until almost 11 am.  Yesterday was a long day.  I spent the day with my new host Andrew Caddell.  Andrew if you remember let me stay at his family home in Kamouraska QU on my way through.  We took my bike to the local bike shop for a tune up and cleaning and then took a short walk around the area.  After lunch we went to MEC to deal with my tent issue.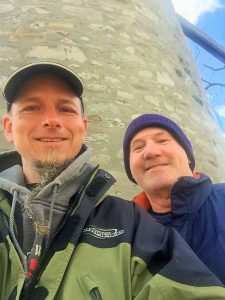 With Andrew Caddell
I have had an issue with my tent since the very beginning of this trip.  The shock cord would lose its elasticity in the very cold.  This made it very challenging trying to set my tent up in the dark and in the cold.  I originally called MSR about this issue in Halifax.  They agreed to send me new tent poles to my host in Saint John NB.  Unfortunately they sent me 4 wrong poles out of the 6 they sent.  I then asked them to send the 4 new poles to the MEC in Quebec.  Upon arrival to Quebec I discover they had not.  I then asked them to send the 4 poles to the MEC in Montreal.  Upon arrival to Montreal I discovered they did not.  I ended up calling MEC Service.  MEC Service was very helpful and suggested to just return the tent under their Rock Solid Guaranty.  This ended up being very handy as the cold weather is pretty much finished and I was able to order and replace my 4 season tent with a cheaper 3 season tent.  I am going to give the MSR Elixer 2 person 3 season tent a try.
March 14
Today was interesting in the fact that I ended up doing a road trip back to Montreal for the day.  My host needed to connect with an associate in Montreal and bring him to the Montreal airport.  It was actually nice because we ended up taking a route that followed the St Lawrence River in Quebec to Montreal.  Leaving Montreal I went north around the airport because it was more direct for me from my last Montreal host.  Going along the shore was definitely the way to go so thankfully I got to go that way at least by car.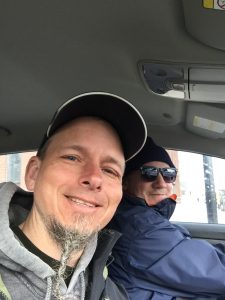 Road trip to Montreal
Once we picked up our passenger we did a quick car tour through Montreal and also stopped at Snowdon Deli for my second smoked meat lunch in Montreal.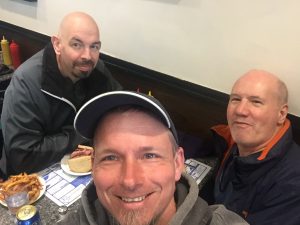 With Andrew Sander & Andrew Caddell at Snowdon Deli
March 15
Pedal: 36 km's
Destination: Ottawa's Backpackers Inn
I was so much looking forward to going to church this morning.  The church that I regularly attended back in Hamilton has a satellite sight here in Ottawa.  After all these days (118 days) on the road I wanted something small to feel like home.  Church was cancelled due to Covid-19.
This Codid-19 has really blew up in the last day or two and now everything is closing.  For documentation purposes I will mention Covid-19 as little as possible.  I am really pretty tired of all the hype and nonstop news that has everyone in this panic.  At this point I would do anything to escape people just to avoid the conversations.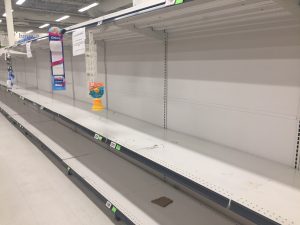 The paper towel and toilet paper shelves at the Lowblaws.  I must have missed something in the news. Why do people need to stock up on this?
Covid-19 has caused my next host to cancel on me.  Which is fine; I get it.  Me and Andrew did about an 18 km bike ride this morning.  After saying my good-byes I took advantage of the sunny but kind of cold day to tour and photograph the downtown of Ottawa.  After my photo taking was completed I made my way to Ottawa's Backpacker Inn.  There is another hostel in town for a few dollars more.  I choose this one because the other one is apparently in a old jail.  Which sounds cool except many of the reviews talk about how noisy and echo-y everything is due to the nature of once being a jail.  I have enough problems with not getting enough sleep.  With any luck I will be able to tour a jail somewhere between here and Argentina.
Mentally I am fairly exhausted.  A lot of my expectation and what I needed mentally and some of what I was hoping to accomplish in Ottawa has not played out.  This Covid-19 has had some to do with that.  I am also financially stressed because of now needing to do some work on my house in Belize and needing to replace my laptop.  Also in many ways I have not been nearly as productive as I hoped to be in return for the time spent in Ottawa.  Between Quebec City, Montreal and Ottawa I end up spending way more time than planned.  Only in Ottawa I have felt very unproductive.
March 16
The highlight of the day was doing a 2 hour podcast with Chris Adam of Bike Tour Adventures.  The podcast went really good.  Driving my truck I had enjoyed Chris's podcast because his podcast focused on long distance cycle touring.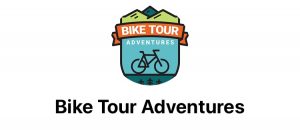 This Covid-19 issue has continued to escalate.  They are now talking about restaurants only being able to do takeout.  No seating.  As you can imagine this makes documenting this ride fairly challenging if I can't sit anywhere to do it.
I walked to Best Buy to look at laptop options.  Trying to figure out if I should replace my laptop here in Ottawa or wait until I get to Kingston.  The laptop that is being recommended is way more money than I am hoping to spend.  I also need to get out of this city before I go crazy.
March 17
I had decided the sooner I get out of this city the better.  Unfortunately the weather had other plans.  I woke up to heavy wet snow and rain in the forecast.  The roads are all slush.  Well I can always keep busy on my laptop.
My intro to my YouTube videos was completed today.  I also sent an email to MEC about the possibility of sponsorship.  Something on their website said something about submissions for sponsorship being finished for March 11.  I guess we will see.