November 11, 2019
All of a sudden I realized I was here in Newfoundland!   How long have I wanted to come here?  A long time.  And this must be the least visited province in Canada.  I can now say that I have been to every province in Canada.
This place is definitely different than anywhere I have visited before.  Not sure if it is that the trees aren't very tall.  Maybe it's the mountains are fairly smooth and void of trees.   At least I don't see many trees?  Maybe it's the rain?  Very overcast and looks like a place that doesn't see a lot of sunshine.  But I am sure arriving in November has a lot to do with the weather.
It doesn't take long until I see my first Bald Eagle.  I feel that this is a bus ride where you simply sit in silence and wonder about the landscapes that I pass.
This is definitely an easy place for a cyclist to pitch a tent.  Doesn't seem like anybody really lives out here.
There is a sense of northern Ontario but less developed, more mountains.
Those were my initial thoughts of the west side of Newfoundland until the rain and grim made looking out the bus windows difficult.
This epic ride will have me start in St John's Newfoundland our most easterly Canadian city.  People talk about how beautiful the east coast is.  I have forever wanted to visit the rugged and desolate  Newfoundland.  I will ride from coast to coast.
Some of the highlights of Newfoundland are
Cape Spear, St John's
Cape Spear is the easternmost point in Canada and North America, excluding Greenland.  This is the location of the oldest surviving lighthouse in Newfoundland and has been designated a National Historic Site of Canada.  There are also World War 2 bunkers and gun barrels located here.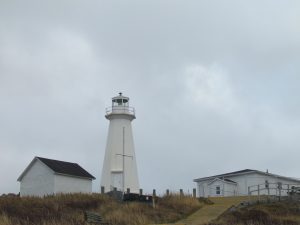 Signal Hill, St John's
A hill which overlooks St John's; famous for its strategic location for harbor defense from the 17th century to the Second World War.  In 1901, Guglielmo Marconi (an Italian inventor) received the world's first transatlantic wireless signal here.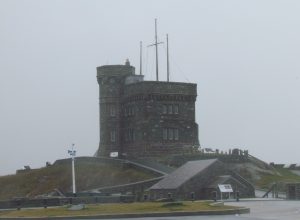 Terry Fox Memorial
The Terry Fox memorial is a bronze sculpture that was erected exactly 32 years after Terry's Marathon of Hope began on April 12,1980.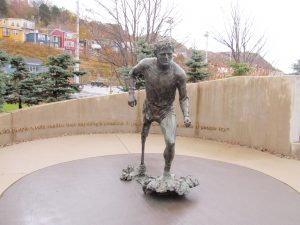 Jellybean Row
Many many of the homes in St John's are brightly decorated earning the its downtown the nickname Jellybean Row.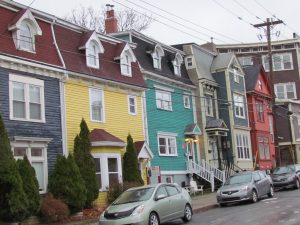 Terra Nova National Park
Terra Nova NP is Canada's most easterly national park and is where the inlets of the North Atlantic Ocean meet the boreal forest of Central Newfoundland.  The park is 400 square kilometers of east coast beauty.
Gros Morne National Park
Gros Morne NP is a world heritage site located on the west coast of Newfoundland.  The park takes its name from Newfoundland's second-highest mountain peak.  At 1,800 square kilometers, it is the second largest park in Atlantic Canada.
My original plan for this ride was to leave in April 2018.  Given the time of year and what I am up against I think it is safe to say that I will have to bypass Gros Morne National Park at this time – sucks.
The main cities of Newfoundland are St John's, Gander and Corner Brook.  If it was spring or summer I would definitely go visit the village of Dildo
You may have missed my last blog post on how I got to St John's