Ray is the first cycle tourist I have run into on my ride since starting out in November 12, 2019.  Ray reached out through a mutual follower.  I think when Ray was going through Thunder Bay when he reached out.  Initially it looked like we would not meet up because he was adjusting his bike route around Sault Ste. Marie around the time I would arrive in the Sault.
Hours after arriving I received a message from Ray inquiring my whereabouts.  I mentioned I had just checked into the Days inn.  He asked if we could meet as he was hitching a ride into town due to a tire issue.  I told him that super and a bed were waiting for him when he got into town.  Fortunately I had been but in a room with 2 beds.
Ray was cycling from Calgary and hoped to get to Halifax.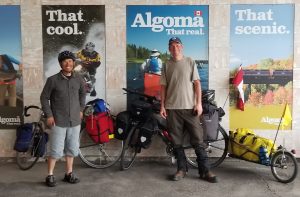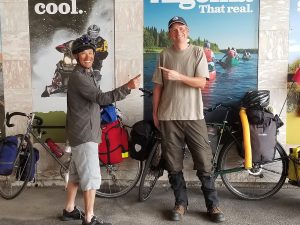 Outside the Days Inn in Sault Ste Marie
When I arrived in Vancouver in September Ray reached out and invited me over for dinner.  It was a good chance to catch up.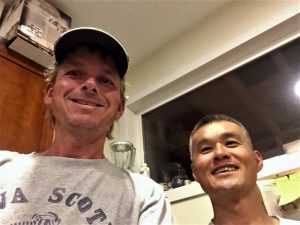 In Vancouver Sept 8, 2020