A super huge thank to the people at Patagonia Victoria for the very generous gift of a new Patagonia rain jacket and rain pants to help keep me dry as I pedal along the west coast of North America.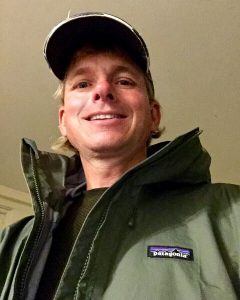 With my new Patagonia rain jacket
Check them out at https://www.patagoniaelements.ca
Or visit them at 616 Yates St, Victoria, BC V8W 1K9
Or call them at (778) 406-0660
About Patagonia Calgary | Banff | Victoria
Patagonia Calgary, Banff and Victoria are independently owned and operated by Canadian entity Elements Inc. Our doors opened for the first time in Calgary in November 2002. We expanded to Banff in September 2009 and Victoria, our newest location in September 2014.
We specialize in and feature Western Canada's largest selection of the Patagonia brand of premier outdoor apparel, accessories, and packs. We are also a leader in providing customers with a shopping experience dedicated to upholding Patagonia's values, culture, and mission.
Our Reason for Being
At Patagonia, we appreciate that all life on earth is under threat of extinction. We aim to use the resources we have—our business, our investments, our voice and our imaginations—to do something about it.
Patagonia grew out of a small company that made tools for climbers. Alpinism remains at the heart of a worldwide business that still makes clothes for climbing—as well as for skiing, snowboarding, surfing, fly fishing, mountain biking and trail running. These are silent sports. None require an engine; rarely do they deliver the cheers of a crowd. In each, reward comes in the form of hard-won grace and moments of connection with nature.
As the climate crisis deepens, we see a potential, even probable end to such moments, and so we're fighting to save them. We donate our time, services and at least 1 percent of our sales to help hundreds of grassroots organizations all over the world so that they can remain vigilant, and protect what's irreplaceable. At the same time, we know that we risk saving a tree only to lose the forest—a livable planet. As the loss of biodiversity, arable soils, coral reefs and fresh water all accelerate, we are doing our best to address the causes, and not just symptoms, of global warming.
Staying true to our core values during forty-plus years in business has helped us create a company we're proud to run and work for. To stay in business for at least forty more, we must defend the place we all call home.
Core Values – Our values reflect those of a business started by a band of climbers and surfers, and the minimalist style they promoted. The approach we take toward product design demonstrates a bias for simplicity and utility.
Build the best product – Our criteria for the best product rests on function, repairability, and, foremost, durability. Among the most direct ways we can limit ecological impacts is with goods that last for generations or can be recycled so the materials in them remain in use. Making the best product matters for saving the planet.
Cause no unnecessary harm – We know that our business activity—from lighting stores to dyeing shirts—is part of the problem. We work steadily to change our business practices and share what we've learned. But we recognize that this is not enough. We seek not only to do less harm, but more good.
Use business to protect nature – The challenges we face as a society require leadership. Once we identify a problem, we act. We embrace risk and act to protect and restore the stability, integrity and beauty of the web of life.
Not bound by convention – Our success—and much of the fun—lies in developing new ways to do things.