Do you remember Pascal from March 5?  Pascal had been following my ride and when I arrived in Montreal he reached out and took me on a 4 hour walking tour of the downtown of Montreal.  Pascal is from France and was in Montreal for school.
When I met him he was waiting for Spring time to start his own bike ride across Canada from Montreal.  Over the summer we kept in touch via Messenger.  He was always taking some detour (much like myself).  Admittedly I hadn't heard from Pascal in quite some time.  Checking Facebook on Thanksgiving Monday I caught a comment that he had made that morning that he was in Nanaimo.  I messaged him right away that I was also in Nanaimo.  Another few messages we realized that Pascal had just pedalled past my (stealth) camping spot 15 minutes earlier.
Pascal turned around and we enjoyed catching up over breakfast.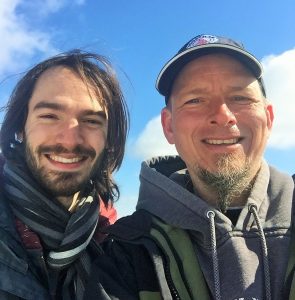 From March 5